Dark / Gothic / Wave / New Wave / Dark Wave / Industrial Gothic
Edit (11091)
Artist:
Unknown Land
(@)
Title:
Dark Seasons
Format:
CD
Label:
self-released
Rated:
Unknown Land is a unique artistic collaboration between Lucia Ponticas (Chile) and Rob Bryant (Australia), two musicians on opposite sides of the earth, making music through satellites in space. The project was conceived in 2015 after Lucia and Rob met on twitter, promoting their respective solo projects "Lucia Fenix" and "Bare Island". Very quickly they realized their styles complimented each other perfectly, and Unknown Land was born. Despite living in two different cultures, speaking different languages and even when one's days are the other's nights, their passion for music prevailed. The discography of UKLD consists of four productions, the debut album 33° (2016), the subsequent EPs REDLINE (2017) and UNO (2018), and their latest album, 'DARK SEASONS' (2019). Lucia contributes all the vocals as well as lyrics and some synth work, while Rob provides guitar, synth and percussion programming. I find it especially intriguing that these two have such a cohesive and distinct sound being virtually worlds apart in distance.

The album is a brief one, only eight tracks in just 34 minutes which assuredly leaves you wanting more. This isn't synthpop, goth, industrial, EBM, or ambient. It's closest to darkwave but even then, different than what you might expect. While slightly similar to groups like Bel Canto and Chandeen, Unknown Land is more steeped in the downtempo realms of trip hop and shoegaze more than dream pop, although there are dreamy aspects as well. While the opener, "Gargoyle," is largely atmosphere and vocal calisthenics, "Kingdom," which follows is superb exotic melodic songwriting with a dreamy arrangement. "Tau" continues the exotica as Lucia's voice rises and descends low dancing on a musical topography in perfect balance with her voice. Rob's somewhat minimal rhythm is just enough to convey motion, which is all that's really needed here. As we get deeper into this work on "Cathedral," the vocal tends to blend more seamlessly into the music evoking a special sort of magic and symbiosis that transcends anything even remotely "pop". The distinctly shoegaze aspect of this album emerges full bloom in "Siren" when Rob conjures Robin Guthrie with gauzy, shimmering guitar. While there are cool lyrics in the song, it will be Lucia's wordless melodic refrain that will etch itself indelibly in your memory. The same is true for the wordless vocal opening of "moonlight" - "oohooh..ah...oohooh..ah...oohooh..ah...oohooh..ah..." - simple, but absolutely brilliant. And yes, there are lyrics that follow, but the brain remembers what stands out. In "Firelies" Lucia moves toward more lyric-oriented melodicism, still with a background of swirling, wordless vocal melody. The closer, "Hollow" ramps up the intensity on all levels bringing the album to a close with a satisfying conclusion but still leaving you wanting more. On a certain level I'm reminding of Collide, in the way kaRIN and Statik mesh together, but Unknown Land is still quite different from that industrial duo.

Seductive, immersive, and pulsing with promise in a deliciously dark setting, 'Dark Seasons' is as gorgeous and bleak as the album cover, an endeavor worthy of being picked up by well-known label (Echozone, are you listening?) as Unknown Land deserves much more exposure than they're probably getting.

Dark / Gothic / Wave / New Wave / Dark Wave / Industrial Gothic
Edit (11089)
Artist:
Swans
(@)
Title:
Leaving Meaning
Format:
CD & Vinyl
Label:
Young God Records
(@)
Rated:
'Leaving Meaning' is Swans 15th studio album, the follow up to 2016's 'The Glowing Man,' written and produced by Michael Gira, featuring contributions from recent and former Swans, members of Angels of Light as well as guest artists Anna and Maria von Hausswolff, Ben Frost, The Necks, Baby Dee, and a Hawk and a Hacksaw. Being a double album (either on vinyl or CD) there is quite a bit of material here, and you can count on a variety of form- ambient, rock, folk, psychedelic, avant-garde, etc., but all distinctly SWANS, as there is nothing else like it. No compromises have been made, no short-cuts taken, and it flows effortlessly, as if everything Gira & Co. has done in the past has all led to this point in time.

Truth be told, I don't care for everything Swans have ever done. The first few releases I had no affinity for; too harsh, too brutal, too much. It wasn't until 'Children of God' that I really paid them any mind. Much of that was symptomatic of where my personal musical taste was at the time; more bright than dark, leaning toward the quirky, cleverly commercial rather than melancholy, dark, morose and malevolent. A personal crisis precipitated a radical shift of perspective in the late '80s for me, and I developed a strong affinity for dark music, ranging from dark ambient to goth-industrial, experimental and even noise. It's not hard to see how Swans music would enter my orbit and I'd develop an affinity for Gira and Jarboe songs, along with a myriad of others I thought to be kindred spirits. I can't say that I've kept up with every Swans release, and even with those I had there were tracks I really enjoyed, and others I didn't particularly care for. I can't really put a finger on what (to me) made a great Swans track (or album, for that matter) as some things just resonated with me, and others didn't. For example, I had a copy of 'The Seer' back in 2012, and didn't much care for it, so I gave it away. It's not like I didn't try to get into it; it just didn't resonate with me. Then there is 'Leaving Meaning' which I found riveting from the get-go. There is something so enticing, so entrancing, so beguiling about this album that it's a feeling difficult to put into words. To a degree, the album is like parts of albums that they've done before, and yet remarkably different as well. It's more of a perfection of the elements that makes Swans great than any comparison would be capable of. There is an undeniable essence of deep spirituality and ritual permeating the album's entirety, not something I'd consider particularly unusual for a latter-day Swans album, but with 'Leaving Meaning' it is so abundantly clear there can be no mistaking it for anything else.

Beginning with "Hums," a brief, mildly chaotic instrumental piece that tumbles out of the gate, 'Leaving Meaning' takes on a mystical quality with "Annaline," a slow song wrapped in ambience sung confessionally by Gira with plenty of western pathos. "The Hanging Man" begins the ritualistic aspect of the album with repetitive riff and percussion while Gira spins his evocative shamanic vocal web alternately intoning and shouting the lyrics. It's reminiscent of vintage Swans, but more controlled. "Amnesia" is an acoustic number that begins like Death in June neofolk, but is given the inimitable Swans touch in its orchestration. Title track "Leaving Meaning" is a gentle, psychedelic, modal celebration of the senses completely captivating and drawing the listener in. "Sunfucker" which concludes the first disc is a chant swathed in noise that turns into a rhythmic mantra halfway through.

More surreal, hypnotic psychedelia endues on "Cathedrals of Heaven" which opens the second disc. It's an atmospheric trip heightened by Gira's evocative and visceral lyrics. One of the best tracks on 'Leaving Meaning' in my opinion. "The Nub" is abstract (and likely largely improvised) psychedelia with seemingly little structure until Baby Dee's vocal comes in. Although BD is no replacement for the absent Jarboe, she does fill in the needed feminine touch that makes Swans whole. "It's Coming, It's Real" sounds almost like a woozy, inebriated singalong. "Some New Things" is a trance-mantra that will have you up ghost-dancing 'round the campfire all night long (if you put the song on repeat). "What Is This" is one of the more melodically adventurous songs but hypnotic in its own rite. The closing track, "My Phantom Limb" sounds like an hallucinatory ayhuasca ceremony, or what I'd imagine one to sound like. Overall I don't think 'Leaving Meaning' can be picked apart; it really needs to be experienced in its totality. This may not make it the most popular album in the Swans' oeuvre, but in terms of quality, it certainly is a standout. There are a few tracks that I believe transcend the others for one reason or another, but the impact of the whole is essential to its potency. Release date: October 25, 2019, tour to follow in 2020.

Dark / Gothic / Wave / New Wave / Dark Wave / Industrial Gothic
Edit (11039)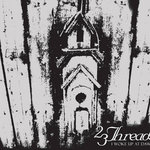 Artist:
23 Threads (@)
Title:
I woke up at dawn
Format:
CD
Label:
Zoharum
(@)
Distributor:
Alchembria
Rated:
While their previous release were approximately based on neofolk, "I woke up at dawn" is presented as "a tribute to the protoplasts of heavy music" by the label and classified as "occult macabre doom" by the band. This new album is an act of courage since it marks a change of musical direction and it reveals how the band is not used to repeat itself.
After an introduction about chaos magick, the album starts with a distorted guitar which almost hide the voice of Ingrid Swen. The musical form is somehow close to doom or stoner metal but with experimental breaches which loose the oppressive sound which evolves upon a slow and heavy rhythm. There's also more meditative moments, as "Hidden between the spaces", where the repetitions is effectively used. The saxophone driven interlude of "Cosmic Monuments" is a way to break the slow pace of the music to obtain a more multifaceted palette which is further enhanced by the remix "Atavistic" by Zenial with its danceable rhythm.
The band has set aside their erratic attitude for form releasing an album which has been conceived in an evidently more coherent manner while it exploits various tricks to escape the pit of boredom tied to the monolithic structure of the genre. It's a really nice release that could be well received not only by fans of the genre.
Dark / Gothic / Wave / New Wave / Dark Wave / Industrial Gothic
Edit (11030)
Artist:
Johnathan|Christian
(@)
Title:
Dark Hallways
Format:
Download Only (MP3 + Lossless)
Label:
self-released
Rated:
Here is a review that is somewhat overdue (the album having been released in May) but that's what happens here when you only release your work in digital download format only, at least in my world; it takes a back seat to physical product I get sent. In this digital age anyone can put nearly anything easily on the web, and I'm of the (old school) belief that if you've got a worthy product you really care about and believe in , you will make it available physically as well as digitally. I know, I know, it's expensive to do that but there are plenty of independent artists (likely just poor as you) who are putting out physical product one way or another, so just deal with it. Anyway, enough of that.

'Dark Hallways' is Johnathan|Christian's third (full length) release after 'The Nothing I Feel' from 2015 which I reviewed here. The group is Johnathan Mooney (synths, keys, composition) from the U.S., and Christian Granquist (Vocals, lyrics) from Stockholm, Sweden, with the addition of Tiger Koehn (percussive battery). To a certain extent this new album is more polished, consistent and homogenous than their previous works, but that doesn't necessarily guarantee a better result. The opener, "Deeper" is supposed to be a mood setter, paving the way for an introspective excursion, and although it does set one, it's a rather dour and depressing trip. Christian's gruffer than Peter Murphy vocals are well suited for this kind of thing, but the angst can only be stretched so far before it becomes tedious. "Car Crash Romance" should have been a nice angry kicker but it tends to wallow in self despair more than anything else. As nicely orchestrated as title track "Dark Hallways" is, it comes off as morosely blasé. The next couple of tracks seem equally prosaic. Then there is a cover of that old Kate Bush chestnut, "Running Up That Hill," a chance for redemption squandered in an overblown orchestration of the original, with little to add (the children's voices at the beginning don't count), and no nuance to speak of. Half the album gone, and this was not going so well.

I was just about ready to throw in the towel when "One Last Night" picked up the pace and revived my interest. FINALLY, a song with some oomph, a decent hook and panache. Gimme more! The followup, "Built" is pretty cool too, vocally reminiscent of PM's side-project, Dali's Car. Next up we have another cover, this time Pink Floyd/Roger Waters' "Nobody Home" from 'The Wall' album. To me, an odd choice for a cover. 'The Wall' is one of my least favorite PF albums, but there are tons of people out there who love it. This is a much better than average cover of the song, and Christian is equally as expressive as Waters on it, maybe even moreso, so in that sense, it's a winner. The last three tracks are remixes of a couple of previous songs on the album- "Car Crash Romance" (LeaetherStrip, Electropoint) and "Clearer" (Joe Letz of Combichrist). Usually I'm not a big fan of remixes, but in this case Claus Larsen makes "Car Crash Romance" a super-psychodrama dancefloor driver. "Clearer" (Letz Be Friends Mix) is a rather bodacious take on the original than not only serves as good club fodder but makes its mark with a highly adventurous and interesting arrangement. The Electric Auto Mix of "Car Crash Romance" sets it to a 4-onthe-floor beat but adds in a variety of effective electro elements that kick it over the top.

As you can tell, I didn't care much for the first half of the album, but the second half has a lot going for it. I think it could have been boiled down to a really good EP. Available lots of places, so you should check it out for yourself.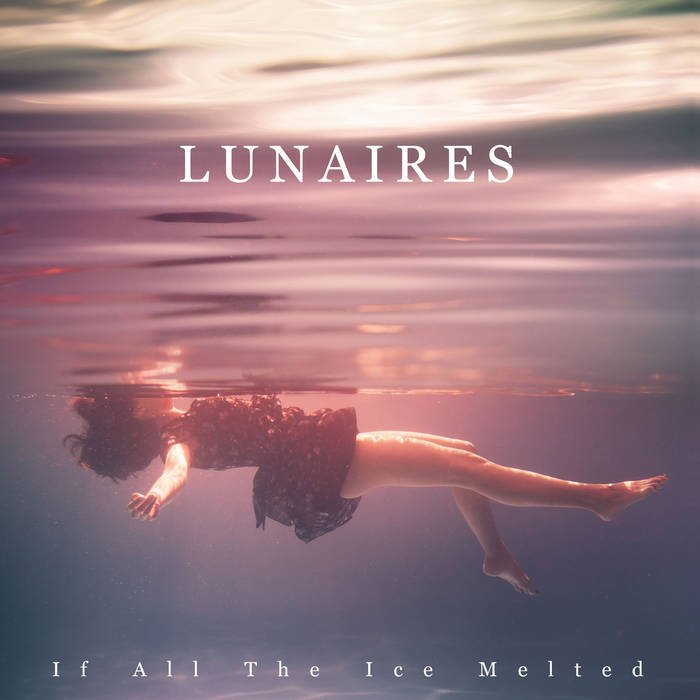 Artist:
Lunaires
Title:
If All The Ice Melted
Format:
CD
Label:
Shades of Sound
Rated:
"If All the Ice Melted" is the debut album by Lunaires but the people behind this project are no rookies at all. Patrizia Tranchina (vocals) and Danilo Carnevale (guitars, programming, synths, soundscapes) are active since the early 80s as members of Jeunesse d'Ivoire first (you can find their tracks on different compilations released by Spittle that reissue original 80s music by Italian bands and I think that their demo and their participation to compilations have been reissued completely) and from 2010 to 2016 as Ivories (with this project they released a live album, a mini and an album). With Lunaires, Patrizia and Danilo redefined their sound: if with Ivories the sound was more direct and influenced by post punk and new wave, with Lunaires the axis is moving or better, it's morphing including electronic and shoegaze atmosphere to the mix. The eight tracks of the new album are more electronic based (all the bass lines are now synth sequences) and to me are sounding like a mix of Cocteau Twins and Slowdive with electronic arrangements. I don't know if you know an Italian project called Planetfunk, well they were using guitars and electronics with a similar approach but with a different background. Patrizia's vocals are always upfront and she's talented as usual (imagine a mix of the early and late Elizabeth Frazer) and are well supported by the rich lush sounds produced by Danilo. His guitar is there but now it's filtered/treated and then it's creating distorted melodic arpeggios. Compared to Ivories the tracks are less direct and the sound richer but it's only a matter of time as they are growing on you little by little. On the information about the album, they wrote: "It's an emotional album about challenging struggles and definitive departures and how to live with them".
You can check the new album at the label's Bandcamp page here https://shadesofsound.bandcamp.com/album/sos03-lunaires-if-all-the-ice-melted. Let Lunaries seduce you...