Experimental / Avantgarde / Weird & Wired / Glitch / Noise / Field Recording
Edit (9292)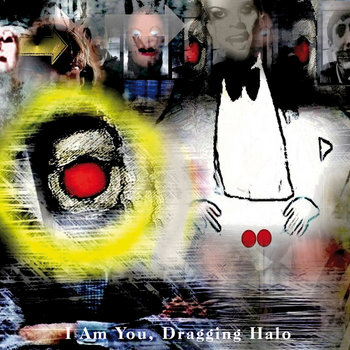 Artist:
Murmurists
Title:
I Am You, Dragging Halo
Format:
CD
Label:
Zoharum
(@)
Distributor:
Alchembria
Rated:
This new release from Murmurists, the project from Antony Donovan aided by a bunch of collaborators which adds levels of complexity to a rather intricate composition. Apparently, as there's any published lyrics and is should exists a libretto according to the liner notes, it seems to talk about immigrant's life in a western city but it's a strictly personal impression. It sounds as a really evocative journey where reflexive moments and action ones come in a succession.
"I Am You, Dragging Halo" is a single track which seems centered upon a sort of plot as almost all voices are speaking but it seems to be fragmented and evocative rather narrative. The music is mostly a background for the voices and tries to evoke the noises of everyday life when it doesn't expand into cinematic moments when it seems to happen something. When almost rock moments follows narrative ones and are interrupted by long electronic interludes, there's that sort of film editing applied to music which creates a sort of abstract radio drama.
It's a really demanding listening that could be enjoyed by fans of avant-garde or, perhaps, even improvised music and will have precious moments of amazing playing and creative writing. The casual listener will be perplexed but the others will love it.
Experimental / Avantgarde / Weird & Wired / Glitch / Noise / Field Recording
Edit (9291)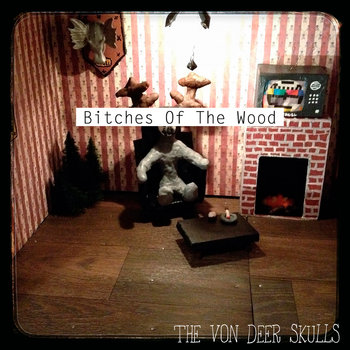 Artist:
The Von Deer Skulls
Title:
Bitches Of The Wood
Format:
Download Only (MP3 + Lossless)
Label:
Wraith Productions
(@)
Rated:
Apparently the Von Deer Skulls is a strange band whose members come from France, Germany and Canada and their free form rock is aided by a visual artist, Peter Skull, to create a visual experience declaratively influenced by filmmakers as David Lynch and Tim Burton. Musically speaking it's a sort of crossover between psychedelic rock and noise nock that seems almost instrumental as the voice is pretty inaudible.
The spoken words of "Bitches of the Wood" open this release as a background for a mutating sonic foreground oscillating between quiet accompaniment, furious rock explosion and even an electronic interlude to a second part of the track which is based on slow an hypnotic arpeggios until the return of the electronic starts the final noisy seconds of the track. "The Way To The Shadow" is a musical pendulum where one pole is hypnotic guitar notes and the other is the energic riff. "Outro" closes this release with sparse noises accompanied by a piano.
Odd enough to be interesting and brief enough to be enjoyable even by ears unaccustomed to such free forms, it's a perfect introduction for a band which could produce really interesting stuff. It's really worth a listen.
Artist:
Simon Balestrazzi
Title:
Asymmetric Warfare
Format:
CD
Label:
Azoth
Rated:
Some months ago, the inventive Italian producer Simon Balestrazzi (most of our readers should know he was the mind behind the electronic curtains of T.A.C. and more recently in the likewise exciting projects Candor Chasma and Dream Weapon Ritual) decided to pour his visionary and genuinely cinematic approach to electronic composition into a personal label, Azoth, and the first ring of this hopefully long chain of releases was this astonishing release that displays his strong focus on cultural, political and social themes. This output is a sonic rendering of the somehow thoughts and worries of the whole worldwide community, which are gradually turning into a sort of perpetual state of mind for many people and are deeply marking this somehow unencryptable phase of human history. The title is also the conceptual framework of Simon's release: "Asymmetric Warfare" - defined in the inlay as that "warfare in which opposing groups or nations have unequal military resources, and the weaker opponent uses unconventional weapons and tactics, as terrorism, to exploit the vulnerabilities of the enemy" - is an interesting interbreeding, where what gradually became a sort of existential dimension, fed by media and the obscure threatening shadow of Daesh/Isis, whose origin are so obscure that attentive people and analysts have more than one doubt regarding the typically rendered iconography of the people behind it, intersected the unconventional sonic weapons in Simon's lab. The intersection of a series of audio recordings related to Middle East conflicts he grabbed from the web and the sounds and sometimes disturbing noises he created an impressive set of effects, mics, synths and objects (including EHX ring modulator, crystal earpieces, a Doepfer analog synthesizer, piezo pickups, contact mics, tapes, a vintage magnetophone microphone, mallets, bows, small electric motors and so on) built a set of abstract and concrete at the same time narrations, where disturbed broadcasting, noisy rogue agents, cryptic noises and subtly disquieting sonic collages. All these significant elements that seem to have been squeezed by the above-sketched elements of our age seem to flow into a dark pool of drones and magmatic fluid that could be considered as the indelible ink by which an obscure essayist is writing contemporary humanity's history.
Experimental / Avantgarde / Weird & Wired / Glitch / Noise / Field Recording
Edit (9280)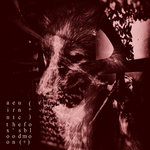 Artist:
Uncertain
Title:
The Fox\'s Blood Moon (for Ian Johnstone)
Format:
Download Only (MP3 + Lossless)
Label:
Wraith Productions
(@)
Rated:
It's almost impossible to write a review about this release without talking about the personal issues involved. This release by Uncertain is a way of dealing with the loss of Ian Johnstone, mostly known as the late partner of Jhonn Balance, and is composed using sounds of deer and fox's and old tape loops. The result is a sort of mise en scene of reminders and sentiments which left no place for the austere notes of a requiem.
The initial words opening the tracks describes how a loved one is remembered for the precious moments lived and introduce a first part of the track based on samples and loops whose emotional impact is overwhelming as there's a juxtaposition of sounds whose phasing generates a sense of melancholy as the voices seems distant and almost inaudible as incomplete reminders or something too precious to be shown. The second part of this release simply add other loops to the main soundscapes underlining the sense of loss as distant drum shots sounds as something is falling until all loops begin to be eliminated from the aural field to end the piece in a quietness where the sound of the fox's can be heard and the final drum beat closes this release.
An almost canonical musical form is the perfect canvas for a painting of emotions which is heartbreaking. To be heard at least once in a lifetime.
If you just focus on the supposed result on body and mind of music, you could label this older entry in Andreas Ubersetz'z imprint Klanggold, the last one I listened of a package sent by Andreas himself, could be quickly labeled as relaxing. A careful listener will notice how many interesting details this collaborative project by label owner and Gregor Quade barely camouflaged behind their seemingly placid sonic streams: most of the tracks seems to have been roughly live-recorded by external mics instead of typical recorders, as if they virtually tried to render the experience of improvisational sessions genuinely without regarding of possible sonic deburring as well as sneezes, coughs, cracking objects, sonic overpressures, outdoor pouring rain and other (supposedly unexpected) interferences. They gave preference to the imperfection of immediacy and unpredictability to the icy perfection of artificially clean recording techniques, and such a choice turned the smooth piano tones and the peaceful frequencies by Gregor, that got gently modified by Andreas, who also cared field recordings, strangely enchanting. Join them in their sonic garden!