image not
available
anymore
Niko Scorpio has been active into different bands since early 90s. With each band he explored different musical paths and if with Thergothon he played dark metal, with This Empty Flow he explored the new wave and goth dark corners. Also as Niko Skorpio he already released different albums since the end of the 90s and this ESCAPE FROM HEAVEN is his eleventh release. Into his press sheet he named as his main influences Psychic Tv, Throbbing Gristle and Coil. Musically Niko doesn't make evident these influences (maybe Coil are the main one) by presenting a sound already known or musical solutions listened thousand of times. For sure the main things he shares with Coil is his interest into thelemitic arguments and about the research of human spiritual freedom. In my opinion this could represent the ESCAPE FROM HEAVEN, the rejection of the squared way of living and if the Catholic church pave its streets with gold, escaping from heaven could make the man opening his eyes without being blinded by such shining streets. Listening to Niko Skorpio's album the first thing that pop up is his will of refusing the boundaries of a precise genre. If main the track is paying its tribute to metal (and this is the only one), on the other ones you can find traces of mid oriental traditions (see the trumpets of the second part of "Dudael" called "A chasm in the desert") or tribal approach to rhythms. The nine tracks of the CD are permeated with will of experiment with emotions and music and most of them sound like an obscure soundtrack where melody surface time to time. It took five years to Niko to record this album and now you have the opportunity to check his inner feelings as on this CD he stripped his emotions like his body as you can see on its cover.
image not
available
anymore
Caboto from Bologna have arrived at their third "circumnavigation" and I'd say their emotional, post-fusion, jazzy impetus pushes the forward while sticking to their roots. There's something "old" (like every good wine) in the music of this band, some "electric-Miles Davis" flavour diluted in this "indie" potion. Differently from their previous album "Did you get visuals", the band added some vocals and some more "colours" but I'm sure those who loved their records so far won't be let down. The Hancockesque electric piano sometimes has that we can define a minimalist taste (even it's really far from serialism and from being "simple"), anyhow, it sails in a sea of troubled but yet calm guitar sea and on a groovy-jazzy rhythmic section. The vocals have made their debut on a few songs and it's a strange effects sometimes but in general I'd say the result is good. While with "Did you get..." I've had the impression the album was meant as a whole, in "Hidden or just gone" the focus is on the parts. While their improvisational flow combined with their great musicianship is still strong, they've timidly begun writing songs. According to my opinion some episodes have an incredible "phatos" (Canedineve, Disarchitetture/Glass elephant goes downtown) or even better that visionary/emotive touch that's one of their main qualities. Sad, psychedelic, jazzy, afro-american music for sinking ships and confused whales (if the layout has a significance).
Artist:
Sote (@)
Title:
Dastgaah
Format:
CD
Label:
Dielectric
Rated:
Sometimes categories become useless or even better some musicians make it inadequate. Sote's "dastagaah" sure can be filed under "ethnic electronica", but I'm not sure it really paints the proper image of what Iran original Akta Ebtekar plays. Together with the blend of this two different elements we should consider a top notch "deviation" factor. Honestly is one of the most bizarre record I've been listening during the last months, I don't even know if the mixture of iranian music and laptop elements fits perfectly in all of the tracks, but believe me, I hardly happened to hear something like that. If you're an electronic fanatics I'm sure you already know this guy's earlier mini cd was on Warp... tip of hat to him!. For a few seconds it also reminded me of some Black Dog middle-est influenced harmonies, but "Dastagaah" is located somewhere else, take the fifth track: how can you define that if not "Odd"?. A-rhythmical or at least forget you're Panjabi Mc indian beats, Sote effort is mystical and directed to your grey matter, if I knew much more Middle-est philosophy/religion I'd say that Sote stands to sufism as "ordinary" middle-est influenced music to orthodoxy. Not always easy to be digested but definitely unconventional and personal.
Experimental / Avantgarde / Weird & Wired / Glitch / Noise / Field Recording
Edit (2766)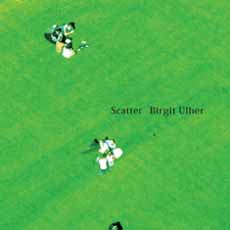 Artist:
BIRGIT ULHER
(@)
Title:
Scatter
Format:
CD
Label:
Creative Sources
(@)
Rated:
People like Taylor Deupree, Koji Asano and Birgit Ulher knows the meaning of the words "relax" and "stand by" but most of all do they know what "rest" means? Probably the answer is "neee" and this new cd on Creative Sources is here to confirm it. After some collaborations we reviewed in the last months this musician is back with a proper "solo recording". If compared with her collaborations this release is much more minimal and above all softer, if you're familiar with the usual sound of this portuguese label I'm sure you won't be dissatisfied by "Scatter". The trumpet sounds choked, its voice passes from suffocated notes/noises to short but never violent incursions. The voice of Ulher's trumpet rears its head just a few times (as I've said many times before when speaking about this style of free-improvisation forget academic use of instruments) and if you consider the average length of most of the tracks goes from three to four minutes: it means the most of the lexicon is represented by electro acoustic" noises. Birgit use her instrument as a nail with which she pierces silence more than in any other previous recording. I can imagine many listeners when giving a listen to "Scatter" could think of a joke, or even worse that the recording indulges on a bunch of senseless exercises, but wasn't that the opinion many had about the abstract expressionists' works in New York? Isn't contemporary art trapped in that no mans land that separates a serious piece from a joke?.
Experimental / Avantgarde / Weird & Wired / Glitch / Noise / Field Recording
Edit (2750)
Artist:
GIUSEPPE IELASI & HOWARD STELZER
Title:
Night Life
Format:
CD
Label:
Korm Plastics
Rated:
Born out of the residency offered last year by the Brombron project, "Night Life" finally brought together Italian soundmaker Giuseppe Ielasi (know for a theory of solo and collaborative albums and for his remarkable label Fringes) and his US friend Howard Stelzer, equally well-known for several records and the beloved Intransitive recordings. These 4 tracks, clocking in at 30 minutes (a good choice, to keep it short and intense), are the edited result of various sessions played with guitars and cassette tapes (respectively Ielasi's and Stelzer's main instruments), effects, microphones, field recordings and synths. Ok, it's unfair and pointless to say this and I know it, but the result is not as stellar as Ielasi's "Gesine" - that being said, this is one of the best assembled and most adventurous discs off the impro area that I've listened to lately. The performers' palette range from the all-out noise screech of track 2 to the string bowing and quiet plucking of track 4 (actually quite reminiscent of the style of Ielasi's latest masterpiece) with pretty much everything in between: electroacoustic improvisation with a strong sense of timing, variation and interaction, which definitely encourages repeated listens.