Experimental / Avantgarde / Weird & Wired / Glitch / Noise / Field Recording
Edit (4308)
After sever listenings I can truly say I really love this release. For those who haven't associated the name yet: this Didkovsky is a member of Doctor Nerve even if this work for guitar and string quartet is situated somewhere else if compared to that band. The territory is somehow that where generally you're used to meet people like Fred Frith during some of his many contemporary trips but the compositional style plus the sound of Didkovsky are more noisy and I'd put in more severe. The music featured in this work has an high evocative impact and be it intentional or not the fact the cd opens with a sequence of notes really close to Morton Feldman's "triadic memories" (from "Crippled Symmetries") can give you an hint of the whole audio journey. The fact is that despite this similarity the music is considerably far from Feldman, just take the second track for solo electric guitar and computer: this music is more chaotic and noisy, it really reminded me of some old works by mighty Caspar Brotzmann when going less rock like in "Zulu time" where he teamed up with Page Hamilton. With the third episode the matter is more drone-oriented thought this guitarist's style slowly fuses with the string quartet, the magma is really well melted due to the fact every musician is using a talkbox thorough which they alter the sound of their instruments with the shape of their own mouths. The piece evolves gradually letting the string music come to surface, despite some really odd dissonances it reminds of some classic experimental composition by Maderna, Stockhausen or in the likes, the only difference is that the structure here is less fragmented and moves like a mantra from the outer space. "What sheep herd" offers something which probably would go really close to Giacinto Scelsi if he only would be still alive: it sounds like a monochord composition which owes so much to music coming from Asia. As you probably have guessed the final part of this work is more relaxed and silent and both the adjectives fits really well for the closing track where you have just the string quartet restrained and increasingly fading into silence. Didkovsky's music is deeply influenced by some of the best composers hailing from the sixties and seventies, if you are into some Frith consider the last track has been appositely composed for his guitar quartet, the two musicians are not too similar, but you'll probably find some interesting connections.


image not
available
anymore
Artist:
SNOLEOPARDEN
Title:
self-titled
Format:
CD
Label:
Rump
(@)
Rated:
Hey this month I happen to review a bunch of really bizzare projects/releases, this time it's the turn of this band coming from Danmark. It's basically soft, childish music with something strange, they use a lot of percussive melodic elements as marimbas and glockenspiels but don't be too quick to judge after just a track thinking this' probably near to Pylon or some other freaky band, sure it's freaky but what about the second folk sketch sung with the help o a bunch of little kids?!...they keep alternating these tracks reminding me Animal Collective meets Un caddie renversé dans l'herbe teaming up to write a bunch of unconventional melodic freaky folk tunes. The cocktail of tracks is quite unusual and sometimes I've had an hard time trying to give a sense to all the elements but it's really well done and it's also explicit the fact the result is really close to what they probably had in mind. Freaky jams, melodic childish music mixed with psychedelic pop elements and a good production that puts together really well things that otherwise would be really far one from the other. If I could had the chance I'd put them and Miss Massive Snowflake on the same tour bus and promote them as the most unconventional mix of post-folk, Beck, melodic elements and a disturbed childish psychology.


Experimental / Avantgarde / Weird & Wired / Glitch / Noise / Field Recording
Edit (4302)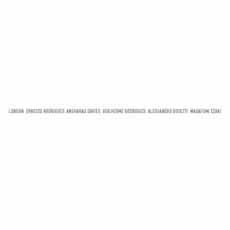 Artist:
RODRIGUES, DAVIES, RODRIGUES, BOSETTI, EZAKI
Title:
London
Format:
CD
Label:
Creative Sources
(@)
Rated:
Another episode of the sequel belonging to live recordings realized by Creative Sources, I'm really glad to review it since among the other I see there's Alessandro Bosetti of which I've a couple of releases here in my personal collection. This cd presents a single suite of which consisted the whole performance of this ensemble: electro-acoustic/contemporary music is still the keyword which means abstraction took place from the very beginning to the end, even if here and there they barely play something the sounds just about quasi-melodic. The ensemble builds up tension and erupts in coral climax that soon after awhile decreases leaving some spectral sounds which repetition keep obsessive high. As you probably imagined this cd features some of the typical repertoire of sounds you've heard on the label and so you've saliva's "white noises" of the brass section, you've some bowed chord from the strings and so on. But right when you don't expect it to happen, they scratch the surface of melody leaving it untouched by managing to caress some interesting unisons. When they leave diminuendos for sudden breaks I like it, above all when they take some silent turn around the twenty minutes and something. I think it's interesting how they started again building a track and later slowly everything moves again facing more and more abstraction and fades leaving a desolated landscape.


image not
available
anymore
Artist:
FLUORESCENT GREY
(@)
Title:
Gaseous Opal Orbs
Format:
CD
Label:
Record Label Records
(@)
Rated:
This' the second release by Robert Martin aka Fluorescent Grey I review and it confirms all the good things I've been thinking at the time I've heard his previous work. This electronic musician joins some nice post-IDM reminiscences with some experimental-electronic attitude therefore it's easy to speak about some of the most cryptic, odd Afx, Autechre and maybe Lfo with less melody and with a dark electronic attitude. Let's say if this label is gonna have Mick Harris in their catalogue as I've read, I'm sure the taste of his forthcoming work for them won't go that far from some of the darkest moments of this cd (the first track for example). Fluorescent Grey kept his rhythmic skill and hasn't hidden his "acid" aftertaste, the fact is he's refined his working on abstract tracks and at the same time when surrendering to melody he's put some narcotic dub radiations. Martin has an odd sense for melodies which means the music is not that easy listening-electronics alike and here's where he probably in some way he's closer to Mick Harris "Logghi Barogghi"-era. Dissecting the track-list you'll find the music becomes more melodic when you're arriving to the end of the cd but the strangest things of all is a really melodic song that due to the flutes reminded me of that Marxmen anthem sung by Sinead O'Connors titled "Ship ahoy". I think Fluorescent Grey has improved his compositional process but hasn't changed his physiognomy therefore if you liked his first full-length your expectations won't be deluded. Good recording and well shaped production that crystallizes all the particulars of the music assembled by Bobby Martin, he probably has to work a bit on the atmosphere of the tracks but if you're into rhythmic electronics, post-drum and bass music take for granted this guy plays in the major league.
Experimental / Avantgarde / Weird & Wired / Glitch / Noise / Field Recording
Edit (4297)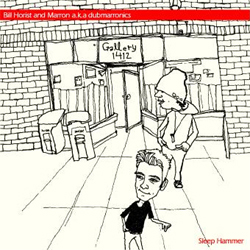 Artist:
BILL HORIST & MARRON
Title:
Sleep Hammer
Format:
CD
Label:
Public Eyesore
(@)
Rated:
This live recording is the result of the collaboration between experimental guitarist Bill Horist and japanese guitar deconstructionist Tanaka Yasuhiko aka Marron. I've already heard other materials featuring Horist and in general I find he always have his interesting personal touch both while working in solo and when collaborating with other musicians. Marron 's and Horist's guitar-loops/deconstructions gets along really well together and in most of the tracks and what's more even if probably most of the material is "ready made" and improvised, in many episodes it really sounds like the scrawl?? of a composition and that means they know really well were they're headed. Despite the fact guitar and loop-machines probably are the main sound source in most off the songs, the cd is homogenous but quite varied and well balanced. They range from psychedelic-guitar-layering to abstract electronic no-wave rides or to melodic ambient track that pays an heavy tribute to mighty Robert Fripp. Somewhere else where loops gets more cyclical I've caught myself thinking to some minimalist's composition above all to Reich when he used Metheny in one of his masterpieces, think of it just less controlled and more free style. Horist displays his many influences and what I appreciate most of this performance is the duo don't stop at the first easy solution but pushes forward trying many solution at the coast of going out of focus during the process. By the way I'm glad to say that thanks to God their inspiration resisted enough to paint many interesting episodes and thanks to a really good recording the result is here for your ears to listen. I imagine many of you may think this' just another post-Branca, post-Thurston Moore freaky series of melodies, as I've said the psychedelic, post krautesque element is included with the ticket but Horist is an interesting guitarist and in some way he reminds me of mighty James Plotkin when going sober (who?...Plotkin sober?!?!) and melodic, to this add the fact Tanaka Yasuhiko interventions are really calibrated above all if judged in the economy of the impro-structure. Sometimes you've some really melodic solutions, sometimes you've entropic crescendos and somewhere else you've some relaxed, soft ambient patchworks but what's more in most of the cases the tracks and in general the whole performance has heart. I repeat, the recording is really good and it's easy to forget this' a live performance.