Experimental / Avantgarde / Weird & Wired / Glitch / Noise / Field Recording
Edit (4329)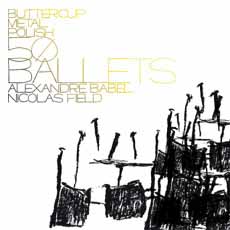 Artist:
FIELD, BABEL
Title:
50 ballets
Format:
CD
Label:
Creative Sources
(@)
Rated:
Drums and percussion plus drums and percussion equals... a percussive recording and you don't have to be a genius to imagine the result, but wait, it's hard to believe how good this record sounds if you haven't given it the careful listening it requires. I've no doubt this' one of the best Creative Sources releases I've heard so far: I love rhythm session but I'm also aware of the fact many percussive duos coming from the impro-jazz area are boring as fuck, well this pair is beautifully assorted and I really enjoyed their way of improvising, the how they play the waiting game and how they go straight to the next intersection. I've several "solo percussion" releases in my collection and have heard some more, this one is more "old school" if compared to the free-rock style of drummers like David Shea, but it's also considerably different from that of Han Bennik, I think this drumming duo has its strong personality and that's the most fascinating part of it. When dealing with an all percussive recording the risk is to get bored in a split second but Field's and Babel's journey bring them through many changes of intensity, dynamics and timber. Their approach to drumming tecniques is elegant but what makes this release more interesting then many other similar works is the attention the duo pays to the track construction: they pass from quiet parts or smoothly played solutions to "free-jazz-rock" eruptions but they work in a really complementary way so to avoid sounding simply chaotic. The recording and the spatialization of the drums helps a lot since as I've said they're able to produce an incredible variety of sounds and sometimes you really feel like you're standing in the middle of the room where the improvisative dialogue happened. Nice.




Experimental / Avantgarde / Weird & Wired / Glitch / Noise / Field Recording
Edit (4322)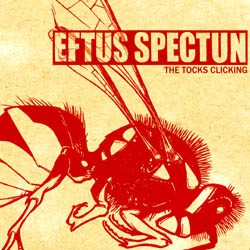 Artist:
EFTUS SPECTUN
Title:
The Tocks Clicking
Format:
CD
Label:
Public Eyesore
(@)
Rated:
If I start by saying this' a strange release nobody will be surprise since we're talking about Public Eyesore. Eftus Spectun are the result of a weird mix of influences not so far from a less technical answer to Sleepy Time Gorilla Museum, they're just softer, much more swinged and less crippled whatever it means. Can you imagine Teenage Jesus and the Jerks, 8-Eyed Spy, Mr Bungle, Beefheart and James Chance on novocaine jamming in the same band? If you can, then you probably have a sort of idea of what you're gonna experience during this collection of short songs. 8-Eyed Spy more than Contorsions since unfortunately for Eftus Spectun even if they're talented musicians and they're damn odd, they're not as flipped out and not even that nihilistic. By the way, don't think this combo is that linear for they've added some really dark, quasi dark ambient tracks to this already unconventional collection of sketches and what follows is a consequential scary atmosphere. Dark-post-no-wave work? More than this that's why I've said these people is ideally comparable to Sleepy Time Gorilla Museum, for example take "The moth and the oval vase" and "Spekled Nesbit" it's not always obscure music, sometimes I can guess there's the shadow of Zappa (... Faith No More?) gone deformed and in some way: "fusion". I think now you've everything you need to start painting a picture of this weird weird english band.



Artist:
LUASA RAELON
(@)
Title:
season of the witch
Format:
CD
Label:
Snip-Snip records
(@)
Rated:
Luasa Raelon is another project involving Harvest Reed that we've recently reviewed with his other moniker Envenomist, and it's a high quality release. Differently from his work title "Abyssal siege" he's put out with Envenomist name, "Season of the witch" is less focused on distant sounds and although you hear he used reverbs, the context is a bit different. Harvest Reed's touch is easily distinguishable and it's still a dark-ambient work, but everything moves essentially "around" you and the drowning sensation this time is not haunting the whole recording. I find this work is less trippy and way more sinister and I got this impression from the early tracks. I don't know exactly the background of this american musician, but differently from many post-black-metal-dark ambient projects, this music is obscure but also incredibly elegant, that's why my hypothesis is he's probably took big doses of industrial/isolationist/experimental listenings. The fact is Season of the witch" reminded me of some of the most intense releases Lustmord, Hafler Trio (when going more ambient), Lull, Eclipse just with a more actual sound. Generally I don't go mad for that kind of works, but Luasa Raelon and generally, everything else I've heard from this Reed, is really intense and the funny thing is its simplicity. After having played this cd several times my impression is that Reed is somewhere among isolationism and dark ambient and that's what probably makes the difference.

Experimental / Avantgarde / Weird & Wired / Glitch / Noise / Field Recording
Edit (4316)
Artist:
KIMMIG, SCHILLER
(@)
Title:
regen
Format:
CD
Label:
Creative Sources
(@)
Rated:
Somewhere else in a different context, somebody was speaking about the "voice of the voiceless", well here It Is, a vivid example of this voice. Kimmig (violin) and Schiller (spinet) are fully immersed in the electro-acoustic thing which is the best quality and also a small limit of this release. It start very silently and later on it opens to what I really meant with the "voice of the voiceless" sentence, as you can hear the musicians let the wood of their instruments speak. It doesn't imply the don't strike/bow strings since they do it, but above all in some parts of the release they prevent strings and anything else to sound as we're used to hear it. The two players here give priority to scratching their instruments, there they play some really fast incursion (above all Kimmig), they inentionally start to engulf to avoid falling in what they probably consider a predictable solution. Not exactly crippled, what you may fin in this music goes from a short stab to an intangible presence where they are incredibly retained, anyhow, it's also true that after the first half of the time length, play something that sounds really classic contemporary music, it has to do with the solutions adopted by the players during their many intersections. As said this cd is on the edge between free-improvisation and and contemporary composition If that's your cup of tea you'll drink it easily.



Experimental / Avantgarde / Weird & Wired / Glitch / Noise / Field Recording
Edit (4315)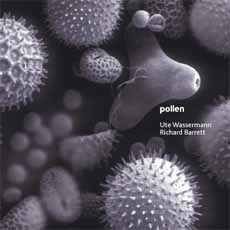 Artist:
BARRETT, WASSEMANN
(@)
Title:
pollen
Format:
CD
Label:
Creative Sources
(@)
Rated:
Interesting duo of voice (Wassermann) and electronics (Barrett), from the Creative Sources legion. The fact the voice is really central in most of the drafts drives the whole music into a specific direction, it's quite funny how they work on it outlining every track around it. The style of Wassemann is apparently close to that of his label mate Jean-Michael van Shouwburg but a thoughtful ear will immediately notice this one is less throaty/baritonal and above all their improvisational approach is really different. This' not exactly electro-acoustic music, the sound matter here is to be located in the improvisational/experimental area, above all when it involved some enlightened vocalists of the seventies or some present sound artist like Cristophe Migone. Just less ambient and above all less oriented toward sound-art. As you should have already understood by what we said so far, if you were thinking to Meredith Monk, Cathy Barbarian or that style of vocalization just forget it, for while as I've said the sound of the voice has a primary function, the use of electronics in this case is mimetic, sure, but at the same time is really important. Abstraction and improvisation play a big role in the composition of these tracks, some short sound rides, fast and slow vocalizations face some similar non intrusive intervention of the laptop, it's really hard to detect who's doing what. The final result as I've said at the beginning of the review is interesting.