Experimental / Avantgarde / Weird & Wired / Glitch / Noise / Field Recording
Edit (4369)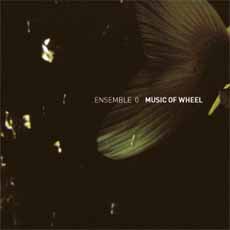 Artist:
ENSEMBLE 0
(@)
Title:
Music of wheel
Format:
CD
Rated:
I've just come back from the cinema and this' the second work I review where piano is central or at least primary for the evolution of the narrative plot, but at the same time it's not played like that of a soloist. I'm sure Ensemble 0 will crucify me for this first consideration I've written but for most of the tracks It do mke sense, this is contemporary music to the bone but differently from many others they haven't left emotions back home, so take for granted they're really suggestive beside being interesting or "simply" brain stroking. Piano, cello, glockenspiel, toys a little bit of trombone and the guitar of Sylvain Chauveau (shame on me since this' the only musician I already knew) which rears its silent accent to make you feel its ethereal presence that's probably what you're gonna perceive if what you expect is a "normal" guitar. The fifth element of the band is silence, but differently from many quartets jamming in the contemporary area, this french people follows a straight tempo line, be it hidden or manifest usually they move faster then most of the quartets playing this game, it makes the soup even more tasty. This consideration focused on their relation with tempo is interesting since I already liked the of most of these extemporary compositions but this in someway shows one o the most Interesting peculiarities of the quartet beside the fact you can discern the influence but they still have their personality. Funny, from the early seconds of the cd I was thinking it would have been a journey a la Bablicon meets Rachels, but in the blink of an eye they disincarnated the song living some elements to counterpoint the silence with a few chords. This last thing in general represent their modus operandi together with the fact in most of the compositions they parsimoniously leave no more than one or two instruments duel with pauses. Interesting and in some way really suggestive.


Experimental / Avantgarde / Weird & Wired / Glitch / Noise / Field Recording
Edit (4363)
image not
available
anymore
Artist:
HERMAN MUNTZING
Title:
DeConstruCt. 10 solo pieces
Format:
CD
Label:
Creative Sources
(@)
Rated:
Nice exhibit of solo performance for this experimental musician playing a Flexichord a sampler and some objects. A Flexichord is a string instrument Muntzing has built with the help of Martin Kohn, it looks like a weird mixture of a zither and a guzheng, this swedish musician plugs, strikes, scratches the strings with a incredible number of objects remembering the approach of Fred Frith to go beyond traditional guitar playing. "DeConstruCt" is an interesting effort and take for granted it has its moments, for example the opening and the closing tracks simply blew me away, I wish the cd had some more high pitched notes for the sound of the instrument and the taste of the player here get mixed "tres bien!". There are some additional samples to enrich the salad, a drum here, but Flexichord is the real and only protagonist of this work. One of the favorite trick in most of the pieces is to change note with the help of tremolo, improvised slides or who know what else, the electro-acoustic factor is really small and most of the times this music reminds of some minimal, gamelan-alike composition. No, we're quite far from serial composition but repetitions or loops have their importance or at least that's the impression I got. Funny how Muntzing likes to bang the chord to make it sound like some prepared piano emphasizing the percussive aspect of playing a string instrument. If you force me to do a mannerist classification I'd put together definitions like "abstract soundscapes counterpoised to melodic, minimalist tracks" where the voice of the harmony of the instruments becomes central. An interesting work, above all when he goes really close to some traditional way of playing harps.
image not
available
anymore
Artist:
NOLE PLASTIQUE
Title:
Escaperhead
Format:
CD
Label:
Nexsound
(@)
Rated:
After different net releases and after that Aleksei Belousov joined in what at first was a Roman Kutnov's solo project, Nole Plastique are releasing their first full lenght CD album. ESCAPERHEAD cointains eleven experimental psychedelic tunes that ideally link 60's acid folk music with minimal electronic improvisations. Take "Sunset stripple" for example. It sounds like an acoustic trip with hippie chants, bongos and stuff but on the background you have digital noises, reversed sounds, effects, etc. The idea is nice but sometimes I feel that the duo has been carried away by their own music. I mean, the trip has started and we're still waiting them to come back if they will ever... If you love dissonance, acoustic sounds, minimal sound experimentation and Sid Barret you could try this one.
image not
available
anymore
Artist:
VV.AA.
Title:
Spectraliquid: Konkrete
Format:
CD
Label:
Spectraliquid
(@)
Distributor:
Ad Noiseam
Rated:
The debut release for this new Greece-based IDM/Electronica-based label looks a bit like the little twin to the highly anticipated debut DCD compilation "Emerging Organisms" by the Chicago Heights-based Tympanik Audio label. And indeed, some similarities didn't definitely happened by chance. Behind Spectraliquid stands among others Kostas K., who is also the responsible musician behind the Ambient/Industrial act SUBHEIM, which is signed to Tympanik. And it is the project SUBHEIM, which opens this comp and they can insert the first highlight here. "Howl" is a little Down-Tempo/Ambient-Electro-driven masterpiece in a best GRIDLOCK-like manner, rich in its melodic content and it features the female Katja doing some "howling" vocals. Second appearance of FABRICS isn't lesser interesting, the monotonous bass line programming reflects a lot of the ideas, which have been provided and celebrated by THE KLINIK. FLAQUE, well, we come to one of my personal favorites, offers the same track like presented on that Tympanik compilation with the title "Black Shadows In The Fog". That's a great example how to combine lush layers with a hectic rhythm performance, always and ever supported of a steady cardiac-pacemaker-like rhythm. PSYTECH offer a new track, but this one got remixed SUBHEIM, who can show their talent once again. Another Greece-based project named MOBTHROW is currently preparing a debut release for Spectraliquid and also this act is responsible for the mastering of this compilation. "Deathstep" convinces with it's staccato-like percussive moments, which get more and more raging as long this tracks runs. Second highlight is the calm and melodic instrumental tune by the established act DETRITUS, which can – just like SUBHEIM - count on Katja (www.myspace.com/katjaspectraliquid) providing some smooth vocals. XSOZ stands for the harder IDM/Click'n'Beat-like kind and "Please Wait" can be discovered too on their upcoming release at the German underground label Fich-Art, which normally presents early and revamped works of acts like MORGENSTERN, ASCHE or SYNAPSCAPE...). Last but not least, the Belgian act AH CAMA-SOTZ is to name as being the second better known name besides DETRITUS, and they've produced a fair final tracks of this promising compilation. What I said already on that Tympanik compilation, counts for this strong debut release of this Greek collective too. It's an amazing compilation which should be able to appeal to all fans of demanding Electronica music. A lot of talent is hidden here, so let's discover some new blood until we have to wait for some coming releases of SUBHEIM, MOBTHROW, FABRICS and/or XSOZ.

Tracklist:

1. Subheim - Howl
2. Fabrics - All Rights Reversed
3. Flaque - Black Shadows In the Fog
4. Psytech - Finding Yeesha (rmx by Subheim)
5. Mobthrow - Deathstep
6. Yttrium - Zeitlicht
7. Desperation & Fugue - Half Of The Truth
8. Detritus - Lead Balloons
9. Throttler & Track Killer - Against The Machines
10. Xsoz - Please Wait
11. Ah Cama-Sotz - Depth Charge



Experimental / Avantgarde / Weird & Wired / Glitch / Noise / Field Recording
Edit (4360)
image not
available
anymore
Artist:
Gilles Gobeil
Title:
trois songes
Format:
DVD
Label:
Empreintes DIGITAles
Rated:
It took me a while to review this dvd, but as you can imagine it's one of those releases you need to "understand" and that needs to be listened to really carefully and ma'am, I swear I did it! . Don't misinterpret me thinking it's too weird, for even those who are not deeply into contemporary music and into modern electronic compositions can give it a listen quite easily. In some way the music is really close to some ambient pieces, but that's quite obvious since ambient music has its origin right there in modern classical music. The first composition "Ombres espace, silence" (2005) offers four movements, the opening is quite soft and evocative and I'd add relaxing, but it's right with the second section of the work the "music concrete" nature of the effort really makes the difference with the average and becomes explicit: sudden and unexpected sounds will make your heart stop while you were waiting for a gradual tension-building, the third "act" of this "drama" is nothing but crepuscular, but Gobeil while remaining deeply suggestive closes this suite in a soft and oniric way. While the first part of the work is close to something many ambient listener my dig, with " Entre les deux rives du printemps" (2006) the classical training of Gobeil is much more overt; I'm probably saying something he may disagree with but even if I can't say exactly why this one reminded me of some late compositions of Steve Reich, just brought to their extreme consequences, not necessarily odd or depressive since the music has its relaxing moments, but when Gobeil goes for creating a "hole in the scene" take for granted you won't find ground to walk upon. Every once in a while the composer changes suddenly everything by breaking the continuity of music with some really violent and high volume explosions that made me jump on the chair while my headphones blew apart the few neurons I had left. The closing composition is not that far from the previous two in a sense you don't have to consider this as one of those dvd featuring different works by the same composer where the style is considerably different, this canadian composer works with a clearly distinguishable method thanks to which the music is homogenous. The sound definition is great, that's why this label puts out such releases on dvd and obviously I suggest you to give it a try playing it in your home-theater.