Athana is a project coming from Stavanger/Norway where Alf Terje Hana and Arne Hovda freed their musical ideas and intuitions. Both of them have a background as musicians as Alf Terje Hanas has recorded and played with dozens of big Norwegian artists. Arne Hovda, has worked with artists like, Getaway People/Robbie Williams/Tim McGraw/Chris Barron plus many more. Their music is influenced by jazz as well as from pop but on REMIXED 05-08 something different happens. From an idea of Helge Olav Øskendal (a.k.a. HOH) Athana tracks have been remixed giving to the remixers the freedom to do whatever they wanted to. So, if the album opens with the dancey rock of "A-AA" remixed by Sternklang, it follows with the house/jazz reworks of Ost&Kejex. Mungolian Jetset's Cruusin' With The Henleys make sound "Ocean 0306" like a good Sting song. Uko Jürgen Nussbaum remix of "Luskesangen", instead, sound like a slow funk wave song sung by Chris Cornell. The approach change with Nes, thanks to a noisy break beat attitude which make turn a rock jazz track into something more interesting. Thing that Cüret brought to its limit by accelerating and looping little song parts and adding broken toys noises, etc. Also Vasøk preferred experimenting a little with noise and dub but the real challenge is to follow the hypnotic rhythmic loops that Qrt used for "Porten". Lingout, instead, light the bomb by providing a gabba distorted edit of "Alien elephants". The lovers of experimentation will appreciate the freedom the remixers had but I find that the album lacks of homogeneity for the one that didn't know the original versions.
Experimental / Avantgarde / Weird & Wired / Glitch / Noise / Field Recording
Edit (4476)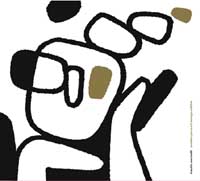 Artist:
Claudio Rocchetti
(@)
Title:
Another piece of teenage wildlife
Format:
CD
Label:
Die Schachtel
Rated:
Here we go with some of the few italians experimental heros who's title is deserved, abroad he's probably mostly known for his work in the ranks of 3/4 Had Been Eliminated but his solo discography is getting quite conspicuous and I highly recommend you to give him your ears. If, like me, you're not new to the work of this experimental artist, then you've to be aware this full length brings forth some interesting innovation in the stile of this Berlin located musician. This time Rocchetti went for an explicitly melodic output which is more than a surprise since his solo releases so far were ranging from "music concrete" to experimental-post-industrial/arty electronics the way you love it, 'cause you can bet despite the overabundance of experimental musicians he had/has his own style. Don't worry, you'll listen to some of these cold well developed grey electronic paintings you're used to with this guy, but you won't believe you ears when he's surrendering to an outspoken emotional side that creates a flower bed to lull some female vocals. Another interesting new element is the fact he's introduced some guitars both played by him and by some guest, no surprises anyway since as he clears it out the guy has a punk-hardcore background. The record fits perfectly in the latest catalogue of Die Schachtel, a label that in someway has produced mostly 3/4 Had Been Eliminated, Bowindo, Hapna crew and related, which in some way may give you a little hint about the melodic, soft but "still not for everybody" atmosphere of the record. Soft droning and simple guitar scrossed randomly by some hi/low-fi sounds which at this point can be easily considered part of his own personal arsenal. Some songs last for a short lapse of time some other tracks creates that typical "in trance as mission" feeling you've been loving in Ambarchi, Roden, Labelle and who knows who else. The guest have surely enriched the recording, but is still Rocchetti who's pulling the strings so if you loved his recordings so far, well, go for it. The title says a lot..."the spirit lives on" despite the coming of age.
Experimental / Avantgarde / Weird & Wired / Glitch / Noise / Field Recording
Edit (4455)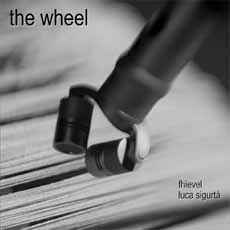 Artist:
FHIEVEL, SIGURTA'
(@)
Title:
the wheel
Format:
CD
Label:
Creative Sources
(@)
Rated:
This duo from Biella joins a couple of complementary musicians involved in sound art and experimental music, as you can easily guess from the inside notes of this cd, they're also involved in sonorizations. You may remember them for their past participation to the Pocket Progressive experience where Claudio Rocchetti was the third part of the triumvirate, you will find some similarities but in general the project is a little bit different. While generally Sigurtà tends to be more rough and Fhievel is probably the one of the few purest "minimal electronics" exponents hailing from Italy, during the composition of this work they converged trying to resuscitate the voice of the old machines they found inside the factory "Fabbrica della ruota" of Prey and simultaneously they accomplished the result to give it all an oniric dimension. The target has been hit and the outcome is brilliant since for the whole recording you've the impression the audio work is part of a soundtrack and in some way their modus operandi related to the process of sonirization is quite classic. The sound definition is wonderful and natural reverbs paint the audio trip of a spectral atmosphere, the sharpness of some sounds (Fhievel?) ties the knot with some grey, dronical cluds (Sigurtà?), they didn't pierce silence but they've been flirting with it constantly which means there's no "tension building" or "waiting game", but it's enveloped all around most of the sounds "happening" during the trip. Considering this whole recording concerns "the factory and its voice – sounds and textures of the textile industry" it's not heavy at all, it has been probably designed to be accessible to a big range of people therefore forget those hyper-intellectualized works by this or that "sound artist wonna be". "Simple" doesn't mean "naïve" and I'm still quite surprised by the great sound effect they managed to create for what concerns sound definition, sure you've to considered you won't hear all the machine "speaking" at the same time as an Orchestra (Russolo can feel safe wherever he rests) but every ghost is there to remember when the worker will die we'll hear his voice thru that of the machine he's been working with for a whole life... "part animal, part machine" for the last time..forever.
Experimental / Avantgarde / Weird & Wired / Glitch / Noise / Field Recording
Edit (4448)
image not
available
anymore
Artist:
Himiko
Title:
s/t
Format:
CD
Label:
D-Trash records
(@)
Rated:
Japanese composer/keyboardist Himiko has been living in Alberta, Canada, where she has been making all sorts of crazed music. If you read her biography you'd never imagine what she is capable of, but this is her 6th album, and probably the most extreme of them all, right at home with DTrash records (but if you know the label it should come as no surprise).
Himiko is an electronics-empowered jazz trained piano player who blends her performing skills with high-powered, fast-paced, mind bogging cut ups of sped-up beats, distorted guitars and all sorts of other saturated sources. Little to no trace of jazz is left, unless of course you consider Zornian free-jazz, which I probably is one of Himiko's influences.
It's really quite hard to describe an album where so much happens in so little time and where so many influences and sounds fight for balance and attention. Sensory overload is the name of the game and if you are prepared and trained to take it, you should give Himiko her fair chance to fuck your brain up real good!
image not
available
anymore
Artist:
Unterm Rad
Title:
The Rake's Progress
Format:
CD
Label:
Tympanik Audio
(@)
Distributor:
DSBP
Rated:
Difficult, quite difficult release from the Chicago Heights-based Tympanik Audio label. I know that Experimental-Electronica can take a quite strange course, which seldom follows and satisfies your typically listening experiences. That's something which fits on this solo-project of Mike Slansky, who stands behind this mysterious project with the German title. Mike is also known with some different other projects like REKT and AURAL and through some contributions for TEXTBEAK. Described with polemic, the music of UNTERM RAD is a sort of minimal and fragmented D'n'B-IDM/Electronica which mostly avoids any straight structures, with the both exceptions "Sick" and "On The Brink". 9 original tracks plus 7 remix contributions by acts like SYMMETRICAL SYNDROME, ATOMATIK 13 (whose member Alex Stilts has helped out with some additional programming...), DREAMS ARE MAPS or TEXTBEAK are featured on here. Personally I miss something which adds "ground", something on which I could use the term "remarkable" in the music of UNTERM RAD. I hear and recognize the unique kind in Mike's very personal sound, but at least it includes nothing interesting I would be able to remember 2 hours after another useless try to pick up the content of this album.