Experimental / Avantgarde / Weird & Wired / Glitch / Noise / Field Recording
Edit (4651)
image not
available
anymore
Artist:
MULLER, MARIEN
Title:
superimpose
Format:
CD
Label:
Creative Sources
(@)
Rated:
Berlin based duo playing the free impro salsa, it's on Creative Sources and it belongs to the category of this label devoted to jazz but just the way a Creative Sources performer can mean/play it. Beside that, consider, as pointed out many times by many improvisers/musicians both coming from the latin area and from the north European scene, improvised music coming from the mittle-upper Europe is more fragmented, choked to the extent it may sound aphasic to an untrained ear. But we're not untrained and according to our opinion "superimpose" is not aphasic at all, nay it arrives to sound really physical at times, I mean they barely articulate what could be the scrawl of a free-jazz attempt. As many other improvisers on this label they're not afraid to eliminate every trace of melody and emotion from the crime scene. What's left is the picture of an intransigent radical performance which have dynamic ups and downs where the duo passes from strangulated notes to autistic nervous playing. The good thing about their "modus improvvisandi" is these two gentleman sometimes focus on a phrase and start exploring it's significance just as much as they need to give it a "meaning", the bad thing in the other hand is that while refusing every compromise with traditional playing they surrender to some ordinary free-improvising solutions. They are really intense when they catch the right train, but the risk as usual is to sound really ordinary in they rebelling to traditional music, but what happens when the "norm" is not the norm anymore? I think that's the most interesting question. They offer a great range of sounds which is a great result considering we're talking about a duo and during this live recording they avoid the use of any additive effect which I'm sure will attract all of the fans of the pure acoustic sound out there.






Experimental / Avantgarde / Weird & Wired / Glitch / Noise / Field Recording
Edit (4647)
Artist:
SAD SAILOR
Title:
link to the outside world
Format:
CD
Label:
eh?
(@)
Rated:
This Sad sailor debut on eh?/Public Eysore label is unusually melodic, and punky, infact sometimes is much closer to some releases on K records than to some other freaky experimental output of this label, but as already side the label is quite heterogeneous. The characteristic rock line-up plus a cello, a trumpet here and there, some synths layers, sometimes it reminded me of those energetic melodic post-rock combos when going for the rock explosion, just way more crippled. If you ever heard them they sound a bit like early Cerberus Shoal before becoming completely absorbed by their kraut/prog freak-influence, or some other post-emo bands when heading toward experimentation and then meeting their psychedelic roots. The recording is quite rough but is dynamic that's why I think they did it live, in the three tracks they focus on working on a static melody bringing it to the climax quite constantly thus don't worry since they never use the average "soft part-explosion/ soft part-explosion" binary-structure, they are vibrant but at a constant speed. This single line-melody pulling the string behind every song makes them really psychedelic but remember as I said they have a strong punk or rock feel, perhaps it has to do with that noisy drumming. All of the tracks are quite similar and I think if you're into melodic music that's not too slow neither too dramatic/epic and maybe you'll like it, I think it's a bit rough but overall a good debut cdr.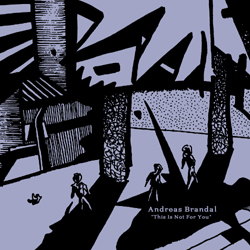 Artist:
ANDREAS BRANDAL
(@)
Title:
this is not for you
Format:
CD
Label:
Eh?
(@)
Rated:
This one gets my vote as one of the best works I've heard on Eh?/Publiceyesore records so far, and I see this artist has done many other releases beside having took care of the drawing of the front cover that reminded me so much some layout from mighty Ebullition records during its heydays. Differently from Downcast or Amber Inn, Andreas Brandal has probably nothing to share with hard core and his music even less, being on Eh? you may have guessed it's an experimental work, but though the whole catalogue of this cdr label is quite varied, this one is quite particular. We're talking about a deep drony-ambient work but don't expect all of the songs sound in the same way, as I've said beside the stylistical "trait d'union" linking all of the tracks sometimes becomes really personal like in the fourth track where you've this weird "bell/vibraphonic" sound that goes on slowly like a slug for the most of the song while you have some melodic-cathartic melody depicting a scenario on the background. Some strange dissonance colored thanks to some drones create an odd atmosphere which links most of the tracks. Be it I've been listening to it several times at the end of the day, but I think that's the proper time of the day in which you can appreciate the most such a release. Andreas Brandal is really minimal but the music he composed is really intense and sometimes desolated, I can even image it could help a movie reaching the climax right when the protagonist is lost in the depth of a forest. A nocturne release which doesn't mean dark but just nocturne.
Experimental / Avantgarde / Weird & Wired / Glitch / Noise / Field Recording
Edit (4641)
Artist:
BLÆRG
Title:
Dysphoric Sonorities
Format:
CD
Label:
Bottle Imp Productions
(@)
Rated:
After listening to Life Toward Twilight, I put this on and was not quite prepared for what came out of the speakers. BLÆRG unloads with both barrels, throwing down some harsh broken beats that reminds me a lot of Venetian Snares. But not all of it is so spastic. "Thrice Vexed" has its moments of calm mixed with the beats and "Crepuscular Harlotry" sounds like what would happen if there was a breakcore Bollywood soundtrack. Overall, this is complicated (but certainly not random), noisy beats mixed with lilting synth lines that provide a nice counterpoint. Of course there are the obligatory random samples as well to provide humor. The artwork also adds a bit of humor, with a woman wearing an octopus on her head. Certainly worth checking out, especially since you can get it for free on the label's website. The disc weighs in at about 34 minutes.

Experimental / Avantgarde / Weird & Wired / Glitch / Noise / Field Recording
Edit (4640)
Artist:
Life Toward Twilight
(@)
Title:
Blood
Format:
CD EP
Label:
Bottle Imp Productions
(@)
Rated:
I had previously reviewed Life Toward Twilight's "We Waited For A Subtle Dawn," so I was pleasantly surprised when this came in the mail. This is considerably different from their other disc. It sounds like they attempted to create the soundtrack to a disturbing movie, and the song titles seem to support this view - tracks like "Zombie Infestation" and "R'lyeh" (I'm a huge fan of Lovecraft's literature, so this immediately caught my eye) provide a hint as to the kind of feeling that they are after. Overall, this disc works pretty well. Distant screams combine with atmospheric synth soundscapes and clanging metal to provide a heavy atmosphere. I would say that this is an excellent disc to pick up just in time for Halloween to scare the trick or treaters that come to your door. If Coil's "Hellraiser" soundtrack wasn't dark enough for you, this is a definite to pick up. If you have any doubts, you can get it for free on the label's website. The only issue I see is that the disc is pretty short, weighing in at around 17 minutes, but it's a fun 17 minutes.