Experimental / Avantgarde / Weird & Wired / Glitch / Noise / Field Recording
Edit (9083)
Artist:
deNeuve
(@)
Title:
Ugly
Format:
CD
Label:
Blowpipe Records
(@)
Rated:
It wasn't terribly long ago that I reviewed deNeuve's 'Old Bruce' 12" and I found that work enigmatic and difficult. 'Ugly' might be considered deNeuve's "commercial album" in comparison, although it is far from commercial. André Bach & Mark Tegefoss have been busy constructing short pieces (only one is a couple seconds over 5 minutes) that rely heavily on layered loops. Now obviously looping is nothing new in electro-industrial music, and from all the technology available now to do it there has never been a better time for the looping artist. Unfortunately there has also never been a worse time as any yahoo with a decent digial toolbox can create and layer loops. (I even have some experience in this myself.) What matters though is how interesting these compositions are, and a lot of them tend to get boring due to the repetition factor, and also a lack of creativity. Plenty of repetition here on 'Ugly' but nothing I would call boring or uncreative.

From the get-go on the opener "Wolfspace", deNeuve go absolutely cuckoo with industrial beats and synths and samples of children's voices. It's an attention getter to say the least and you can bet your ass I'm going to that little girl's party just to see what the hell is going on there. The tracks are unified by certain elements - looped drum and percusion rhythms; looped synth sequences; recurring cinema dialogue samples; other looped elements. On "Our English House" there is a dance beat, low moaning synth, looped bass guitar pattern, looped dialogue sample ("there are certain things"..."you can't understand"..."the moon"..."repeated"..."do as I say"..."let me worry about"...) and other elements. It has a tribal feel, and although the rhythm is nearly constant, other elements change over time. Intense without going into overkill. "Anna Camprena", a fairly slow piece, makes use of what seems like orchestral string samples and foreign dialogue samples, among other elements. Some cleverly combined rhythm loops - drums/percussion, bass, musical box, form the basis for "Paris Deaux 55", and they're pitch-shifted over the course of the track, while various snippets of French dialogue are woven throughout. "Molotrop" makes use of trip hop drumkit and percussion loops and accompanying bass while various voices electronically manipulated beyond intelligibility appear and disappear into the mix. There is a weird feel about this one that just has to be experienced rather than merely described. Still, maybe the most "normal" thing so far. The rhythm doesn't begin on "Western" until 1:25 has elapsed, and prior to that you get some bassy synth sonics and other electronics, snippets of dialogue samples, and squawking guitar chord samples. When the rhythm comes, it's relentless (with a few breaks) and the mix of samples is controlled chaos. "Young Lines" sounds like spastic Philip Glass in a blender. I particularly like the electro-acoutic rhythm looping that begins "Killing Alvin", but that changes soon enough. Electronic seagulls, vocal and dialogue snippets, an incessant bass rhythm, and other rhythmic elements combine to form a very strange scenario. I can't even describe "1980 Anger" but it just might be the most abrasive thing on the album. Quite relentless. "Lee and Margot" has an aura of mystery to it, depending on a variety of echoed electronic (or electronically manipulated sound samples) for its rhythm. Psychedelic to say the least. The Ugly Mix of "Old Bruce" doesn't do much to change the original in my estimation, but it does seem to fit right in with this album. Finally we have "Morning Boy" (also from the 'Old Bruce' 12", and here this piece seems to fit right in as well.

While many might find 12 tracks of this madness a bit overwhelming at once, in small doses (a couple of tracks at a time) it should be easily digestible and often quite rewarding. There is plenty of variety, and enough variation so the repetiveness doesn't get tiresome. I know a lot of work must have gone into this, and hopefully deNeuve will be rewarded by enough purchases from the fine folks at Blowpipe to affirm the quality of their latest endeavor.


Experimental / Avantgarde / Weird & Wired / Glitch / Noise / Field Recording
Edit (9081)
Artist:
Thomas Buckner, Claudio Parodi
(@)
Title:
Taken From A True Story
Format:
CD
Label:
Extreme
(@)
Rated:
This album is the recording of two day's improvisation of Thomas Buckner with his baritone voice and Claudio Parodi on Turkish clarinet recorded, according to the cd's liner notes, direct to hard disc. The overall result is on the path of certain reductionism searching for subtle details of the instrument's palette as the baritone uses his voice as an instrument rather than traditionally sing and so it develops a real dialog with the clarinet which is not forced to accompany a text.
The clarinet opens "They Are Taking Our Jobs And Our Women" with fragmented lines under the quiet gabble of the voice that slowly develops it in amplitude and complexity until the end of the track. The sustained notes of the voice develop a subtle melody in "Never Have Sex On The First Date" that is doubled by a clarinet that doesn't disdain even some roughness while, in the second part of the track, it develops a true dialectic with the voice. "In The Courtyard" is a small intermezzo that introduces "Boxing-Match" where, as the title ironically suggests, there's a vocal research to introduces his tones without resorting to a scream to balance the high pitch of the clarinet, while "Vegetarian Food Is Delicious, But God Bless The Pork" there's some real tonal superimposition between the voice and the clarinet. "A Sailor Gets Back Home" is a short track closer to a song form as the clarinet seems to accompany the voice while "Obituary" starts as an humble meditation for voice and clarinet and evolve as a religious chant without his rhetoric. "Rave Party" is the juxtaposition of a voice and clarinet searching, in an almost inaudible volume, subtle nuances of tones while "Coming Out" juxtaposes sustained tones. "Not For Beginners" closes this release with the voice and the clarinet in a dialogue when the slow development of the voice line is opposed to the fast phrases of the clarinet.
Recorded in an almost old fashioned way to fully reenact the proper musical dynamics, this is not a simple listening as the musicians often prefer to play at pianissimo level searching a sort of hiding place in the environment. In times where music is often used as a background for other activities, this kind of music, even is codified, maintains intact his property of social commentary and requires a real intention to listen. If someone prefers to hear could rate it with two star but the others would rate it almost five so the average is 3.5.
Experimental / Avantgarde / Weird & Wired / Glitch / Noise / Field Recording
Edit (9077)
Artist:
How to Cure Our Soul
(@)
Title:
Luna
Format:
Tape
Label:
Low Point
(@)
Rated:
This new release from this italian band is focused on night landscape so its title "Luna" i.e., moon, evokes the aural phenomenon where, at night, without the day noises there are unnoticed sounds that emerges. This soundscape which should have also a visual counterpart as this is an audio-visual project is based upon drones generated from electric guitars, sampling, effects pedals and tape manipulation so it's something as digital as analog which fill the aural spectrum but leaving space for other sound to interact with the music.
The initial drone of "From the village to the country under the moonlight" quietly starts this release and slowly evolves until it's substituted by another drone which is resolved into another drone. The hypnotic quality of the construction is marked out by the concern that there's no sense of the fact that the track is based on three drones until there's any analytical analysis of the track, at the first listening there's only the vague sense that something has changed. "Midnight: song of crickets on the green hill" is based on the progressive juxtaposition of drones until there a fulfillment of the aural space. "Night climb to the Mount Analogue" closes this release is based on a single slowly evolving drone that is doubled to another ones which creates certain resonances unveiling sonic details of prismatic beauty.
This is a release so coupled to a rigorous form that could be as boring at a distract listening as enchanting at a rigorous one. It's not a record for everyone but every fan of drone music will listen to this tape until it's disintegrated. Applause.
Experimental / Avantgarde / Weird & Wired / Glitch / Noise / Field Recording
Edit (9072)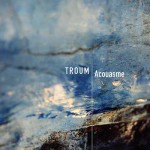 Artist:
Troum
(@)
Title:
Acouasme
Format:
CD
Label:
Cold Spring
(@)
Rated:
As this album is presented as "harsher and more Industrial" than previous release by this project, there's a concern about this word means for this release. In fact, there's nothing truly noisy, a term closely related to the mentioned genres, but there's an attention to the details, and a deviation to the usual scheme of dark ambient based on a drone spanning the whole track, which places this release above other releases in this field. Noise is derived from field recordings so it's used as cinematography i.e., a way to set a context for sound.
The first minutes of "Aliens Laughing About Us" sets a form that is based on drone which are fastly developing above a background of small noises giving to the whole structure a sense of cinematic movement toward something represented by the final crescendo. The low frequency background of "Acouasme" are a canvas for the high pitch tones moving in the aural spectrum and the bass tones of the second part of the track. "Omega Melancholicum" juxtaposes layers of drones until, at half his length, the focus is on a drone slowly increasing his volume to mask the underlying soundscape while "Outer Brain Outsourcing" renounces partly to this structure as it juxtaposes drones until it fulfills all the spectrum maximizing his impact. "Somnolenz" is a track whose tones ebb and flow as the title suggests. "Signe Du Miroir" closes this release with even a drum part that creates a frame for all elements of the other tracks which evoke a sense of loss created by a drone progressively masking the beat and closing the release with a reverberated noise.
Using noise as coloring element rather than for his musical impact, this is a release that need headphone to fully appreciate the craft of the sound production which escape boredom and triviality whenever possible. Truly recommended.
Experimental / Avantgarde / Weird & Wired / Glitch / Noise / Field Recording
Edit (9068)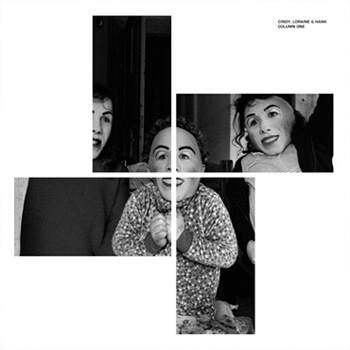 Artist:
Column One
(@)
Title:
Cindy, Loraine & Hank
Format:
CD
Label:
Zoharum
(@)
Distributor:
Alchembria
Rated:
After a long hiatus, this Berlin-based art collective returns with a long release that was in the works from almost 10 years. This album is presented as "a museum of small, lovely bastards" which means that they aims to describe that kind of people "hidden in the dirt, covered with garbage". So this is a release that asks the will to understand the small choices that create a sound palette asking from a visual counterpart to fully realize his evocative nature.
An oscillator opens "Warsaw Part 2", and this release, and it remains until the instruments, played in an unorthodox manner, create a sense of increasing dialogue until the sudden end. "Idiotenmusik" is a divertissement of synth. "4", that is the third track as a symptom of the jokes which are the center of this release, features the Zeitkratzer Ensemble whose recordings are played by this collective and include also the beginning of the session, not only the music. "Antiphona #2" is a sequence of small noises that exalts the fragmentary nature of this musical concept. In an opposition of the use of a contemporary ensemble, "Cherokee" opens with the play of an old vaudeville records which evolves in the construction of a sound palette which perhaps mocks this kind of sound but reveal his property of being transformed in something else. "Not" closes this release with static drones acting as introduction from the final recording from an old movie.
The field recordings of "Warsaw Part 1" opening the second cd are suddenly doubled by a synth line that is slowly submerged by the resonances of the metallic objects which fades for the closing samples. While the first part of "Reverend Black" is focused on object's sound and still tones, his second part juxtaposes drones as the sound of first part were blurred. "Die Truhe im Fluss #5" sounds like a sonata for small samples, noises and voices as they were the audio recording of a theatrical performance with his almost silence final part as his end. "Der Fluss in der Truhe" is the path of this form and its use field recording is really evocative as the speaking words. "Stufe" closes this release as a commentary on child's play while the final part with the sound of a ping pong match creating, in a some way, a nostalgia for those times.
This is a complex release based on a narrative plan which seems to underline the almost obscure freaks that surrounds our life almost unseen. There's also a sense of nostalgia from old times, as many samples are taken from old films or are related to childish play, or so they sound. For all fans of weird music this release is a must, the others could enjoy this weirdness but a their own risk.