Experimental / Avantgarde / Weird & Wired / Glitch / Noise / Field Recording
Edit (9068)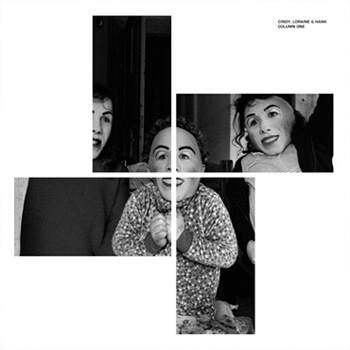 Artist:
Column One
(@)
Title:
Cindy, Loraine & Hank
Format:
CD
Label:
Zoharum
(@)
Distributor:
Alchembria
Rated:
After a long hiatus, this Berlin-based art collective returns with a long release that was in the works from almost 10 years. This album is presented as "a museum of small, lovely bastards" which means that they aims to describe that kind of people "hidden in the dirt, covered with garbage". So this is a release that asks the will to understand the small choices that create a sound palette asking from a visual counterpart to fully realize his evocative nature.
An oscillator opens "Warsaw Part 2", and this release, and it remains until the instruments, played in an unorthodox manner, create a sense of increasing dialogue until the sudden end. "Idiotenmusik" is a divertissement of synth. "4", that is the third track as a symptom of the jokes which are the center of this release, features the Zeitkratzer Ensemble whose recordings are played by this collective and include also the beginning of the session, not only the music. "Antiphona #2" is a sequence of small noises that exalts the fragmentary nature of this musical concept. In an opposition of the use of a contemporary ensemble, "Cherokee" opens with the play of an old vaudeville records which evolves in the construction of a sound palette which perhaps mocks this kind of sound but reveal his property of being transformed in something else. "Not" closes this release with static drones acting as introduction from the final recording from an old movie.
The field recordings of "Warsaw Part 1" opening the second cd are suddenly doubled by a synth line that is slowly submerged by the resonances of the metallic objects which fades for the closing samples. While the first part of "Reverend Black" is focused on object's sound and still tones, his second part juxtaposes drones as the sound of first part were blurred. "Die Truhe im Fluss #5" sounds like a sonata for small samples, noises and voices as they were the audio recording of a theatrical performance with his almost silence final part as his end. "Der Fluss in der Truhe" is the path of this form and its use field recording is really evocative as the speaking words. "Stufe" closes this release as a commentary on child's play while the final part with the sound of a ping pong match creating, in a some way, a nostalgia for those times.
This is a complex release based on a narrative plan which seems to underline the almost obscure freaks that surrounds our life almost unseen. There's also a sense of nostalgia from old times, as many samples are taken from old films or are related to childish play, or so they sound. For all fans of weird music this release is a must, the others could enjoy this weirdness but a their own risk.
Experimental / Avantgarde / Weird & Wired / Glitch / Noise / Field Recording
Edit (9067)
Artist:
Joe Rehmer / Paul N Roth
(@)
Title:
Tensil Test
Format:
CD
Label:
Creative Sources
(@)
Rated:
The tabled double-bass that these American guys play could surmise the recumbent position of someone on the dentist's chair or on a morgue, but the sounds or the noises - it depends upon how you perceive it - by means of an amazing preparation of the instrument and a set of bows, foils, tapes, metal objects, a saxophone, a paper dog and as well as the interaction of their bodies - not only hands and arms, but also beards and some nose whistles - and surrounding chatting and reverberations (what they call "mayhem"...they nicely thank the "random theatre troupe, whose names we never knew, and whose voices you hear on track 1" in the sleeve notes) are really interesting and manage to evoke an almost ritual dimension. I wouldn't match their sound art to purely noisy experiments, as they get closer to improv music's modus operandi, and you can easily check it on this release. Named after a concept that should be familiar to engineering students - a tension testing by which a sample of some material is subjected to controlled forces until failure in order to check quality of the material itself -, "Tensil Test" collects eight more or less short untitled tracks they recorded in March 2013 in Marseille, ranging from the 10 minutes of the seventh track (maybe the more involving for its lenght, where a sort of trembling noise and a pile of easily perceivable hits and repeated rubbing got initially grasped into a somber double-bass tune - to shortest inserts that could sound like the grabbing of preparatory works.
Experimental / Avantgarde / Weird & Wired / Glitch / Noise / Field Recording
Edit (9066)
Artist:
Ennio Mazzon
Title:
Pavement Narrows
Format:
CD
Label:
Discreetrecords
(@)
Rated:
While his previous releases, 'Xuan' and "ceriseicicles", were acclaimed as wholly conceived, and complex, musical work, this new release is completely focused on fragmentation. Instead of one long track, "Pavement Narrows" is a collection of eleven rather short track made of short sound fragments are sequenced in a way to expose their dialectic in dynamics and tones; so barely audible moments follows high volume ones and noisy fragments follows melodic one. The basic form of all track is a quiet start and central crescendo evolving in a quiet end and this framework is able to include the enormous details generated by the treatment of samples.
"Hunting souvenirs" starts quietly with a drone that is suddenly juxtaposed by a noisy loop and, after a brief moment of rest, evolves with the juxtaposition of layers of sound creating a tick mass of sound. "Add ten to nine" is a brief interlude based on a loop. "Masu", the longest track of this album, is based on a rhythmic structure variated to create a center for the samples juxtaposed. "Splay" is an interlude for drone and noise to "Salmon run" which is divided in a drone oriented first part and in a noise oriented second part which find a resting place in "War of currents" with its low volume noises. The return, in a modified form, of one of the sample featured in the first track let "Tryst" sounds as the beginning of the second part of this release focused on the exploration of details rather than impact so it features movements in the aural fields rather than juxtaposition. "American grip" introduce "Marine at nighttime" which, after the initial fragments, evolves in an almost noise wall ending with the return to his beginning. "Hideout" adds layers of drone during his development and "Syrup trap" closes this release adding instead layers of sharp noises.
This is a truly demanding work for the listener and a challenge to the current listening habit: if heard with distraction or in a noisy environment, it's probable that every nuance could be rather missed, so, it's not designed as a commodity but as a true work of art. Essential.
Experimental / Avantgarde / Weird & Wired / Glitch / Noise / Field Recording
Edit (9065)
Artist:
Martin Rach with Lynn Wails
Title:
My Heart
Format:
CD
Label:
attenuation circuit
(@)
Rated:
This release from Martin Rach is a single piece in four part called "my heart". The whole releases seems mimicking an heart failure with his final resolution in a restart and it uses a loop with the words "my heart" repeated to simulate the heartbeat. The process uses this sample as the single source which is progressively reworking towards abstractness.
The loop of Lynn Wails' voice opens "my heart (is no more)" and is repeated until a small glitch starts to modify the loop and this process increases until the loop is completely disrupted. Almost a minute of silence opens "(scatter) my heart" and introduces the listener into a section of small pieces interleaved with elements of silence to construct an irregular rhythmic structure. The noise of "(a part of) my heart (longs forever)" is continuos but varying in intensity until the final silence evolves into "(reclaim) my heart" where the initial loop is increasingly reconstructed.
While the process is sometimes a little too predictable, it's so clear to request few word to describe it and this is a true merit. Even if the casual listener could be upset, every fan of minimalism will love this release.
Experimental / Avantgarde / Weird & Wired / Glitch / Noise / Field Recording
Edit (9064)
Artist:
The Peeled Eye
Title:
s/t
Format:
12"
Label:
Shameless Records
(@)
Rated:
English-born composer, performer and multi-instrumentalist Boris Hauf recently rekindled the old flame of his own label Shameless, which reprised the production by a strictly limited edition (300 copies on yellow vinyl) of The Peeled Eye, a fourtet whose stuff got labelled as noisecore/doomjazz by Boris himself, who plays piano and baritone saxophone (the leading instrument, according to my ear response over the seven tracks of the album) along with the guitar-player Martin Siewert (we recently met his sound art within Trapist's "The Golden" and Radian collaboration with Howe Gelb), Swiss double bass and bass player Christian Weber and drummer Steve Heather. The cover artwork looks like a hint of the idea that could evoke the listening of their music, which could be described as something in between improv, more harsh noise-punk-jazz entities (I could mention Alboth! in order to check some bands from closer regions) and Starfish Enterprises, the noisy rock band which preceded the birth of Starfish Pool. Even if I said that Boris' baritone saxophone, which makes entrance on the abrasive session of the opening "kind of", is the leading instrument, the role of other instruments is likewise important as you can check since the track I've just mentioned where the theme ignited by Boris manages to trigger a reaction the strings of Martin's guitar and Christian's bass sound like catching Boris' sparks over a drumming session, which spreads the fire. The style is more or less the same over other tracks, but dynamics differ such as on the amazing "diiiiisko" (guitar interlocking within a daring variation of 4/4-driven getaway are really super!), the sooty 12-minutes lasting "heavy quarters", which manages to evoke the ticking-time bombs of some boroughs in every city of the so-called "civilized" world, caused by almost completely untrammelled capitalism and likewise savage contemporary social mechanisms, the sense of forthcoming crash evoked by "finale", where the wheels of The Peeled Eye's car seem to be worn to nothing, before they seem to change tyres on the risingly furious "pp remains".