Artist:
Hans Joachim Roedelius & Leon Muraglia
Title:
Ubi Bene
Format:
2 x 12" vinyl
Label:
Passus Records
Rated:
Electronic music lovers don't really need any introduction of the evergreen maestro Hans-Joachim Roedelius, who in spite of his age - he should be 81 at the moment and I really wish a long life to this living genius of electronic music, whose sometimes troubled history (check his interesting biography) maybe watered his flourishing creativity - keeps on spreading lovely sonic gifts like this lovely "Ubi Bene", where he joined his remarkably creative energy with the ones of DJ, studio musician and guitar player Leon Muraglia. Many moments over the 12 brilliant tracks of this new journey could sound like the revamping of the sound that Roedelius explored together with his historical partner-in-art Dieter Moebius on some of the very first albums by Cluster - particularly the quasi-synthpop output "Zuckerzeit" or the heights of folkish exoticism of album like "Sowiesoso" -. The excellent balance between Muraglia's sound design and the unmistakable forging of electronic pattern and astonishing piano-driven simple melodies by Roedelius is the most relevant aspect of "Ubi Bene", which resurfaces from the nostalgic breeze of the beautiful cameo of "She Had Always Loved Vienna", the lovely dialogue between the resounding nylon of a guitar chord and the shining tone of a synth-celesta on "Gently Falling Snow", the cheerful vivacity of "Red in a Circular Loop", the delicate miniature of "A Nostalgia for Lollipop" or the new age-like movements "A Reflection in Deep Sea" or the ethereal "Summer Breeze Turning", which get closer to the stylistic territories of Boards Of Canada or Ulrich Schnauss or to the moments when Roedelius sonic journey begin to get influenced by Brian Eno's style, as well as on more shadowed or experimental moments such as the 12-minutes lasting thrilling track of "There is a Huge Duck Standing Right Behind You" or the final "Surfaces That Appear To Change". The high level of expertise of its author makes "Ubi Bene" a unique specimen of the most genuinely human side of electronic music.
Experimental / Avantgarde / Weird & Wired / Glitch / Noise / Field Recording
Edit (9055)
Artist:
Genetic Transmission
(@)
Title:
Last
Format:
CD
Label:
Zoharum
(@)
Distributor:
Alchembria
Rated:
BUY from
HERE
As the title suggest, this is is the last studio album in the discography of Genetic Transmission, one of the alias of Tomasz Twardawa and, almost incredibly, also the last realization of the IYHHH series that was conceived as a way to present unconventional Polish artist using also an unconventional artwork as a presentation strategy. This is properly the reissue of a CDR release collecting 15 untitled sound experiments using electro-acoustic sources. As all tracks are untitled they will be denoted with their number.
"1" starts this release with reverse played tapes of perhaps string instrument while "2" is focused on the rhythmic displacement of samples. "3" features small noises and "4" on metallic resonance; "5" juxtaposes drones obtained by electronic devices and "6" sounds as field recordings of waters where used as a background. "7" sounds as if noise generators were the focus of the track while "8" takes advantage of the effect of resonance. "9" is based on complex layers of drones, tapes and noises while "10" sounds as constructed from field recordings layered to underline their rhythmical properties. "11" and "13" uses a dry metallic beat to sustain the abstract musical foreground while "12" and "14" sequences industrial noises. "15" closes this release with a drone that evolves into a metallic mass and, after a quiet section, into a noise fragment.
Apparently lacking a narrative direction, it sounds as a collection of experiment unified by a fistful of elements as the metallic beats, electronic device's samples and drones. As the tracks are usually short, this musical property gives a sense of variety which removes that sense of boredom that could arise as the loop, and his rhythmic framework, is the proper base element of the track of this release. All fans of experimental music would hear it with a sense of loss for the end of this project.
Experimental / Avantgarde / Weird & Wired / Glitch / Noise / Field Recording
Edit (9054)
Artist:
Marek X. Marchoff
Title:
Funeral Musik for You and Me
Format:
CD
Label:
Zoharum
(@)
Distributor:
Alchembria
Rated:
This new release from Marek X. Marchoff is the follow-up of his remarkable 'Funeral Musik für Jenny Marchoff' but it's a reflection on the meaning of life and death unrelated to the personal issues which were the foundation of that release. Instead, all tracks are called with coordinates that seems related to the park where is located the St. Michael's Cemetery in NYC which is shaped as a triangle and where is located the studio where the album was mastered and probably recorded.
The sinewaves of "ezoterascopick 40.696095°N 73.905029°W" introduce the listener to a minimal music where there's only small variations, so "40°41'²20'³N 73°56'²40'³W" continues this pattern introducing synth lines and loops. "40.69.572-73.90342" introduces bass and voice and it triggers the suspect that every track introduces an element until it will return to the minimal elements of the first track mimicking the passing of time on human being. "40.7641°N 73.9813°W" feature an intermittent beat and spacey sound. "40.80553,-79.91451" marks the return to the minimal structure of the first track using mainly sine wave's generators and "40.699511°N 73.911166°W" is his twin using synth notes. "40.6937°N 73.9833°W" closes this release with two distinct parts: the first one is a quiet ambient part based on textures while the second one is based on a loop borrowed perhaps from an old record of music to be played in a smoky bar.
As it's a release whose processes are minimal and long and its sound palette has few tones, this not a release for the typical distracted listener which is in vogue in this times and critics could tear it to pieces as it's the kind of sound which triggers thought rather than emotion. If the track were shorter or with expanded arrangement could be easy listening but this depiction, an mimesis, of life of death could be too difficult to realize until there's a true intention to hear. Careful listeners will rate it at least 4 stars while the others 2 stars so the average is 3.
Artist:
The Necks
(@)
Title:
Vertigo
Format:
CD
Label:
ReR Megacorp
(@)
Rated:
The Australian super-group by Chris Abrahams (piano, keyboards), Lloyd Swanton (bass) and Tony Buck (drums, percussions, guitar) left aside the groove that features some past entries and live performances of The Necks in order to dive into something remarkably different on their elegant declension of "Vertigo", whose main similarity to past workouts is the unpredictability of their sonic journey, where listeners clearly recognizes the starting point but can't really say where they will land. An intentional and extremely lucid process in spite of their seemingly abstract melting of different sonic strategies, as you can guess from Lloyd's words about "Vertigo": "The discussion this time really begun in earnest in the session itself, where we started to pursue the idea of having a drone running from start to finish, off which we could hang ideas...but like all Necks album we ended up in a very different place from whatever our initial notion of it had been". I don't want to spoil it in details in order to ruin the joy of surprise, but that sort of low-key driven drone, around which more or less oblique piano and keyboard sequences by Chris Abrahams that seem to permeate and evoke different emotional states in between confusion, suspension, paralyzing relativism, hesitancy and sudden spurs and unpredictable percussive strokes by Tony Buck, is going to carry listeners over subtle changes of colour, mood swings, air-tight narrow corrider that little by little lead to airy sonic landscapes, where the alternance of dark and light doesn't touch upon the sense of freedom, which got rendered by their surfing over stylistical forms.
Experimental / Avantgarde / Weird & Wired / Glitch / Noise / Field Recording
Edit (9052)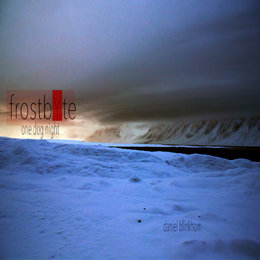 Artist:
Daniel Blinkhorn
Title:
frostbYte – one dog night
Format:
Download Only (MP3 + Lossless)
Label:
Audiobulb
(@)
Rated:
This new Audiobulb's release is from Daniel Blinkhorn, an Australian sound artist whose creative works seems unnoticed even if he has received various recognitions. As the title suggests, it's inspired by the cold temperatures in the night and it's an except from the 'frostbYte cycle', a collection of tracks based location-based field recordings in the Arctic region of Svalbard. The result is an astonishing sound quality whose clearness let every resonance appears in a precise place in the aural field so it's one of the best release in this field that I've heard.
"Red sound" opens this release with a mise en scène of a bunch of small sounds whose dynamics create a sense of tension while the movement is space is best observed with headphones; during the development of the track there's a constant progression to sparse sounds to a filled space with their juxtaposition. "cHatTer" is focused instead on the exploration of the details of the source samples so the result seems a quiet track but the noises of object under the effect of low temperature is frightening. "Wildflower" is sequence of bright sounds moved in space to generate a sense of immersion in a wide space. "Anthozoa" closes this release using a wide dynamics obtained with elements at the threshold of audibility to evoke that sense, at night, that everything ruins that thing called silence.
This is an aurally extreme release that is fully enjoyed with headphones or in a surround hi-fi environment so it's mainly a release for fans of sound art and for them is a truly recommended release. I wonder how the casual listener could rate this release as it lacks a proper narrative element but who cares? This release is a reminder about why there's the concept of hi-fi.