Ambient / Electronica / Ethereal / Dub / Soundscapes / Abstract
Edit (9656)
Artist:
Anthesteria
(@)
Title:
Eis
Format:
CD
Label:
kultFRONT/Zhelezobeton
(@)
Rated:
Another ambient work by a Russian artist, this time, Anthesteria, the main project name of Georgiy Beloglazov, from St. Petersburg. 'Eis' is the third CD in the "Znaki" series tracing the parallel life of Zhelezobeton and kultFRONT label residents. The album is a compilation of Anthesteria compositions created between 2003-2010, some released on various artist compilations, others published by the author in his web diary, and some released for the first time. Technically, no newly composed material has been released by Athesteria since 2010, with the exception of "Alone" for which Sergey Vasilyev (Insane Pierrot Cabaret/Electrocabaret) read the poem by Edgar Allan Poe in 2016. Not surprising that much of 'Eis' is winter-themed, considering that's how it usually is in St. Petersburg. Considering that this is a compilation, the music of 'Eis' is a mixed bag of somewhat bleak ambient, neoclassical and industrial. My first impression was an enigma wrapped in a riddle, one for which I had no answer. Some of 'Eis' is quite engaging, some off-putting, and some just really strange. Over the 13 tracks on the CD, there is quite a variety, and at times you I felt like I was listening to different artists. It is more likely that Anthesteria has changed over time. About the name, Anthesteria - it was one of the four Athenian festivals in honor of Dionysus, occurring around the time of the January or February full moon.

Beginning with "Eidolon II" the listener is introduced to much wind and chimey synth chords with sustained synth following the chords. Behind this is an indistinct voice speaking over a PA system. Hmmm... "Alone" is the aforementioned Edgar Allan Poe recitation (in Russian) with melancholy neoclassical backing and subtle beats. "Peter Krasnov" is bleak ambient and some bellish melody. Didn't care much for "I Killed," a track with string-like synth chords and a simple melody with plucked guitar sound following the chords. Dialogue samples in the background (Russian, of course), sounding like an uninspired Raison d'être. A couple of bland neoclassical track pass, then things perk up with the magical and aptly titled "Snowflakes". In "Everything Will Be As Winter Wishes" there is at first a storm with the spirits of winter whispering in your ear, then something more akin to passing time with family in the warm indoors while the storm rages outside. All of a sudden though, a stark Russian voice heralds what seems like bad news. Odd. "Exodus" is the most industrial piece on this album with plodding, harsh, klanging beats, noise and dark ambience, a distorted woman's voice over a PA system, and a hint of chaos. "In Gedanken An Russisches Drone" is a rather strange drone piece, unusual with kind of amorphous acoustic guitar running through much of it. "Falling Apart" is sort of neoclassical drone with intermittent borrowed Russian recitation. Contrasting this is "First Winter Day," with its light, airy feel. Not sure that the beat/rhythm that was introduced a little less than halfway through was necessarily appropriate; seemed a little to IDM for me. Final track "We Are So Inspired That We Glow" begins with a sing-along Russian folk melody in a public place, but then turns droney as the happy songsters depart. It's not a dark, heavy drone, but a light sunny one. Nice way to end the album, especially considering the laughter near the conclusion.

This is definitely a mood album, or variety of moods album, and maybe a good introduction to Anthesteria. Beloglazov is not only a very talented musician/composer but also quite astute. After reading an interview with him regarding his game soundtracks ('Phobos 1953,' and 'Metro 2033' among them) I got some insight into his compositional skills as well as his intellect. Not sure why he hasn't come up with new Anthesteria material, but when he does, sign me up.
Artist:
Halo Manash
(@)
Title:
Elemental Live Forms MMV - Initiation
Format:
CD + Book
Label:
Aural Hypnox
(@)
Rated:
This recent output by Finnish experimental ritual-oriented Finnish label, focusing on the releases of the Helixes collective, has a relevant historical significance for the followers of their trail and the more obscure (or I'd rather say, esoteric) dark-ritual sonorities, as it includes nine previously unreleased movements by Halo Manash - one of the most famous name on their roster - that were performed during the very first live ritual at Syntesia on Joly 8th 2005 in Tampere, which could be reasonably considered a proper initiation, as the title says. The release is, as usual, maniacally packaged: the 444 copies of regular CD edition are enclosed in an oversized screen printed cardboard covers including a 4-panel booklet, 4-panel xerox-insert and eight two-sided insert cards within a stamped envelope and a similar format got chosen fot the 70 copies of the tape edition, while the 45 copies of the boxset (including both the CD and the tape) also includes a screen printed 30 x 30 cm canvas and four two-sided inserts from the preparation sessions held in Temple Hwaar. In my hands, I have the regular CD edition, and I have to say that its package perfectly enhances the sensation you're handling something really precious, rare and somehow mysterious. According to the introductory words by the label, that live ritual focused "on the boundless elemental form returning from metaphysical pilgrimage", bridging the "worlds of being and non-being" and the three group of three movements by which they subdivided the nine movements of this recording - in details "The Trail of Bones" (from movement I to III), "The Path of Fire (IV-VI) and "The Ghost Ceremony" (VII-IX) - mirrors the world of "re-birth, initiation and primal thundering" respectively. Some listeners could feel detached by this esoteric and mystic dimension of some aural experimentalists, but the evocative power of Halo Manash's music (even at this early stage of their research) can hardly be denied by this kind of listener, particularly in some moments of this "initiation" such as the third movement of The Trail of Bones, where they intersected the nocturnal whispers of the second one, the sonic "lacerations" of the first one and some entrancing tribal percussive hits, the subtle thunderous roaring of the fifth movement (really entrancing!) and the shamanic halo of the final tripartite set "The Ghost Ceremony".
Ambient / Electronica / Ethereal / Dub / Soundscapes / Abstract
Edit (9649)
Only a couple of weeks after heaping praise on Andi Otto's "Via" album, I was very happy to see it rapidly followed up by a 10-track remix package that takes five tracks from the culturally diverse, top-notch ethno-electronica-but-in-a-good-way album and spins them off in a variety of directions with a broad and not too cliché international flavour. That said, the overriding tone of this release is slow, crisp, mellowed-out, thin house beats in the approximate 100bpm region, overlaid with light sprinklings of clean digital tones and organic and unusual instrumentation. None of the remixes tread very far from this template.

The Brazilian Peter Power slows down "Bangalore Whispers", maintaining the complex rhythms and deft electronic blend that the original album had, and setting the stall firmly out to demonstrate that "Via Remixes" is far more than just ten monotonous kick drums. The Ground Ground mix (or possibly the DJ Ground remix, due to labelling confusion) of the title track is similarly light-footed, a soft kick bed under bells and plucks that is almost stereotypical Japanese noises at times, yet mellow and extremely listenable. Similarly, Sundrenched, from California, goes a step further than your average remixer and adds sliding guitar notes that are pure Americana. Thankfully that's about as far as the geographical stereotyping goes, but it's never problematic.

Kirrin Island strip back "Kyoto Pebbles" into a rather bouncy stepping house number, before Otto himself reworks "Bangalore Whispers" by concentrating on the cut-up MD Pallavi vocal and playing around with it as a logical extension of the original album version.

Things pick up a little in the second half. Both Paradise Hippies' tackling of "Gianna Anna" and the Akizzbeatzz take on "Via" raise the club tempo just a little, adding a repeating-note baseline, hints of very slight tension build, and slightly more upbeat grooves with plenty of dub delay. Akizzbeatzz's vocal looping is particularly mesmeric.

The final block of mixes take things into more droney, glitchy territory, but initially without losing the rhythms. Lorin Strohm rearranges "Bangalore Whispers" into something more distorted and broken yet still somehow funky. Bug Lover's "Kyoto Pebbles" is the percussion-less exception to the rule, but still rooted in patterned loops of highly twisted saxophone samples to good atmospheric effect, before the Et Kin remix of "Dharti Cash Puke" is a fitting wrap-up, bringing the soft kicks and synth bass back, adjusting the silliest track from the original album into something that's still a little quirky but with tense rolling strings tempering it.

As a remix album it's extremely coherent, faithful but imaginative. It doesn't quite scale the heights of the album itself but it's a commendable companion piece. At the time of writing this remix album is a name-your-price release on Bandcamp, though that won't last long; snap it up while you can, and be sure to consider typing a number other than '0' and supporting some high-quality, deeply thoughtful tunes with a truly international flavour.
Ambient / Electronica / Ethereal / Dub / Soundscapes / Abstract
Edit (9647)
Multi-instrumentalist Janek Sprachta's second solo album fuses electronic soundscapes with more traditional piano, guitar, and drums, The clicks and warm hums of the electronica layers are very familiar, the typical and common noises of this light drone genre- beautifully smooth and deeply cathartic, a soothing bath of gentle sound and extremely reverberant, immersive atmosphere. What prevents this release from sounding wholly generic is the acoustic feel of the real instruments.

"Domi" has gamelan-like sounds and a touch of Eastern flavour, while the second track- whose name was badly mangled by the encoding in the promo I received so I'm not even sure what it's called- is a brief, gently electronica-sprinkled piano ballad.

Sprachta's primary musical day job is as a drummer, and it's on "Stones" that he indulges himself with a drum-led piece that's a masterful bit of balance- part show-off drum solo (light and jazzy, certainly not rock), but part carefully measured and controlled groove. Throughout the whole album, the temptation to show off, the prog rock indulgence of "look how good I am at all these instruments" is admirably and consistently resisted- even down to the modesty of the 36-minute total running time.

"Hello World", in two parts, opens with a particularly cinematic string-heavy tone of melancholy, before filling out to the album's busiest section, with a mood of concentration and a sense of passing time. It's crying out to be paired with a short animation film about loneliness.

The final track and title track "Grow" is more than twice as long as any other track and an opus in its own right. There are subtly William Orbit flavours in the synth arrangement but with a much wider sense of space. It opens with a couple of minutes of ballad piano which you expect to return towards the end, but instead, we drift off into a supremely long fade, as though finally succumbing to sleep.

The result is an album that just shines with quality. While not breaking any new ground and while not as experimental or avant garde as they might want you to believe, nevertheless it's a magnificent and beautiful bit of work.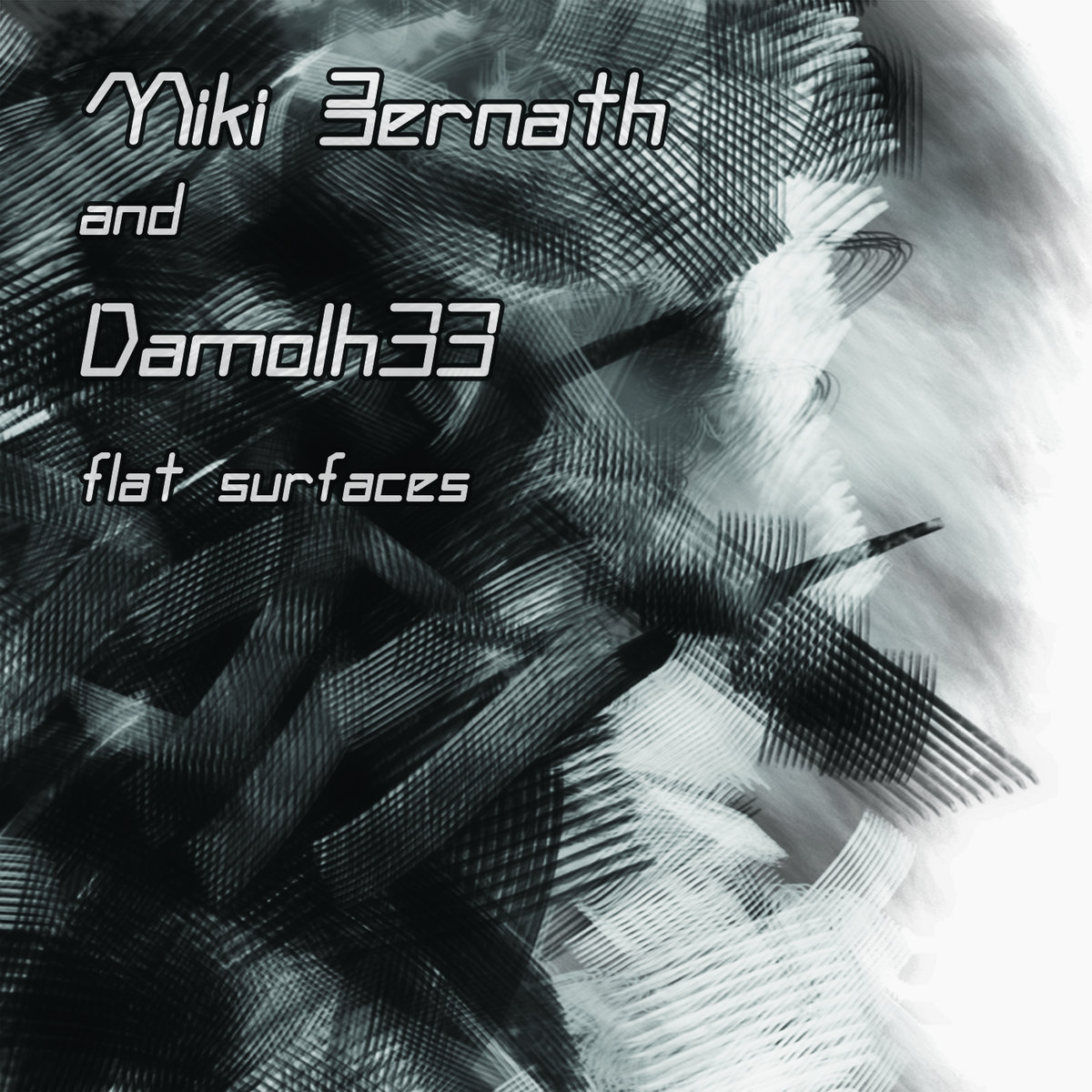 Artist:
Miki Bernath & Damolh33
Title:
Flat Surfaces
Format:
Tape
Label:
4mg Records
(@)
Rated:
After several digital EPs released in the last four years for their own Damolh Records, the Slovakian duo Miki Bernath* And Damolh33 are releasing on tape their first album titled "Flat Surfaces" for 4mg Records. Run by Imrich Vegh, 4mg Records always proposed interesting releases that mainly interested the retro electro scene fans. With this six tracks album (two bonus are included into the free digital download), Imi widened the spectrum of the music released by his label thanks to Gabriel Bernath and Mikuláš Bernáth. The tracks of "Flat Surfaces" span from ambient electronic with i.d.m. influences to 90s electro techno. If you are into early Biosphere but you like also the luscious sounds of the Soma Records rooster, like Slam or Oktogen, plus a touch of Warp stuff, this album could definitely find a place into your playlist. "Flat Surfaces" doesn't contain vocals neither dancefloor hits, but it's able to create a sonic world of its own and this is the main thing for someone who's making music! Preview here "https://4mgrecords.bandcamp.com/album/flat-surfaces" and contact Imi!