Ambient / Electronica / Ethereal / Dub / Soundscapes / Abstract
Edit (9681)
Artist:
Caught In The Wake Forever
Title:
Under Blankets
Format:
CD
Label:
Fluid Audio
(@)
Rated:
Caught In The Wake Forever is the project by Scottish home recording artist and composer Fraser Alexander McGowan. If you have ever listened to some of his outputs, you'll notice this "Under Blankets" (a one-single 40 minutes lasting track) is slightly different from most of his previous releases. As you can easily guess by its length, the typical structure of the song got put aside, as well as guitar-driven harmonies and even any narrative reference, even if there's a story behind it: it seems he made it as an enhancement of the somehow cliched meditative music he had to listen during a therapy against the anxiety he suffered from some years ago, during which he began practising so-called mindfulness meditation, an ancient Buddhist practice focusing on the here and now. The aim of such a practice got explained by its primary teacher Jon Kabat-Zinn as "the art of conscious living...to do with waking up and seeing things as they are...the overall tenor of mindfulness practice is gentle, appreciative, and nurturing" in his essay "Wherever You Go, There You Are". The style of ambient he explores cannot but be close to meditative music and somehow consonant to the aim of Fraser's therapy: slow trembling of remarkably elongated frequencies and slightly hypnotical swirling that become more and more sublimely warm could relief from your personal worries, or they will maybe just bring a sounder sleep! The physical deluxe cd edition, including many extra items related to astrology and meteorology, is strictly limited to 200 copies (just 15 remaining when this review got written), but the release is available in digital format on the artist's Bandcamp.
Ambient / Electronica / Ethereal / Dub / Soundscapes / Abstract
Edit (9679)
Artist:
Moon Gravity
Title:
Antarctica
Format:
Download Only (MP3 + Lossless)
Label:
Silber Media
(@)
Stas Neilyk from Sweden issues a debut release- either an EP or a mini-mini-album depending on how you look at it- that's a tribute to the Antarctic polar night. Why somebody from so far up the Northern hemisphere would be more interested in the Southern polar night is not made clear but thankfully it's not important.

What we have here is three tracks, totalling 23 minutes, of moody, slow post-rock very reminiscent (to me at least) of the Resonance Association et al. Repeated guitar chords with slow filters walk relentlessly over low-end drones with a feel that's organic, and also surprisingly warm considering the dark and frozen musical concept.

With its plucked guitar lines processed into sounding synthetic, and distant deep vocal chords, opener "Nightfall" starts resembling a moody piece of Vangelis score- including, but not limited to, his 1983 "Antarctica" score. There's elements of this in final track "Purpling" as well, although in the latter the guitar has shades of Peter Hook. This comparison is more loose than direct, for the legal record!

Longest track "Snowstorm" has a greater emphasis on a more traditional guitar sound, and is firmly placed in shoegaze territory for the most part. Two-thirds through, there's a surprise, as the present at the end of a crescendo is a slow techno beat that, while the piece stays firmly on its original track, gives it a new lease of life for the remainder of its run.

The finale of "Purpling" is a familiar melodic peaking, a technique often used at the end of atmospheric scores to signal the top of the metaphorical (or literal) mountain, and while there's a bit of a sense that this kind of work has been done before somewhat, it's still a well-made and emotive mini-album. It's more melodic and arguably more MOR than Silber's typical output, but may prove to be a good way in for newcomers.
Artist:
Simon Kölle
(@)
Title:
Ave Mater (OST)
Format:
Download Only (MP3 only)
Label:
MovieScore Media
(@)
Distributor:
MovieScore Media
Rated:
There is magic to be heard in Simon Kölle's score for Ave Mater (Vilsen), with individual moments of beauty that make the album worth every penny. Released on the highly-touted soundtrack label MovieScore Media and already award winning on several international festivals.

This album is pure suspense with liturgical moments from the choir which makes me think of the classical soundtrack of "Omen".
It's dark, satanic and beautiful!

The highlights of the score for Ave Mater are the themes and the mix of choir, electronics and orchestral elements. It's a highly original score at times working its way towards the cue "Lost in the Dark and Final Confrontation".

The cues I love the most on this masterpiece are in the beginning and in the end. The absolute favorite for me is "Lost in the Dark and Final Confrontation" because everything comes together in that 7-minute-long track.

In terms of compositional structure, this album is very good. We know Simon from his early years but see him now becoming a fantastic film composer.

Outside of the thematic cues, Ave Mater contains several standout tracks of symphonic and choral beauty.

We can now only hope that MovieScore Media also release this album as a CD but until then it can be found on ITunes, Amazon and Spotify.

Ambient / Electronica / Ethereal / Dub / Soundscapes / Abstract
Edit (9675)
Artist:
Hotel Hotel
Title:
Cactus Hands
Format:
Download Only (MP3 + Lossless)
Label:
Silber Media
(@)
Austin-based band Hotel Hotel broke up just as their album "The Sad Sea" was released, and this one twenty-four minute track is all that exists of what may have been their follow-up album.

It's a single, slowly unfolding piece of progressive post-rock built around slow drums, atmosphere-bathed guitars and a manic multi-tracked violin line skitting around almost at random. Piano and bass sit politely in the mix.

At times the track pulls you in two directions at once, at once both frenzied and sombre, with some stereo panning emphasising that even further. A quarter of the way through, the violin temporarily departs as we shift into another section, with a more traditional-ish broad Texan slide guitar noodling. Once the violin returns it drifts into a slightly folkier arrangement, before we come full circle; the manic line returns, then fades again as the twangy elements return. Just as you begin to wonder whether the whole thing is cyclical, the final quarter develops a slightly more determined rock swagger, building to an emphatic close.

It's a shame that this is a leftover from a longer work that will apparently never be finished, but it's good news that it saw the light of day.
Ambient / Electronica / Ethereal / Dub / Soundscapes / Abstract
Edit (9669)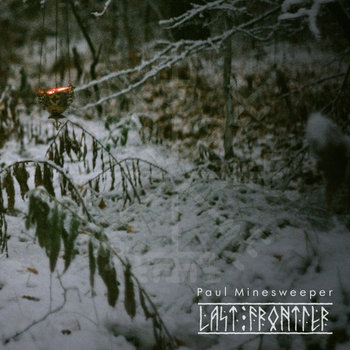 Artist:
Paul Minesweeper
Title:
Last Frontier
Format:
CD
Label:
Black Mara
(@)
Rated:
This release is described by a poem by M. Gidlevskiy about abyss as a symbol of something which pushes someone to begin a spiritual journey. The music by Paul Minesweeper stands in the school of dark ambient which adds ethnic elements i.e., traditional instruments, to the drone's infrastructure with the result of creating a link with his cultural heritage.
"Clarions Of Arrival" opens this release with a structure based on a drone acting as a gravity center for other musical elements as samples or guitar sections which remind to metal territories. "Siren" is instead a more canonical track based on a drone whose elements slowly unfold. The synth of "Icebound" starts to create a sort of solemn atmosphere that is doubled by the guitar as they are in two separate region of the spectrum, a low one for the guitar and a mid one for the synth. The drone of "Farewell" is so rapidly changing that is almost depicts a melody while "Solid Heaven" is developed upon distorted sound sources. "Oculatory" and "Dissolve Me" are relatively canonical dark ambient exercises while "Nomad Amongst Stars" is characterized by the present of samples in the background creating a sort of narrative about the theme of travel which found his rest in "Last Frontier". "Beyond" closes this release with a meditative drone.
This release has two sides, as it was a 12", the A side (the first five tracks) is impressive as it's able to craft the elements of dark ambient and drone metal in a cohesive whole revealing a defined personality while the second side is a little too predictable in his development. However, it's truly recommended for fans of drone music.