Artist:
OXYD
(@)
Title:
Larva
Format:
CD
Label:
Aliens Production
(@)
Distributor:
DSBP
Rated:
There's once again magic in the air! Whoever else than the both DISHARMONY-protagonists Lord Sauron and Ryby will be able to offer such another new epic sound experience pretty much in the already discovered line, but still quite diverse? I guess the main difference between DISHARMONY and this side-project can be explained, that OXYD is more Ambient-driven and a pure instrumental work. Some relations to the main project are of course recognizable, especially after the intense last DISHARMONY-album "Malignant Shields". DISHARMONY is colder-minded, rather KLINIKal when a play with terms is allowed. OXYD sounds more classically inspired and it allows different cultural influences to take place in some niches. It shouldn't wonder you if you can hear some quite unusual and organic instruments like pipes or brasses as additional elements. "Traveller" is sort of this work by offering a DISHARMONY-like sequencer line while several multi-layered sounds at times with an oriental touch are joining the scenario. That's fantastic cinematic music, timeless and addictive! Some voice-samples here and there get some inserts too ("Transformations", "From The Inside"), while I wouldn't call them essential. "Transmission" surprises with a straight, FLA-like bass line performance which is quite unusual for this Slovakian duo and compared to all of the other featured tracks an exception. "Suspiria" with its broken rhythm patterns reminds then rather on DISHARMONY, until "Carbon" brings this album back on track. "The Frozen Moon", maybe asides "Traveller" the favorite on this album, can be named as being one of the most melodic pieces – again the multiple layered bass line and synth pad work is outstanding and light-years above the average Electro/Industrial band! It is an Aliens Production release, it is from Slovakia, it is the side-project of the DISHARMONY-musicians – aren't this 3 reasons enough for you to buy it? A MUST-HAVE!
image not
available
anymore
Artist:
ATTRITION
(@)
Title:
This Death House
Format:
CD
Label:
Two Gods
(@)
Distributor:
Voiceprint
Rated:
BUY from
THIS DEATH HOUSE has been the very first release by Attrition. Released back in 1982 as a tape by Adventures In Reality and reissued during the years on tape as well as on vinyl, the two tracks album has been remastered and released on CD with a worldwide distribution for the first time. Released as the first volume of the "Incidental musics" by Martin Bowes own label Two Gods, THIS DEATH HOUSE born from an improvisations session which saw the band's members creating two long suites inspired by horror movies. I don't know what influenced them but they incidentally created a sort of predecessor of dark ambient by creating noises, drones manipulating analog equipment. Sounding really minimal "Crawling" and "Dead of night" will bring you back to the origin of a certain kind of industrial sound thanks to their cold and menacing atmospheres. A document of early tape culture brought back for the lovers of the genre and for whom want to know where everything started...
Ambient / Electronica / Ethereal / Dub / Soundscapes / Abstract
Edit (4075)
image not
available
anymore
Artist:
Rapoon
(@)
Title:
Time Frost
Format:
CD
Label:
Glacial Movements
(@)
Rated:
Robin Storey aka Rapoon is a former member of Zoviet France and currently part of The Reformed Faction (of ZF). The concept beyond this one is awesome - Storey infected and manipulated Johann Strauss' "Blue Danube" to describe Europe under a new ice age, with all the culture buried deep beneath the ice sheet. He used a 1968 vinyl edition of Kubrick's "2001 A Space Odissey" soundtrack to obtain the loops for the five compositions of "Time Frost" and you can hear even some vinyl crackles here & there and not one of them exists out of context. Basically all the compositions are short and have lots of textures and subtle movements except for "Ice Whispers" that clocks in at 35 minutes. Storey has been developing his solo material for approx. 15 years covering many styles with some highlights like his 1996 classic "Darker By Light" or the awesome and criminally underrated collaboration with Nocturnal Emission's Nigel Ayers under the name Hank & Slim - and some disappointing episodes like the experiments with clubby stuff on Klanggalerie. I'd say that "Time Frost" is probably his best effort in the ambient field so far. Out on the Italian label Glacial Movements, "Time Frost" comes packaged in a great digipack with a remarkable artwork created by Alessandra Clini on a picture by Bjarne Riesto.
image not
available
anymore
Artist:
Von Liebenfels
(@)
Title:
Všter Unser Im Walhall
Format:
CD
Label:
SkullLine
(@)
Distributor:
SkullLine
Rated:
Another new addition to the musically very diverse roster of the German SkullLine mail order, your underground specialist when it comes to get serviced with all styles between Industrial, Powernoise, Martial, Neo-Classic, Military or Experimental music. With VON LIEBENFELLS the SkullLine label turns for the first time into the Neo-Classic style, here and there accomplished with some Ambient elements. Torsten von Liebenfells – yes, that's also his civil name – hails from New Zealand, but can for sure look on German ancestors. He calls classical compositions of Wagner, but also related artists like VON THRONSTAHL and ZHARK to be quells of inspiration. His dedication to ZHARK went that far, that he has decided to create a special tribute-track entitled "Neu-Schwabenland". Musically his form of Neo-Classic consists of orchestral-like layer sounds richly present over this whole album. Some classic tom-tom-like percussion elements and here and there some real piano tunes ("Vril I", which features also some spoken-word samples, "Night Of The Long Knifes") are complimented his musically outfit, which differs by far compared to the rather noisy and experimental-minded stuff released by SkullLine. This is musically a fine and sedating procedure and the artistically concept behind this release is enormous. Thumbs up for this release, which brings back to once recognized impression, that music can mean something more than the too often overrated "terror-noise-distort"-formula. Well done!
Ambient / Electronica / Ethereal / Dub / Soundscapes / Abstract
Edit (4051)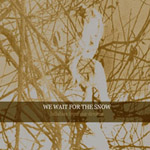 Artist:
WE WAIT FOR THE SNOW
Title:
Lullabies from Our Dreams
Format:
CD
Label:
Final Muzik
Rated:
We Wait For The Snow features Italian musician Andrea Penso, known for his solo project Selaxon Lutberg and his label Cold Current. Here he plays guitars, tambourine, accordion, synth and keyboard, flute and other less recognizable sources, aided by Simone Zuccolin (acoustic guitars and "non-musical objects"). WWftS play folkish, mostly instrumental tunes, but it's hard to pigeonhole them in any real neo-folk/wyrd-folk niche, as they rarely attempt at writing songs ("Forgotten Lovers" being the only true ballad here). Sure, there's recognizable guitar strumming everywhere (think of Current 93 circa "Earth Covers Earth"), but the result is closer to ambient drones than to folk minstrels - you put the cd on and it gives you a nice, drowsy, unobtrusive background sound for 48 minutes, but you'd hardly think of humming or singing along. However, the melancholic atmosphere they create with truly minimal elements (a chord, a drone, some concrete sound) prevents this from becoming some tedious wallpaper soundscape. I've listened to it in the last few days when it's rained cats and dogs, and I find it appropriate that the disc has been released in autumn. Those into Troum will rejoice when hearing the most ambient tracks (the two parts of "From Our Dreams"), but I'd also recommend this to fans of Lycia (despite the different instrumentation and tecnique, the feel is not that far).