Ambient / Electronica / Ethereal / Dub / Soundscapes / Abstract
Edit (7245)
Artist:
Stephan Mathieu
(@)
Title:
Coda (for WK)
Format:
CD EP
Label:
12k
(@)
Rated:
One of the most recent release caught in the meshes of the 12k limited series includes a dedication by talented sound artist Stephan Matieu to Wilhelm Kempff, one of the greatest pianist, organist and musical "popularizer" (his quiet "transcriptions" on vinyl of classics by Ludwig van Beethoven, Franz Liszt, J.S.Bach, Robert Schumann and many other classic composers took him up for more than 60 years) of last century, whose Beethoven's Piano Sonata No.26 known as "Le Adieux" from a double 78 rpm vinyl edition, which has been played through two mechanical-acoustic gramophones - a vintage element which goes steady with computer in Matieu's constant sonic equipment -, was used as an input for an autogenerative process. Even if both sources and equipment could look like aged, the sound of "Coda (for WK)", which could be considered a conclusive sequel of "A Static Place" - this 20-minutes long lasting track was previously issued on the ultra-limited vinyl edition of the mentioned album by Minority Records -, his previous release on Taylor Deupree's label, doesn't show any clues of ageing: it sounds like an halftone drone, focusing on the so-called "Schwebung effect" (a German word Stephan used to name his label in order to describes the process consisting of "the beats produced by the simultaneous vibration of two sounds, especially in unisons and octaves when nearly, but not quite in tune.") and the catching intersections and beating sonic effect of hypnotic extended tones and flickering over-stretched frequencies flowing nearby the same tone, which sound crepuscolar, dazzling, plushy and auroral at the same time. Pure bliss for audiophiles!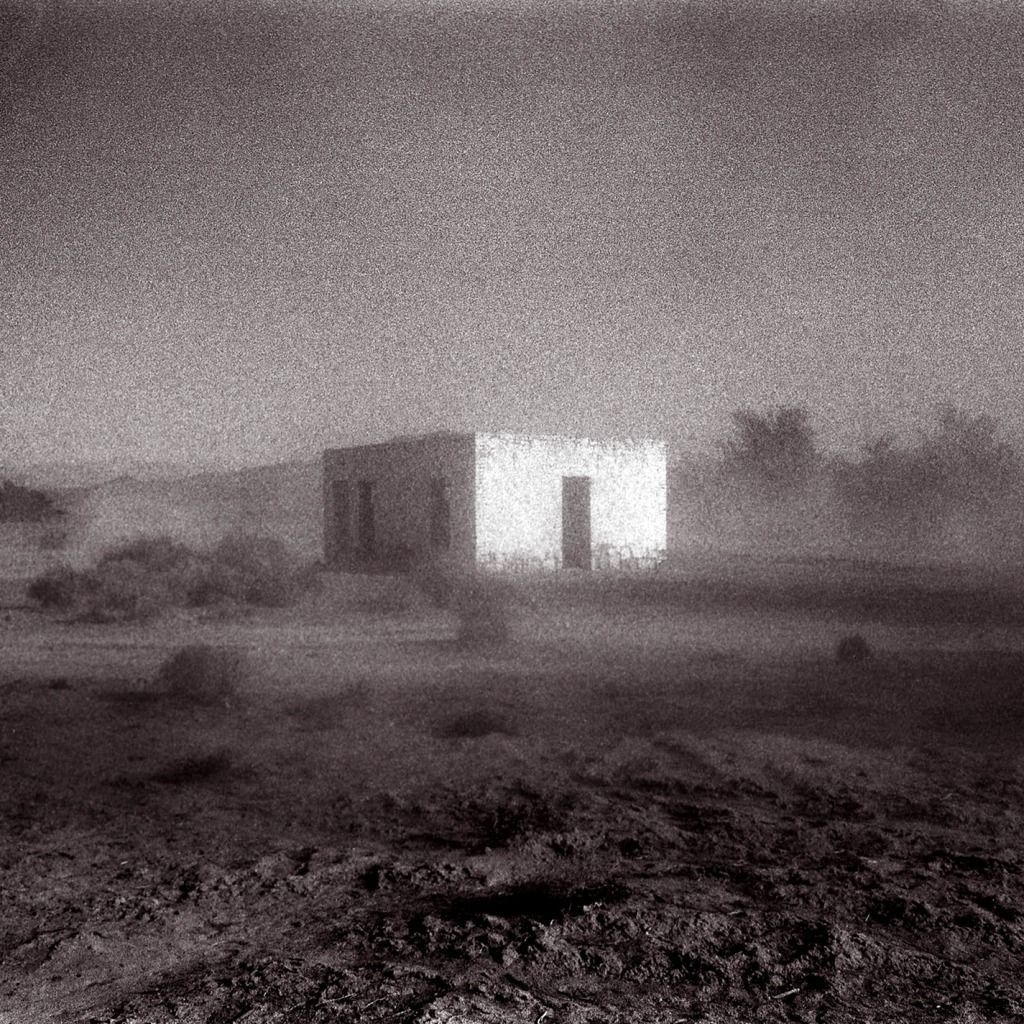 Artist:
Godspeed You! Black Emperor
Title:
Allelujah! Don't Bend! Ascend!
Format:
CD
Label:
Constellation Records
(@)
Distributor:
Experimedia
Rated:
Hope.

This is the word the cryptic 9-piece of Canadian anarchists Godspeed You! Black Emperor used to project on a backdrop during their live performance, as a funereal string quartet mirrormelded with a terrifyingly good rock band to create something new, something powerful and beautiful. They were dancing in the ashes from the start, paranoid murmurings over crumbling court music, but it was always about the final kiss at the ramparts. About trying to maintain optimism, in the face of debt and depression. They created a genre, hordes of imitators, and classicism was becoming good again, and live shows were becoming ritualistic crescendoes.

And then the twin towers fell. And a shadow fell, and thousands held their breath, hoping the angels of death would pass us by in the night, hoping the black-hooded gestapoes would shy away from our doors for another night. The shiny utopias of '90s rave futurism faded into memory, and we just didn't know WHAT the future would bring. Godspeed You!'s lights went dark, and sometimes it seemed like all hope might be lost.

But GY!BE were not dormant during their 10-year hiatus. Many members delved into revolutionary cabaret mysticism with A Silver Mt. Zion and a million different permutations, where they showed a more human side, even featuring conventional songs and lyrics. Their records were always tasty and interesting, but nothing could touch on Godspeed You's elemental alchemy. Constellation records, their perennial home, continued to manifest quality works of adventurous art, consistently producing lavish sleeves and vinyl, becoming synonymous with Vinyl Fetish fame. And finally, Godspeed You! Black Emperor put out a new record.

''Allelujah! Don't Bend! Ascend!' came out today, to baited breaths. Constellation have had to halt vinyl orders for a while, and we are all wondering: 'will it be as good as we hope?' Post-rock has become a sad joke in the last decade, pale Mogwai and Explosions in the Sky weak-kneed hippy noodling, an excuse to write long-winded opuses and try to impress chicks with yr long bandname. As with The Swans' record that came out earlier this year, the elder statesmen yet again school the imitators. 'A!DB!A!' is comprised of 4 parts, two long-players and two shorter, in traditional Godspeed You! form. The opening 'Mladic' comes on slow, with a Hebrew flavor that leaves a whiff of incense on the air. It was inspired by Rebitika, Greek protest music from the '20s and '30s, and finalizes with pots and pans clanging, recorded at a street protest. Godspeed you are still in the trenches. But there are differences... you begin to notice less of a classical air around the 9 instruments, and more of a tattered and trailing sound, like a ghost ship, washing in from sea. Middle eastern scales dance around a propulsive krautrock beat, before culminating in a Guy Fawkes' Day melee. Its more of an endless, jamming groove than this outfit has laid to tape previously, and its rendered in typical Hotel2Tango hi-fi has all the instruments breathing and hanging together lovingly, and is a large part of the reason why Godspeed You! smoke their lesser brethren, every time.

Its this classiness, attention to detail, and a clear artistic vision, that have allowed GY!BE and co. to rise above, to weather the storm, all these years. After years of gloomy soothsaying, re: the fate of the independent label, Constellation is still laying out exquisite gems of bending notes and honest sentiment. Godspeed You! have returned, and 'Allelujah! Don't Bend! Ascend!' is a triumph. They are trying new things, while maintaining true to form. The two long-players, 'Mladic' and 'We Drift Like Worried Fire' are on par with 'Moya' from the 'Slow Riot For New Zero Kanada' EP for sheer awesome revelations, and should be experienced, if you missed this band the first time around. The two shorter middle tracks, 'Their Helicopters Sing,' and 'Strung Like Lights at Thee Printemps Erable' are interesting sound experiments, full of whirring, whoofing drones to meld with yr radiators and refrigerators, during the coming cold months. The shorter tracks were released on a seperate 7' in the vinyl edition, with the two long tracks on a 12' to give someone the option for going for dreamy ambiance or joyful clockwork trance bombast, if that's yr bag.

Godspeed You! Black Emperor have shown that there is still hope, after all, and maybe Post-Rock is not dead, and mined out for ideas. Classical music has always been cool, and cynicism always gets tired. Let's build quiet armies, friends, let's march on glass cathedrals. The future is ours.
Artist:
Vatican Shadow
Title:
Jordanian Descent
Format:
Download Only (MP3 + Lossless)
Label:
Hospital Productions
(@)
Distributor:
Midheaven
Rated:
It seems like Dominick Fernow, aka Vatican Shadow, also known as Prurient, may be intent on becoming the next Muslimgauze. Since its inception in 2010, Vatican Shadow have spewed out 4 Albums, 2 EPs, and 11 assorted cassettes, downloads, and ephemera. The subject matter has been grindy, mesmerizing post-industrial techno, slathered in Gulf War propaganda and middle-eastern mysticism. Like muslimgauze, the material is largely rhythmic, trancey and repetitious in nature, luring you into a theta-state lull of grimey opium dreams. On 'Jordanian Descent,' one of 3 EPs offered up as digital downloads by Hospital Productions, seemingly to whet appetites for the forthcoming 'Ornamental Walls' LP coming out on Modern Love, later this month.

The question with Vatican Shadow is "do you like repetitious grinding, lulling techno?' If the answer is yes to this question, then you will undoubtedly love 'Jordanian Descents' 20-minute mantras. Both tracks kick and boom with a hypnotic low-end, characteristically warm and sanguine with Fernow's loving cassette-tape treatment. Vatican Shadow tend to play with a set-up of multiple tape decks, and assorted sound machines, synths and drum machines presumably. Songs tend to go on as long as the tape lasts, and Fernow gives the masses a sneak peak into the noise underground where he grew sharp and dangerous. With Prurient, he vomitted out twelve years of harsh-noise catharsis, but grew bored with the stale, predictable moves. He became more tuneful still playing synth with coldwave misanthropes Cold Cave, and developed an endless techno habit during constant touring.

'Jordanian Descent' seeks to hypnotize, endless crunchy beats with evolving layers of incoming soundscapes and sub-rhythms, clicking in like glass clockwork. They go on long enough, they can really pull you in and put you in a serious trance. Its like watching oily water, lightly rippling - through the layer of grit and scum, subtle ecosystems emerge. If you stare into the dark waters of 'Jordanian Descent' often enough, perhaps you might notice the care and craft with which it was preserved and brought to you? Originally released as a cassette, before becoming digitized, everything was lovingly analog and homespun. With Vatican Shadow's ubiquitous Gulf War graphic design, featuring Heroes of the Gulf War playing cards, it seems like Dominick Fernow is driving at a point, hacking out his slice of the world. After over a decade in the underground, making music and running his label/store Hospital Productions, we look to people like Dominick Fernow to see which way the ship is sailing.

The thing is, being surrounded by the BitStream, we must all pick and choose with allies we shall take on, which aesthetic we shall wear. Time is our commodity, and we don't have time for everything. With people like Dominick Fernow, they are unrelenting in their vision. They're doing their thing, and inviting you to partake. Delving into his catalog, current and past, can lead you to gloomy realms of inspired otherworldly darkness and joy, people like Regis and the Downwards Records crew or the aforementioned Muslimgauze. Beat junkies with camouflage and leather jackets - they drink from the same virulent well poisoned by William S. Burroughs and Throbbing Gristle. Smart punks with good taste, but often times unfriendly or socially awkward.

The two tracks of 'Jordanian Descent' draw you in, and keep you there. 'Jordanian Descent (Sharia Law)' is 20:06 and 'Jordanian Descent (Guantanamo Military Commission)' is 15:13. Both feature a consistent beat throughout, with other loops, rhythmic and melodic, shifting in and out, oftentimes imperceptibly. Each side is about long enough to walk to the store, or ride to work, and i highly recommend giving this a spin during yr commute. It can block out urban grit, and put you in a really sensual lull for the task that lay ahead. I can't wait to hear the other two singles, as well as the new full length. I am getting intrigued by this man and his actions. You should pay attention.
Ambient / Electronica / Ethereal / Dub / Soundscapes / Abstract
Edit (7236)
Artist:
Hit By A Rock
(@)
Title:
Wounded
Format:
CDS (CD Single)
Label:
Cherry Red Records
(@)
Distributor:
Cherry Red Records
Rated:
I didn't think I'd be starting off this batch of (late arriving) CDs with this particular title, but the blatancy of the project name and album title compelled me to. Frankly, I was expecting something completely different- harsh, blasting, or totally obnoxious. This is anything but that. Hit By A Rock is the project of London U.K. producer, remixer and soundtrack composer Jim Whelan. Not being familiar with Whelan's other work, I can't comment on it, but even though this is the first release under the HBAR moniker, you can tell he's no rank amatuer. Far from it.

To put it in a nutshell, 'Wounded' is atmospheric dub-dubby dubstep, and often dark at that. Cool, well...mostly. In a way, I am reminded of some of the best work of Massive Attack, although this album doesn't quite have the substance of 'Mezzanine'. It does have a fair portion of the atmospherics though. The album opens with 'Black Lily White Lotus' and is aided by the vocal talents of acclaimed British Tamil singer Susheela Raman, who has about five albums of her own. Raman's voice lends an exotic, Indian flavor to the track pulling you in. It's a great way to start this outing; brooding, mysterious, yet seductive. 'Seven Stones' features (manipulated) vocals by Zayna Daze (another Londoner), and while not as compelling as the opener, still adds a bit of depth.

Title track 'Wounded' is another matter though. The mood breaks, out comes a piano and vocoder with autotune that makes the vocal track sound like Donald, or maybe Daisy Duck. The sappy commercial melody is a real buzz-kill. I could just imagine the Disney's sailor-suited fowl warbling 'I've been hurt before...and now I'm wounded, wounded...' Okay so this didn't work, press the skip button.

'Silkworm' gets back in the groove again with Susheela on vocals, singing in English this time. Sort of reminiscent of Delerim melodically. Nice! Another highlight is 'Surgery,' featuring poet/spoken word artist Raymond Antrobus. He's a bit loony but it works well withing the context of the music; urban yet somewhat urbane.

I have to hand it to Whelan, he knows his way around sounds. It's a rich pastiche he presents here; nothing you haven't heard before, just maybe not in this way. Hope your sound system is up to the task though as the low end is really going to give that subwoofer a workout. 'East of the River' features the voice of Zewditu Johannes woven into its fabric adding more exotica. 'Closing' is a vocoded exercise in hypnosis, and perhaps an effective one under the right circumstances. The rest of the album is pretty decent but nothing that knocked my socks off.

In total, 'Wounded' is a good debut, and with only one real misstep, worthy of adding to your collection. I'm curious to see where Whelan will take HBAR from here. I'd like to hear something with more song-substance (I'm sure he's capable of it) that still retains the dark and delicious flavor he's presented throughout most of this album.



Ambient / Electronica / Ethereal / Dub / Soundscapes / Abstract
Edit (7228)
image not
available
anymore
Artist:
Atrium Carceri
Title:
Void
Format:
Download Only (MP3 + Lossless)
Label:
Cryo Chamber
(@)
Rated:
The new album from this swedish outfit has been constructed, for author's choice, exclusively for digital release so the purity of sonic experience is supposed to be above all consideration. Apart for the usual track-by-track commentary and overall judgement it's necessary to state the impressive sonic experience of this release: it's one of the best well-sounding release I've heard this year. In this position category as novelty or experimentation has any citizenship as all the aesthetical work is done on the formal side of the musical output.
"Dear Diary" is the intro of the release made out of filtered spoken word and a soundscape. "Humanity's Cradle" is based upon small and continuously moving small noises creating an evocative mood that continues with the next track: "A Curved Blade". "Reselected" starts with cinematic noises that are colored with a slowly developing line of piano and synth as "Victorian Meltdown" that, instead, ends with a quiet line of piano and some small sinusoidal noises. "Passage" and "Endless Deep" are classic track of the dark ambient genre typical of the author while "Debt", the longest track of this release, is a constant changing stating from the first cinematic part to the ethereal of the second and the last noisier part. "Trembling" starts quietly and ends in darker territories while "Slower" is a drone intro to a dreamy line of synth. "Ancient Past" is a dark ambient soundscape whose final line of piano serves as an introduction to the last track of this album: "Reap" a short and quiet track giving a sort of rest to this musical journey.
Honestly this is not a release that will be considered as a milestone in the history of dark ambient, however, in times where release are done with some superficiality in the technical output, this will be considered as one of the best release of the year. A must for all fans of the genre.