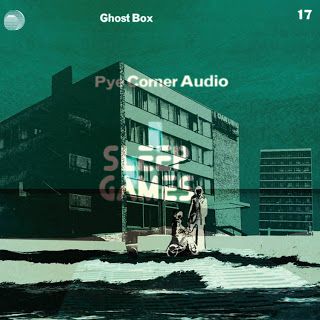 Artist:
Pye Corner Audio
(@)
Title:
Sleep Games
Format:
CD
Label:
Ghost Box Records
(@)
Rated:
As we approach Kurzweil's singularity, epochs and eras are running together in a permanent ontological NOW. The future is unfathomable, so we strive to master history, perhaps in an attempt to better understand the times we are living in. We are attempting to eradicate the grievous crimes against taste found in any era, and reinvent ourselves in the process. Ghost Box, the label run by Jim Jupp (Belbury Poly) and Julian House (The Advisory Circle) have been ahead of the curve since the label's inception in 2004, materializing an alternate history located somewhere between the years of our lord 1954 and 1978. With 'Sleep Games,' the most recent and most realized work by The Head Technician, the force behind Pye Corner Audio, they have expanded their template by about 7 years, and allowed in cosmic disco forces into Belbury's town square, lit the pastoral avenues with phosphorescent lights and polished chrome.

The Head Technician, aka Martin Jenkins, is a self-proclaimed John Carpenter devotee, and the predominant mood of 'Sleep Games' is akin to escaping from New York in The Fog, while someThing follows ominously, just beyond the halo of yr taillights. But Jenkins is also obsessed with early Detroit Techno: Carl Craig, Juan Atkins, Drexciya, Underground Resistance. He adorns the '80s plasticine sheen of horror movie synth explorations with a pillowy thump and colorful sequencer arpeggios, making a cyberpunk superbeast of atmospherics and danceability. Its a way forward for Ghost Box, who could flounder under their own archaic electronica, if they weren't careful.

'Sleep Games' is an exciting listen; its supposed to sound like movie music. It seems as if something is going on. With track names like 'The Mirror Ball Cracked,' 'A Door In The Dry Ice,' and 'Underneath The Dancefloor' 'Sleep Games' conjures mysterious visions of night drives and haunted discotheques. Some have referred to PCA's sound as 'Spectral Electronics'. It sounds like someone driving a speeding Delorean to catch the library before it closes, with churning fog obscuring the fields and barns of sleeping Belbury, in an attempt to subdue the sleeping demon beneath the haunted dancefloor, so that the good townspeople may dance and take pills and make merry in safety and splendour.

All of the drum machines and synths are lovingly sources from analogue, giving an old school crunch and warmth to the proceedings. As the Earth is riddled with neat, meticulous ADD-addled bedroom producers, rough hewn homemade electronica seems to be coming back in fashion, things which are personal and irreproducible, that seem like they COME from somewhere. The soul of the circuitboards, and the chi of the vacuum tubes are captured and transmitted in the stygian troughs of the spinning vinyl, an ineffable specter that is increasingly mandatory, in the dense oversaturated music industry. Martin Jenkins gives a loving touch to everything he produces, and has found a spiritual home in the town of Belbury, as part of the Ghost Box coven. Mark Fisher, aka K-punk, one of the patron saints of Hauntology, has even given his blackened benediction to 'Sleep Games', acting as a creative consultant for the haunted tenement cover art, lovingly created by labelhead Jim Jupp. Every mark of excellence is present and accounted for, proving Pye Corner Audio and Ghost Box to be at the peak of their powers, taking risks and creating worlds. It is exciting to watch their world grow and shift, and it is a magickal world to lose one's self in. With '80s movie scores gaining visibility and respectability, starting with 2010's Unsound Festival in Cracow, Poland, which focused on horror-themed music, to seeing classic scores lavishly re-issued on vinyl by the likes of Death Waltz Recording Company, perhaps people are finally ready to hear Pye Corner Audio's mouldering electronica. Its his best work yet, and a triumph and a new direction for Ghost Box, which continues to set the standard for Victorian Techno.
Artist:
Still Light
(@)
Title:
Rosarium
Format:
CD
Label:
Tonefloat
(@)
Rated:
Schmalzy, ineluctably melancholic, somewhat harrowing emotions like the unavoidability of a deep sorrow related to a loss that cannot be filled in spite of any temporary exorcism stay afloat on this intriguing album by Colorado-based talented musician and leading vocalist Kirill Nikolai, who gives the listener not the usual grit of sadness, which could sound too stodgy for those ones in search of some escapism within music. Even if you could imagine music notation on the staff could have been written by salt furtive tears, suddenly sprung while on exctasy (!), while listening, you'll easily notice that it seems that Still Light's music runs on a double track: lyrics often translate what music manages to say by its own and this aspect sounds clear since the initial "Bough", where rich vocals burst on the scene just after suspensive ghostly choirs, an evocative pan flute and a pale guitar anticipating an icy cello speak by themselves. "A Thing Buried" seems to describe a scene of burial through entrancing guitar arpeggios which weaves a dark-folk medieval sad ballad and a sort of dumb drone and the transitional relief, which has been inspired by the calming stillness of a snowy landscape on the lovely song "The Cross Of Snow" (the astonishing voice by Irish folk singer Carol Anne McGowan accentuates such an emotional atmosphere), cannot dam entrancing the emotional effluvium by Kirill, which reaches the highest stylistical peak in the two absorbing parts of "Processional" - the first one could evoke a gradual acceptance of a loss (the music sounds as warm as a friendly hug or slap for condolences), whereas the second one sounds like an intimate angelic lullaby (closer to ambient-tinged exstatic folk by primordial Sigur Ros or Eluvium) -, before the final redemption on "Rosary", where Kirill seems to sing the recovered beauty and balance after such an intense grief.
Artist:
The Use Of Ashes
Title:
White Nights: Flake Of Eternity
Format:
CD
Label:
Tonefloat
(@)
Rated:
"Flake Of Eternity" is the final chapter of the trilogy "White Nights" by the stylistically iridescent Dutch band, born from the ashes of Ultra Movement-oriented Mekanik Kommando and named after a notorious album by Tom Rapp's Pearls Before Swine. Their daydreaming aura sometimes seems to concoct ith a subtle irony so that you could ask yourself if they keep on commemorating the use of ashes of that jeweller (his wife) sung by Tom Rapp who used ashes to clean coins and worship Gods or if they musically use ashes to invoke the souls of those dead bodies they came from! The sweet 60ies-like psychedelic-folk exhaling from some of their most lisergic and sunny tunes ("Being In Dreaming", "A Harmonics Secundus", "Look For The Sun" or the lovely "I Walk On A Beam"), which seems to come from the inspiration of a retired bomb disposal expert who spent years of his life in clearing Vietnamese war surplus after listening to Charlemagne Palestine seems to alternate with ideal punches setting traps for this dreaming state in a daze till its final atonement ("Hometown" is the nicest possible "farewell speech" to dismiss audience at the end of a concert!). The amazing crossbreed between improvisational folk and vocal experiments in "Little Garden", the amazing "From Nowhere To Nowhere" (an underlying quotation of Talking Heads' "Road To Nowhere" behind those field recordings which join the queue in a supermarket) and a sort of parody of radiophonic pop semantics in "XJ6 ... And The Radio Is On" (I don't know if the way of singing knowingly emulates Steven Wilson's honeyed style...dangerous for diabetics) accomplishes this anomalously oblique and lovely entrancing release.
Ambient / Electronica / Ethereal / Dub / Soundscapes / Abstract
Edit (7285)
A set of imaginary wanderings in the outer space with many leaps over "moons" of our system with its load of emotional reverie, which has always inspired mankind seems to be the main theme of this entrancing debut full length album by Kane Ikin, who amalgamates a bunch of sonic tips and tricks and the charm of radio astronomy within his sound. The firsts mainly come with muffled strokes, distended puffs, a massive use of chorus and delay and proper percussive elements (chimes, bells, hang), which amplify the contemplative dimension of his sound, the latters through the retention of that noise, which sounds like tape hisses and echoes radio transmissions from outer space which many astronomers explain by attributing them to interferences of electromagnetic fields and cosmic powders. Kane Ikin doesn't scrub his sound from this noise particles and I'd say such a stylistical choice distintively marks his sound, which often manages to render the imaginary feeling of an astronaut while watching through the window of a starship. Many moments of the album could recall the sound of other sonic stargazers (Geir Jenssen's Biosphere or Pete Namlook), but Kane Ikin looks like percolating an high emotionality with its volatile vapours so that you could have the impression he recorded the album through the grabbing by a futuristic recorder on Planet Earth of many transmissions of one take sessions from the orbits of the satellites he mentions for the titles of Sublunar's tracks or you could just imagine that his sound equipment includes just two powerful radars, one header for cosmos and one headed for his inner universe. "Sublunar" could be considered as a musical essay on how celestial mechanics can influence inner gears.
Ambient / Electronica / Ethereal / Dub / Soundscapes / Abstract
Edit (7284)
Artist:
Maculatum
Title:
The Nameless City
Format:
CD
Label:
Malignant Records
(@)
Rated:
Are you ready for some Dark Ambient? I mean some real, heavy dark ambient, the kind that nightmares are born of. Well, here it is! Maculatum is the collaboration of Malignant Records artists Collapsar and Rasalhague (Thibaud Thaunay and Kerry Braud) and 'The Nameless City' is their first outing together, and hopefully not their last. The title of the album, 'The Nameless City' is taken from H. P. Lovecraft's 1921 short story by the same name, considered the first Cthulhu Mythos story. Being that Lovecraft and Dark Ambient go together like coffee and donuts, it's no wonder that Maculatum pay tribute to the master of cosmic horror with this ode to the abyss.

You begin by sliding slowly into the void, as uneasy sounds and presences drift by. Then, an expanse of vast proportions opens up, like some dreadful subterranean cavern. There are remnants of an ancient reptilian civilization in glowing hieroglyphs on the walls, and hints of its ineffable demonic glory as ritual percussion plays in your mind. (Plays with your mind is more like it.) Exploring further, a strange (slowed down and backwards) voice from an unseen presence introduces you to a world hitherto unknown, as the primal percussion lays down its totemic groove. And just when you thought you were beginning to sus this bizarre world within a world, the floor drops out and you find yourself floating in the birthing chamber of all that is abominable and contradictory to life as you know it.

Maculatum make use of huge chambered ambiences, and the chittering, slithering sounds that invade this sanctum are beyond creepy. When rhythms do emerge they are either tribally ritualistic or alien machine-like, with an inclination toward the horrific. Yet, it is all dream-like and surreal, as if the experience comes from hallucinating the collective subconscious of worshipers of some terrible elder gods. (Even the sampled movie dialogue towards the end of 'Part IV' didn't detract from this preternatural ambience.) The ritual percussion in 'Part V' is rather strange, having almost a Native American beat, but also other ethnic touches. The final track on 'The Nameless City,' 'Part VI' is pure dark ambient delight, and winds things down with delicious drones, huge reverberation, and doomful tones and the last gasps of an unfathomable ancient civilization scattered in the sand of the desert winds. It couldn't be more appropriate.

This release is limited to 500 copies so don't put off acquiring it figuring it will be around forever. It won't.