image not
available
anymore
Artist:
VV.AA.
(@)
Title:
The Waerloga Journey - Compilation vol. 2
Format:
Download Only (MP3 only)
Label:
Waerloga Records
(@)
Distributor:
Waerloga Records
Rated:
Finally Waerloga Records are back with a release. This time a compilation only released on Band Camp. Bands like Za Frumi, Arcana and Cultus Ferox are on the same album as some of the most talented upcoming stars in film score composing and composing for great video games. Waerloga celebrates their 13th year with a compilation with both old acts and new.

The album starts off with a beautiful piece of the American Sean Beeson. This track fits any major soundtrack & set the tone for the whole album. I think of movies such as Breveheart when I hear this track.

Bjaran was unknown for me but they knock me out with a song called "Babba". This is some high caliber Nordic Folk Music which make me think of trolls and dark forests of the north! One of the highpoints on the album!

Erdenstern's "Age of Adventure" brings us classic Erdenstern Fantasy music surely inspired by Game of Thrones and other more new films/series in the fantasy genre. This is one of the better songs of Erdenstern which says a lot as they have some true gems in their discography.

Za Frumi is of course heard on the compilation (as Waerloga is their home) as well and the song "Immra - Alternative Version" is stunningly beautiful. This is an alternative version of the song Immra from "Shrak Ishi Za Migul - Chapter 3" and as always with Za Frumi it's really good.

Tengil was the second band I never heard off before in this compilation (also see my review of their debut album) and like Bjaran I am presently surprised. Tengil perform a bag pipe driven song called "Tamfanae" and it's for sure the best one from their debut album "Stanni Altah". Swedish Tengil is a band we will hear more about in the future as they have signed with Waerloga Records. A cool move from Waerloga Records and Tengil.

Simon Kolle known from Za Frumi and his film scores contributes with a song called "Drakar och Demoner: Giltes Bane" which is a Swedish version of the game Dungeons and Dragons made into a couple of Swedish films. The track is fantastic and carries you to other worlds!

Jeff Broadbent is a skilled film/game composer from USA that contributes with a Hans Zimmer inspired piece which is awesome! "Ultimate Sacrifice" is the name of the song and in my mind it's more or less a trailer score. I want to hear more with Broadbent.

Pawel Blaszczak's track is really cool and not fantasy inspired but Sci-fi. The track is inspiring and gives us hints were Waerloga Records are going. Great track!

Eerie Caffer takes the album to a nature setting and with only the close sounds of guitars on a what sounds like a porch I see a swamp in front of me. Eerie Caffer's minimalistic song with a lot of nature sounds and guitars grows on me and I really enjoy it.

Joel Forssell & Simon Kolle made a song called "The Monitor Celestra" for a big Larp in Sweden inspired by Battlestar Galactica. Joel and Simon made this track for the larp and you surely can hear that the two composers where inspired by Bear Mccreary's original song. In my mind this song is actually better than the famous theme of BSG.

Hans Lundgren brings us a track that gives me memories of the film "Leon" at first but later on it burst out into a even more wonderful piece. Marimba, bass and flute are the main instruments heard. I had never heard of Hans but I will for sure listen to more of his film scores! Talented guy.

Gargrim the Liar with the song " Carmen ex Miragliano" really make me dream of dramatic theatrical worlds. It's like music made for Romeo and Juliet.

Joel Forssell with "Outside the Place" is all about thriller and drama. The song never really takes off even though I like it. Joel is for sure talented and parts of the song is action oriented which seem to be his strong suit. I would like to hear more of the work of Forssell.

Abnocto, Lost Kingdom and Encryption all three are presented with each track from their old albums. I like them all and they fit this compilation's purpose well.

Daniel and Mikael Tjernberg are the crazy Swedish brothers always giving us some strange tunes. Here their choice was the title track from their Soundtrack "Anton". This is strange cinematic jazz/fusion and old school film scoring from the 80s. I wrote this about the track when in my review of the complete soundtrack: "The cue Anton I really enjoy as it also is way out there with the Fusion and strange elements of musical geniality.".

Apocalypsis Cum Figuris is compositions made by Simmon Kolle written for guitar and violin. Very beautiful.

Cultus Ferox was one of my old favorites a couple of years back. Tengil remind me Cultus but Cultus often takes it to rock and Tengil stays in the historical music genre and cinematic genre (without rock). The track "Mutter Erde" is one of Cultus best song and I Love it!

Aardia with the song "Legion of Darkness" is the 20th song on this epic compilation. Aardia is all about epic power and this song is maybe their best? Pure, raw and powerful are words that describe this track.

Arcana are heard with their old song "Song of Mourning" which gives me memories of my youth in the 90s. I think Arcana are one the best bands in the world.

The last song on the album is Simon Kölles Musterion. I wrote this in my review of the Musterion album: "From the opening moments of the first piece "Elevator Down" it becomes evident that Musterion possesses a special demeanor via his ferocious line of attack, spiced with verve and a robust tone. Coupled with fluent lines and a few technical nods to the psychedelic years of the 60s, the artist snags your attention, and sails through these largely, original pieces with equal doses of fire and grace!".

"Only great poetry can describe the music on this album" was something I wrote in my review of Musterion "The Wondrous Journey Through the Catacombs of Life" and I think it is suiting to write the same about this wonderful compilation.

Waerloga Records has never been more interesting. They are a taking their beloved label towards Band Camp and digital releases and it will be interesting to see if the fans of the label follow them there?

Overall this is a great compilation, maybe the best 2014! I am stoked to hear more releases from Waerloga Records 3.0, as they call their new great webpage (www.waerloga.com).

Great work Waerloga

Tracklist
1. Sean Beeson ' Rod or By Dagger
2. Bjäran ' Babba
3. Erdenstern ' Age of Adventure
4. Za Frûmi ' Immra (Alternative version)
5. Tengil ' Tamfanae
6. Simon Kölle ' Drakar och Demoner: Giltes Bane
7. Jeff Broadbent ' Ultimate Sacrifice
8. Pawel Blaszczak ' No Escape From Here
9. Eerie Caffer ' Bombina Cries in the Rain
10. Joel Forssell & Simon Kölle ' The Monitor Celestra
11. Hans Lundgren ' Lou
12. Gargrim the liar ' Carmen ex Miragliano
13. Joel Forssell ' Outside the Place
14. Abnocto ' Spiritus Arma
15. Daniel & Mikael Tjernberg ' Anton
16. Lost Kingdom ' Collection
17. Apocalypsis Cum Figuris ' The Forbidden Chamber
18. Encryption ' Cold Skin
19. Cultus Ferox ' Mutter Erde
20. Aardia ' Legion of Darkness
21. Arcana ' Song of Mourning
22. Musterion ' Elevator Down

Ambient / Electronica / Ethereal / Dub / Soundscapes / Abstract
Edit (8415)
Artist:
Monolyth & Cobalt
(@)
Title:
Polarlicht
Format:
CD
Label:
Time Released Sound
(@)
Rated:
I'm never timely enough when Time Released Sound begins to spread the limited deluxe editions of its releases, and the one they made for this album by French sound-artist Mathias Van Eecloo - 65 antique metal 16mm film cans got hand labelled, collaged and stamped together with 10 round hi-res satellite photos of the polar ice caps as well as rounded ones of polar explorers and some of their adventurous chilling voyages - unfortunately sold out at the moment, but some of the 150 copies of digipak edition should be still available. As you can easily guess, "Polarlicht" doesn't sound tropical at all even if the opening "Polar" could look like the defrosting of the sonic elements that features the album, whose style can approximately be considered a sort of minimal drone-ambient where sounds are more like a tuning to movements of glaciers and icy arctic winds. Even if there's a reference to Adolf Wolfli - I guess the title of a track "Adolf Wolfi Never Died" could be a clerical error -, "Polarlicht" cannot be considered an epitome of horror vacui, as the sonic sphere is more empty than crammed with unuseful sounds and if you've ever been nearby polar regions, you could understand that the sonicbook by Mathias is not so far from the aural perception than you can experience there where silence is sometimes so "dense" than even imagined sound during a migraine could lull you till paregoric reverie. Everything sounds permanently frozen: the slow melodic layering of "Blooming Stones" sounds like coming from gentle touches of the pointer of a multimeters on icy surfaces, the delicate electronic swaying of "Titanium (Geology)" could be a lulling melody inspired by pulses of a metal detector over a floating ice mass and even the appearance of birds on "Flugel Schagen" sounds like anesthetized by soothing anemic sounds which got interrupted by electric interferences and a slamming noise, while their ideal reappearance on "Birds Are Some Holes In The Sky Through A Man Can Pass" (I almost missed this verbose titles in an ambient-oriented record...) seems to belong to a sort of mystical experience. The dreamlike stillness of northern countryside got evoked by the following "Dùthaich (Land, People and Distance Between Them)", where the three elements inside the brackets are the proper sonic entites of the track, even if the syncopated snoring that he inserted makes me think about the sweet death for a frostbite of a lonely rhubarb farmer, There are some lethargic moments over the album, which could foster a slumber after a square meal, and some of them ("Verhaal 02", "Kiss Kiss Bang Bang (Licht)" seem to be dramatized by means of vocal samples from vintage movies, but they hold together with the rest of the album.
Ambient / Electronica / Ethereal / Dub / Soundscapes / Abstract
Edit (8414)
Artist:
Memory Drawings
Title:
There Is No Perfect Place
Format:
2 x CD (double CD)
Label:
Hibernate
(@)
Rated:
The subtly melancholic and quietly hermetic sound that the engaging project, which was born from the musical rendez-vous by former Hood members Richard Adams and Gareth S.Brown, violin player Sarah Kemp and American dulcimer player and pecussionist Joel Hanson, lets gush on the beautiful "Music for Another Loss", sounds even more fluid and enjoyable on "There Is No Perfect Place", their second album: even if they kept more or less the stylistical recipe and the emotional framework mostly unchanged, most songs show a more sprightly flow insomuch as some moments of the album such as "The Island Of The Day Before" and "Then And Now" could be imagined as the acoustic reshuffling of some excellent tunes from "The Soundings" by Andy Dragazis' Blue States, which someone could label as "chamber pop" or even "easy listening" in spite of the fact we are speaking about something that is higher on a quality level than other stuff which got similarly labelled and other moments scrape the heights already reached by Talk Talk or Bark Psychosis. Besides any possible comparisons and connectionm including some similarities with past releases by the above-mentioned Hood, Memory Drawings' music manages to speak to listeners soul by heart breaking tunes, whose conciceness and immediacy don't screen the wise way by which all instruments render unbearably stabbing feelings, where a sweet psychodrama got opened and closed by the two parts of "Back To The Moment", where lovely acoustic guitar arpeggios and cinematic melodic weaving by dulcimer and violin tickle so tender memories that could electrocute more namby-pamby listeners! Likewise "Music For Another Loss", this album includes a bonus cd for first 100 people who will buy the album with a cello version of "I Could Live Like This Forever" and three amazing vocal versions of "The Island Of The Day Before", "Golden Afternoon" and "There Is No perfect Place" as well as some excellent variations by other musicians: my favorite re-versions are the one of the title-track by OST composer William Ryan Fritch who succeeds in turning ethereal into something visceral even if his style mirrors those epic deflections that many composers of soundtrack dotes on, the bizarre modulations of "The Island Of The Day Before" by The Sly and Unseen (Katie English and Jonathan Lees) who seems to have pierced cow bells by live wires in order to attain a crosscut between bucolic and hypnotical, and the abstract version of "In The House Of Midnight" by A New Line (Related), solo-project by Andrew Johnson (another member of Hood as well as member of The Remote Viewer), but Benoit Pioulard, Talvihorros and Pausal could inspire ecstatic experiences as well.
Ambient / Electronica / Ethereal / Dub / Soundscapes / Abstract
Edit (8412)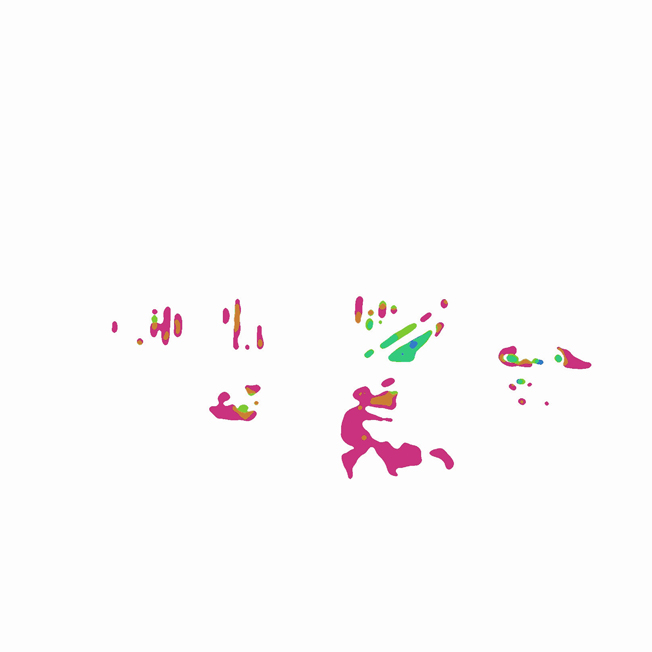 Artist:
Yuki Aida & Tomotsuga Nakamura
(@)
Title:
Ēchóchrōma
Format:
Download Only (MP3 + Lossless)
Label:
Audiobulb
(@)
Rated:
This release is a collaboration between two sound artists Tomotsugu Nakamura, focused on micro rhythms, and Yuki Aida, focused on ambient. Even if the linear notes present this as 'an album that overflows with intricate bleeps, unique tones and micro rhythms', it's a release that sounds a little derivative as his influences are clearly perceptible during the listening.
As the song titles suggest, this album sounds like a single track divides in twelve movements. The gentle tones and rhythm of 'Mono' opens this release abruptly ending to let 'Di' continues with a fractured beat that periodically ends. The glitches of 'Tri' evolve into 'Tetra', an hypnotic track based upon the juxtaposition of a small loop and a longer one. The slow development of 'Penta' is based upon the 'classic' glitches of a cd player while 'Hexa' is based on an abstract small sample that is colored by the small beeps of a rhythmic part that is absent of 'Hepta', as it's focused on an abstract sound development, and returns in 'Octa' exalted by the short samples. 'Nona' sounds like a return to the atmospheres of the first track while 'Deca' is a delicate soundscape for a windy day as 'Undeca' for a desert one. 'Dodeca' quietly closes this release returning once again to the gentle tones of 'Mono'.
As it's not a ground-breaking release, his strength lies in the musical writing able to develop a cohesive release out of the single tracks. The careful sound production, meaning a long development, make this release something worth a listen to all fans of glitch. A nice release.
Artist:
Andrew Weathers & Seth Chrisman
(@)
Title:
Louella
Format:
Tape
Label:
Full Spectrum
(@)
Rated:
Named after the name of the wife of Forest Service guardian Cheney, who built this guard station in 1912, Louella is a four-room cabin in the thick scenic Olympic National Forest nearby Sequim, WA, where this graceful recording by Seth "Widesky" Chrisman and Full Spectrum label co-founder Andrew Weathers was born. Besides drinking water (not available according to the the recreation section of US Department of Agriculture website), whiskey and hot dogs, they brought guitars, banjo, cheap synthesizers and microphones in order to grab the resonances within the cabin and some sounds from the stunning natural set of its surroundings for their 3-days lasting stay in the middle of many majestic Douglas firs and shrouded by Cascadian mist, which inspired two suites where they wove their sonic arts together: I could guess that the field recordings they grabbed in Louella cabin got recorded on tape in order to evoke the rusticity of their makeshift recording studio and such a concept could have inspired the choice of monophonic electronic sounds which are sometimes similar to those chimes and accordion-like sounds that feature contemporary reprises of Americana folk music - you could imagine a dreamlike version of Badalamenti's soundtrack for Lynch's "The straight story" in order to have an idea of what you're going to listen -, the fragmented folk motifs on guitar that often wrap the drone-like stream and a certain "frugality" and lukewarm intimacy which make the mild listening experience more intense. Available on strictly limited edition green cassette and as a digital download.