Ambient / Electronica / Ethereal / Dub / Soundscapes / Abstract
Edit (11061)
"Melting Gravity" is a forty-minute work, in two parts, that layers up synthesis and oscillator-sourced drones, long acoustic string sustains, and moderately rapid sonic waves, putting you in a relentless environment that's initially quite affronting, but into which the listener gradually acclimates. Teethier, discordant bow-like bass sounds play against more pure, digital-bell-like single melodic notes, while the strong tones manage to fluctuate from warm to disquieting with elegant subtlety.

It's never excessively harsh or noisy, but never excessively pleasant either. Towards the end of the first part the string tones breathe a little more freely, which feels like a form of respite. The second part is calmer at first, a less undulating string bed framing some unusual, always squeaky bow work, before growing into thicker territory that more closely resembles the first part.

If you like your drones stringy, with a degree of grit that never actually gets nasty, then you'll very much appreciate letting these tones roll over you.
Artist:
VV.AA.
Title:
Interactions: A Guide to Swiss Underground Experimental Music
Format:
2 x 12" vinyl
Label:
Buh Records
This is a sampler, in the proper sense, a sonic buffet providing 27 short works or snippets, all under five minutes long, the vast majority under four minutes long. It's a palette wetter, giving you brief, but largely radio-unfriendly, nuggets that will hopefully launch you into wanting to know more.

There are a variety of styles at play- noise, industrial, ambient, drone, and more constructed and melodic offerings as well.

The more accessible tracks include "Nozomi" by Papiro & Yanik Soland, which is a quirky bit of ethno-electro-pop, and Julian Sartorius' bouncy "Ziggli". The out-of-breath panting sounds of Martina Lussi's "Pool" are attention-grabbing in an obvious but still successful way, while Serote's "Niton" is string-heavy, soundtrack-like melancholia with a gritty twist. Joke Lanz's "Dutschke" feels like a throwback to the weirder side of early-naughties sample-hop, and the distinctive groove of Tout Bleu's "Souviens-toi" makes you want it on repeat play.

Electronica and more production-centric works get a showing with pieces like the sci-fi-trailer tones of Therminal C's "Sputnik Crash". Manuel Troller's "Hologram", acoustic instruments bathed in rapid retriggering and looping, has a fascinating purity about it that's rather endearing. Souharce's "Assurance Maladie" is a glitchy lo-fi affair of pulses and melodic deformation, and Gilles Aubry's "And who Ears the Desert" [sic] applies a similar scratchy digital logic to untraceable but vaguely Eastern-sounding ethnic found sounds and traditional music, for a form of broken reportage, while the excerpt from Purpura's "Cruel" puts foghorn-like low bass notes on a turbulent sea of white noises.

Darker and more avantgarde offerings are included too, for example of "Tod am Bach" by Rudolf Ed.er, a shifting noise and drone pattern which at such short length becomes a prelude. Christian Müller's "London Study #2" is a characterful assembly of found percussion that flows well into Flo Stoffner's plucky stop-start and increasingly chaotic "Carmensac", while Christian Kobi's "I" is a curious set of blowing noises that seem to be both pneumatic and asthmatic at times. Denis Rollet's "sW#1" is a curious and cathartic selection of twisted noise of various colours.

Not everything was to my taste, understandably. Erb/Loriot/Morishige's "Ice", with its nails-down-a-blackboard toned violin screeching, was just the wrong side of painful for my ears and made me actively wish for less capable headphones, while Jason Khan's agonised sing-wailing on "Nearly You" was somehow just the wrong kind of emotional mess for me.

As an 89-minute listening experience in its own right, it's only moderately satisfying- like trying to structure an entire dinner out of small snack bites- but the track sequencing is reasonably well balanced and keeps you interested. But with such a broad selection on offer, there will definitely be at least something to pique your interest here, and something you can't be bothered with- the true sign of a good sampler compilation. It's a sign of a very healthy underground scene in Switzerland, for sure.

Artist:
François Bonnet & Stephen O'Malley
Title:
Cylene
Format:
12" vinyl + Download
Label:
Editions Mego
Stephen O'Malley's guitar work here is very recognisable from his work in Sunn O)))- long, cavernous, reverb-and-effect laden sustains describing a series of cavernous, hollow, barren yet somehow darkly peaceful environments. Francois J. Bonnet is the studio re-worker, the producer, but despite having his name credited first, it does like Bonnet has adopted a very subtle, less-is-more approach to the studio post-manipulation, allowing the plaintive guitar work acres of respect and calm. Synth pad and environmental elements are subtle, and have a very strong synergy to the guitar work that makes them sometimes border on the unnoticeable.

Bluntly, for most of this work it feels like there is more variation in the track lengths than there is in the tracks themselves. Lengthy and mesmerisingly simple pieces like thirteen-minute "Pahoehoe" have the same sonic quality as the shorter sketches like three-minute "Premiere noire", but simply for more time, dim though that may sound. And while that may sound like a criticism, if you want to approach this album to enjoy the value of its soporific stillness, it becomes a virtue.

It would be unfair to say there's no variation, of course. For example "Tephras"'s wind tones add an extra haunting element, while the reverb dips a little deeper into the realm of an alien foghorn, and this flows fluidly into the more atmosphere-led "Dernieres teintes noires" where the guitar itself is less distinct and the after-effects of it explored further. The opening of fifteen-minute final piece "Des pas dans les cendres" is the album's softest section, the soft pads sounding almost synth-choral, before unfolding into the warmest and most velvety of conclusions.

It's reliable and deeply atmospheric guitar-drone that will certainly appeal to existing Sunn O))) fans, but which shouldn't really feel like it has travelled anywhere new.
Ambient / Electronica / Ethereal / Dub / Soundscapes / Abstract
Edit (11056)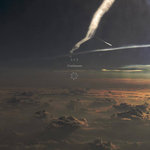 Artist:
Inner Vision Laboratory
(@)
Title:
Continuum
Format:
CD
Label:
Zoharum
(@)
Distributor:
Alchembria
Rated:
It's always nice to hear a release from a project which marks a difference from its previous ones; it's not a matter of evolution but of expectation. Especially in the dark ambient area, it's usual that a formula is repeated without any deviation but "Continuum" is somehow different from the previous efforts by Inner Vision Laboratory. Departing from the calm shores of dark ambient, Karol Skrzypiec explores new territories using a richer sound spectrum not using impressive sound effect but new musical elements from other genres.
The speech by Alan Watts, about how human unhappiness is based on the feeling that life is meaninglessness, introduces the listener towards an ambient release based on suspended slow tones and resonances. Some samples, maybe field recordings, gives the illusion of track being recorded in an open environment without the sense for special effects so common in dark ambient nowadays. The use of guitar and piano among the usual electronic equipment which is the base of the genre is the key to a link to certain minimalism which is the center of the second half of this release which seems an hint of a change of musical direction in the next releases.
In a precarious equilibrium between classic ambient, minimalism and experimental music, this new release by Karol Skrzypiec is a little gem that could be well received by most fans and demands a certain number of listening to catch all the grains hidden in an apparently canonical form. Highly recommended.
Artist:
Basic Biology
(@)
Title:
Melting Patterns
Format:
Download Only (MP3 + Lossless)
Label:
Free Love Digi
Rated:
Another intelligent shot by Quentin Hiatus' imprint Free Love Digi, which recently deployed the debut album by Basic Biology, the bicephalous creature by Thomas Brinson aka Thomas B (debuting as producer after more than 20 years on decks mixing drum'n'bass) and multi-instrumentalist Matthew Cassidy, propitiated by their common friend GHAST. Speaking in general they seem to liquefy mid-tempo and dubstep in order to forge a more emotional and soulful declension of what is commonly referred as 'liquid' in drum'n'bass jargon. Such a sonic research unveils unexpected pearls during its listening, such as the initial title track "Melting Patterns", one of the five songs where Matthew Cassidy brings his charmingly androgynous over a VT like arpeggio, smelling of Strange Things's Prophet 5-driven OST, the elegant sub dermal tension of "Sleeve" (Cassidy on mic again) or the nicely hopped "Dust" (featuring Megan McKay this time on the microphone... the fastest track of this debut album together with the bleached synth patterns of "Blue"). The stage of electronic mainstream music, when interrupted and glitchy rhythmical patterns were quite popular - the one when musicians like Funckarma, Proem or Funkstorung were riding the wave -, often comes to mind particularly while listening to the last episodes of this album, including the sweet closure of "Subtle", "Non Contempt" or "Let Me Be" (featuring another skilled guest like Blake Brady for vocal parts). Deserving a check.