Techno / Trance / Goa / Drum'n'Bass / Jungle / Tribal / Trip-Hop
Edit (2361)
image not
available
anymore
Artist:
STUNT ROCK
Title:
This is Stunt Rock Vol.3
Format:
CD
Label:
Cock Rock Disco
Rated:
Stunt Rock incarnate musical craziness and geniality at the same time. The tracks, as usual for this kind of electro/break core music, are built using cut ups and loops but, always as usual, the result depends on the use the band does of the original material. William Flegal picks up loops of drum, guitar and movie dialogues and he opens a funny and dramatic window on people mediocrity. The most funny part is that into the package you can find a booklet with the lyrics of the tracks but them are made out of the samples. The other peculiarity is that the tracks are titled as "Audio selection number..." and as subtitles William wrote a sort of explanation to the track. So, if "Audio selection number 5" is reported as "I will make up for a lifetime of fucking chicks poorly by having the most diverse cd collection in the world", "Audio selection number 14" is "Please don't stand behind me and make those stupid noises with your mouth that you seem to think indicate to me that you are thinking". Everything has been mixed like there was a drunken schizoid at the desk but he did a damn good work! Break rhythms meet daddies voice, country guitars, lounge extracts and other thousands of sounds / emotions. This is fun!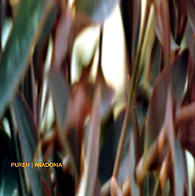 Artist:
PUREH
Title:
Anadonia
Format:
CD
Label:
Pharmafabrik
(@)
Rated:
Of the many deeds done by Mick Harris, I'm sure he will be remembered together with Justin Brodrick for having established the industrial dogma of effected drum beats with a light dub influence. Pureh aren't absolutely a senless clone of Scorn or Godflesh (as if it was so easy) but I'm sure this cd is suitable for those who think Earache during the "experimental/industrial" transition kicked ass. "Anadonia" keeps on following that dead-end street discovered by Mick Harris after the "Colossus" album which implies repetitive rhythmic patterns that become hypnotical, lysergic synth canvas and above all "lost in space" melodies. A friend of mine suggested this music should be experienced under the effect of soft drugs, sure I dare you to deny these tracks haven't been designed to induce a state of (dark) trance. Honestly of most of the bands approaching to this style of music, Pureh is one of the most interesting I've listened lately. I think "Anadonia" is a good example of how good taste can add that something more that saves a cd from being ordinary administration. Sorry if I get boring while repeating that's not a mere clone but the fact is they mix the dark-industrial/industrial-dub feeling with some cold-ambiental melodies not so far from litanies used by many artists from the early Warp orde. If you think it's a weird mix you always have to remember apart from the ordinary tracks had an all british dark feelings (Autechre in primis). Not bad at all.
Artist:
URCEUS EXIT
(@)
Title:
Contra
Format:
CD
Label:
Artoffact
(@)
Distributor:
Storming the Base
Rated:
This release of the Canadian sole project URCEUS EXIT consisting of Richard Duggan isn't that easy to listen to and consume, and this surprises me a bit after the excellent and mostly straight designed SiCD "Metro". Concentration and a good pair of headphones are required to realize the whole spectrum of this CD. None of the tracks sounds like any other else here and the rhythmic construction and the arrangements show a wide complexity. URCEUS EXIT may take their influences out of acts like LEFTFIELD and UNDERWORLD in some ways, globally this is a colorful mixture from Techno, IDM and Electronica, but it can only hardly take influences out of Electro/EBM. Nothing here is really straight and designed to set four steps on the dancefloors. Only the already mentioned "Metro", "This Morning Comes", "Depravation" and "Decadence" at parts could give some animation and they are also the most accessible tracks here. An other favorite here are the 10 minutes clocking opener "Good Morning Beautiful" with spacey synth layers, a robotic-like restranged voice, diverse tempo changes and a overall majestic mood. A long-time diversity is guaranteed here, an enjoying listening of intelligent produced music as well. A little bit too special and unexpected experimental at times maybe too, but worth to be checked out
Artist:
NEGATIVE FORMAT
(@)
Title:
Moving Past The Boundaries
Format:
CD
Label:
Metropolis-Records
(@)
Distributor:
Alive!, Metropolis Records
Rated:
The well known US project NEGATIVE FORMAT consisting of Alex Matheu returns with a new full length CD and sets some new standards into the Techno/Trance/Electro/EBM genre. It was his classic release "Result Of A New Culture", released back in 1997 on both defunct labels Gashed (for North America) and Zoth Ommog (for Europe), as well as his own released debut CD "Pathologic Syndrome", which brought me to this project. All further releases then turned into a more Techno/Trance up to Futurepop oriented direction which I haven't found too impressive at all. "Moving Past The Boundaries" can be seen now as a reminder of the good old days while not a stop of the latest evolution of Alex' music. 13 new tracks are available here, most of them with a long enough playing time to produce fat and resonated filter loops in and out of the tracks – yes, that Techno/Trance element in Alex' music is still richly present. I of course prefer the tracks which leave a bit the current NEGATIVE FORMAT mood, the tracks which can be called near and comparable to the past "Result..." influenced era. Here are the marvelous tracks like "Centralized" and "Focus" to name. Also well done and worth to mention are the female vocals by Rashree Matson thrown into 3 tracks, the slow and smooth "Sustain", the already named "Centralized" and "Heterodox", on which male and female vocals start a duel. This is a very modern sounding piece of fat and well produced electronic music, and of course way back better than his last releases. Maybe the right step to bring NEGATIVE FORMAT back to that outstanding era on which it all begun. Strange for me is the fact, that this release will distributed and marketed world-wide by Metropolis-Records and that there is no license deal to the German Out Of Line label, which was lately responsible for the last NEGATIVE FORMAT releases. Who cares finally – check this out, listen to yourself and enjoy this modern and technically rich produced album!
image not
available
anymore
Artist:
INCITE/ /STAPLERFAHRER
Title:
Split
Format:
CD
Label:
Authorised Version
Rated:
Germany's Incite/ present(s?) four tracks (+ intro and outro) of geometric microwave techno: frequencies, hisses and pin-like beats structured in algid rhythmic frames. Though it's obviously hard, if not impossible, to add anything to the style canonized by Noto, Ikeda, Pan Sonic and the likes, Incite/ is truly good at what he's (?) doing. Staplerfahrer comes from the Netherlands and explores the more radical and free-form side of the glitch aesthetic, with exercises on pure sine waves forms. His 6-track part of the split begins with pulses sounding like Morse code signals, and ends with noisier and harsher tracks. All very minimal, meaning that the initial sound pattern is maintained to the whole piece, without much variation or composition; so it's interesting but sometimes lacking depth.