This is the experimental side project of Tom Shear AKA ASSEMBLAGE 23 – yes, I said experimental, so don't expect ANYTHING which could somehow compared with Tom's main and very successful project. No Synth- or Futurepop anthems available here, but that does of course not mean that this debut of his already 11 years active side-project can't offer anything interesting. If you look back on some more or less known compilations you might find here and there some remix works he did under this NERVE FILTER moniker – a remix for CONVERTER's track "Be Broken" for example can be found on the compilation "Proven in Action" released by the small Swedish label First Aid Recordings leaded by my special comrade Anders Karlsson (www.thepainmachinery.com). So this side-project was through the years well hidden in the big and successful shadow of ASSEMBLAGE 23. Thanks to the fact that this side-project totally differs, makes it also so quite impressive. It is a fantastic journey through very diverse styles of electronic based music, it is only seldom that the tracks are that straight arranged, like my both favorites here, "Option.One" and "Auto.Mat", which do fall under the Electro genre. Further styles are present here with D'n'B, IDM, Techno – yeah, and some Trance elements as well. The songs are filled with almost dark inspired Synth layers, a very effective ingredient, which keeps the whole interesting and filled with complexity. What noone expected comes finally true after the listen of this album: Tom Shear is a well talented electronic musician, who has much more to offer than the known paths of ASSEMBLAGE 23. That several reviewers out of the scene (... no names here...) aren't able to pick up this content and wrote some stupidity isn't acceptable. This is a great example to explain the sense of a side-project, thumbs up, Tom!
Artist:
PUSSYFINGER
Title:
Chew and Swallow
Format:
CD
Label:
Dielectric Records
Rated:
A joint effort between Drew Webster (Die Elektrischen, and Dielectric Records' very soul) and Carson Day (who has a few rhythmic electronica releases under his belt), Pussyfinger debuts with an 11-track cd recorded live last December, complete with a gorgeous splatter layout. The press sheet mentions Folkstorm, Venetian Snares and Autechre as possible comparisons, which could or could not give you a clue of what this sounds like. Pussyfinger surely have a penchant for hard beats, as in the obtuse pounding of "Kurenai" (complete with gamelan-like percussion) and "Drunk and Disorderly", or in the energetic crescendo of "Pussyfinger"; but they also add heavy doses of distorted noise throughout, as in "Skull Crucible" or the fragment "!@#?!". My favourite tracks, however, are the droning interlude of "Trane" and, on the other side of the spectrum, the meanest ones, like "Leviathalidomide" and "Black Chorale", with their exhilarating mix of noise bursts, sampledelia and inhuman black metal vocals. As a whole, the album is still a bit discontinuous, and not always balanced in its different elements. I find the rhythmic part a bit monotonous as well (though "Pussyfinger" is a well constructed track), and I wish they had pushed more on the noise/vocals pedal, as it's where they get better results - but "Chew and Swallow" is a refreshing and interesting work nonetheless, which I'd recommend first and foremost to those into labels like Ad Noiseam, Rephlex or Ant Zen.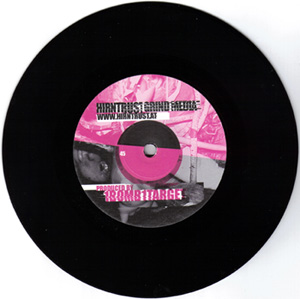 Artist:
1BOMB1TARGET/HARD-OFF
Title:
split
Format:
7"
Label:
Hirntrust Grind Media
Rated:
A new split vinyl single from Austrian label Hirntrust Grind Media, featuring their in-house project 1Bomb1Target and on the flipside the Australian-gone-Japanese Hard-Off (also known as M-PI, with a few releases on V/VM test records, Adverse Chamber, etc.). The former allegedly de-mixes "Come to Daddy", but you could hardly recognize the original in that crunching mess - loud and mean harsh noise, so good while it lasts. Hard-Off, on the contrary, opts for a spastic mix of techno beats and samples without much edge. Not my thing for sure, but at least it doesn't last for long. The single is limited to 290 copies.
image not
available
anymore
Artist:
ELLEN ALLIEN & APPARAT
(@)
Title:
Orchestra Of Bubbles
Format:
CD
Label:
Bpitch Control
(@)
Distributor:
Audioglobe
Rated:
BUY from
A year has passed since the release of "Thrills" but Ellen Allien is always at work to find out new ways of experimenting with rhythms / sounds / emotions. This time she collaborated with Sascha Ring/Apparat (he also run the label Shitkatapult with T.Raumschmiere) to create ORCHESTRA OF BUBBLES, an album containing thirteen new tracks where the distinctive sound of the duo find a new expression. Apparat's orchestrations of i.d.m. sounds and Ellen's capability of creating a web rhythmical sounds match perfectly creating something that sounds new, fresh and deep. The album opens with "Turbo dreams", the single released on early April, that contains some of the principal elements present on the album: melody, rhythm and a certain sense of suspension given by the cyclic structure of the tracks. Some other surprises are ready to be unveiled already with the second track, because "Way out" (the single that will be released at the end of May) is a beautiful track that melodically recall me Marco Passarani's "Criticize", with a delicate vocal line sung by Ellen herself. The following track "Retina" changes everything with an opening cello that duet with a bass line and some other layers (string orchestrations and several synth lines) that are added during its length. "Jet" is based on the same concept having a cyclic structure with brass sounds that duet with a pumping rhythm (I found amazing the effect of the guitar distortion that arrive suddenly creating a blast of a jet). Respect "Thrills", ORCHESTRA OF BUBBLES sounds more elaborated and generally with more melody (not melodic, because this isn't techno pop). The techno minimal experimentations dear to Ellen's style are still present (see "Under" or "Metric") but Apparat presence worked really well and created tracks like "Edison" (where the glitch sounds create a delicate rain effect while a melancholic melody draw by a bass guitar lead you through its four minutes length) and "Leave me alone" (a track album where Apparat lightly sing on cut up violins while bass and drums sign the time of a broken heart). On the definitive version of the CD you can find two tracks that have been added just before the release of the album because the promo copy have been put on the p2p networks. Now you've the opportunity to find "Rotary" (a Detroit electro track really intriguing) and "Sleepless" (a beautiful song with Ellen's vocals. I really dug the harp sound combined with the distorted synth). If you want some in depth info about the project check the website http://www.orchestra-of-bubbles.com.
To celebrate the ten years anniversary of Hefty Records, here comes this double compilation HEFTY 10 DIGEST. It gathers sixteen tracks/bands on the first CD and a Prefuse 73's mixtape on the second one. Here Sott Herren uses label's released and unreleased stuff mixing them in an hour long session. With the sixteen songs of the first CD you can check the different musical styles produced by the label: elegant electro (Savath + Savalas, Euphone and Samadha), jazzy minimal upbeat (Phil Ranelin), electro funk (Slicker), experimental pop (Bill Ding), minimal breakbeat (Telefon Tel Aviv, John Hughes, Beneath Autumn Sky and Retina.it) and alternative rock (Ilium). The PREFUSE 73 MIXTAPE is more interesting for me because the polished atmospheres typical of some bands are treated with sandpaper and the beat result the main thing. In this way the various bands like Mondii, Eliot Lipp, Slicker, Some Water and Sun, Scott Herren and John Hughes, Retina.it, to name few, are there to serve the supreme divinity: the rhythm. Don't get me wrong, there's still melody and everything on the final result, but Prefuse 73 did a good job giving to his set a sense and a direction I enjoyed.