Artist:
Bantou Mentale
Title:
Bantou Mentale
Format:
CD & Vinyl
Label:
Glitterbeat
The debut release from new ensemble Bantou Mentale, self-described as "sonic groundbreakers", is pitched as "the fulfillment of their long-held dream to create an African band with the weight and sensory attack of knife-edged rock and hot-wired club beats".

And in a way, that's overselling it- this isn't nearly as raucous or knife-edged as I initially expected. Despite having the occasional gunfire FX and angry moments, energy-wise, and in many other ways as well, it's got more in common with older dance-fusion acts like Transglobal Underground, Asian Dub Foundation or certain-era Dreadzone- solid, enthusiastic, festival-friendly crossover dance tunes with confidence and character, some distorted vocals and guitars here and there and the odd gutpuncher sound, but nothing that's really going to rip you a new hole to a Slamboree degree. It starts off upbeat, but to an extent chills out quite extensively as it progresses, showing off its classy French underbelly.

But that's no bad thing, not least because an hour of angry terror wouldn't have the depth and variety that Bantou Mentale offer up across this hour-long 12-track collection. Here there's the space for foot-tappingly infectious grooves like "Boko Haram", or the soulful "Boloko" with its notable mashup of electro bass with a more organic soft rock arrangement. There's strong vocal work across tracks like "Syria" and more experimental, bordering on jazzy pieces like "Bakoko".

Although I compared it to a bunch of 90's-era bands a minute ago- and tracks like "Yoka Chagrin" are absolutely a throwback to that vibe- it has to be said that generally the production is tight and spot-on. "Suabala" sounds like what comes out when Liam Howlett's feeling funky rather than angry, while "Sango" introduces distorted samples into the prog-fusion core in interesting ways.

So it's not the furious groundbreaking sonic assault that it's being pitched as, but no matter, this is still a shining jewel of cross-cultural musical freedom with a fantastic depth and production quality to it. Hopefully it will take off enough to make it possible to justify it being toured live, as a live environment feels like where these songs would really thrive.
Artist: Fermion
Title: We Are Nowhere
Format: Download Only (MP3 + Lossless)
Label: self-released

Fermion is a new alias for a duo consisting of Eric Shans of Phenotract, and Augustine Backer. After sketching some tracks out at a New York City producers meet-up a few years previously, in 2019 they have finally finished up, polished off and released a six-track EP that grew from there. Whether this is a one off collaboration or the beginning of something new remains to be seen, but on the evidence of this, I hope there's more.

This EP comes from the dark side of synthpop, with six fairly lengthy and evolving synth-electronica instrumentals that feel like they are channeling OMD's broodier moments, particularly their earlier and more prototype-like works, and bleepy grooves that are Vince Clarke-like at times, coupled with early-New-Order-ish fragile chords. The vocal also evokes comparisons with OMD as well- and crucially, there's a decent helping of Andy McCluskey's songwriting ability to back it up, with some strong chorus hooks on tracks like "Ever Know" and "Echoes Reverse".

After wistful and atmospheric opener "Nowhere" (an unusually long intro track for a 27-minute EP), the songwriting- and the kick drums and arpeggiators- start properly on "Abstract Shadows". "Ever Know" is the ballad, of sorts, while the gritty gutpuncher sounds and heavily effected samples that fuel mostly-instrumental-odd-power-ballad "Bubble Chamber" are thoroughly modern and make it clear this is a 2019 release not solely a work of audio retro.

The driving synthbass of "Echoes Reverse" is so ubiquitous that it almost qualifies as traditional music now, but it still feels great when done well, and it works here, while the lullaby-like music box sounds of final track "Light Voyagers" firmly point towards a more ambitious and cinematic sound that leaves you wanting more.

If there's a weak point on this EP, unfortunately it's that the vocal could do with a tiny bit of work. There are a couple of suspicious notes in there, but the problem seems more production based- perhaps through lack of vocal confidence, there's excess reverb and EQ that serve to make the vocal sound weaker rather than helping it. A bit more work or vocal overdubs might've helped I think.

Fans of serious synthpop will absolutely appreciate this. Eschewing the stereotypical American full-on-noise approach to EDM and offering up a more introspective and delicate set of tunes, this is clearly a good match-up between the two producers and hopefully it will lead to more.
Artist:
Arctic Sunrise
Title:
Across The Ice
Format:
CD + Download
Label:
Echozone
(@)
Rated:
'Across The Ice' is the third album by the German synthpop duo of Torsten Verlinden (vocals) and Steve Baltes (electronics) and they waste no time in getting down to business. Songs are slicker, vocals stronger than ever. It's albums like this that exemplify the difference in this type of electronic-based pop music from Europe vs. the United States. Here synthpop is still considered quirky, novelty and/or dance-oriented, while in Europe it is taken more seriously. (Not that Europeans don't care for the occasional wacky bit of electronica.) Arctic Sunrise is definitely in the more serious vein, and while not really dark, there is very little tongue-in-cheek. Philosophical themes tend to prevail on 'Across The Ice' - Life and Death; Love and Loss; Climate Change/Global Warming; Uncertainty of the Future, etc. Steve Baltes has become even more proficient and sophisticated at orchestrating Arctic Sunrise's sound, providing the best and most varied background possible for Torsten's vocals. For his part I believe Torsten has upped his game considerably in the vocal department with a bolder and more emotionally gripping performance than ever before. Standout tracks are "Surrender," "Stars," "Fly" and "Time Is On Our Side." I also like the instrumental "SSP84" which shows some diversity. There is also a cover of the Kate Bush chestnut, "Running Up That Hill" which I consider superfluous. It's not that Arctic Sunrise do a poor job of covering it as it's quite listenable, it's just that they add nothing novel to the song. (Just recently Johnathan|Christian also covered the song on their 'Dark Hallways' album, and they didn't fare any better on my opinion.) Aside from that though, 'Across The Ice' is a worthy effort.

Artist:
Bawrut
Title:
Pronto Arpeggio
Format:
12" vinyl + Download
Label:
Ransom Note
Bawrut's latest EP introduces itself (literally, in the press release) by saying "Summer's in the air", but with a September release date it feels like it might be just a little late. Fittingly though, underneath the soft top end of these tracks is driving, purposeful synth-house music perfectly suited to colder climes as well as warmer ones. Three long and deep original tracks are complimented by a couple of shorter remixes that bring the breadth.

The title track does exactly what its title suggests, a steady groove of extremely bright-sounding synth arpeggios over a steady tapping groove. After four minutes there's a very confident tempo drop and extended breakdown, with the synths continuing to shift tempo even after the kick's come back in- essentially a break-and-build lasting three minutes, which possibly pushes its luck too far on some dancefloors I would expect, but curious for home listening, and satisfying when the original groove finally re-establishes itself. KiNK's remix simplifies things, avoiding the more complex elements and keeping things pulsing more conventionally, but still successfully.

"Shooree" is a clap-driven groove built around a familiar 3-into-4 pattern that proceeds with a simple relentlessness and slightly tribal vibe, pushed along by vocal noises. "Atchu" takes this a couple of steps further, sampling a rap mantra that sounds somehow both playground and hip-hop over a more acid-infused layout, with some lovely distorted rumble-punches for good measure. Sadly "Atchu" doesn't get a remix, which is a shame as it might be the most interesting and distinctive track in the pack. On "Shooree", again the remix has a rationalising effect, with the Ruf Dug remix keeping things simple and pushing the synthpoppy melodies forward in a cheery and inoffensive way, that's a modern twist on the old balearic vibe, in a way.

Always reliable stuff from Ransom Note Records.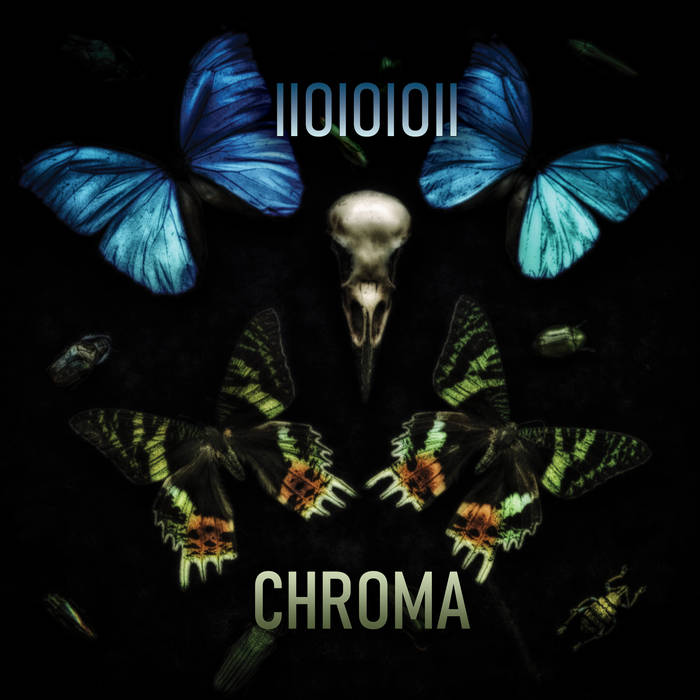 Artist:
IIOIOIOII
(@)
Title:
Chroma + Chromatic
Format:
2 x CD (double CD)
Label:
AnalogueTrash
(@)
Distributor:
Bandcamp
Rated:
Formed in 2012 in Charlotte, North Carolina, IIOIOIOII (simply pronounced I.O.) is the solo project of the Electronic musician Chris Gurney. After the self-released debut "Reflect" in late 2012 he could enter a deal with the British Juggernaut label to release his highly acclaimed follow-up album "Sun", which can be surely named as a highlight of this far too early disbanded label. After getting signed in 2016 with the Manchester-based Analogue Trash label and the release of the third album "Post Brimstone (Expanded Edition)", Chris nowaddays returns to provide his fourth album "Chroma + Chromatic" and this is undoubtly his most matured and coherent sounding album so far.

This all new album can be seen as classic double-CD release. "Chroma" presents the listener 10 completely new compositions, while "Chromatic" acts globally like the remix companion release although it has its very own flavor. IIOIOIOII's musically influences taking inspiration out of all forms of darker-minded Synth-Electronica although the globally mood behind Chris' outfit is fragile and in some cases sentimental. Over all musically influences stands generally Synthpop with Downtempo- but also Ambient-like ingredients. Chris impresses the most with his well-sorted compositions, as they follow clear structures and guidelines.

Same counts for his crafty programming skills. Let's pick out one of the true pearls of the 10 new "Chroma"-tracks, "Haloed Eyes" for example. It's an adorable moody Synthpop tune with fabolous Synth-pads widely thrown into the stereo field and a catchy chorus. Generally I prefer the rather layered and sentimental tunes over the ones which tend to build dancefloor-compatibility. It may belongs almost to his calm vocal performance that this album gives out a sedating impression. It is definitely more suitable to get consumed under a good pair of headphones instead to get dropped into the anonymity of the club-fodder arsenal.

If this crafty and beautiful produced album needs a word of crticism, well, Chris' kind to integrate his vocals into the track follows to my taste a bit too often the same register. His calm timbre sounds well but also relatively foreseeable, at times a bit too monotonous and could need here and there a bit more emotional outbursts to surprise.

Also the second part of this DCD package entitled "Chromatic" needs some introductional words. First off you'll get the usual doze of remix contributions to the original "Chroma" tracks by such projcts among others like Grendel, Adoration Destroyed, Glass Apple Bonzai, or The Rain Within.
Especially the refreshing Grendel remix of "Haloed Eyes" with its saxophone inserts sets a high level and transforms this track to well usable dancefloor tune. Also quite enjoyable are those rather Synthwave-influenced remix works of Glass Apple Bonzai ("Cyan Dream") or The Rain Within ("Digital Moon"). Although most of the remixes here are radical reworkings of the original songs I still think that those contributions only work well regarding business relations. To me the original compositions of the artist are more important and reflect better the musically talent behind. Luckily you'll get rewarded with two further original tracks, "Over" and "Path to Lose".

There's nothing wrong with a purchase of this well-thought produced album and it features a lot of attactive ingredients of Chris Gurney's musically development throughout the years. And since I am quite late (again...) to review it, I must admit, that it perfectly fits from its mood to the beginning of the autumn days. Stuff to sink in under headphones or in front of a fireside.