Artist:
Raven
(@)
Title:
Life in Ruins
Format:
3" MiniCD
Label:
Inner Demons Records
Rated:
Raven hails from aak, Serbia, and describes themselves as "Anarcho vegan harsh noise from the depths of darkness." Well, I like some harsh noise, so let's put this on and see what we have here. This album consists of one track, "Life in Ruins," which weighs in at 15:38 minutes. We are immediately assaulted by harsh noise that takes on everything including the kitchen sink. There is a lot going on here, with everything overdriven and distorted to the maximum levels. I enjoyed the fact that Raven keeps everything moving at a rapid pace, which keeps it from getting too dull. However, I would have liked to have a bit more balance between the high end and the low end, as they do later on in the track. If you like harsh, in-your-face- noise, this is worth checking out. This disc is limited to 42 copies.
Artist:
WNW
Title:
Wonky Noise Wall
Format:
3" MiniCD
Label:
Inner Demons Records
Rated:
I could find no information on this project, but with a title like Wonky Noise Wall, I get the sense that this should be fun at least. With that said, let's get right into the music. This is noise as reflected through a funhouse mirror. At first glance, this may seems like just another repetitive wall of noise, but within the cycles of repetition, WNW throws in different snippets of sound to keep the listener on their toes. A bit of clanging metal here, a beep there, all in the cycling maelstrom of analogue circuits gone completely off the rails. Over time the whole things shifts, almost imperceptibly at first, slowly adding new elements as old ones slough off. If you ever need to explain fractals, this is a way to do it. This album weighs in at 21 minutes and is limited to 42 copies.
Artist:
This Is What I Hear When You Talk
Title:
Untitled 0001
Format:
3" MiniCD
Label:
Inner Demons Records
As I mentioned in the review of the FFI Digital disc, this is yet another project of Dan Fox, the man behind Loss, Fail, FFI Digital, and Inner Demons Records. So how is this different from his other projects? The Facebook page for this project describes it thus: "Walls, of the noise. Variety: harsh. Harsh walls of noise. Noisy, harsh, walls. PSHHHHHHHHHHHHHHHHHHHHHHHHHHHHHHHHHHHHHHHH!" So let's put in the disc and see what we have. I enjoy noise, but I like a bit of variety in it. This disc consists of one track entitled "PATCHOTRON_S0F0_FX70_≈21." This track consists of rumbling low-end bass noise. Although the droning feel of it was almost peaceful, I found myself wanting it to do more. The feeling was similar to being on a plane, with its constant, never-ending hum. This may work well for some people, but it wasn't really my cup of tea. That said, it would be an epic disc to give to someone you were breaking up with. This disc weighs in at 21 minutes.

Artist:
FFI Digital
Title:
Untitled
Format:
3" MiniCD
Label:
Inner Demons Records
Rated:
Dan Fox must be one of the hardest working people in noise. As if Loss and Fail were not enough to keep him busy, in this batch of CDs that he sent in for review he unveils two more projects. This one goes under the name FFI Digital. The logic behind this project is explained on the project's Facebook page: "Experimental music made from scratch in a DAW, using only freeware / donationware plugins. The revolution will be digitized." So the question, of course, is what this stuff sounds like, so let's get right into it. This disc consists of one track entitled "180110." High pitched squeals mix with static, slowly going up and down in pitch. I imagine that this is what an air raid would feel like in your head. As the track progresses, the siren-like sounds take a bit of a backseat as metallic crashes come at regular intervals, giving it a hypnotic quality. As the track comes to a close, the grinding noise that has permeated the track begins to diminish as we are left with a pounding heartbeat over all of it that suddenly comes to an end. There is a lot going on in this composition, and FFI Digital manages to throw in a lot of variety while still keeping an internal consistency that holds everything together. This keeps the track from becoming too repetitive. Well done, and worth checking out. This disc weighs in at 21 minutes.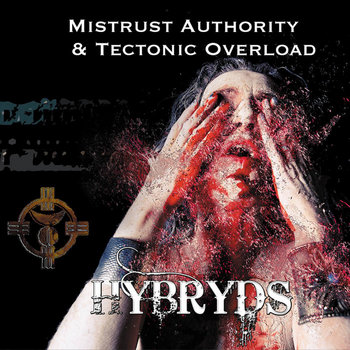 Artist:
Hybryds
(@)
Title:
Mistrust Authority & Tectonic Overload
Format:
2 x CD (double CD)
Label:
Zoharum
(@)
Distributor:
Alchembria
Rated:
Zoharum continues his reissue plans for Hybryds with a collection of two works "Mistrust Authority Promote Decentralization" originally released 1996 and bundled here with the bonus of a live recording of the same year and "Tectonic Overload" released in 1998. While the previous release were prevalently based on evocative ritual music with vague oriental influences, this are more aggressive music closer to industrial EBM influence by cyberpunk themes.
So, as "noise2trance" starts the listener is overwhelmed by the intensity of the sound barrage based on loops and rhythmic cages and this lasts for all the release featuring also quotes from writers as Timothy Leary to further clarify the message. While it's particularly noisy "dead zombie dance", there's a small return to their distinctive style in "I walk alone" even if the overall sonic impact is due to the questionable remastering by TraumaSutra where large part of it is characterized by an over compression. It should be noted, as "Tectonic Overload" is not labelled as remastered, that the high volumes and compressed sound were probably part of the sound construction of that period. So, while there are even better ideas, the musical result is characterized by a dried out sound which now sound a little bit outdate and trivial in his research of physical impact.
Fans of the band and collectors will have a release with takes with it a part of the zeitgeist of the period were cyberpunk ideas had great currency and so will have a little bit of nostalgia. The others could perhaps avoid it for its lousy sound yield and orient themselves for the others reissues.