I was unfamiliar with this project, which evidently used to hail from northeast Ohio and now calls the Florida gulf coast home. At least the logo is amusing, with its homage to the classic metal band Death, and a band that states that they are on Bandcamp and Yelp is one that is not taking itself too seriously, which I respect. I have really enjoyed the stuff that Inner Demons has been putting out, but not even Babe Ruth was able to bat 1000. If you like your noise subtle, this may be up your alley. This is a lot of rumbling, low end noise, with just enough static to keep it interesting, but it doesn't really seem to go anywhere. It's like Sloth took the same loop and ran it 20 times. This is kind of like the aural equivalent of watching the static on TV when there is no signal - easy listening for the noise set, but not really my cup of tea. Your mileage may vary, however. This album weighs in at around 20 minutes and is limited to 42 copies.
Artist:
Dylan Houser (@)
Title:
Thunk
Format:
3" MiniCD
Label:
Inner Demons Records
Distributor:
dhouser.bandcamp.com
Rated:
I was unfamiliar with Dylan Houser's work, but he seems to hail from Lakeland Florida. This is another 3" CD from Inner Demons, which has been putting out some great stuff, so let's see what this album has in store. We open with a ton of feedback that sounds like a circuit bent 8-bit video game gone amok. But this is not a complete wall of noise - there is a good use of space here, as the noise takes a moment to catch its breath which also allows the listener to come up for air. Clangs, rumbles, and staticy feedback permeate the composition. This is a chaotic mess, which is everything that noise should be. Would probably be great to see live. This disc weighs in at around 17 minutes and is limited to 42 copies.
Artist:
STCLVR
Title:
Predator
Format:
Tape
Label:
Chthonic Streams
(@)
Rated:
This album reminded me of late 90's / early 2000's dark electro bands mixed with some of today's abrasive power electronics projects. The vocals are gritty and the beats are dirty but catchy.

Less polished than a lot of the dark electro bands and I don't mean that as a put-down, it adds something to the tracks and makes them darker than what usually comes out of that genre.

This is a short but sweet release and as always with the Chthonic Streams releases, this one has some beautiful graphic design and packaging.
Artist:
PBK
(@)
Title:
Inscrutable Secrets ´91-96
Format:
CD
Label:
Haunted Exp Labs Records
(@)
Rated:
OK, so I have to be honest, as it might be affecting my opinion on this one. I sat at home today and watched about 3 episodes of the new Twin Peaks and then put on this album. It was the second time I have listened to this one. The first time I really liked it and listened to it very intently but did not feel as if I was ready to write about it because it is a pretty deep and dark recording.

PBK lived in Puerto Rico for about 4 years in the early to mid-nineties. With an artist like PBK, I can see how being in a different environment would completely affect his recordings. These tracks were recorded at the same time as the Domineer / Asesino / Retro triple LP box set and may be separate pieces recorded in and out of those sessions. These separate tracks, at least what sounds like from the description, all fit very well together as an album even though they are spread out over a 5 year period.

I honestly don't ever have anything bad to say about the work of PBK but this is up there as one of my favorites for sure.

As for the beginning Twin Peaks reference, if David Lynch ever does another season, he doesn't need to look any further than these recordings for some of his masterful eerie visuals. I could easily see this fitting into any episode.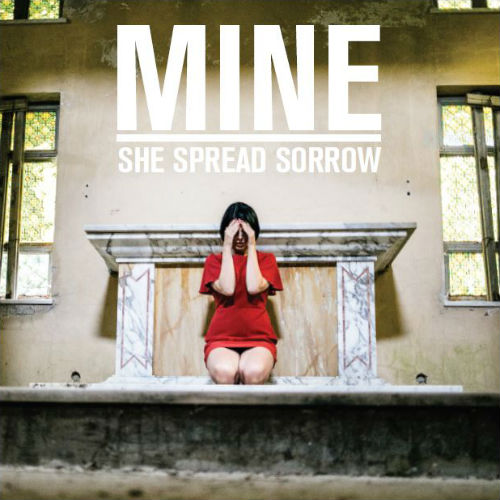 Artist:
She Spread Sorrow
(@)
Title:
Mine
Format:
12"
Label:
Cold Spring
(@)
Rated:
After the well received "Rumspringa", Alice Kundalini returns with a vinyl-only release on Cold Spring moving even further in her personal depiction of Power Electronics. This release is almost entirely center on her voice, so this could even be seen as a form of audio play as the sound part, even if harsh in some moments, has evidently the role of accompaniment.
Just after if seemed that she moved into quieter territories, the distorted voice of "Crushed On The Pillow" introduce the listener into a sort of theatrical spoken word upon small and sharp noises. However, the first part of "Lust" hints an attention towards the construction of an atmosphere while the crescendo of the loop explode into the noisy second part. The minimal sound palette of "On The Bank Of The River" closes the A side of this release underlining the histrionic quality of the voice.
The first part of "Mine" is carefully developed in the aim of creating the expectation of the explosion of the second part and "Straight Back" closes this release with a dialogue between the voice and the noises immersed in an oppressive silence.
Perhaps this release could be a little disappointing for the fans of the genre searching for a monolithic wall of sound, but this release shows how in a codified genre an artist can find a way of escaping its formal cages. A really nice release.