Industrial Music / Industrial Metal / Aggro Industrial / Electro Metal
Edit (10451)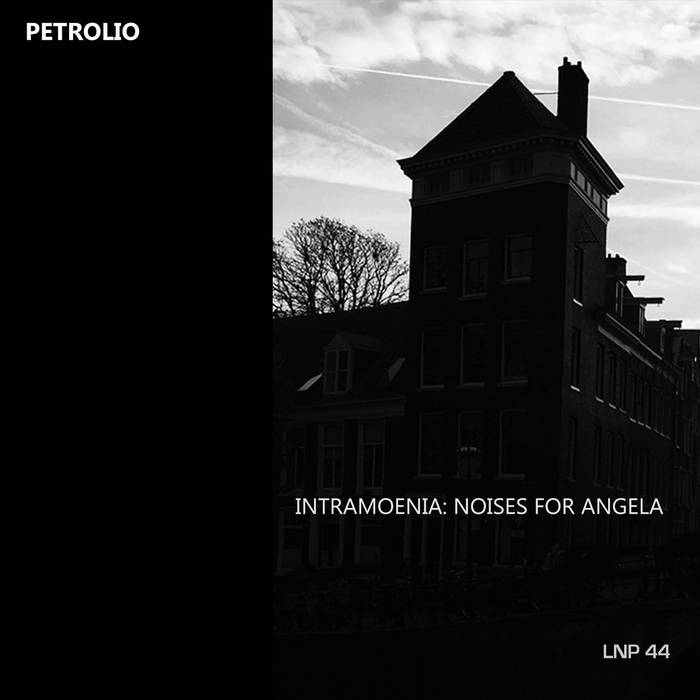 Artist:
Petrolio
(@)
Title:
Intramoenia: Noises for Angela
Format:
Tape
Label:
Low Noise Productions
Rated:
Petrolio is a project started by Enrico Cerrato, already involved in metal and industrial project, as a sort of crossover between the two genres. His music is noisy and exploratory as industrial but has a clear and relatively slow structure as metal.
The first track, "work no. 1", starts with spoken works about madness and evolves in a delicate balance between drone and noise to end in an rhythmic way using loops. The second track, "work no. 2", starts with sustained notes on synth introducing a mirroring part on guitar which disappears in the ending part leaving a pulsation and the drum alone. The rhythmic framework of "work no. 3" closes this release with a crescendo that creates a impressive sonic wall.
It's a short but remarkably varied release that could be well received by listeners as it's not too weird and let a certain curiosity to hear a full length release. Recommended.
Industrial Music / Industrial Metal / Aggro Industrial / Electro Metal
Edit (10436)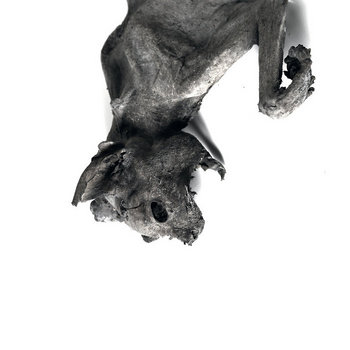 Artist:
Nordvargr
(@)
Title:
Metempsychosis
Format:
CD
Label:
Cyclic Law
(@)
Rated:
This new release by this artist known primary for his role in MZ.412 is inspired, according to the liner notes, from the the transmigration of the soul intended as a choice rather than a judgement. This marks a movement from his now canonical form of industrial ambient to a more song oriented form with the result of being one of his most accessible release yet.
After the atmospheric introduction of "Into The Cycle Of All And Nothing", the vocals of "Metempsychosis" set immediately the framework of this release that is the song form as, even in the pseudo growl mode, the lyrics are almost discernible; while this track is grave and based on a drone, "First East" is martial and aggressive with his rhythmic cage. "At The Crossroads Of Immortality" is a remind of his well known ability to create dark soundscapes while "Invocation For A Malicious Spirit" is a sonic depiction of a ritual. "Salve Teragmon" is dancey and close to certain EBM, even in his noisy aggressiveness, while "Manifestation" is evocative with its sound immersed in silence. While "Sweet Death Triumphant" is based on menacing declarative lyrics upon a noisy background based on loops, "Consolamentum" is quiet and cinematic. "Livet Tar Slut" closes this release with a pseudo crescendo based on vocals and power electronics.
It's probably unfair to expect something new from someone who has forged one of the most recognizable sound of the '90s and has influenced an entire scene. It could be considered a fan service but it's so well crafted...
Artist:
Controlled Bleeding
Title:
Headcrack - remastered
Format:
LP
Label:
Artoffact
(@)
Rated:
One of the positive aspect/consequence of the launch of some new album by historical (but pretty unknown to younger generations) bands are the related reissue of some old entries. It's what happened on the occasion of the return of the legendary band Controlled Bleeding, whose recent album "Larva Lumps and Baby Bumps", followed by the remix collection of "Carving Song", was followed by the reissue by Artoffact of "Headcrack", the oddest (but maybe the best) release of Paul Lemos' brainchild, the album which was one of the turning point of their long history, when the band left the cacophonic style of their earlier outputs aside in order to develop a more original mixture of dark ambient and industrial. As I told, this turning point coincides with the alternation of remarkably bleak and creepy moments with paradoxically hopeful ones, to the point that you can't sometimes establish the exact separation of such a bipolarity. For instance, you can't really say the vocal chants they occasionally used belong to a hellish or a heavenly dimension, or if the ecstatic minimalism spread over the album are closer to the representation of deceitful illusions or, more likely, of a sort vividly blissful detachment. Under a more etheric point view (let's say so), it seems they translated into a necessarily bipolar sound the consequences of that fossilized rose (or the fossilization of love), portrayed on the cover artwork...damnation, blissful oblivion or maybe both. Cacophony sprouts again on the final tracks (the ones that have been left untitled in this remastered versions as well as on the head-banging and over-distorted noises of the last one, a remix introduced as "the missing Headcrack piece"), but such a resurface makes sense... Whatever you interpret this monumental industrial-ambient output, it's an essential building block of higher levels of modern music.
Industrial Music / Industrial Metal / Aggro Industrial / Electro Metal
Edit (10162)
Artist:
Nervenbeisser
Title:
Zeitenwandel
Format:
CD
Label:
Echozone
(@)
Rated:
Nervenbeisser (Nerve Biter) is an NDH band from Germany (where else would you find NDH bands?) and 'Zeitenwandel' ('Change of Time') is their sophomore album after their 2005 debut ('Geschlechterschlacht'). Nervenbeisser aren't your typical NDH band though as there are definite goth-electro-industrial elements incorporated throughout. Also, the metal doesn't surface as much as you'd expect. Still, they are balls-to-the wall HARD...most of the time. The album begins with a recitation in Deutsche (of course) over dark industrial ambient background...setting the mood I guess. First real song - "Verkehrte Welt" has a bouncy/loping martial beat similar to Marilyn Manson's "The Beautiful People," but that's where the similarity ends. There's a catchy crowd-rousing chorus ("HEY DU!"...and lines in German that follow) and that's the first clue that this album seems primarily made for live play, fist-pumping, and short attention spans. Although there is some diversity in form, there's not much in style, and that's what works against Nervenbeisser throughout most of 'Zeitenwandel.' Take the title track for example; it starts out with some nice atmospherics leading into a catchy bass and synth line combo but all too soon falls into cliched aspects of NDH that only get deeper as it chugs along, in spite of its electro elements. Live, I'm sure it's what the crowd will eat up, but listening to it at home gets wearisome. Olaf Seider's vocal style ranges from guttural growl to raspy scream (most notably on the chorus of Glucklich Allein") and the latter is really difficult (for me) to take. The one thing this band does manage to do effectively is come up with catchy hooks, be they vocal or instrumental, for this type of music anyway. Take for example "Goldener Kafig" where there is really nothing memorable in the vocal department, but this dumb little repetitious airy synth riff will stick in your brain. To a large extent these songs seem crafted more with a bludgeon than a scalpel, and maybe that's a hallmark of Neue Deutsche HÄrte. On one hand, I think these guys are somewhat enamoured of Rammstein, but on the other may have aspirations of Skinny Puppy, Front Line Assembly or even KMFDM. It's hard to tell whether or not this merging works. I think only the band's fans can be the real judge, and from what I'm seeing, their following is growing. Final track on the album ("Alles Steht Still") is a mostly acoustic ballad where the band shows its sensitive side. Actually not bad, and a nice break from being pummeled. It will be interesting to see where the band goes from here. Will Nervenbeisser play more to their NDH roots, or will they explore and expand into something quite different?
Industrial Music / Industrial Metal / Aggro Industrial / Electro Metal
Edit (10058)
If you're looking for porn on the Internet, it shouldn't be too hard to find, but if you're looking for Porn, the French Industrial Metal band, that might be a little harder but worth it. This is Porn's third album, and sorry to say I haven't heard the other two. I'm also willing to bet Porn are (currently) a lot bigger in France and Europe than they are here in the U.S., but perhaps 'The Ogre Inside' will change that. The first positive aspect for American appeal is that the vocals are in English. Second is that vocalist Philippe Deschemin doen't just growl, he also actually sings. Philippe Deschemin...hmmm...where have I heard that name before? Oh yeah, he was behind that 'An Erotic End of Times' album. Didn't much care for that one. He's also a novelist, lecturer, and political philosopher, if I recall. So here we kind of have the thinking man's industrial-metal, rather than the typical in-your-face fist-pumping stuff that passes for Industrial Metal these days. You will find plenty of industrial strength muscular guitar (playing a fair amount of familiar riffage) and as well as effective electronics sewn through the mix, yet it's not all sturm und drang. For the occult-minded, there are vocal samples of master-magus Aleister Crowley sprinkled throughout the tracks.

The album plays like a graphic novel exploring themes of violence, lust and desire, pain and suffering, control, death amd mortality, and more. It's a loose concept album, but a concept album all the same. The "ogre inside" is obviously the beast that thrives on destruction, sadism, cruelty and an appetite of excess. For Deschemin it's a losing battle he's waging here but he doesn't go down without a fight. What I felt didn't work too well on 'An Erotic End of Times' seems to work fine here. Maybe I wasn't expecting much from a band called Porn (you've got to have some balls to name your band that), but this is well-produced, musically varied, yet still tough as nails Industrial. Deschemin's vocals are introspectively emotive when they need to be, and also ragingly powerful, and even over-the-top when the song calls for it too. There are times I'm hearing shades of Pete Steele which might make some old-schoolers want to check this out. I really feel that this is an album that needs to be taken as a whole, so I can't pick a standout over the 9 tracks here. Truth be told, they're all good and there's nothing you'd want to skip in the 51 minutes from beginning to end. I think they have another album coming out soon too, and I'd be looking forward to that.