Artist:
Konx-Om-Pax
Title:
Return To Cascada
Format:
Download Only (MP3 + Lossless)
Label:
Planet Mu
"Return To Cascada" is a 6-track, 25-minute EP that revisits last year's "Ways Of Seeing" album (and "Refresher" EP), giving us a remix, a couple of alternate versions, a live version and a short new track. So I'd best disclose here that I haven't heard the source album, and am judging this EP on its standalone merits- and it scores highly.

The first track, Skee Mask's version of "Rez" is the kind of intelligent electronica that Planet Mu is so revered for, just the right balance of intellectual and emotional. Last track "Teufelsberg" is a gentle skittish melody of romantic bleeps, for fans of both love and programming. Both are exemplars of synth expression, and it was exactly what I was expecting. The rest of the package is more of a surprise.

By contrast, the title track is strangely conventional electro-pop by Planet Mu standards, it's almost synthwave with its steady 4-4 beat, energetic synths and vocodered lyric snippets. The club edit of "Saule Acid" is also remarkably 4-4, a definite highlight and a joyous fusion of acid sounds and retro loops with fresh atmospherics. The live version of "Caramel"- although you can't tell it's live- is melodically almost in the territory of hands-in-the-air trance music, but seen through a filter of lo-fi effects and toothy, almost 8-bit synths.

The 'ambient mix' of "I'm For Real" isn't ambient by any rational definition. Taking a synthwave track and stripping the drums and bass off it doesn't make it ambient if the synths are still pulsing and throbbing with rhythmic attitude- but it does highlight some of the beautiful sonics, so if you can forgive the mis-naming, it's excellent.

It's an unusual little package of reworks that stands up in its own right without its parent releases- a short burst of smart and loosely optimistic electronica.
Artist:
MHYSA
Title:
Nevaeh
Format:
12" vinyl + Download
Label:
Hyperdub
"Neveah" (heaven backwards) is New York-based Mhysa's second album, and her first for Hyperdub. It's a good fit for the label sonically, with its combination of glitchy, complex electronica beat work, quirky sounds, downtempo attitude and slight swagger feeling right at home. It's been labelled as R&B, but that's a bit of a stretch, and lyrically there's some validity in that but this is much more 'out there', on the outer boundaries of post-dubstep.

Tracks typical of this sound include a fascinatingly edgy resonance of "Sad Slutty Baby Wants More For The World", a deep atmospheric electronica piece which almost overwhelms itself with feedback. "Breaker Of Chains" sounds like trip-hop that's been stripped back to barely an acapella and some found sounds, while "Sanaa Lathan" is a more fully-rounded lo-fi rap vibe compared to the less-is-more approach of most of the other tracks. Incidentally "Sanaa Lathan" and "Brand Nu" play back-to-back in a single YouTube video that embodies well the flavour of sexuality and attitude of these tracks.

It's in the more vocal-heavy and lyric-heavy tracks that the challenge lies. Mhysa's expression here lays everything on the line, her passions and insecurities, with very little filter (and plenty of swears and sexual references). Although vocally strong on some tracks, like the seemingly frustrated "W Me", there's a fragility and full-on weakness in tracks like "Before The World Ends" which isn't going to win any singing competitions but will grab a lot of attention for its honesty that borders on vulnerability.

There are 18 tracks but many of these are skits or thirty-second sketches that border on genuinely random, ranging from an unexpected acapella of "When The Saints Go Marching In" that preludes the more complete version at the end, to the downright odd "Na Na Drift". Instrumental items like the two minutes of "Honey, Sweetie, Baby" hint at a whole other, deeper more extensive electronica album that might be inside Mhysa itching to get out.

It's a refreshingly experimental and personal work that really speaks volumes of Mhysa's character and vibe, complemented by measured and sympathetic electronica work. The odder aspects and unusual album structure will be off-putting to more casual listeners, but if you're looking for a bold musical expression of wallowing in isolation and insecurity- particularly around the Valentines' Day release date- then this is both an unusual and very deep dive in that direction.
Artist:
Sign Libra
Title:
Sea To Sea
Format:
12" vinyl + Download
Label:
RVNG Intl.
Agata Melnikova's second album as Sign Libra is an unusual proposition. While 80's-sounding synthwave is still all the rage- a trend that is lasting longer than the decade it idolises- "Sea To Sea" feels like a throwback to a slightly later era. This is the instrumental synth music of the early 90's, when synths sounded more like samplers, mixing desks were getting wider, and everything was sounding warmer and more velvety. More specifically, these are the sounds that were espoused by artists like Mike Oldfield, Tangerine Dream and even Enya at the time. Despite being brand new, it sounds sonically dated, or at least retrospectively minded. But that's not a judgemental statement- what matters is whether it works, and the strength and energy that's been put into these compositions really make it shine.

The artist uses perky, wordless singing and vocalisations (I presume her own) as the most expressive instrument, and these, like everything else, are mostly staccato, sometimes bordering on bouncy.

A breadth of other sounds is also called on quite sparingly. Despite the album being dedicated to the barren seas of the moon, "Sea Of Fecundity" is even given actual ocean wave sounds, further adding to the new-age vibe. The throat singing noises and spritely sound of "Sea Of Islands" sounds almost tongue in cheek, but its skipping attitude is nicely infectious and really wins you over with a groove that does seem to reflect more modern electronica.

"Sea Of Vapours" is a pleasant surprise as well, as it is built around a light house beat that takes it into the early days of trance music, while "Sea Of Knowledge" also adopts that steadier beat but brings with it an almost Celtic-sounding array of melodies that's nothing short of charming.

As a notable aside, RVNG have noted that "a portion of proceeds from this release will benefit Music Fund, an organization that gives young people living in conflict zones and/or poor regions the chance to practice music in suitable conditions."

Because I'm a Libran star sign myself, I like to think I have the balanced and sensible nature to appreciate that astrology is a load of nonsense. And while shades of this release sound a little bit 'new age' in the hackneyed sense, it's imbued with a brightness and positivity that ends up being very endearing, making this a lovely work to chill out to- and something I'd recommend, as a little bit different, to fans of the lighter side of synthwave.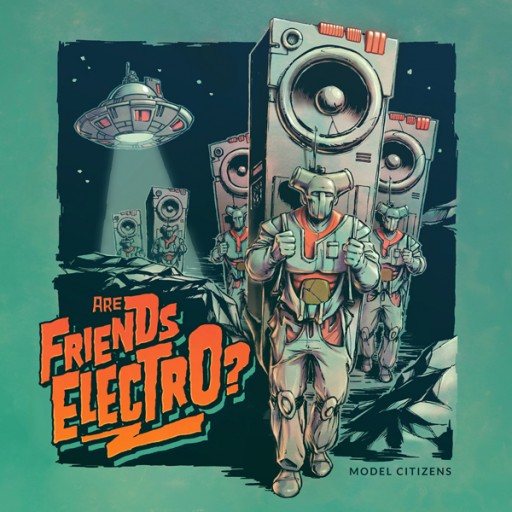 Artist:
Model Citizens
Title:
Are Friends Electro?
Format:
CD
Label:
Dominance Electricity
Rated:
Model Citizens are an electro duo coming from UK and formed by Phil Klein (Bass Junkie) and Matt Whitehead. "Are Friends Electro?" is their debut album released by Germany's Dominance Electricity. Their music has its roots in the 80s and sinister vocoder vocals, driving bass lines and upbeat drum rhythms also good for the dance floor are their bread. "Are Friends Electro?" is paying its tribute to the 80s electro having West Coast Hip Hop/Electro legend The Egyptian Lover as a guest into two tracks: they have a remix of his jam "Into The Future", taken from the album "1984" and he's singing on "Sphinx-O-Matic". Released on vinyl, CD and digital download, the album has eight tracks on the first format and eleven on the latter two as there are three bonus tracks ( "Drive", "Mega Squid vs. Monster Octopus" and "Celestial Mechanics") coming from the duo's previous EP "The Loud Minority". If you are into electro I'm sure you know the Bass Junkie albums "In Bass No One Can Hear You Scream" and "Bass Time Continuum" and this should make you already be curious about "Are Friends Electro" but if you're an old Chain D.L.K. reader, you should know that I'm always honest and I'm not acting as a second used car dealer, so believe you me when I'm telling you that this is pure 80s fueled electro, but if you want to check yourself, here you can do so https://dominanceelectricity.bandcamp.com/album/are-friends-electro
Artist:
VV.AA.
Title:
Five Years
Format:
Download Only (MP3 + Lossless)
Label:
Youngbloods
As you'll already have guessed from the title, the Youngbloods label is celebrating five years of activity with a compilation, with tracks from 15 out of the no fewer than 70 artists they've worked with over that time. Each track fits broadly with the "grow fast age slow" catchphrase of the label, offering up generally chilled out electronica with above-average dosages of acoustic instrumentation. The artists are generally all on the same page and the result is a little over an hour of smooth, laidback, downtempo melody work, sometimes bordering on ambient.

Highlights include "Alex The Spacecat" from Stu Pender (not the Lancashire Hotpots one), with Natalia Ice's supremely languid and measured vocal work (which is also highlighted on Dan Krakaur's quirky slow jam "Ur Way"). Time Wharp's nicely understated gated warm keys in "Rhodes Noel" is nicely mesmerising, while Foamek's perky and optimistic plucky synths on "Marvelous Persona" are just the right kind of sweet. The always reliable Kratos Himself's "Clappers" is a lovely fusion of pseudo-ethnic sounds into a slightly Matthew Herbert-style bit of independent instrumental alt-pop.

Other notable pieces include Yoh's "Old Leopard Paws", with its almost folky instrumentation that feels like it harks back to the softer side of 60's and 70's prog rock but fused with electronic ambience. Lucy Roleff's "In The Doorway" goes a step further and offers up a pure acoustic guitar-and-vocal ballad, the simplistic beauty of which compliments well denser and more modern-sounding pieces like The Josh Craig's "All Dogs Don't Go To Heaven".

Notable for a less positive reason is Suplington's final track "Guiding Hand", which centres around a male vocal about going back to sleep that is set in a soporific setting, but which is so gently twisted and off-key that it ends up being reminiscent of the songs in the original Charlie and the Chocolate Factory, sitting in that uncanny position where gentle and malign rub against each other.

Although some of it does border ever so gently on being twee- Sontag Shogun's piano work "Unfinished Idea 004" feels ripped straight from the separation scene of some moody 90's romantic movie, with railway field recordings rather prosaically layered on top- generally it's an extremely beautiful collection of tracks which really showcases the lush velvety tone and very high quality threshold that the Youngbloods label has established. This is absolutely worth grabbing, and listening to at the end of any long day.