image not
available
anymore
Artist:
RASPUTEEN
Title:
Gegen Die Wand
Format:
CD
Label:
Invasion Wreck Chords
(@)
Rated:
After changing the project name from Rasputin to Rasputeen, the unknown man behind that moniker released finally a new album (the second) for Invasion Wreck Chords, titled GEGEN DIE WAND. Produced by Philipp Muench (Synapscape) the new album contains 19 tracks of which 12 new, as the remaining ones have been released on the "2 hemden & 2 hosen" 7" ("Schaufensterpuppe") and on "Pmünch" 3" CD ("Kontamination", "Tunnelblick", "Konsum", "Schleudergang", "Supermarkt" and "Neue menschen"). As for the first release you can track down so many influences that is amazing to see how well Rasputeen mixed them together. After the initial warning (an industrial version of the sound of an alarm) of "Epidemie", get ready for the industrial dance of "Paradies" or "Konsument" (this one remembered me the early Pankow), the retro electro distorsions of "Drei detektive", "Monotonie", "Komm' kack' die wand an!" (a pop industrial version of Pyrolator?), "Plastikboogie" or "Baustelle bielefeld" the minimal industrialism of "Maedchen und pferde" or the tracks coming from "Pmünch". Rasputeen took the sounds of old German electronic bands and blended it with industrial new wave adding a touch of the characteristic Ant Zen sound. If you loved the first album "Das leberwurstbrot", you'll die for this one!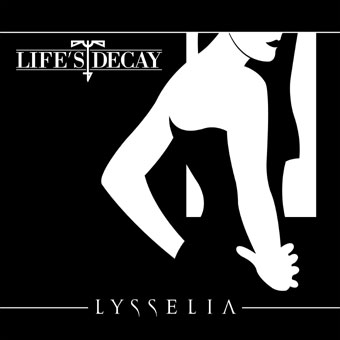 Artist:
LIFE'S DECAY
(@)
Title:
Lysselia
Format:
CD
Label:
Abstraktsens
Rated:
Formed by Lyktwasst and Alea, Life's Decay are a duo hailing from Paris who already released two CD and a MCD since 2003. LYSSELIA is their newest CD and it's their third album which contains 12 new songs. Life's Decay produce a sort of minimal electro goth influenced by martial and neo classical atmospheres. Most of the tracks present a main theme based on drums, strings and the female vocals of Alea (as far as I understood she joined the project since the previous album "Anleva") . Most of the lyrics are in French so I can't tell what they are about but the atmospheres suggest a sort of post war ambience (try to think about a German band survived to WWII and projected toward the future). There are also tracks like "Sphere" that dismiss the pop vein given by Alea's voice just to head their horses toward industrial experimentalism that recalled me someway a mixture of Laibach and Death In June. Gathering new classical tunes, electro sounds, strings and militaristic rhythm sections, Life's Decay created a convincing blend of decadent/melancholic accessible electro goth music that will please many dark hearts...
Artist:
EMPLOSIA
(@)
Title:
Emplosia
Format:
CD
Label:
Q-Code Records
(@)
Rated:
I don't want to be offensive because I like Emplosia, but listening to a Russian female duo that plays electro pop it made me think about T.A.T.U. There's nothing wrong about this but fortunately Emplosia aren't sell out and their music is far more darker respect the one of the two fake lesbians. Anyway... Darja and Julia formed Emplosia back in 2000 and since then they only participated to several compilations as their self named album is their debut work. Since the first track "Tocka" the sound of the duo shows the right attitude by presenting cool melodies, a certain dancey upbeat rhythm plus an electro e.b.m. sound with synthpop attitude. The 13 tracks of the album (you can find also two good extra remixes of "Mhe Bbl" reworked by Babymax and by Inner Conflict) denote a good taste about melody a good production and the right balance between accessibility and quality. Do you remember Depeche Mode's songs like "My secret garden" or "Leave in silence"? That perfect way of producing melodic songs with a certain dark attitude is present into Emplosia music and this is stunning! I only hope they will get the exposure they deserve!
Artist:
VV.AA
Title:
Dark Sonus Compilation Vol. 1
Format:
CD
Label:
Glitch Mode Recordings
Rated:
For anyone looking for an entry-level introduction to the classic Industrial "sound" by newer bands -- without having to slog through the requisite war horses of the past -- this is where to start. The opener, v01d's "Revolutions" and track 7, Cyanotic's "Suspension of Disbelief," are both great, chugging and churning industrial/metal contributions. The third track, PTI's "iDentify," mixes a Download-style menace with Depeche Mode hummability in its hook-y chorus, a very winning blend. Deadliner's soundtrackish, instrumental epic "Aurelander," track 8, is just begging for some vocals to better set off its cinematic mood. The refrain to Dichotomy Incarnate's "Defiant Majesty" is awesome: "She's gonna straighten my spine and wrinkle my mind...." Anyone is hard-pressed (pun intended) to find much lyrical originality such as this, anymore. But the extraordinary twist about this compilation is that it actually has a centerpiece: the amazing track 5, "Seems to Be" by CEOXiME. Female vocals fronting a jazzy, swinging cabaret torch-song of sorts make for the most intriguing and infectious spot on the entire disc. If it sounds the slightest bit out of place, it merely goes to show how much new ground can be broken for Industrial/EBM/etc. if people will only look around.

This compliation is clearly dependent on its various Industrial/EBM genre-roots, yet shows an exceptionally broad range of imagination. If this is not the perfect way for a newbie to get acquainted with the Industrial beast, this is the closest you can come. Pick it up now, if you still can....
Artist:
BLEIBURG feat. MANMACHINE
(@)
Title:
History In Flames
Format:
2 x CD (double CD)
Label:
SkullLine
(@)
Distributor:
SkullLine
Rated:
This is a new DCD release set out and produced by the German underground mail order service SkullLine. It provides a mutual team work by both German projects musically based into dark and minimal Ritual Electronica, which takes here some influences out of different music styles. BLEIBURG is leaded by Stefan R. who's very active not only with his various music projects, under the "Dark Transmission" website he publishes also a small online zine. MANMACHINE is A. Schwarz, an experienced musician since 23 years based in various styles. So you don't have to wonder also to hear some classic Electro tunes ("Deep Down In My Heart" – provided with a "classic" inspired vocal performance) besides further styles like Powernoise ("99 Percent Noise", "About The Nights" or the very chaotic "Hekate Song"), slowly Ambient tunes and - oh wonder – an acoustic Neo-Folk tune ("Fall Apart", a cover version originally done by DEATH IN JUNE) only arranged with a guitar! Some vocals are included as well, but mostly they rather act here like a dramatic news reporter rambling down some lines. This can't be called a real singing. In all you got a DCD set focusing on dark, minimal programmings and sounds, where it at times wouldn't be wrong to fill in some more maturity. To lengthen this stuff on two CD's is also a bit too much, a limitation and concentration of the best tracks placed on one full-length would do better. Designed for genre fans only. Of course, also this item is a special limited and numbered release of about 45 pieces, packed in a carton box with a pin and a t-shirt.