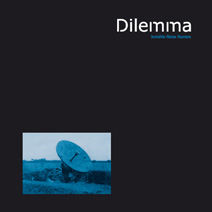 Artist:
DILEMMA
Title:
Invisible Noise Hunters
Format:
12"
Label:
Anna Logue Records
(@)
Rated:
DILEMMA were a German duo formed by Klaus Hahn (active previously with The Chemical Death and Cat No Res) and Christoph Schaller that was active during the 1986 ÷ 1990 period. They released seven tapes and participated to a couple of vinyl compilations: Christmas EP" (7" on Dirk Ivens' Body Records) as well as on "VA – Forms of Elektronik Body Music" (LP on Impuls Records). They supported Klinik during the 1989 tour but never succeeded to have a proper album released. Anna Logue Records decided it was time to let them know to a wider audience and released this compilation album / live 7". The 12" contains a selection of twelve tracks coming from their tapes and since from the opening "Shocked in the glasshouse" you realize that they have been hardly influenced by the early e.b.m. of bands such as D.A.F., Klinik, Nitzer Ebb and the ones of the early KK roster. Their sound was mainly based on drums, basic synth sounds/noises and shouted/filtered vocals. Even if some tracks sound a little naive without a doubt the duo did their best to sound honest and they succeeded into creating a cold/mechanical atmosphere that will please lovers of mid 80's industrial synth sounds. The 7" contains live recordings of "Device like a claw", "We can kill desire" and "Will to power" and on these three you can feel the band's spirit and appreciate in full their sound as the controlled aggressivity of studio tracks is abandoned and vocals sound more raw and convincing.
Artist:
Frank Rothkamm
(@)
Title:
Frank Genius is Star Struck
Format:
CD
Label:
Flux Records
(@)
Rated:
Another collection of cultural detritus and pilfering assembled around a dance beat. One wonders if there's anything original to the artist in this kind of musical expression. Of course he is the assembler, but could he actually come up with an original melody or beat without the digital machinery? Or perhaps there's no point asking that question. I'm wondering why the copyright lawyers aren't all over this guy. Fourteen tracks ranging from :04 to 4:09 all melting into each other for the ultimate DJ experience. His take on fascism (or is it just a pompous operatic sample) and Heavy Metal on track #12 "Ascending Megablast" is pretty funny though, and maybe not as ironic as that sounds.
image not
available
anymore
Artist:
PNDC & HOUSEWORK
(@)
Title:
Secondhand Language
Format:
CD
Label:
Ammonite Records
(@)
Rated:
SECOND HAND LANGUAGE is the second album for PNDC and this time he tighten the collaboration with Thanos Vavaroutas a.k.a. Housework (each track see him playing guitar and he also sung on four of them) and you find it stated on the CD cover as it has been released under the PNDC & Housework moniker. The net collaboration between Serbia and Greece still worked fine and the duo offers ten new tracks in balance from dark electronic pop and dark wave with no boundaries. Offering intimate atmospheres, electro wave sounds and melodies that will seduce your soul the album convinced me and if Joy Division fans will be pleased by "Animal farm", lovers of female vocals will be seduced by Marina Skiadaresi a.k.a. Shadowlike on "Pilots" and "Goodnight". Musically, Pedrag created a good mixture of synths, piano and bouncing bass/drums sounds which found a good counterpart into the distorted/acoustic guitars of Thanos (which sometimes he sampled and treated). Sounding sophisticated and creative without forgetting to be "popular", SECOND HAND LANGUAGE is a good album which you should check. P.s. As bonus we also have three mix: "30.000 feet" reworked by "Laurent", "Shut my soul" remixed by Harold Nono (he did a wave semi industrial version of it) and "Goodnight" (this one is based mainly on Marina's vocals and layers of treated guitars).
Artist:
The Crystalline Effect
(@)
Title:
Identity
Format:
CD
Label:
Advoxya Records
(@)
Distributor:
Poponaut
Rated:
Australia's Electropop-duo THE CRYSTALLINE EFFECT hasn't surely any identically problems, although some of the musically influences this duo likes to integrate in their tracks, remains to be filled with diversity. It's the rich musically horizon represented by especially Pete Crane, which draws on this album with black ink in huge letters by balancing between music styles like Synth-/Futurepop, EBM, Industrial or Trip-Hop. And some Downtempo-tunes only based on some sedating synthesizer sounds, a charismatic vocal performance by the female band member Elenor Rayner as well as slowed-down Breakbeat rhythm-patterns ("One Time In Life"), can be discovered too. TCE aren't that sort of an "often-heard-often-forgotten" act full of linearity and foreseeable sounds. But they aren't also a typically floor-filling act relying on the ability to produce that "one-hit-wonder". A fine example can already discovered with the opener "Blue Sea", which starts with a single piano introduction and Elenor's aesthetic vocals, until the beat joins the scenario to push the audience toward to some floor-movement. As for another highlight I tend to name with "Life Has Failed You", with its staccato-like kick and snare-programming and the included interruptions to strengthen one or another part of the music arrangement. Three additional remix works by Lee Bulig (ex-STARK), ENDIF and especially IMPACT PULSE are offering at least diverse sounding and for the most part straight and dancefloor-compatible reinterpretations, which may help some lazy DJ's by the decision to play TCE tunes in the club – the original tracks of this album aren't that suitable for this. A quite interesting Electropop-album, which earns its praising by the refreshing kind to experiment with diverse styles and rhythm programmings.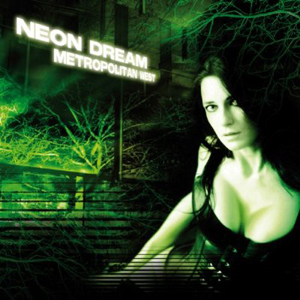 Artist:
Neon Dream
Title:
Metropolitan West
Format:
CD
Label:
Equinoxe
(@)
Distributor:
Masterpiece
Rated:
Hey, folks... please take your eyes off the green-filtered (you should know that green is an hypnotic color, shouldn't you?) picture of the entrancing neckline of that cutie model on the artwork and respect our fatigue of reviewing records for hours and hours just for a while as the Munster old gothic school seems to be more active than ever... Well, after the renowned issue of the prog-rock band Long Distance Call, here it is the second long-awaited act (... the whole fan-base and those critics which acclaimed to their debut Anodyne have patiently waited for five years their coming back in a studio recording... ) by Neon Dream, a fine band of contemporary gothic novelist and music translators of "dark" feelings swarming in the bowels of contemporary society into a musical idiom deeply rooted in the traditional gothic-rock ground' it's almost impossible to deny a certain influence of bands such as Paradise Lost - enhanced by some elements deriving from metal and wave and inventing a sort of (not so) fictional plot with a fertile level of metaphorical imaginary. In the illuminating preface to the record, the band headed up by singer Klaus Mollers' his gloomy voice is undoubtedly one of the most remarkable element of Neon Dream's line up... - clearly states that their main theme is "war and aggression against life" and quoting a famous sentence of Platoon ("We did not fight against an enemy. We fought against ourselves. The Enemy was inside us") in order to describe the state of the art of the mankind today, they identify their source of inspiration in a sort of nightly revelation inside of which there could be an hidden remedy ("It is despair, that characterizes all the beliefs in imaginary spiritual forces... call them god. Because: did those powers ever arrive or have been seen yet at all? I watch out for them every night. Hours, in which all lyrics of this album were written"... that's maybe why the album metaphorically begins with an atmospheric intro entitled "Flight to Dusk"... there're even some samples of an helicopter just to underline the technology evolution since the times of wax wings by Daedelus! ). Metropolitan West is not only what is normally known as a "conceptual album", even if its cohesion could suggest it, but the honeycombed way this band well balance gothic influences with metal and new wave excerpts is a body of evidence of their musical skills, which are clear since the first track Black Cicada, a sort of allegorical spell highlighted by a somber vocal interpretation by Klaus, whose visionary but not inducted by hallucinogenic drugs (!) state reach a peak in the title-track, a track which stylistically has a more "commercial" appeal, reminding to us some tv fictional series' soundtracks and classical goth-rock throughout airy sounds and sequenced guitar sets. We really like the inspired lyrics of Stealth, a sort of call-to-arms combined with a disquieting transliteration of a modern incubus in the "trillion lights up to 90th floor" of a skyscraper, which is depicted almost as a treasure of terrible mysteries connected to homologation plans ("crowds rushed beneath dark skies/Woman and man . dressed the same") transcending common people's imagination... ! Melancholy and depression as well as a sick sense of inadequacy are the leitmotiv which seems to inspire Veils , while in Agnostic there's a synth-pop pigment which doesn't disfigure the darkish visions of the whole album as well the touch of medieval folk harmonies roosting on Last Hours harmonies. The next track, "Exil" the only one with German lyrics with his industrial-novelistic wit and a hieratical tic-tac of a pendulum clock is with no doubt one of the most atmospheric one (and one of my favorite one). The harder side of Neon Dreamz' sound is surely Child Night Dream, which partially join with the support the band's giving to the Kim Foundation for helping children who physically or mentally suffer from war experiences (have a look to the foundation website: http://www.www.kimfoundation.com) . Some influences by the famous Finnish goth-roch band 69 Eyes on the luscious Sexaholica, while Human Replica seems to be another lucid inversion of a predictive dreamlike realism. The bonus track, Overscreening, with gears moving from the new-wave scene, is another body of evidence showing how diversified Neon Dream style seems to be! Thanks for your attention... now you can look elsewhere!