Artist: Angelo Bello
Title: GENDYN Suite
Format: CD + Download
Label: Elli Records

This suite, deriving its name from GENerative DYNamics, is a short EP of entirely computer-generated sonics with quite an analogue feel, offering up high pitched squeaky sine waves, crisp and abruptly-edged noise patterns and sci-fi bleeps and bloops in a way that might, if you hadn't read up about the concept behind it, seem to be totally random. It's a busy collection, often with multiple elements crashing into each other, and it's not without its ebb and flow, but the overall effect is a harsh and appropriately short-lived aural assault, like a deep facial scrub but for your ears.

The most successful piece is certainly "Ricercar", which expands in a presumably deliberate manner from low electronic rumbles out into a more sinister-sounding cacophony that's strangely both relaxing and tensing in equal measure depending on which angle you hit it at, before the lower notes depart and leave us in a more fragile, bubbly, electronic-underwater environment to close.

Blurring the lines between music composition and computer programming and electrical engineering, it's a curious and somehow quite old-school work, but if you like your electronics sounding genuinely experimental, raw and avant garde, this is an 18 minutes you'll appreciate.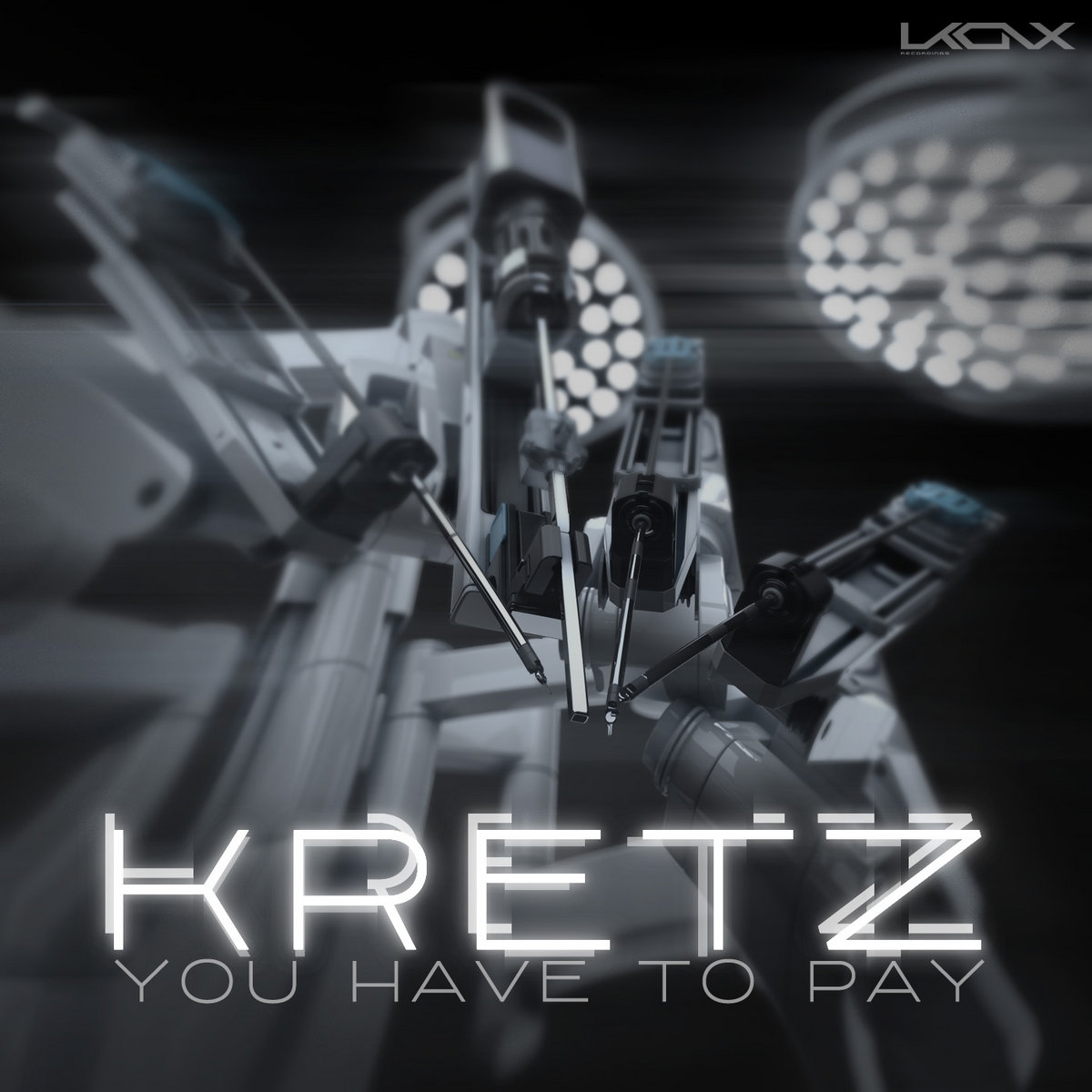 Artist:
Kretz
Title:
You Have To Pay
Format:
Download Only (MP3 + Lossless)
Label:
Ukonx Recordings
Rated:
Jonas Lund a.k.a. Kretz born in Stockholm and has a long history in the music industry. He has a past as a record company A&R and as a label manager but as musician, he started making music on the C64, Atari and Amiga. He released stuff for a lot of record labels such as: Svek, Loop records, Skint Records, Good looking, Mo´wax, React, Paper Recordings, Why Not, Reco-Nice, Plump House, Sub-Stance to name a few. On the electronic music scene he had releases under three different monikers: Anode, Rex 42 and Kretz. With the latter, he released stuff since 2012, all digital releases and the last one is a single for Ukonx Recordings. "You Have To Pay" and "Get Dirty" are two fast tempo (140 and 135 bpm) tracks that mix electro funk vocoder vocals with robotic rhythms and dancefloor attitude. We have few pads here and there and many synth lines that help building the rich rhythmical bone, creating in this way, syncopated intervals into the 4/4 main structure. Also melody is making its part into the creation of two cool tracks that for sure will get the attention of the electro heads willing for good tunes. The single is closed by the Deemphasis remix of "Get Dirty". On this version the Ukonx label boss is focusing on the bass parts and is adding 808 drum sounds, new pads and 303 acid sounds. Nice!
Artist:
Alina Kalancea
Title:
The 5th Apple
Format:
CD & Vinyl
Label:
Störung
Alina Kalancea's debut album is a rich collection of analogue synth and electronica layering, a brooding collection of slow pulses, artificial heartbeats and atmospherics that is certainly not a new recipe in itself, but which is well prepared and confidently produced so that it will certainly draw you in.

Built in waves, both micro (as in sine waves or sawtooth waves rather than literally microwaves, that would be terrible), and macro, as layers and elements meander in and out of presence with an assured languidity. In pieces like "Fears" you can practically feel the gradual knob-turning as you wallow in a rich sound, with plenty of long slow bass and subbass tones that wash over you in a strangely luxuriant fashion. The title track is the most coarse of the collection, but textured rather than sharp.

As the release progresses, it starts getting both wider and colder. "Poisonous Girl" raises the bar and is a definite highlight, bringing in sparse and perfectly measured string orchestration and a sorrowful sung vocal. The result is powerful and has a cinematic breadth. The string sounds fold back nicely into the established synth elements nicely in "Behind The Curtains" before the sinister lullaby notes of "Limbo" offer up another texture of soundtrack-style work. "Devil's Lullaby", despite the title, is a rather calm and natural conclusion.

The whole release is pitched as electronics framing a spoken word core, but in actuality many of the pieces are at least partly if not wholly instrumental. For me personally the whispered, sleepy text readings may be the weakest link here, with shades of a half-asleep Yoko Ono but not, unfortunately, in a good way. The poetry of opener "Imbalance" almost mis-introduces the album, while the "listen… shhh…" layer in "Poisonous Girl" feels faintly unnecessary and "Insider" an interlude which wasn't necessarily required.

For a debut it's very assured, and with good reason. While it would be a stretch to call it innovative, it's got a polished and clear sonic vision to it that deftly draws you to repeat listens.
Artist: Marvin & Guy
Title: Solar Warriors
Format: 12" vinyl + Download
Label: Life And Death

The artwork on this release may recall 80's gaming and lead you to expect synthwave, but in fact the 90's seems to be more of an influence on this thoughtful 3-pack of gentle old-school instrumental house and trance built out of long pads, slow progressive house structuring, and the odd spoken-word sample to imitate context. It's not entirely un-synthwavey though.

The gentle, softer-than-house piano chords on "Notte" are so reminiscent of "Swansang D'Amour" by Utah Saints that I'm tempted to try and cross-fade them just to see what would happen. Certainly they share an emotive simplicity that's really quite appealing.

"Idra" blends a nice rolling synth bassline and slightly more tribal-sounding house percussion with some gentle German spoken-word narration to nice effect, before "Stige (9 am mix)" offers up the spaciest-sounding track most befitting of the artwork, with echoey bleeps and long Space Maneouvres-ish pad sounds over a light but unrelenting 4/4 kick.

It's a smooth pack of synth instrumentals with an appealing spaced-out laziness to it at the top end, but steady DJ-friendly house beats underneath. Sweet.
Artist: Kratos Himself
Title: Solstice / Part I
Format: Download Only (MP3 + Lossless)
Label: Youngbloods

The first half of a downtempo vocal electronica concept work marking the division of the seasons, the 23 minutes of "Solstice Part I" focus on the transition between winter and spring, and it's a fairly on-the-nose treatment, blending elements such as glacial melodic synth tones and birdsong in a manner that's more prosaically representative than metaphorical.

Though describing itself as 'ancestral soundscapes' it's a more danceable release than that may imply, with steady grooves and basses rolling throughout. The nicely off-step rhythm patterns of "Hibernal" are quite poppy and could potentially be a crossover track, as could the gentle soft-glitch and simple but catchy bassline work of "Luna", where the quirky vocal sampling and fairly dramatic melodic reveals exude a refreshing confidence. The jazziness of "Lonely Ride VII" is rather sweet too and would make good quality library music.

For electronica that's unusually seasonal- and by that, thankfully I really don't mean "Christmas music"- this is an interesting and well-crafted little offering.