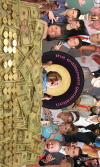 Artist:
nonnon
Title:
The Entitlement Generation
Format:
Tape
Label:
Automation Records
(@)
Rated:
Nonnon is Dave Madden of Salt Lake City. I usually don't like hip-hop based music but this I like for some reason. It's probably the kitchen-sink attitude Dave uses to bring about his highly experimental beat based songs. It is well in the realms of hip-hop rhythm-wise but hanging out on the edge so far that he's liable to fall off. The music is not dangerous, in an aggressive way, but it there is aggression here. Subtle but still present. Demanding that you listen, not knowing what's coming next. Definitely worth a listen for that at least.
Artist:
Lightphaser
(@)
Title:
Flashback
Format:
CD
Label:
self-released
Distributor:
Amazon
Rated:
It seems as though more good things in the field of electronic music have been coming out of Eastern Europe lately. Here's an album that's firmly planted in the retro-electronica space music field. Seems as though this music was once the rage a while back, but somehow fell out of fashion. Actually it's good to hear Joseph Gogh (from Hungary) reviving it. The cosmic echoey sequenced electronics and LFO'd waveform bloops and swoops are reminiscent of Silent Records artists such as Alpha Wave Matrix and Spacetime Continuum (without Terrance McKenna), and even pioneer space-electronica bands like Tangerine Dream and Kraftwerk back when they were good.

Gogh uses enough rhythmic propulsion to drive his starship to avoid New Age clichés for the most part, and keeps his vocals on the cyber-side with the judicious aid of vocoder. The exception to this is the enlistment of his sister Timea to sing on a couple of tracks. It was the track 'Control,' that most stood out with Timea's vocals on the chorus. To be truthful, I couldn't make out what Joseph was saying on the verses through all the electronic processing, but Timea's voice came through strong and clear. Simple but effective. It would have been nice to hear more of her'¦definitely a candidate for a track on a compilation. Gogh's vocals on 'Give or Take' are still processed to a degree, but a bit more intelligible and a little edgy.

The structure of Lightphaser's music is pretty simplistic but the elements are interesting and at times complex. I wouldn't really call the tone of it dark in the way electro-industrial and EBM are dark, but I wouldn't call it cheery either. Not gloom, just the coldness of space. There is rarely a time in the music when there isn't some sort of rhythmic element going on, and that's a good thing with a project like this. Also, in keeping vocals to a minimum, or using less words, there is greater impact when they are present. Since they are processed and spoke-sung, it sounds like a cyborgian element of the music. As for the synth sounds, they're mostly old school with a bit of updating. (I kept hearing shade of Gary Numan here and there.) If there was one gripe I have with 'Flashback' it has to be the use of normal drumkit sounds on some tracks. I guess Gough was going for a bit of power, but I would have stayed completely in the realm of electronic percussion. I think it detracts from the cosmic quality of the music I believe Lightphaser is striving for.

In conclusion, this is a very cool release with a lot of sonic variety. I tend to gauge how much I like a CD by how often it ends up in play rotation, and whether I would buy it (if I didn't already have it). To that end, 'Flashback' has probably been played more than any other CD in the recent batch I received from the Chain D.L.K. HQ, and I'd probably buy it if I had only heard certain pieces from it, 'Falling Horizon,' 'Eternity,' and 'Control,' being particularly good tracks. Definitely worth checking out.

image not
available
anymore
Artist:
Memmaker
Title:
How To Enlist In A Robot Uprising: Deluxe Edition
Format:
CD
Label:
Artoffact Records
(@)
Rated:
This is album is the reissue of the debut album issued in 2008 on Hive Records. The interest in this band owe to the fact that Memmaker is a side project of Iszoloscope. If album like "the audient void" lied on a mix of harsh noise and ambient, this project is pure EBM with a carefully chosen palette of synth. Nothing really new, in fact, but dance music is not a genre known for experimentation but for powerful beat and synths.
After an intro track like "prophecy" with atmospheric synths, the beat start with "ascent" and, then, the album goes almost linear until the tenth track "insomnia", a sort of chill-out before the final assault, in the original relase, of "deception" but, in this release, two bonus tracks gives other fuel to the dance.
This album is a well produced bunch of beats that will swear the alternative dancefloor.
image not
available
anymore
Artist:
VV.AA.
Title:
Kamp Holland
Format:
2 x 12" vinyl
Label:
Enfant Terrible
(@)
Rated:
KAMP HOLLAND is a new double vinyl compilation of Enfant Terrible which gathers sixteen bands coming from Holland. The label in the past focused their releases on minimal electronic / experimental pop and industrial electronic sounds influenced or produced during the late 70s / mid 80s. With KAMP HOLLAND Enfant Terrible is redefining things presenting sixteen tracks where some of them have been influenced by the sound covered by the label during the past years and some others are influencing the label for its future releases. Has something changed? Well, yes. I think that this is the most heterogenous release of Enfant Terrible as we find: pulsating and menacing electro sounds (good one "Bye bye" by Lesbian Mouseclicks), synth retro sounds (Bakeliet with "Don't Let Them Know", Neurobit with "Inner Hideaway", Pornologic with "Pterodactyl Extraordinaire" and Milligram Retreat with "AllÃégement"), great synth electro wave (really nice and melodic "Ruimtevaart Vooruit" by Staatseinde and a good dancey one "Desert" by Hunter Complex), orchestral breakbeat (Autonon's "Not For Immortals" reminds me of Venetian Snares), dark electronic sounds ( Milligram Retreat with "AllÃégement"), experimental noisy tunes (Puin+Hoop - Slaapstaking), percussive post punk (Hadewych with "Apse" sound like a mix of Einsturzende Neubauten and UK Decay), circus weird experimental tunes (Logosamphia with "La Hars" sounds like a 60s hammond toon song mixed with breakbeat on the final part), pure pulsating electronic noise (Peter Quistgard with "NONO" sound like a gabber track composed with a Commodore 64 while Murw with "Een Soort Van Geel" sound like a throbbing electro noise collage) and melancholic pop wave (like the closing "Itlien" by Treasure Of Grundo). Available in mid June.
image not
available
anymore
Artist:
Slick Idiot
Title:
Sucksess
Format:
CDS (CD Single)
Label:
Itchy Records
Rated:
KMFDM members En Esch and Guenter Schulz formed Slick Idiot after the 1999 temporary breakup of their main project, but have since carried on releasing 2 remix albums and a total of 3 studio albums ("Sucksess" being the third of those). This album features some live drums (Gregg Ziemba) and both male and female vocals (En Esch and Erica Dilanjian) as well as many of the signature sounds and techniques of KMFDM's two members (read intense EBM programming and guitar riffs). Overall the album is maybe a bit more minimal and less aggressive that what KMFDM might have accustomed you to, but there is plenty of hard hitting tracks left in there. Rhythmically "Sucksess" explores a variety of territories, including noise industrial ("Haller"), drum'n'bass ("Last Kiss"), four on the floor dance-industrial ("Wer Bist Du?"), techno ("Burn For Me"), more electro-rock/metal ("I.I.W.I.I.", "Daydreams") and of course the classic EBM sound you all know and love. Variety is also to be found musically, with a vague middle-eastern echoes in the "Imago" intro and weird musical cameos, like a hawaiian guitar intro... Slick Idiot is currently on tour in the US (throughout July) and will be selling this CD at shows only (for now), so if you want to get a copy and see the band live check out their website for dates.