Artist: Abstract Nympho
Title: Static
Format: 12" vinyl + Download
Label: Static Age

"The Static" is a short 5-track EP from the duo of Rahel Preisser (on vocals, trumpet, and "noise interventions"), and Ghazi Barakat aka Pharoah Chromium providing the rest of the psychedelic and drone noises. Thanks are given to "Gordon W." who contributes steady Eastern-sounding tablas. The result is an 18-minute package of 'un-pop' dreamwave, with organic-sounding drone and super-soft hand-drum rhythms, and Preisser's easy-sounding spoken-barely-sung vocal work front and centre.

After kicking off with a very trippy cover of "Silver Machine", we flow into the duo's first ever track, which sets a poem by Scardanelli (who happens to be Preisser's father) over some plaintive and exotic instrumental calls and a rugged textured synth bass drone.

The B-side starts with another disassembled cover version, stripping Jane Birkin's 1983 "Baby Alone In Babylone" back to essentially just a half-sung acapella with coincidental high-pitched drone and wind sounds. "Japanese Double Suicide" is a short suffix to this where the same electronic noises suddenly go a little loopy and the half-asleep vocal is replaced by manic reverb-laden trumpet squeals, There's a fluid segue so that digitally it appears as one track. It's the only track with a writing credit solely of the duo, and despite being so short, it hints at a different and much more agitated direction that the project could take musically if it felt so inclined. But instead of pursuing that, instead the final track is "Delirium", another German-language Scardanelli poem set to rough-hewn and dark atmospherics.

There's a slightly old-school attitude at play here, a confrontational experimental grittiness that recalls a few decades past, though the production quality is more polished. It will appeal to people who like their electronica deeply arty and best suited to edgy poetry recital events.
Neunau's "Concrete" work in 2016 and 2017 was based on sound research of a form of industrial archaeology, recording the sounds of a traditional ironworks that still involved hand working and old sledgehammers. This work was released as an album, and in turn was performed live inside a disused thermoelectric power plant, and a recording of that performance is also available already.

In effect this LP is a 'remix album', of sorts, because it uses those original sound recordings and reworks them, recycling them (in deference to the work's title) into a collection of mostly fairly minimal rhythmic electronica pieces that rub against the borders of other loose genre definitions as well- sometimes experimental, sometimes techno, sometimes ambient.

Highlights include "Movimento I", which begins as a fairly conventional sounding broken-kick-pattern electronica workout, much like the attitude-laden title track, but which unfolds into more energetic and playful (and at times quite squeaky) territory.

"Anomalia" is more drone-based, a fairly familiar-sounding sonic wash and melodic hum derived from processing and softening industrial sounds into harmonies, that serves as a form of interlude, but there are also grittier moments, including the aforementioned title track, and the impulse rhythms of "Nel Vuoto". The especially brutal distorted subbass of "Rullo Trasportatore" feels like it's only one breakbeat short of being the best track on the next Prodigy album, and it partners well with the slightly milder "Nastro Trasportatore" to form an intriguing little self-contained journey.

It's a very nicely presented limited-edition LP, with hand-printed typography that makes each LP's artwork fractionally unique. Even when detached from its thickly laden context, it definitely still works as one of the more intriguing and characterful pieces of electronica I've heard recently.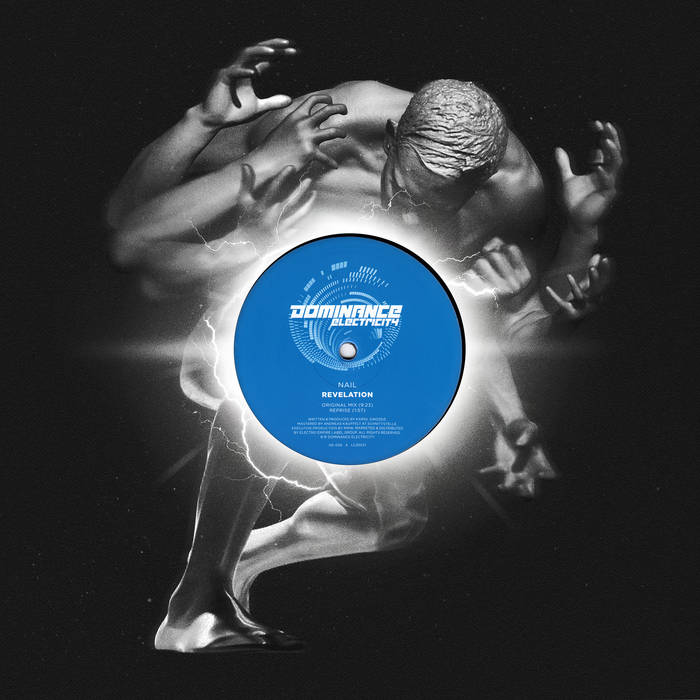 Artist:
Nail
Title:
Revelation
Format:
12" vinyl + Download
Label:
Dominance Electricity
Rated:
Released on vinyl and on digital format with a bonus track, "Revelation ", is the first 12" of the Polish-Silesian producer Karol Gwód a.k.a. Nail which has just been released by Dominance Electricity. It contains two main songs: "Revelation" and "1987", plus three minutes short reprises of both. The title track is an epic ten-minute Electro trip with biblical lyrics in Polish language. The track is driven by a cool robot sounding vocals, broken beats and hypnotic melody arpeggios. The second track, '1987', is more fast and energetic and it's based on arpeggios, blasting effects and nice drum patterns. The fan of classic Electro in the vein of Kraftwerk or Anthony Rother will be pleased to check this one as the tracks are really catchy. Compared to the vinyl, this version has a three minutes bonus track titled "Revelation (Vocoder)", which is focused on the effected vocoder lines of the track. This one definitely sounds like the recording of a threat coming from an alien spaceship.
https://dominanceelectricity.bandcamp.com/album/revelation
Artist:
SPIME.IM
Title:
Exaland
Format:
12" vinyl + Download
Label:
-OUS
Turin-based SPIME.IM make instrumental electronica, technically, but as you may have come to expect from the -ous label, it's deconstructed and made wantonly obtuse and hard to categorise. Playful messing about with synth sounds that might ordinarily be found in electropop or synthwave, pulling them into extreme abstracts at times, feels as much an exercise in pushing expectations towards limits as it does a practice of making listenable music.

It's a half-hour-long set consisting of seven non-sequentially (obtusely) roman-numbered tracks, which stand alone and could have warranted names. Some of these are accessible, for sure. The rubber shifting bass tone of "XI" contrasts nicely with the full-bodied melodic synth pads that run over it, and sounds fantastic played loud. "II" has moments of rich cinematic gut-punching tension, final track "VII" mellows out to a peaceful conclusion, while "VI" (*not* the track before "VII") builds into something that could defendably be called modern trance and club music, to the extent that you begin to wonder whether you've pressed the wrong play button, a danceable track which abruptly (obtusely) drops-out mid-bar as soon as your hands have started heading in an airwards direction.

The less accessible moments include "XII", which takes the retriggering into high-BPM bombardment territory, and "I" which is much sparser, with a pleasant pitch-shifting bass tone, but a structure which has a strong appearance of complete randomness and a deliberate intention to defy pattern-spotters.

Ticking boxes in both 'electronica' and 'art', it's a very listenable short album (or is it a long EP? Old labels no longer apply.) It will appeal to glitch and Aphex Twin appreciators looking for something fresh and stylish.
Despite having a very strong track record as a composer, a producer and as a recording engineer, this is David Chalmin's first proper solo album- but it's a work of such assured confidence and accomplished production work that it's hard to believe it's technically a debut.

This 43-minute, 6-track album belongs at the most intelligent and thoughtful edges of progressive techno and electronica, with a collection of moody synth pads, rich atmospherics, rolling basses and steady sonic evolutions that almost commands you to pay attention to the details- but it's also offset by a classical music aesthetic, exhibited mostly in the pure piano sounds heard in tracks like "Lumiere blanche", which provide an obvious yet still very effective contrast to the distorted electronics. Opener "A l'aube" sets the tone well in this regard as a prelude, but second track "Les ames perdues" is more indicative of the release as a whole, underpinned as it is by a soft 4/4 rhythm that regulates the pace of this tightly-planned sonic journey.

"Image Nocturnes" has a rich combination of outer space atmospherics and slightly retro sci-fi synth sounds that strongly recalls Etienne Forget's work on "Missions", and which would sound equally at home soundtracking a picture or narrative that is both huge and introspective at the same time. "Vertige" reminds me of what happened when the Chemical Brothers went "Further", taking sounds from the dark but still dancefloor-friendly edge of EDM and twisting them into a harder and more distorted journey, while "Matiere noire" in a way has the structure of 90's trance music (the good stuff), with its offbeat synth bass note and plinkier arpeggios, but slowed and pulled into shadows.

As melodic instrumental electronica goes, this is premium-quality material, with a rich sense of composition and melody combined with sharp and detailed production. This release jumps to the top of its class.