Artist:
Fernando Olaya
Title:
Iguazú EP
Format:
12" vinyl + Download
Label:
Univack
Colombian Fernando Olaya's first release on the Univack label is a three-pack of rolling progressive house instrumentals with a familiar structure and a very silky quality. Stepping, confident, journeying light house grooves give a sense of steady motion over which are layered gentle, super-soft and mellow chord sequences. It's an assured formula that doesn't get stretched very far, but which is executed well.

The title track feels like old-school trance music for long train journeys, spaced out and thoughtful. "Tulum" rolls slightly harder with a slightly robotic arp loop that keeps things under control until the luscious chords start coming in after three minutes, while "Technicolor", despite its name, is neither cinematic nor dramatic and keeps things pulsing along gently with an approach to melody that strongly recalls the better output of late 90's trance.

The press release says this is pitched at the dancefloor but I would rather listen to it while staring out the window of a long drive or train ride. Quality material from the dreamier side of dance music.
Artist:
Sleepy & Boo
Title:
Emerge
Format:
Download Only (MP3 + Lossless)
Label:
3Bridge
New York-based Sleepy & Boo offer up a 3-pack package of deep-rolling progressive house with a dark, echoey, dubby flavour, epitomised by the title track which expertly builds, yet meanders. Atmospheric chords dominate, but fairly thick tribal percussion sounds keep your feet moving as well.

"Materalize" is a touch simpler in structure, keeping the drum programming steady, adding a syncopated and slightly retro synth bass, and letting dubby percussion flirt with the casual sci-fi chord stabs on top. "Rise" again follows the same format, but bringing a sweet light arpeggio synth to the fore and taking its' foot off the gas just a little bit.

It's a reliable three-pack of spaced-out and progressive electronic tunes with a great deal of charm.
Artist: Martina Bertoni
Title: All The Ghosts Are Gone
Format: Tape
Label: Falk

This is the first full-length album from Berlin-based cellist and composer Martina Bertoni, after a couple of EP's- although at 37 minutes, you'll wish this album was longer.

Relatively purist cello playing sits at the heart of each piece, predominantly long low drawn-out notes of a kind that are stereotypically used by film composers to portray barren landscapes or end-of-act-two hopelessness and sorrow.

But the electronics and atmospherics that surround the cello are far more than a simple framing device, and absolutely shine in their own right. "Stuck Out Of Lifetime", in second position, comes as something of a surprise when you're anticipating near-ambient work and a gentle ticking rhythm arrives, a subtle but powerful structural move that keeps crucial energy running underneath the slow melodic work. "Impossible Routines" is a half-step further in the electronica direction. Darkness, perhaps the titular ghosts, are an undercurrent here rather than a dominant force, with pieces like "Invisible Cracks" brooding and gently ominous yet still retaining a sense of melodicism and calm, largely thanks to the cello.

Only a couple of the pieces top the five-minute mark and there is a certain sense of static vignette at times, each piece representing an environment or an idea and not progressing within itself. There's no harm in that in itself, but it does sometimes leave you wondering where tracks like the gently pulsing "Principles and Petals" would have gone if allowed to take a longer and more in-depth journey. "Notes At The End Of The World" is notable thanks to its spoken-word element that serves as a kind of postscript- although when an instrumental album has let you wander off in your own imagination whilst listening, sometimes last-minute words can seem somewhat unwelcome as they can contradict where you've got up to in your head.

There's a delicate underplaying throughout this album and I'd hope in future releases that Bertoni could be a little more ambitious, but I would certainly still recommend this album overall. If this is what the quality of albums is going to be like in 2020 then we're in for a great year.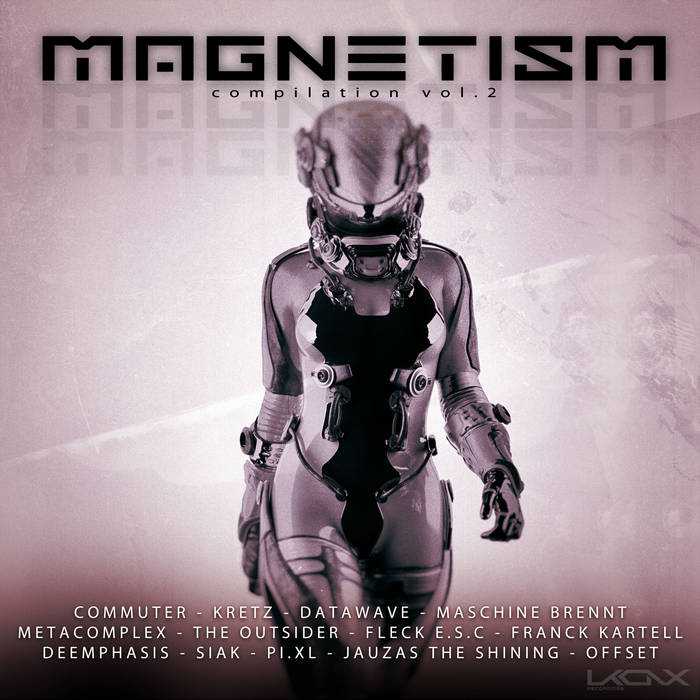 Artist:
VV.AA.
Title:
Magnetism Compilation Vol. 2
Format:
Download Only (MP3 + Lossless)
Label:
Ukonx Recordings
Rated:

The French label Ukonx is already busy into bringing us new dark electro tracks and this is the time of the second volume of the "Magnetism Compilation" series. It opens with Frank Cartell and his tribute to Kraftwerk with "Les Automates". On this one many parts have been composed having in mind Kraftwerk's songs but Kartell have been turned those ideas into new inputs in a really good way. Datawave's "Droid Lab" is sounding tense and fragmented. Maschine Brennt is kind of mixing the sound of the two previous bands by having robotic rhythms and vocals plus dark atmospheres. Kretz, from Sweden, is here with "Corporate Greed Will Proceed", a space electro funk track with filtered vocals. "Equanimity" is the track that Commuter, another project coming from France, is bringing to the attention of dark electro lovers focusing on the alternate of arpeggios, ambient pads and bass stop and go. Deemphasis is the project of the label's owner Stephane and with "Reactivity" is creating a mix of robotic and ambient tune with kind of middle Eastern's melodies. Pi.XL, from Spain, with "Do It Yourself" is focusing his track on rhythm layers with few harmonies here and there. Let's go back to France with Offset where a drum sound similar to a 80's Linn's drum is the core of "Framework", a nice track in balance from electro and vapor wave. Japan is waiting for us with The Outsider's "Noctilucent Clouds", a track could be useful for a soundtrack thanks to its inintelligibile treated vocals, sampled breaths used as part of the rhythmic structure and horrific pads. Siak Phd, instead, like it loud and their kicks are hammers that works as counterpart to the metallic like sounds and breathing sampled vocals. Hungary is Metacomplex's home and with "Neurosilence" we have an electro suspended in time effect thanks to the delay applied to the melodic synth parts. Jauzas The Shining is a project I know since ten years or so from the Black Montana days of which I lose tracks. With "Surveillance ", he's bringing paranoid atmospheres which play around one arpeggio. Fleck ESC (which I also reviewed about 10 years ago) is closing the compilation with "Fantasm", a track that plays with a rich rhythmic palette, as usual for the French project relocated in Japan lead by Frank Collin. The compilation works as a soundtrack presenting part of nowadays dark electro panorama, so check it out...
Artist:
VV.AA.
Title:
Sounds From The Matrix, Vol. 20
Format:
CD + Download
Label:
Alfa-Matrix
(@)
Rated:
Gotta get this one in before the year closes out. Every year the Belgian record label Alfa Matrix releases a compilation of (hopefully) its best and brightest, and this is #20 in the long line of great compilations. Participants this go-round include: Psy'aviah Feat. Kyoko Baertsoen; Helalyn Flowers; Synapsyche; IMJUDAS; I-Scintilla; Junksista; H.O.W.; Llumen; Mental Exile; Metroland; Implant; Aesthetische; AD:Key; Kant Kino; Avarice In Audio; Reactor7x; Dunkelwerk; Circuito Cerrado; and Alien Vampires Feat. Chainreactor. 8 of them are returning participants from last year.

This year's offerings are somewhat less varied than last year's, but there are still plenty of cool tracks. Psy'aviah kicks it off with "Plan B," a track from their 2018 'Lightflare' album in case you missed that one. A bit low key for an opener, but still a great voice and melody from Kyoko Baertsoen. Helalyn Flowers makes another stellar appearance with "Tetrachromatic," a strong melodic tune that should perk up some ears. Ferrara Italy's Synapsyche reflects some "Mirror Terror" with both clean and dirty vocals; pretty standard electro music but it has a good bouncy beat. IMJUDAS slow it down considerably with "Without Us You Are Nothing" ...good vocals but I'm not really sure what this song's about... Chicago's I-Scintilla makes an impression with "Human" (Angelspit Mix), some rousing electro-industrial fronted by Brittany Bindrim. Junksista's "A Little Naughty" doesn't have the impact of "Monday," their entry for last year's comp, but it's still a pretty good song. Can't really find anything on H.O.W., but their "Happiness Imperative" is a neat little electro gem with nice melodic female vocals. Llumen offers some dour synthpop with "The Dark Inside Her Eyes" (Bunker Edit). Unfortunately there's not enough going on to make it interesting, with verse, after verse, after verse, after verse... Damasius Venys' Mental Exile puts forth one of the stronger tracks on this comp with "Renegades". You might know him from the band Mondtraume, who were on last year's comp. Metroland had one of the more intriguing tracks on last year's comp with "Man in a Frame," but this year's "Memorabilia" sounds like a Heaven 17 outake from the late '80s that was excised from an album, and better left that way. Disappointing, with nothing more than retro-sequencing and stale vocoding. Implant's "Oxynoxe" (Karl Hefner & Hugh Lagerfeld Remix) sounds a bit phoned-in; I expect better from this Alfa Matrix staple. Aesthetische gives "Berlin" a bit of a martial beat, and any DJ willing to give this track a spin in the club may get some surprising reactions from the dancefloor. AD:Key lays it on the line with "You Can't Fuck Me" with expected results. Oslo's Kant Kino offers up some old-school EBM with "Destruct," a solid entry on this comp. Never heard Avarice In Audio before, and this seems to be the first band on the comp that has any real aggrotech leanings. If that's your thing, you just may enjoy their "Trojan Horse". More of that style comes your way with Poland's Reactor7x, and their "Circus of the False". Not my thing, but I have to admit that it's very well done. I could have done without Dunkelwerk's "GxSTxPx 4C" (Bunker Edit) as this isn't the time to dredge up any Nazi memories, especially sung in German. Mexico's Circuito Cerrado shows some promise winning over Hocico fans with their wild "Revolution," and this will make a killer dancefloor track. Finally, Alien Vampires Feat. Chainreactor close out Vol. 20 with "Hyperbolic Doubt," maybe an aptly titled track if there ever was one. I hyperbolically doubt this is much of a song. Great for the dancefloor, headache-inducing just for pure listening. Those scratchy vocals are at a minimum though.

As usual, this comp is free with a purchase of any of Alfa Matrix's roster of artists' albums (while supplies last, I imagine). Or, you can just purchase the digital download from Alfa Matrix's Bandcamp site.