Artist:
Jason Kahn
(@)
Title:
Sin Asunto
Format:
CD
Label:
Creative Sources
(@)
Rated:
Many reviewers mistakenly think that graphical score is just an almost unuseful and somewhat provocative act of oddness or a disrespectful corruption of standard musical notation. The last example of such a different graphical representation I introduced on this web pages was the one Blixa Bargeld made while relistening to the sound sculputers by Alva Noto on the occasion of their appreciated collaboration (ANBB); the one by Jason Kahn is remarkably different not only because his ensemble of musicians, met in Seul in 2006, doesn't use both electronic devices and human voices, but also as it's not properly a graphical visualization inspired by sound stimulation, but it's definitively a real score! If you'll have a look on it, you will notice it could remind both some similitudes with the cycle of water - waves of different length, drizzle, raindrops, concentrical cicles close to the ones you'll notice on a liquid surface when throwing some object into it, snow crystals and so on among the symbols on this diagram for each musician - and a sort of stratification akin to the one of the atmosphere, following a sort of timeline - the horizontal axis of this diagram has been divided into 5-minutes long time intervals and you could follow the composition on this bizarre libretto! -. And even if this "organic" piece, composed for a concert series at the Moods club in Zurich, has been entitled Sin Asunto (with no subject!), both the mentioned remarks sound coherent and symbiotical to the artistic purpose of the composer, intended to "create an atmosphere akin to one pushing up to the surface from the very great depths of a vast and dark body of water, rising to the light streaming down from above with both a sense of urgency and resignation". It's really amazing the way the tunes resurface from the evoked depths and they way each musician - Vincent Millioud on violin, Bo Wiget on cello, Christian Weber on contrabass and Jason itself on amplified percussion, mentioned following the altimetric order on the graphical score! - follows these "atmospheric" punctuation with ease, showing their fluency in the most intruiguing and unruled language humankind knows. It's music!
Artist:
Jean-Luc Cappozzo & Edward Perraud
(@)
Title:
Suspension
Format:
CD
Label:
Creative Sources
(@)
Rated:
Suspension has undoubtedly been one of the listening I hugely appreciated in recent times. Recorded in the end of april 2009 during a live session at La Chapelle St.Anne, lasting almost one very intense hour, by the skilled trumpet player Jean-luc Cappozzo and the "magnifique" (fitted definition of his value according to the words of Monsieur Cappozzo during a short break of this performance) drummer Edward Perraud - one of the most impressive talent of the free jazz and improvisational jazz scene I had the pleasure of listening on the occasion of a concert with Michel Portal -, it's a breathtaking collage of musical sketches oscillating between stylistical bluffness, touching blues-veined moments, fuzzy experiments with vocal blows and length alterations into this legendary brass, enclosed tonal games with crammed valves, funny conversations between the brass and the drums and spotted quotations, the venomous fitting of trumpet tones in the intricate drumming web by Edward looking like the stinging invisible tentacles of suspended jellyfish! The final ovation after a sort of pointillist version of Summertime, the notorious standard by Gershwin, is the most trustful and varacious feedback for such an emotional recording. Brilliant!
Artist:
Seeded Plain
(@)
Title:
Entry Codes
Format:
CD
Label:
Creative Sources
(@)
Rated:
Well, I'm not sure if this album has some hallucinogenic properties, but while listening Entry Codes through headphones in drowsiness I dreamt about flying over Charing Cross Road during an imaginary contest of Gnawa trance music bands. I definitively should avoid snoozing while listening to such releases as I could commit many valuational errors and saying for instance the unconventional rhythmical codes Bryan Day and Jay Kreimer - the two eccentric craftsmen (an acceptation to the point as they just use some homemade instruments in their sets) - have recorded could be good to enter into a somewhat deviated oniric world, but I should say they activated some auditory remembrances as their rhythmical structure maybe have some points of intersection with Morrocan or Nubyan trance musical tradition with the remarkable difference that they use totally different sonorous objects, while sound in such an amazing way you could envisage the possibility to send some home stuff you don't need anymore to their mail account instead of collecting it in the bins for recyclable materials! If you decide to approach to Seeded Plain's acoustic devilments, I warmly reccomend to dwell upon tone-colour strange and estranging sounds Jay and Bryan manages to obtain by striking and so giving life to their noisy freaks so that the hums and all those rasping noises in Tarpaper Neutrality, the muted tolls and metallic squekings in Vacuum Insert, the metallic garglings and the sinister snoring together with somewhat stunned strokes of hit box-springs in Ciar of Thumbs and Waxwing Lattice as well as the dull wooden rumbling interrupted by a teeming of metallic bumps and plops could be considered as the whimpering of creatures born inside an audio-genetical mad lab!
Artist:
C.H. DISTRICT
Title:
Conclusion
Format:
CD
Label:
M-Tronic
Rated:
C.H. District is the musical outfit of a Polish guy called Miroslaw Matyasik. He started under this moniker on 1996 and he also cooperated writing music and , sometimes, acting for three theatre groups from the Silesia area: Cogitatur Theatre, Apart and Suka Off. In 2002 he got a deal with M-Tronic label and the year after released his first official album split with Duuster. In 2005 he released a full length for the same label titled "Slides"and then we have to wait until 2010 for the release of the latest one, CONCLUSION, album which has been licensed to Tympanik Audio for the north and south America. CONCLUSION contains ten new industrial electronic i.d.m. rhythmically driven tracks which are more similar to Oil 10 than to the sound proposed by Ant Zen or Hands labels. Tracks like the main title, "Practical tool" or "Go out" have a danceable pitch mixed to ambient and others like "Shrink" or "Burnaut" (this one features synta[xe]rror), are cool melodic dreamy robotic tunes with powerful beats and a cinematic feel. Then, "Like a human", featuring Tomtylor on vocals, shows new ways of exploring the genre thanks to a rich sound palette (Miroslaw uses many beats coupled to cool electronic textures) where melodic vocals are a great counterpart to an energetic dreamy sound. Really nice album...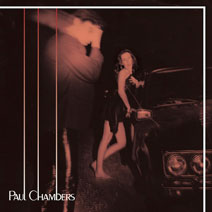 Artist:
PAUL CHAMBERS
Title:
Stations / Absorptions
Format:
CD & Vinyl
Label:
Anna Logue Records
(@)
Rated:
Paul Chambers is a guy coming from UK who in the late 70s started to experiment with synthesizers and, just like Thomas Leer (his album "The bridge" released in collaboration with Robert Rental has been released by Industrial Records in 1979), could be considered a pioneer of dark minimal electronic music. Officially Paul released only two tracks ("Steering solo" and "Take a ticket") in 1981 when he took part to "The apprentices dance", compilation released by Sounds Interesting Records. For "Steering solo", Paul took the post punk energy thanks to solid guitar riffs and energetic vocals and mixed it with epic synth lines. "Take a ticket", instead, is a mid tempo introspective synth wave tune with passionate vocals and nice melodies recalling me a bit John Foxx. Those were two really nice songs which showed the potential Paul Chambers had and that he couldn't prove with a full length release. Fortunately, now, Anna Logue Records is giving to Paul that chance and is giving to us listeners the pleasure to check a double feature release: an LP titled "Stations", containing vocal and instrumental tracks where you can find also the two songs I mentioned and a CD titled "Absorptions" containing fourteen instrumental tracks which sound like a soundtrack for futuristic movies (for the concept of future that people had in early 80s) made with screaming synthesizers and cold drum machines plus a different mix (even colder than the previous one) of "Take a ticket". If "Absorptions" represents the experimental side of Paul Chambers, "Stations" contains synth wave gems like "The appointment with fear" (where sudden pitch changes make it sounds like a post punk track for aliens), "You are time" (syths leads play a mysterious atmosphere while Paul sings mesmerizing the audience like David Bowie was used to), "Crazy lazy" (try to think to a version of Japan's "Nightporter" played by Vangelis) or "Title name" (a slow synth r'n'r tune with guitar solos and fat lead sounds). I hope that Paul will dig some more into his archives to give us more songs. He's a multifaceted artist and he'd deserve to get the proper exposure even if it arrives thirty years late.