Artist:
Deviant UK
Title:
very.bad.things
Format:
CD
Label:
Egomania [UK]/Remote/Sony [GAS]
Rated:
Deviant UK - Very Bad Things

Deviant UK is the project of Jay Smith, and "very.bad.things" is the follow up to "Barbed Wire Star" which was released in 2006.

"Barbed Wire Star" established Deviant UK as one of the top UK industrial and alternative electro artists in a short space of time, so 'very.bad.things' has a lot to live up to.

The most striking thing about Deviant UK Initially, is the vocal sound of Jay Smith, which has strong similarities to Gary Numan's, with perhaps some subtle, grittier variations to his arsenal.
However, this is no tribute act, and within a few minutes of listening to the album, you come to realise that Deviant UK definitely have their own sound going on.

The production is an improvement on the already strong standard present in their last album, with majestic pads soaring, rhythm sections pulsing and some carefully sculpted distortion all weaving together to form a solid foil from which the distinctive vocals can launch.
Much like the production, Jay's vocals have improved, with whispers, low grumbles and even a little snarl added in parts, showing that the progression of the project is clearly a key driving factor behind the sound of Deviant UK.

The themes on this album are very direct and aggressive compared with previous offerings, and you get the sense that Deviant UK are expanding into something much more dynamic, capable of a greater breadth of song, musically, lyrically and thematically.
This aggression helps give "very.bad.things" more of an edge than "Barbed Wire Star" with more of a sense of being on a musical journey as opposed to a series of tracks.
When paired with the fact that the tempo on most tracks is fairly brisk, with crisp 4 to the floor beats pushing the album along, it is very easy to get swept away and lose yourself.

This album is literally laden with Pad driven hooks, and catchy melodies, and is definitely closer to VNV than Combichrist in terms of the Industrial Spectrum.

If you enjoy the 80's synth classics like Gary Numan and Depeche Mode, or the more contemporary stylings of VNV Nation and Assemblage 23, you will find something to enjoy on this record.
If however your tastes are for the more aggressive, you may be better suited looking elsewhere, as Deviant UK is definitely a project with an eye for a clever melody,rather than a penchant for Distorted vocals.

All in all, a definite improvement on "Barbed Wire Star", and a progression of Deviant UK in terms of production, songwriting and dynamism, resulting in an album full of hooks and toe tappers.
image not
available
anymore
Artist:
MINERVE
Title:
Please
Format:
CD
Label:
Echozone
Distributor:
Masterpiece Distribution
Rated:
The first time I reviewed Minerve was with the release of their debut album "Breathing Avenue", issued by Pandailectric in 2004 and I already put in evidence the qualities of what back then were a duo formed by Daniel Wollatz and Mathias Thurk. Now six years have passed and they are a four members band which have recently released their fourth album PLEASE on Echozone. The new album brings to the lovers of electropop twelve new tracks that span from upbeat ballads (like "Life is an illusion", "Read im my memories", "Please"), melancholic ones (the following "You don't know me" or "Save me"), dancey synthpop tunes with e.b.m. influences ("Hold me tight", "Every day", "Don't ask me why", "Phoenix", "Forbidden love" or "Under my skin") and a bit of new wave ("Down to the ground". Influenced by Depeche Mode, And One, Mesh, Minerve with PLEASE released a solid album full of catchy melodies and good vibes.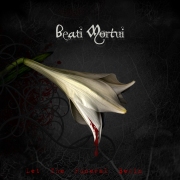 Artist:
Beati Mortui
(@)
Title:
Let The Funeral Begin
Format:
2 x CD (double CD)
Label:
Danse Macabre
(@)
Distributor:
Alive
Rated:
Again signed with their second official album to Germany's well-known Danse Macabre label group, this trio hailing out of Finland provides musically a quite interesting mutation. They combine the usual hard-driving force of a Harsh-EBM-like sound outfit, with raw and abrasive fx-processed female vocals, but too some Goth-Rock-like guitar riffs and some decent melodic inserts with beautiful sounding female vocals on the opposite. Let's throw bands like THE BIRTHDAY MASSACRE and UNTER NULL into a cooking pot, as this may describes well the elementary components of their sound. Their EBM-driven sound is definitely the leading force of the whole artistic foundation and comes out energetic, angry and with the required special doze of adrenaline to keep the bodies of the dancefloor-junkies in motion. 'Vision of Hell', 'Prey' or 'Soulreaper' offer all of these notorious weapons on board to keep on rawking. Musically more valuable I find those tracks, which move a bit more towards to integrate a wider horizon. The catchy and with some nice piano inserts arranged 'Deathrow', which features a dramatic additional vocal performance by Bruno Kramm of DAS ICH has to be named to fall under this category. Not to forget the intro and outro tunes 'Painting'¦' and ''¦Obsequiae' which feature partly words and poems out of the Finish traditions. 'Let The Funeral Begin' is artistically a quite ambitious album, which comes out as a well looking digipack, which features a second CD filled with remix contributions by an international selection of artists. The typical chosen Hellectro-Tommyknockers like SUICIDE COMMANDO, C-LEKKTOR, the well recognized label-comrades like Chile's DIE BRAUT, or the Greek project INLINE.SEX.TERROR haven't to be missed and offer additional food to consume at best on the dancefloors. But additionally some names like KUROSHIO, ERILAZ, or MACHINE PARK are rather counting to the lesser discovered projects, but from which we will hear and report surely soon from. All in all a quite good one, which offers more diversity compared to your usual Harsh-EBM/Hellectro listening experience.
Artist:
Tunes Of Dawn
(@)
Title:
Goodbye Cruel World
Format:
CD
Label:
Echozone
(@)
Distributor:
Masterpiece
Rated:
After 13 years from the radical mutation of his musical reasearches, ideally consecrated with the changeover from Delirium Tremanse's cerulean death metal to Tunes of Dawn's polishing into gothic metal's crowded pool, Hagen Schneevoigt, self-appointed as "The Suicider" in the nice song Suicide Challenge welcoming any listener of ToD's brand new album Goodbye Cruel World as well as talented and self-ironic singer of this group of desperataly necro-romantic Berlin musicians, seems to change his sound-ship's course towards even more romantic isles. Desperately romantic of course! And even if Schneevoigt's vocal nuances are sometimes close to Him's Ville Valo and some songs, such as the cover off Zeromancer's song Cupola or the well-aired melodic brilliancy of A Warm Sigh ah 6°C (what a title!), but above all the 8 tragic minutes of With The Moon Comes To End, overflow in the territory of the so-called "love metal movement", the unaffected steadiness and the sober decorum of most song structures let me think more to some ideal connections to Theatre of Tragedy than to Type-O-Negative. With many surprises as well, such as the somehwat funny sampling of some songs (Tonight's Decision medley with someone's grabbed while vomiting let argue how difficult and deeply-felt was such a decision!), adding a vivid and convincing dress to the music tale of this fugue, or the funny wink to 80ies Brit Wave of the title-track as well as the appreciable interpretative tension of the two acoustic songs, Divine and If I Die Today (a track which carried my musical memory even to certain renowned Bad Seeds...). The easiest way to criticize them could be based on the stressing of Tunes of Dawn's supposed strong link to the above-mentioned Him-ian trend due to their peaks of glycemic index values - but also with the bitterest sides of life as showed by the lyrics of Refuse Resist, forwarded to them by a Finnish fried after the notorious shooting rampage -, but it wouldn't be so fair to consider them as a subset of such a pervasive pathology! Maybee the time to present their credentials has already reached its deadline, but Tunes of Dawn's genuine electronic-tinged rock have definitively them! Plastic bag and knife are not supplied with cd!
Artist:
PAS (Post Abortion Stress from the Viewpoint of the Fetus)
(@)
Title:
Pure Energy Output Sessions
Format:
CD
Label:
self-released
Rated:
I had also reviewed a DVD that PAS sent along with this disc, but these two were my first exposure to the band. This is a weird mix of woodwinds, synths, treated guitar and other assorted weird sounds. That said, it all hangs together rather well. This is improvisation, not randomness. Several of the tracks are about a minute long with the shortest at 58 seconds and the longest weighing in at 7:05. With 17 tracks, there is a considerable amount of variety here making it hard to sum up in a review. Some of the comparisons I can come up with are Hafler Trio's 'Bang! An Open Letter,' or Zoviet France's 'Loh Land.' It's interesting, but not all of it is as engaging as it could be - I did not find it to have the 'pure energy' the title promised. For me, one of the standout tracks is 'Piano Music for Volcano Eruption,' which incorporates odd electronic sounds into a nice piano melody. Overall, if you are looking for some interesting improvisation that never completely disintegrates into noise, this might be one to check out.