Artist:
Chasms
Title:
The Mirage
Format:
CD & Vinyl
Label:
Felte
"The Mirage" is an introspective bit of dubby dream pop that, despite clearly being fused with melancholy channeling problems and tragedies in Jess Labrador and Shannon Madden's recent lives, comes out the other side as a charming and calming affair. Over light and confident electronic dub and synthpop beats and basslines run light echoing guitar melodies and soft, slow, feminine vocal tones.

The poppier moments include "Every Heaven In Between" which, save for a slightly more hollow and washed-out production quality (a deliberate one, rather than a criticism), might be reminiscent of early 90's Electronic, or State Of Grace.

However for the most part it's more wistful, slow affairs like "Gratuitously Cruel" which, despite its title, sonically doesn't sound cruel at all. Adopting elements of electropop that are at times both modern, not that dissimilar to chart electropop ballad material, but also retro with shades of wave, there's a steadiness and richness to them that justifies and easily fills each song's generally six-to-seven-minutes-ish running time. The dubbier points, like opening track "Shadow" or the very endearing "Tears In The Morning Sun", also have shades of the fusion of electronic and dub sometimes ploughed by The Orb and others, while "The Mirage" is a slightly more grimy and gothic affair which seems to have its sights set firmly backwards.

As expressions of grief go it's rather measured and controlled, but the result is an accomplished three-quarters-of-an-hour sonic indulgence that will be appreciated by those who prefer their soul-searching and shoegazing to be a touch on the lighter side, but still very sincere.
Riccardo Gorone's solo project, named after voiceover heard in a BBC documentary about flowers, claims to see musical genres as flowers that it flits between impulsively. At its core it's electronica, mostly downtempo atmospheric and thoughtful, a collection of seven pieces that sometimes border on the playful but which, within each track, adopt a fairly serious and focussed attitude. It's in the unique details adopted in individual tracks, like the harmonica on "Azazel Boogie" or the spoken word snippets on "Camouflage" that the experimental aspect is nested.

The mellow soft near-ambient pads of opener "Cantatrice Chauve" find themselves, halfway through the track, suddenly cut through by odd discordant lo-fi sawtooth wave noises, before second track "Encore Aujourd'hui" really exemplifies the album's tone, with complex but light-footed rhythm patterns that constantly chug and shift in parallel with strange and awkward-sounding atmospheric chords and sci-fi noises.

The low rumbles and steady midday techno of "White Rabbit Of Calypso" are a highlight, a slow and steady nine-minute build of electronic bubbling and clicks that seems to recall the best of dubby underground early 90's trance aesthetics. This runs nicely into the final track "Ocean In One Drop" which is a touch more 8-bit but in the same ballpark.

It's mostly coherent, and an interesting exercise in electronica which understands that less can sometimes be more. Not every experiment is a winner but over the course of 45 minutes it draws you in to a small-sounding but curiously detailed little world of electronic sonics.
Artist: VV.AA.
Title: Powder In Space
Format: CD + Download
Label: Beats In Space

It's unusual to get sent DJ-mixed compilation albums here. Focussing on art music, experimental sound and the more thoughtful and esoteric sides of noise normally means a purist approach to the integrity of the work, so an 18-track mix of different artist's work blended together into one 74-minute mix is something of a novelty. But, like some of the best mixed compilation albums of the past, the result, compiled by Momoko Goto a.k.a. Powder, is a utterly coherent sonic journey that definitely stands up as a worthy piece of art in its own right.

Predominantly this is feather-light electronic house music, that borders variously on chill-out, semi-ambient and lounge but carefully so, and without ever delving into corny territory.

The opening tracks are especially mellow, bordering on full ambient, with elements that bring back strong and pleasant memories of the 90's, both in tone and sonic quality. This is bookended well with the latter sections too, with the smooth leisurely hum of Lord Of The Isles' "Your Smile" taking it down multiple notches, before a quite 80's-ish finale in Cos/Mes's "Forever".

Inbetween those points, once it gets going, the remix of Daphne's "When You Love Someone" epitomises the sunkissed dancing-on-the-beach vibe that dominates the central section. Vedagor's "Untitled II" utilises the ubiquitous and overused 'deep spoken word vocal talking about house music' technique for engagement, a perhaps slightly unwelcome narrative interruption to what's mostly a very smooth instrumental journey. A sense of bright optimism pervades, with Powder's own track "Gift" and Vertigo Inc's "The Water Margin" exuding unashamed feel-good vibes.

There are slightly quirkier moments here too, but nothing to shake you off your stride. Tiago's "Roy Brooks" works around an infectious jazz loop. K-Line's "Saxopetu" is a squelchy number with a bouncy acid bassline and a keyboard-choir-sound melody that borders on daft, with Jules Etienne's "Cuban Omelette" is not as silly as its title suggests, with its decidedly retro light techno vibe.

It's pitched in high artistic terms as an exploration of "the properties of time" and "genre, movement, schedule, and societal convention to rebel", and while I'm not wholly convinced that its credentials would hold up to excessive scholarly scrutiny, nevertheless the bottom line is that this is a great mix. Relaxing, detailed, well-pitched and positive, it's a release I'll be returning to for pleasure for sure.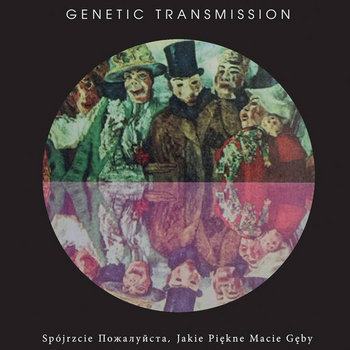 Artist:
Genetic Transmission
(@)
Title:
Spójrzcie Пожалуйста, Jakie Piękne Macie Gęby
Format:
CD
Label:
Zoharum
(@)
Distributor:
Alchembria
Rated:
This is another chapter of the reissue plan of Genetic Transmission's albums by Zoharum and perhaps this is from the most adventurous part of Tomasz Twardawa's discography. According to the liner notes this is the first time that a computer has been used in the sound preparation and this could be heard as in many moments there's a remarkable sound nuance and, unusually, there's a certain dada humor in the album title, and in the cover, instead of the more serious industrial oriented framework of the other releases.
This release is opened by "Track 1" (by the way, all the track are untitled) which slowly evolves from a quiets first part based on a drone to a second one which uses loops and samples tied by a mechanical rhythmic structure. "Track 2" reveals the author's ability to use noise in a creative way rather than to hurt the listener. "Track 3" starts as a follow up of the previous track and evolve in a rather dada piece which is a prelude to the juxtapositions of "Track 4" with several montage's virtuosities. "Track 5" alternates noisy moments to quieter ones. "Track 6" proceeds by accumulation from a low frequency pulse to a complex, and evocative, soundscape based on samples or more precisely foley sounds. "Track 7" is a rather complex cut-up with noisy intermissions.
This release is practically a single opus in seven movements, rather than a collection of tracks, as there are many similarities between the tracks that create a self referentiality which is the sign that there's a precise concept behind this release. An obscure gem from the past.
Artist:
Hunter Complex
(@)
Title:
Open Sea
Format:
12" vinyl + Download
Label:
Death Waltz Originals
(@)
Rated:
How I came by this artist/album: A number of small labels email me promo material/artist news blurbs, etc., many of which don't even apply to the Chain D.L.K. audience/music genres, and I find myself deleting a good chunk of them. This one email I got from Lars and Death Waltz though was kind of intriguing. "The Long awaited new LP, Open Sea by Dutch artist Hunter Complex will be released on January 23 2019 on Death Waltz Originals, sublabel of Mondo Records and Death Waltz Recording Company. The LP was mastered by James Plotkin; the stunning artwork was created by Eric Adrian Lee." Of course, there was more, talking about "supreme synth goodness" and "a mix of warm analog and bright digital synths at a layer of complexity that most records in this genre can't manage to achieve." Well, that was enough for me. I contacted Lars and asked him to send me a copy. He responded by saying one was already on the way, and lo and behold, it seemed to arrive instantly! I suppose getting the (limited) vinyl edition would have been asking too much, but the CDr sent had all the music of the album I needed for the review, so no complaints.

Prior to this I was unfamiliar with Lars Meijer and his Hunter Complex project, but I understand he's a pretty well-known figure in the Dutch electronica underground, so this comes with a good amount of cred. He's been releasing music since 1991, is a member of Living Ornaments and Psychon, and 'Open Sea' is the third album under his Hunter Complex moniker. He is also the co-owner of the Dutch label, Narrowminded. Sorry to say I haven't heard any of his previous releases, but it's what's spinning now that counts. My first reaction to 'Open Sea' is that it sounds like the kind of stuff my '80s synthpop band Chemistry Set was doing for fun and creativity between rehearsals for live performances. We had a bunch of synthesizers and dammit, we were gonna use 'em to make imaginary instrumental soundtracks to movies that never existed. (Hey, you never know when a real scoring opportunity might arise, although it never did.) Most of those tapes fell by the wayside and were lost to time and tide, but this album brought it all back home.

Being completely instrumental, 'Open Sea' is like a soundtrack to an 1980s B movie. Less like Blade Runner, Miami Vice and Terminator, more like Thief, Escape From New York, The Running Man, American Gigolo, or more obscure ones like Trancers or Xtro. 'Open Sea' is not indicative of any kind of horror score though; more bright and punchy rather than dark and gloomy. The synths employed sound like the lower end Roland, Jupiter and Juno, Oberheim, Yamaha DX7 and Korg Poly 61 rather than the higher end PPG Wave, Synclaviers and Fairlights, which is fine by me. Lots of layering on the pads, generous use of sequencers and arpeggiators, plus those drum machine sounds that so defined 1980s music.

My one misgiving about this is the lack of defined melody. It is possible that was intentional, not attaching a specific melody to these pieces in order to evoke an overall feeling. I think that puts this album dangerously close to Stock Music Library terrain (you know, the generic tunes that are often royalty-free used in low-budget radio commercials and self-produced documentaries) but it is way better done than most of the music I've heard in that category. Still, it seems as though much more could have been done with this without sacrificing its stylized sound, perhaps veering off in more playful directions instead of treading predictable pathways.(Many of the musical tropes employed on 'Open Sea' are those you've heard many times before.) The fact that the album is a limited released on vinyl makes it more appealing for a physical copy than if it were just in CD format. It is already sold out in Europe, and likely the only reason it hasn't sold out in the U.S. is lack of recognition and publicity with American audiences. Get your copy before it disappears.