Artist:
Angel-Ho
Title:
Death Becomes Her
Format:
CD & Vinyl
Label:
Hyperdub
Angel-Ho regards this as her 'proper' debut, after a limited edition 2017 LP on the NON label she co-founded. Now supported by Hyperdub, it's a 14-track pack of short tracks, mostly 3 minutes, for which Hyperdub is a natural home.

Instrumentally, it's really strong. "Drama" is a prime example of the thick, grime-subbass-heavy blend of broken beats, ragga-ish rhythms and electronic tweakery that Hyperdub have a world-beating track record in, and last track "Parachute" is a strong example of a more experimental, glitchy twist on that form, done well. This also translates well into poppier landscapes like the catchy "Like A Girl", which would have great radio potential if it weren't for the lyrics.

And it's the lyrics where the problems lie. Despite the fresh prospect of transposing the themes in the context of a trans identity, it's a missed opportunity that gives us the usual unstretched vocabulary of self-aggrandisement, sex talk, trash talk, and endless 'shit's and 'bitch'es that continues to be grime music's biggest turn-off.

The strangely glam rock costume on the cover, by the way, is a complete mis-sell and if you're expecting some sort of Showaddywaddy tribute act here, think *very* differently...

The edgier, more experimental stuff like off-the-wall "Good Friday Daddy" and the more cinematic moments like "Destify" are certainly worth checking out, but it's a little lacking in coherence, and if there were an instrumental version, I'd rather listen to that.
Artist:
Leo Irsara (@)
Title:
A Flower for a Mountain Sailor
Format:
Download Only (MP3 only)
Label:
self-released
Rated:
I first encountered the troubadourial spirit of guitarist, singer, and songwriter Leo Irsara along the sunlit pathways of New York City's Central Park in May of 2018. In the course of a conversation spanning the gamut from religion to travel, Leo revealed his passion for music. So began a long-distance exchange that culminated in the present subject of review, thereby re-inscribing the ability of music to collapse divisions of geography and culture to nil.

Leo's music is a curious animal: one that doesn't belong in a cage yet which seems content remaining in one, if only to have bars at the ready for rattling. His half-sung delivery bows to the primacy of self-expression in vocal art and toes the line of spoken word. Together with drummer Guliano da Ponte Becher, he paints in broad strokes which, after a period of settling in, develop a charming patina. His creations are a mélange of the personal and the political, and would be just as appropriate in a spaghetti western as on a street corner.

The album is framed by the two-part "Present for the Prisoner," which introduces a running theme of freedom and its burdensome pursuit. "I have learned to be silent" he intones in the first, and leaves us in the second with: "Sometimes life can bring you to the other side of the wall and you will feel happiness inside you"—a line even more timely, perhaps, than when it was penned. In both, he seems to say, the worst prisons are ones of the mind.

"The Wind of the East Sea" pulls another thematic thread from the loom, both lyrically and melodically. Its maritime obsessions run deep and, like "Coins of a Beggar" (a highlight), feel like a Quentin Tarantino nightmare infused with folk spirits and self-deceptions. Such conflicts are at the heart of "Beginning of Changes," a paean to adolescent breaking points, and "The Cart in the Sky," which reiterates the possibility of wars happening within more than without.

Leo's guitar often plays the role of commentator. In "At the End of the Road" especially, he builds the very solace he seeks in tense delivery. In both "The Wife of the Mountain Man" and "The Star of the Endless Harmony," he understands that loving what you have comes before having what you love. The result is a collection of songs that eschew pleasantries for honest poetry, reminding us that the biggest dangers we face are faceless.
Artist:
Evelyn Glennie & Roly Porter
Title:
One Day Band 17
Format:
Download Only (MP3 + Lossless)
Label:
Trestle Records
The seventeenth installment in the intrigueing One Day Band series might, arguably, not actually be a band. Instead it's more like an EP of legendary percussionist Glennie's improvisations that have been curated, produced and reworked by Porter.

A broad variety of instrumentation is the source, with Glennie utilising a truck-load of percussive instruments both familiar and unfamiliar, with live distortion through guitar amps as a first phase and digital post-processing and layering as a second phase through which the sounds are blended, stretched and disassembled into a set of four five-minutes-ish numbered soundscapes that tend towards the dark, sinister and sparse.

Part 1 is crisp and rumbling, giving tectonic noises of friction and low frequency power, before part 2 flips upside-down and fills itself almost solely with high, pure-sounding melodic notes, developing a tendency towards emptiness that's compulsive and draws you in. After a third part focussed on more drawn-out sustains that flirt with discordancy, part 4 initially layers up to sound like an experimental ensemble performing a score that, if written down, would be expressed as waves and envelopes that would first interplay then build to an 'everybody plays long notes at once' suspense-laden crescendo that wraps it up nicely.

It's a really coherent and engaging 21 minutes. Pedantry about the use of the word 'band' aside, it's a great EP that leaves you wishing they'd stuck together for more than one day.
Artist: Kin Leonn
Title: Commune
Format: CD & Vinyl
Label: Kitchen Label

The debut album from Singapore-born, London-based Kim Leonn is a ten-track collection of short chilled-out and near-ambient musical ideas that demonstrate that truly ambient music is international- or, as a more cynical spin on it, that this is a very homogenous work built from familiar parts and treatments that traverse the border with cliché. Organic instrumentation at the core is draped in electronic processing and decoration. There's piano (of course), long string pads, wind-jangled bell noises, reverb-bathed sparse guitar noodling- the works. It's a recipe with very familiar ingredients.

Most of the pieces stay under the five minute mark, and several follow the same format- a slow fade in of the general atmosphere, which fades away to allow individual elements and layers to the fore before settling down into an established calm which then drifts away. There are a handful of more sudden changes, such as the ending of "Detached", but they're rare.

But despite feeling like this is an exercise in chill-out ambient by numbers, it's certainly not bad. The piano work on "Visionary" is a highlight, following on from the arpeggio-happy "Somewhere" into something much more lyrical and introspective that comes together nicely when joined by a pulsing kick and soft synth to form something that's diverted very slightly in the direction of synthwave.

Like a velvet cushion, it doesn't have to be special or imaginatively made to feel plush and relaxing, and that's what's going on here. High quality textures, pieced together in simple and reliable ways to give an end product that's very pleasant without being remarkable.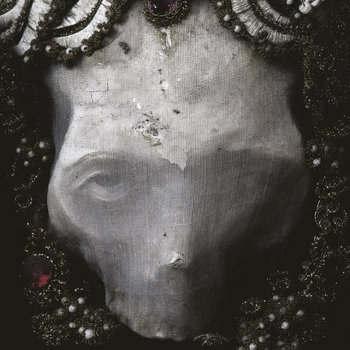 Artist:
O Saala Sakraal
Title:
Etmaal
Format:
CD
Label:
Cyclic Law
(@)
Rated:
O Saala Sakraal is a collective led by former Hadewych member Peter Johan Nÿland and "Etmaal" is described, in the liner notes, as ""the first in a series of explorations that aim to serve as a channel between the ethereal and chthonic". In concrete terms, this is ritual music based on percussions as the line up is made out of four percussionists which accompany Nÿland who plays tapes and a piano-string percussion instrument.
The first track of this release, "Stasis", after a first part where percussions, mainly bells, create a quiet and meditative atmosphere, the change in the background from a drone to a noise marks a movement towards a more dynamic framework where drums appears to symbolize the earthly element of reality after the ethereal one of the first part; this is further underlined by the distorted, and barely audible, voices. The final section of this release is centered upon the piano string and it's a rhythmical barrage ending in an ethereal soundscape.
"Lilit" starts as a slow crescendo for string, with various samples which create a menacing atmosphere and spoken words introduce the drums and a second part based on synth and an insisted rhythmic pattern that is suddenly interrupted by the return of the bells and a gong for a meditate section which is a ment of rest until the restart of rhythmic pattern accompanies the listener towards the end of this release in a final howling crescendo for voice and noises.
This is something rather different from the releases marketed under the dark ambient genre as rituality is not a trivial matter of silence and sparse beats of gong but an atmosphere construction which reflect the premises of this release. Highly recommended.