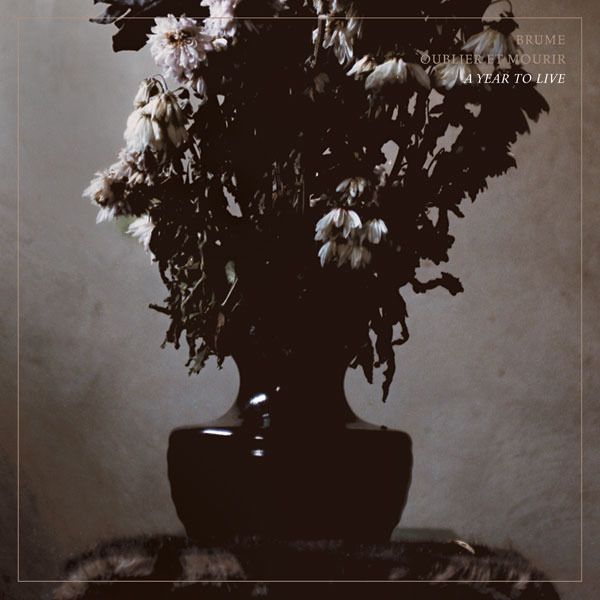 Artist:
Oublier Et Mourir/Brume
(@)
Title:
A Year To Live
Format:
CD
Label:
Silken Tofu
(@)
Rated:
Practitioners of Zen often advise to 'die before you die'. This is the Memento Mori, the contemplation of Death and the Afterlife; it has been known to spur people into enlightenment. The pair of Oublier Et Mourir, the sparse ambient side project of Anenome Tube, and Christian Renou, appearing here as Brume, have taken up the contemplation of finality in two very distinct and interesting ways.

Oublier Et Mourir's side best sonically encapsulates the sharp lithographed artword on the cover of a decaying bouquet. OetM's four tracks sound like a tortured composer, brooding in his mahogany study. Its like the medieval fantasies of John Paul Jones in The Song Remains The Same, if the warlock were reflecting upon memory, oblivion, the cosmos and the devil all at once. 'Ocean of Melodious Songs (Tsangyang Gyatso)' is the stand-out track here, which brings to mind the cosmic reminiscences of Klaus Schulze solo output in the '70s. It stands out like a rainbow against the ink-black dark ambiance, bringing some classic Terry Riley minimalism to the proceedings, and making this record ever-so-much-more interesting than the stereotypical dark ambient record you might expect from the subject matter at hand. There's black wind to be had, for sure, 'A New Thought Is Born, Another Will Arise' and the eponymous track (Oublier Et Mourir means 'to forget and to die') conjure vast digital caverns, that make it seem as if yr floating in eternity, back to the crystaline womb from whence we originated. Its colorful imagery, and lovingly executed; OetM's sound design stands out, with all the pieces hanging in suspended perfection. He stands at the edge of oblivion, unblinking, and notates it all to see. Oublier Et Mourir then acts as a psychopomp to the living, describing the afterlife and all its strange angels with a rich, complex tonal pallet that is more Bach than Bastard Noise. If only every member of the underground had this dedication towards their craft!

Brume's side is a way more eclectic affair. Christian Renou seemed to focus more on the 'First Thought/Best Thought' school of Buddhism, bringing in a track called 'The Simple Way' in 5 parts that bring to mind the pop surrealism of Jim 'Foetus' Thirlwell and Stephen 'Nurse With Wound' Stapleton. Renou's been making music since 1975, and got his start with a 9-piece big band called Uria, and you can hear echoes of that in the disjointed jazz of 'pt. 2', all stark rhythms and tuba blatts that could be a remix of the 'Panic At Year Zero' soundtrack, before surprisingly breaking into an unexpected funky machine bass backed by what sounds like a pressure hose and vocal snippets. 'The Simple Way' has a dream logic all its own, it takes you for a ride, making a series of unlikely connections and correspondences utterly distinctive and alien. Renou's activity in the DIY industrial/noise/electroacoustic cassette world (over 120 releases) have made him a prankster and an experimentalist and an individual, and i, for one, feel like the electronic underground really benefits from this presence. The segues can be abrupt and bizarre, and you truly don't know what's coming, but it gets surprisingly soothing, especially after multiple listens. Both sides of this record create new sonic pathways in the brain, allowing the listener to think fresh about the way they make and hear music, which is probably the ultimate living testament to the assignment.

It takes a rare breed to stare into the void and risk that inevitable return scrutiny, and the downside of this is that most who investigate bleakness and blackness already have an inky pallette, and we, as record listeners, are subjected to millions of hours of vacuous cosmic wind dark-ambient records. It is a rare and precious combination, to have talented and adept composers and sound artists looking into the subtle hues and strata of living and dying; reflecting upon memory, thought, passions. 'A Year To Live' is a valuable addition to any late-night listening library, or for anyone who's burned a hole in their Lustmord or Black Tape For A Blue Girl records, and are looking for a different kind of melancholy.
Artist:
Christophe Berthet
(@)
Title:
Malval
Format:
CD
Label:
Creative Sources
(@)
Rated:
Swiss saxophonist Christophe Berthet entirely recorded some sketches on his soprano and altro saxophones (sometimes prepared or recorded by means of close mic techniques) in Malval Chapel, a quite secluded place close to Dardagny in Switzerland nearby French borders. Such an annotation is not a moot detail for a card index, but a tanglible clue which is going to enhance listening experience. Listeners aren't going to make difficult efforts of imagination while "embodying" the musician during his performance, whose role is quite close to a wizard who manages to animate the surrounding setting: peeps, cheeps, tweets, creaks, squawks and squeaks coming out from Berthet's musical instruments and his nimble dynamics on them vividly render surreptitious entities, which provisionally or permanently inhabit the place where Christophe tries to translate into sounds without being considered a gatecrasher by his visible and invisible settlers and sometimes you could even feel that the musician tries to give voice to inanimate objects such as garden tools, rasps, rafters, bricks, stones and so on. A thanksgiving act to a place, whose physical properties could ideally be considered a proper third instrument as well as a precious sonic gift to its temporary guest.
Artist:
How Much Wood Would A Woodchuck Chuck If A Woodchuck Could Chuck Wood?
(@)
Title:
s/t
Format:
12"
Label:
Boring Machines/Avant! Records
(@)
Rated:
Boring Machines keeps on plumbing the depths of remarkably rich Italian underground bands and this time it manages to recover one of the most gloomy band from the bottom with the support of Avant! Records. Named after the notorious English tongue twister "How Much Wood Would A Woodchuck Chuck If A Woochuck Could Chuck Wood?", this Turin-based trio articulates a gloomy and somewhat oppressive sound which manages to avoid a certain sloppiness and superficiality many "damned" musicians usually succumb to when they try to mold their own musical language from inside an imaginary grotto by pouring more or less esoteric musical references, quotes, borrowings, devilments and identity crisis in their melting pot. Even if Ghier, Coccolo and female voice Iside pile the above-mentioned items and could be associated to some listening memories of stuff from Current 93 or Swans by an anamnesis on listener's side more than from the side of the band, whose choice of a charred firebrand, which could grossly resemble a maimed trunk, on a black field for the cover artwork of their self-titled debut release, give hints to listeners about the stylistical autopsy they made on dark folk corpse. The sense of paralysis coming from the slackening guitars, which keep on playing exhausted simple melodic lines, the Mephistophelean voice, whose occasional mock-tragic fomenting never result in demential declensions of some "poete maudits", the sinister appearance of sullen reverbs and low frequencies don't entail the surfacing of some transient epic moment, which stigmatize the best moments of the release - the charming chasms of "In Aria", the cryptic hibernation of "The Rock", which include some hieratic quotes from T.S.Eliot's pageant play with the same name, or the ominous obsessions of "For Nobody", outlines the portrait of a certain authenticity in spite of the consumed barks they've chosen to wrap their simple melodies, as if they had to mirror the tangled disguise of the underlying meaning of a tongue twister...
Artist:
The Swifter
Title:
s/t
Format:
12"
Label:
The Wormhole
(@)
Rated:
The Wormhole, the newborn imprint by cassette label The Tapeworm, definitively weighs anchor by means of this seafaring debut release of an impressive trio made up of Italian drummer, electroacoustic musician and composer Andrea Belfi, Australian Berlin-resident pianist Simon James Phillips and Swedish sound-artist Benny Jonas Nilsen. The sound genesis by The Swifter approximately works so: Phillips strokes on Imperial, the largest flagship by the notorious Austrian piano manufacturer Boesendorfer, get into Nilsen's machines, both of them seem to interact in real-time, while Belfi's drumming and electroacoustic nick-nacks sometimes play the role of a joining link, sometimes emphasizes the "dialogue" between the other "interlocutors", but there's a fourth member of the line-up which plays a very important role: the setting they've chosen for the recording, Berlin's Grunewald Church, whose impressive reverberation already attracted similar musicians like Nils Frahm, who recorded "The Bells", and Dustin O'Halloran. The fact that listener's imagination could be broght on a sailing boat struggling against unpredictable moods of the sea or got confused with the sea-mist, the breathtaking feeling of infinite space or the relief for the sight of a forthcoming haven has not been influenced by the fact the release has many references to nautical words, but it arises from the sonic hints this trio manages to render: the ingenious attention to details, the gentle metronic brushes on hats, the sophisticated play of echoes and delays and even the electroacoustic additives which realistically simulates the creaking of the deck or the noise of the cordage a sailor knows are so vivid that you could easily lapse into a daydreaming and enchanted state. Available on limited edition vinyl lp or FLAC download, I cannot but recommended such a charming listening experience!
image not
available
anymore
This album is the reissue of the final album of Maeror Tri inspired by the healing nature of engrams and the music, according for the printed linear notes, seems an empty canvas to be explored by someone's own signs. Even after 15 years this release sounds better than most album of this genre aiming for musical impact rather than meaning.
"Landscape of visionary thoughts" opens this release with a dreamy and visionary soundscape that, in the second part of the track, evolve in dark ambient territories of great efficacy. "Sublimis" a static that slowly evolve with his sharp metallic noises. "Nebulos" is another noisy soundscape while "Vadum" start almost quietly to slowly evolve in noisier territories. "Chymos" further refine his musical structure beginning dreamy and ending noisy in an evoking manner. "Undisonus" is, instead, a soundscape exercise in the portrait of vast and void landscapes. "Sphaira" end this album in classic dark ambient territories dominated by obscure drones.
While this is an album of 15 years ago, it sound modern and it's better than most dark ambient album praised by the press. Almost essential.