Artist:
John Zorn
Title:
Insurrection
Format:
CD
Label:
Tzadik
Rated:
John Zorn's 'Insurrection' features the dueling/dancing guitar work of Julian Lage and Matt Hollenberg, bassist Trevor Dunn and drummer Kenny Grohowski. All compositions were written by Zorn for the quartet. As you might expect, there are a variety of moods captured in this album, with guitar lines coming from every angle, but never stepping on each other in ways that don't work out. All of the playing is thoughtful. All song names are taken from (somewhat) well-known novels.

The albums begins with a heavy rock-riff, which is then anchored by a pulsing bass line, with Grohowski skittering around the kit at high speed. Some angular, atonal guitar solos are offered up left and right by Lage and Hollenberg.

Next up, not surprisingly for Zorn, is a downtempo piece, clocking in at almost 8 1/2 minutes. "Pulsations" is a beautiful composition that feels part jazz fusion, part exotica, part ambient. Hollenberg channels some Marc Ribot here and it sounds fantastic.

"A Void" has a funky bass line that gets pushed around by a guitar attack that does not stand still. Grohowski remains on Dunn's team though and keeps the funk flowing underneath the guitar onslaught. I haven't heard Trevor Dunn lay down a bass line like this since his Mr. Bungle days. A great rock tune.

"Mason And Dixon" slows things down once again in a sparse piece, where Lage starts off on lead and Hollenberg on shimmering rhythm. That quickly changes as Hollenberg takes over briefly. Both guitarists play in unison briefly and then it's Hollenberg's turn as he puts a bit of twang into the affair. The duo trade brief solos for the bulk of the tune with Hollenberg's beautiful tone carrying it for me. The rhythm section hovers just in the background.

"Progeny" is a rumbling affair, with great unison guitar work as well as solo shredding. Grohowksi and Dunn are all over the place, chasing or being chased by the guitarists.

"The Journal Of Albion Moonlight" is full of beautiful sustained notes, gentle cymbal and snare work, given a dark tone by Dunn's bass-work.

"The Unnameable" is the strangest composition on the album, with a low, almost droning bass line, extremely spare guitar playing and just cymbal and low-tom work on the drums. A creepy masterpiece.

The recording is nice and warm, never harsh, even during the most intense guitar passages. The separation between Hollenberg and Lage is perfectly balanced - they are distinct but clearly in the same room. You can tell they're talking to one another. Bass and drums hold a very controlled yet pronounced bottom end, with the cymbals dancing around the guitars and holding their place, never distracting. This is a fun quartet.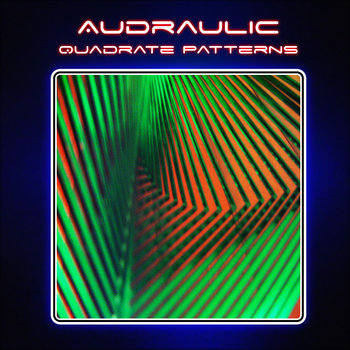 A journey on the darker end of the ambient-electronic spectrum, with segues into downtempo and techno, but always firmly into the realm of ambient atmospherics. The opening track, "Gardens at Impossible Distances" drifts into eerie ambient with darker, yet majestic and spacious sounds with layers of human voice, perhaps synthetic, that instill a kind of ghostly quality -- sort of eerie, yet majestic. The eeriness dissipates in the following "Kobalt", a downtempo electronic track that skirts Oxygene-era Jean-Michel-Jarre where beats and slow melody interplay. "Last Practitioner of the Vanishing Technique" and title track, "Quadrate Patterns" starts off with drones that ricochet, and semi orchestral sweeps before it ventures into understated beats with squelching acid techno accents and layers of techno melodies that pick up as the track progresses and are catchy--an unexpected turn for something that feels more on the ambient tip. "Lost Memories" and "A Soul The Same" has a vast, cavernous feel, early 80's Vangelis, specifically the Bladerunner soundtrack for when Roy Batty meets and dispatches his maker. Human voice, understated rhythms and dirge-like tones with sombre piano notes in cohesion lend dark overtone. The overall feel of this album is slightly retro electro-ambient that Audraulic is able to conjure and deploy to powerful effect. The aptly titled "Mountains in the Sky" bookends Quadrate Patterns with deep sound yet offers a more optimistic overtone. Ambient is really where Audraulic excels best, but even the most rhythmic track here is saturated in atmosphere and brings cohesion. Audraulic delivers magnificent, moving ambient and with orchestral majesty and sweeps...the last track the musical equivalent of a sunrise.
Artist: Khotin
Title: Beautiful You
Format: LP
Label: Ghostly International

"Beautiful You" is an off-beat, downtempo, fairly balearic chill-out album from an artist with more pedigree in danceable material. In amongst the familiar sounds of birdsong (quite a lot of it), lapping waves, soft and leisurely organic hand-drum patterns, soft positive-sounding melodic synth pads and so on, are layered slightly more off-kilter sounds- detuned and processed pianos in the opening tracks, odd and slightly grating telemarketing samples in "Vacation", and more electro-style beats on "Alla's Scans".

At its peak points, it channels the ambient house vibe of the 90's into detailed, thoughtful electronica. Final track "Planet B" is particularly endearing, while the decidedly Wagon Christ-ish tones of "Dwellberry" are very pleasing as well. "Merged Host" is strongly reminiscent of some old Irresistible Force tracks, while the keys on "Somehow More Sad" make its broodiness just a shade more jazzy.

However at other points it could be accused of being a little 'nothing-y', as while it oozes a calm charm, in the flatter more sunbathing-house tracks like "Looping Good" it does feel a little short on ideas or on attention to detail. A sweet but perhaps just slightly too forgettable chill-out hour.
Artist:
Kalabrese
Title:
Let Me Be Your Princess
Format:
12" vinyl + Download
Label:
Zukunft Recordings
Zurich-based veteran producer Kalabrese is back with another assured three-track EP taking a fairly familiar but reliable formula. Essentially deep house structures, grooves stripped down and laid out with a confident flatness, are decorated with somewhat indie-ish male vocals (that put me in mind of Chris Rea for some reason), and some squelchy acid bleeps for decoration.

First track "Let Me Be Your Princess" is a steady complete journey that in one way seems to throw back to the classic early days of the extended mix, knowing full well that the right groove and very gradual change is sometimes all you need. With a gender-relaxed lyric which I'm fairly sure is saying "let me be your Santa" quite a lot, I guess it could also qualify as a Christmas record…?

"Dance Yourself Clean" ups the indie flavour, still maintaining the groove but in a more definite song structure with more of a live funk feel, and while the same elements are all still there in similar measure, somehow the result feels more dated. Both this and final track "Ligestuetz", which foregrounds Lara Stoll's spoken German tones, wouldn't have sounded out of place on a mid-noughties 'indie rocks' compilation alongside Soulwax or DFA.

The title track is certainly the standout but it's a confident and fairly satisfying release that falls quite far into the old "dance music for indie kids that don't like dance music" territory.
This extensive 5CD, five-and-a-bit hour set methodically selects from Pateras' back catalogue based on three categories, with either one or two discs for each. This has the effect of producing five compilation albums which have their own distinct character- you can certainly find a favourite disc and a least favourite disc- but which are fundamentally all based on the same principles- long, drawn-out avantgarde experimental and classical works blending organic and orchestral elements with some electronics and post-production trickery to generate long, drawn-out, deep and usually quite velvety sonic landscapes that are writ large and explored in detail.

First disc "Solo & Electronics [A]" represents some of the more 'cosy', intimate works, a collection of warm ten-minute drones and melodic blankets that- with the exception of the slightly squealy "Burning Is The Thing"- is decidedly relaxing and welcoming. "Solo & Electronics [B]", the fourth disc, is perhaps a touch more sinister, with pieces like "Rules Of Extraction" making heavy use of high-pitched teeth-gritting tones that cut straight to discomfort and alienation. "TamTam +"'s low hum and distant industrialism is a highlight, as is the back-and-forth of electronics with Jessica Aszodi's soprano vocal work in "Prayer For Nil".

Second disc "Improvising Ensemble [A]" is slightly more purist, consisting of only two pieces, one of them over fifty minutes long, in which the live ensemble paints waves of sound that ebb gently and woozily. It's reminiscent of Lygeti in parts, as is "Artifacts Of Translation". Shorter piece "As Long As Breath Or Bow" has the edge though, with a masterful twenty-minute display of slow tension building. By contrast "Improvising Ensemble [B]" is made up of more impulsive pieces, such as the almost cheekily delivered and playful "Onetetradecagon", certainly the most fun-to-play piece in this set- although the various parts of "Fragments Splinters & Shards", which exhibit more of a leaning towards modern electronica, must also have been up there.

Third disc "Trios" opens with a series of short works for vibraphone and antique cymbals, a high-pitched and strangely itchy anti-groove affair. The first longer work has the same spiky tone transposed onto guitar and prepared piano, leaving "Three Mirrors"'s unusual interplay of eccentric saxophone work with electonic clicks as the most palatable part of arguably the least accessible disc.

I was thoroughly swayed by the opening disc and there's a wealth of long, in-depth pieces to really get your teeth into here. It's not all spectacular- the "Trios" disc in particular left me a little cold- but otherwise it's a broad and very respectful anthology of work from a prolific composer with character.