Artist:
Reinhold Friedl/Franck Vigroux
Title:
Tobel
Format:
CD
Label:
Alamuse
(@)
Rated:
Premiered at NK Berlin and at Anis Gras le lieu de l'autre and re-recorded in Luc Ferrari's studios La Muse en Circuit, National centre of musical creation, in Paris, "Tobel" is the first collaborative recording by German experimental pianist Reinhold Friedl, also known as Zeitkratzer, whose name appeared on our space on the occasion of another collaborative project, P.O.P, together with Denseland's bassist Hannes Strobl, and French avant-arde electronic musician and guitarist Franck Vigroux. They let meet their different sonic languages - Franck's eectronics and tape recorders and Reinhold's acoustic instrument and prepared piano techniques - in an imaginary ravine ("Tobel" is the French word for this small valleys caused by streamcutting erosion), which got rendered by sudden uproaring crashes, uneven electric gales and claps of thunder on almost thready ultrasonic drones, screaming metals and menacingly rasping undercurrents. Even if such a collision could sometimes five rise to stifling and harsh sonorities, "Tobel" is a really adventurous listening experience.
Behind the music of Anton Maskeliade (aka Moscow resident Anton Sergeev) is the technique of gesture control. Using a Leap Motion interface, Sergeev is able to augment the expressive musical possibilities of gesture and the body overall. The musical experience - whether the composer's, performer's, listener's - is an embodied, situated process. It is shaped by the body, its position in a place and time and its interwoven tapestry of senses; certainly not only that of hearing. "[As] if you only hear with the ear," scoffs Michel Chion (The Wire 325, 2011). "You hear with the whole body, after all." Just so do pianists, for instance, play with the whole body and not merely the limbs. Musical experience, like all experience, entails never just one sense but all of the body's senses combined and orientated in highly specific ways. For this reason, embodiment in music has become an increasingly important area of creative as well as academic study.

In this case, Sergeev's way of performing his music probably likens this embodied relationship most of all to that of the thereminist, in which the orientation of the body around particular physical surfaces is more spatially than directly defined, the instrument surface an impalpable three-dimensional magnetic field. However, unlike thereminists Sergeev must control rather more than just tones and volume levels with his arrangements. His music is busy and enlists a great deal of effects and samples. He is an active improvising performer and his live show, which incorporates motion-controlled visuals, is surely where the importance of his particular physical relationship with his music is most evident and appreciable. For in the absence of his present performance, and with only concrete, repeatable audio and the listener's own embodiment available, how well do the principles carry over into this album? Without detailed annotation, the answer is poorly if at all. On acoustic sources such as a singer's voice are tactile properties determined by the physical environment - the grain of information about the size, shape and temperature of the room, the psychological state of the singer and so on. The gesturing-as-control method supposedly central to Sergeev's music is unavailable to the listener from the other side of diverse digital applications - FX, filters etc. Unaided by visual or textual clues, it cannot be grasped in the same way. Because of this, its role in this album's nine songs could have been significant or non-existent; it's impossible to know with any certainty. Consequently, the importance of the technique is all but irrelevant.

With certainty, a listener can at least appraise Subtract The Silence of Myself on its own terms. The album largely takes the form of camp, electronic indie pop/folk. At times over-the-top and relentlessly twee, it seems to revel in tinkering and attention to detail but by and large, the songwriting is pretty insipid. Sergeev continuously tweaks the structures and processes of his tracks, resulting in a restlessness of texture more often encountered in IDM. This constant change gives his songs some added depth and variation and sets them superficially apart from most other music in the genre, which is a good thing. 'Circus', driven by a piano waltz reminiscent of traditional Eastern European folk, is definitely the most successful song. Firstly, it tones down the record's ungainly, harmless indie folk and gets on with a more concise, theatrical exuberance. Myriad sound sources come together satisfyingly and guest vocalists are seamlessly weaved in with Sergeev's own voice. Elsewhere his singing is often distractingly nasal, even flu-like on 'Crowd' and 'Rozhdenia'. Add the sugary delivery and it can all be too much. Throughout 'Circus' he assumes the same showy, overdone manner, but by managing it more carefully it melds with the other components instead of drawing attention away from them. He sounds more relaxed and less self-indulgent - two conditions that would greatly improve his songwriting in the long run.

In the exploration of embodiment and music, the Anton Maskeliade project is a creative use of contemporary technology. Misleadingly, Sergeev claims to be "... one of the first musicians in the world who makes music with gesture controlling" (SoundCloud, Bandcamp etc.); Leap Motion is a recent hardware but of course, plenty of musicians over the years have investigated music production and performance using gesture and spatial movement. Developed nearly a century ago, the theremin itself is an early example of a device designed for exactly this purpose. Nonetheless, Sergeev's contribution to this line of experimentation seems worthwhile; while lost in translation on his recorded output, ostensibly it will take a far more rewarding form in a live setting.
Artist:
Dose
(@)
Title:
Mind The Future
Format:
12"
Label:
Commercial Suicide
(@)
Rated:
One of the best dnb rocket of the year got launched from Klute's Commercial Suicide by New Zealander (he relocated in Auckland after his native Christchurch got ravaged by earthquake) bad boy Chris Turman aka Dose, who (finally!) signs his first album after he built a strong reputation by means of a lot of energizing tunes on top labels such as Shogun Audio, Ram, Commercial Suicide and Renegade Hardware. "Mind The Future" is just his first album and I'm pretty sure it can be yoo-hooed as a chef-d'oeuvre: the opening track, the sinewy "Haphazard" with its breathtaking acceleration and its captivating stringy sonorities, as well as other moments of the album such as the following jouncy "Like This", the grim "neuro-tekish" atmosphere on "Once Again", the eerily foreboding of "No Turning Back", where his fellow citizen Nick "Teknik" Driver and Jabz MC (the voice of the well-known hit "Darkman" by State Of Mind) clawed the tune, and the virulent title-track "Midn The Future" could vaguely recall a possible stylistical crossbreed between other notorious Kiwi producers like The Upbeats and sonorities a-la-Black Sun Empire or the doom-laden atmospheres of some stuff (particularly "Travel The Galaxy") by Ed Rush and Optical, but the remarkable versatility by Dose resurfaces with its flatly diaphanous grace all over the album, so that this fast and furious race over dampers, leaps, tailspins and accelerations got earmarked by sudden jungle entities, unpredictable old school outcrops or even more relaxed tunes. A possibly guessed to ignite drum'n'bass summer parties!
Artist:
Ulli Bomans
Title:
Riven
Format:
CD
Label:
Shitkatapult
Rated:
Already active with Schieres and Shrubbn!! (along with Marco Haas of T.Raumschmiere) of which I reviewed their first album "Echos" a couple of years ago Ulli Bomans is now releasing for Shitkatapult his first solo album "Riven". Mainly active as visual artist in Hamburg and Bremen, Ully's work is based on large-scale collages of urban landscapes, principally and the cover of the album is an example of that. His approach to visual and musical arts are pretty similar as he mix different elements giving them a new feeling. About music, if you already checked the Shrubbn!! album, on this one, he takes the noise elements of that one and put them under a dance-floor lens re-processing the sound. The album opens with the mid tempo of "So What?" where a slow synth melodic arpeggio is playing upon layers of little synth noises which, added, form a rhythmically rich texture. "Missing Ships" sounds like a dream in reverse and little by little the tracks become more upbeat and dance-floor friendly. "Barbara" sounds like a dub track with de-constructed melodies. "$55", is kinda minimal and it's based on noise echoes, rhythms and reverbs. With "Dirty Yoga", Ulli, throw in a great dance-floor techno killer with in levare rhythms which grows little by little. "Spoilpark", which is also the title of his last exhibition, moves its sound on a same field, made of techno intuitions, rich sound palette made of synth melodies, clanging noises, fat bass lines and a rich 4/4 rhythmical texture. "On Mars" closes the album and it's another good throbbing techno killer (if you checked the VCMG album, you can have pretty much the idea of what I mean). Check it here: http://www.shitkatapult.com/artist/ulli-bomans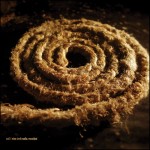 Artist:
Coil / Nine Inch Nails
Title:
Recoiled
Format:
CD
Label:
Cold Spring
(@)
Rated:
It's well known about the love of Trent Reznor for the musical work of Coil, so it's not a surprise this release of a bunch of remix made by Peter Christopherson and Danny Hyde. The obscure aspect of this release is the long time when this tracks were buried in some tape. In the long history of Coil there's almost any remix, only an epochal cover of 'tainted love' where they were able to transform a symbol of an hedonistic epoch into a funeral march, so this is difficult to frame into the path of their musical life.
The almost desperate voice of 'Gave Up (Open My Eyes)' opens this release and they are suddenly doubled by the guitars and the industrial barrage that define the NIN sound. With 'Closer (Unrecalled)' the overall sound resemble the classic Coil sound as they underline the erotic side of this track depiction their notorious view about this argument. With 'The Downward Spiral (A Gilded ' the magick obtained with the cover of 'Teinted Love' appens, they turn the track from a desperate view on suicide into an almost ironic view of it, or perhaps his use, using the time and the mood of the sound. Erases is covered with two tracks: 'Eraser (Reduction)' constructs drone and loops from the original track while 'Eraser (Baby Alarm Remix)' constructs a dance track.
This release is obviously developed for fans and collectors of the two bands, however is an important release because it shows the rivers of sounds that can be developed upon the basic ideas of their sound. It's really worth a listen.