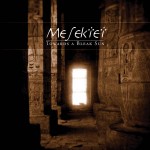 Artist:
Mesektet
Title:
Towards A Bleak Sun
Format:
CD
Label:
Cold Spring
(@)
Rated:
This album is presented as an 'Ancient Egypt inspired, monolithic drone/dark ambient' but the drones features in this release seems too focused on their exterior impact than in a proper musical meaning that tries to emerge in a field with too many artists working with the same palette.
The deep drone of 'Aken' opens this release evoking an void habitat and 'Silent Giants' and 'Sea Of Dust' continue in this musical path revealing a musical research completely focused on sound. 'Burial Of The Sun' starts to reveal a form of musical development while 'Hollow Monoliths' return to more static soundscape. In the same vein, 'Forgotten Tomb' closes this release.
Technically well constructed, this album is perhaps too focused on minimal timbral development than on a focused musical development or in an engaging soundscape. Only for fans or collectors.
Another release which I cannot but fish from the crowded pool of techno stuff I'm toothcombing comes from the acknowledged Joachim Spieth's Affin label, one of the most prolific of the scene with almost 150 releases in less than 7 years, which launched the debut of Rismu, a new project from Marseille-based M.A.D.A.. The opening "MST" combines trapping chords, a sort of obscure draft, a subterranean gurgle, a bouncy kick-drum, cushioned claps and the typical dynamics of a well-forged dark minimal techno tune, whose technoid elements got emphasized on The Plant Worker's remix, whose slapping claps sound like sparking signals for the progressive erosion of the retentive tone. The vibe becomes even more sinister on the following "S3" whose distant chords sound like getting closer to his prey. The Plant Worker sounds more technoid again by stressing the pounding beats and giving an edge to the other gears of the original engine.
Artist:
Magic Panda
(@)
Title:
Life Is Elsewhere EP
Format:
Download Only (MP3 + Lossless)
Label:
Knopje
(@)
Distributor:
Beatport
Rated:
I wouldn't be surprised if this lovely EP by Norwich-based producer Jamie Robson aka Magic Panda, which got released by small Dutch indipendent label Knopjie, came as a prize for insomniac videogamers, who managed to a dreadful slobbery monster of the final level of an high-phantasy game such as Child Of Light, The Legend Of Zelda or similar ones after cramping phalanges by convulsively pushing buttons on controllers. Well-balanced textures of bittersweet lulling melodies, cherubic chorales, 8-bit chirping tunes and sparkling cadences with charming swings on the downbeats and upbeat of "Life Is Elsewhere", the delicately reverie of "The Floating World", a track which has been conceptually connected to "Ukiyo", the Japanese word referring to the buddhist concept according which nothing in life is permanent and that life is made up of fleeting and transient moments of beauty, and the wilder sad love poem to the ocean "Maunsell Sea Forts", inspired by "the haunting robot-like towers whose rusty shells remain in the Thames estuary, looking out to the open sea" push listener's mind towards honeyed daydreaming. The cherries on top of this release are the remixes by label boss Roi Koch, who emphasizes the hypnotical hooks of "Life Is Elsewhere", and Van Did, who shines a crepuscolar light on "The Floating World".
Artist:
Morten J. Olsen
Title:
Bass Drum!
Format:
CD
Label:
+3db
(@)
Distributor:
Musikkoperatørene
Rated:
The fourth chapter of +3db's series "Music for One" bears the signature of one of the most brilliant percussionist of present improv/experimental scene, the Stavenger-born, but Berlin-based Morten J.Olsen, a leg of the fast-running duo MoHa! with guitarist Anders Hana as well as member of the highly energetic free jazz/rock quartet Ultralyd, Berlin-based improv-focused Splitter Orchestra and satellite of the so-called critical newism of Dybdal's N collective. Morten manages to disclose the somehow inimaginable ample performative scope of a seemingly limited instrument like bass drum by trascending the idea of bass drum as a simple percussive element. From the sinister tolling and the concave resonances of the opening "Ejected Objectives", which could remind some explorations by Z'Ev, to the twin symmetrical ending "Objectives Ejection (hi-tech dying room)", he dishes out an impressive pile of ploys on tensioned calf skins and plastic of bass drums and its parts, which range between abstract drones to possible sonic translation of delusional thinking over intriguing buzzes, adventurous dynamics, tonal excavations, echoic ululation-like sounds, sudden knells with wide sets of encircling erratic resounding feedbacks, which reach an almost epic tone on thoroughgoing sonic poems like "Sawtooth Model and Nonstandard Deviation" or "Pure Tone Attraction", which are some of the most fascinating moments of really recommendable listening experience!
Artist:
The Exaltics
(@)
Title:
Some Other Place Vol.2
Format:
12"
Label:
Clone West Coast Series
Rated:
Always prolific but having always quality in mind, Robert Witschakowski is releasing through Clone the second part of the "Some Other Place" EP series. While on the first volume I felt a bit of Miami electro influences (you know, that nice nightly atmosphere that you can enjoy on some Gosub tracks or on Morgan Geist's "Double Night Time" album, to name a few), on this second volume we find five new tracks which are in balance from techno and electro. The EP opens with a short introduction "Slip In" just to make space for "Some Other Place (Long Version)", where The Exaltics push hard the pedal on obsessive bass lines and dreamy pads. "Waves Of Fear" moves on the same field with hard beats, dark ambient background sounds, 808 upbeat rhythms (I think you know that TR-808 is a Roland drum machine used in the 80s for electro music as well as TR-909 was for techno). The attack continues with "The Way Out" and Robert has no intention to make prisoners as we have distorted drum, hypnotic synth arpeggios and different layers of pads and synth noises. The EP is closed by "Different Ways", a track that mix alienated atmospheres, dreamy pads and Detroit electro solutions. Another fine release to check and you can do it here https://soundcloud.com/the-exaltics/the-exaltics-some-other