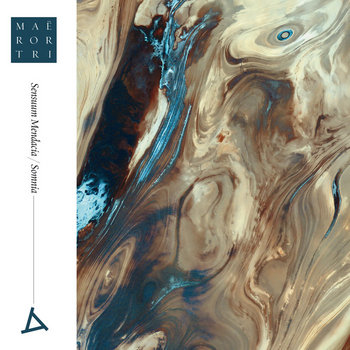 Artist:
Maeror Tri
Title:
Sensuum Mendacia / Somnia
Format:
CD
Label:
Zoharum
(@)
Distributor:
Alchembria
Rated:
This new reissue from Zoharum collects two tapes from Maeror Tri which documents their first steps as band instead of the previous reissues ("Emotional Engramm" and "Meditamentum") that were their most mature effort.
"Sensuum Mendacia" was released in 1991 and is one of their most ambient release. "Antrum" is based upon a drone which slowly evolve revealing subtle nuances and resonances. "Soma 2" is an hypnotic track based on the juxtaposition of loops. "Choir of Transcendence" uses a guitar processed using delay. "Mental Electricity" is an almost industrial track based on noises and drones. "Aegritudo" is constructed from slowed down guitar recordings. The resonances of "Animorum Post Mortem Ab Aliis Ad Alios Transitio" closes this release which, even in the limitations of the recording process reveals the research of the creative use of a 4 track tape.
"Somnia" is the A side of a split release with Nostalgie Eternelle and sounds as focused in their most hypnotic side. "Somnia" opens this release with an ethereal loop while "Vox Sirenum" is closer to certain dark ambient. "Soma 1" is based on heavily effected bass and guitar while "Onyx" heavily process samples. "Indagatio" closes this release with lines of synth generating gentle drones.
An obscure gem from the past which could sound underdeveloped at a structural level but reveals choices in the sound palette that anticipate their mature result some year later. It's really worth a listen.
Writing a critique of one of Masami Akita's work is not an easy task as the historical importance acts as a deforming mirror of the musical value. Life Performance is the reissue of a '85 cassette release and shows some of the characteristics for whom Merzbow symbolizes a genre. While in Europe, the first noise acts tied a shocking imaginary to the musical impact, Masami Akita tied it to an art form. Instead of conceiving noise as a symbol for pain, it's the direct result of the juxtaposition of sound sources, probably discarded as the material used by Kurt Schwitters, until the fulness of the sound spectrum. So, the collage of the artwork is a reference of the method used in the development of the "action", a term not used without a reference, whose result is recorded in this release.
"Nil Vagina Mail Action" is a single track in five part: the first one starts with a tape loop upon a background noise which gradually reveals itself as generated by electronic, probably noise generators and filters, with inserts of samples that could even be of pop music. The second part is characterized by the loop of the central part which unifies the other sound sources used. The third part is close to a white noise generated by components which reveal themselves at their time. The fourth part sounds generated by phone tones as a picture of the crowd which surround a person. The fifth part closes this release with a loop upon an evolving noise.
This release is so far from the usual representation of noise of a monolithic mass of sound without movement that remind of the motivations for whom this kind of music is even able to approach art galleries. A piece of history which cannot be rated.
Artist:
Henrik Nordvargr Björkk / Margaux Renaudin
(@)
Title:
Anima Nostra
Format:
CD
Label:
Cold Spring
(@)
Rated:
This release is a collaboration between Henrik Nordvargr Björkk, with his remarkable career as a solo artist but mostly as a member of MZ.412, and Margaux Renaudin, better known as a visual artist. As reasonably predictable, the musical style is based on the form already codified in the previous releases as Nordvargr where musical impact is stemmed by an evocative constructed soundscape and, so, the main contribution of Margaux Renaudin seems apparently a refined artwork focused on pseudo ermetic symbols printed on grey upon black.
The rhythmic structure of "Sunyata" opens this release as a container for the ritualistic part focused on the use of the vocals. "Spiritus Omni" is instead a dark ambient track developed upon the sound layers typical of Nordvargr's style. "Mourning Star" is a cover of a track from "Infernal Affairs" whose atmospheric element is exalted and so "Kmt" with the vocals of Nader Sadek is closer to the most industrial oriented output of this band. "Runik Hexagram II" returns to more subtle sonic construction while "Gjallarhornet ljuder" is based on thick layers of drone whose mass is overwhelming. "Lavenement Du Neant" is an evocative ritual track whose charm is related to the french spoken word. The depth of the reverb used in "Maladia Skandinavia" is crucial in the closing of this album with a sense of being immersed in a spiritual space.
Obviously Björkk's music hasn't any innovation but, for a so codified style, sometimes the music is able to match the remarkable beauty of the artwork and is a reminder on the importance of writing. Recommended for Nordvargr's fans.
Coming back after seven years of silence by means of a couple of tracks on a strictly limited (just 30 copies for his imprint Klanggold) yellow tape, lasting approximately six minutes each, could be compared to the announce of the discovery of lifeforms on Pluto after an astrophysicist interpreted the noise of his fart as a radio signal from that far planet. Anyway Sonovo, moniker of the smart sound artist and performer Andreas Usenbetz, came back by two impressive studies in minimal electronic music where he mainly squeezed a Microkorg and looped some samples as well as a field recording that Mark Baker grabbed at Peace Park in Hiroshima on the title-track "a line has two sides" on Side A. Both the popping micropattern on this track and, even more, the more regular one on the other half of the tape, titled "Serious Colors" - in spite of its opening, that could sound like the looped noise of a gastroesophageal reflux or the one that could come from the squeezing of something slimy! -, features a minimal approach and a certain sense of balanced elegance that could vaguely resemble the stuff coming from German label ~scape by Stefan 'Pole' Betke (not working since 2010, in spite of the high quality of its outputs) such as Pole, Jan Jelinek, Kit Clayton or System. We could forgive Andreas 'Sonovo' Usenbetz, just if he's going to release more lengthy stuff as soon as possible after this delicious tidbit. The way you'll figure, forewarned is forearmed!
Artist:
Gunnar Lettow & Korhan Erel
Title:
Bad Falling Bostel
Format:
CD
Label:
Creative Sources
(@)
Rated:
I got attracted by the name of this aged output within the huge pile of releases from Portuguese label Creative Sources before discovering the German guys behind its named it after the name of a small village between Hamburg and Hannover in Lower Saxony, Germany, they usually visit twice a year. What is more, Gunnar Lettow (prepared bass guitar, electronics, found objects) and Kohran Erel (computer, controllers) decided to title each of the twelve bizarre tracks they included in this output by likewise odd names of districts and almost unknown towns all over Germany - I could wonder in discovering the name of the inhabitants of cities/villages such as Dickfeitzen, Zacking, Grilling or Salderatzen! -. Their style, as you can easily guess, is experimental, as they mainly combine sets of microsounds, percussions, little electronic sounds and hits on many different objects that could easily tickle your imagination. For instance, I finally found a possible soundtrack for those educational posters I saw in many studios of dentists to explain the importance of brushing teeth every day, where grinning microbes set their building site to demolish molars while listening to tracks like "Heirengen" or "Urschalling". I could even match stuff like "Zacking" or Middefeitz" to the amplified noises of the digestive system of a woodworm after a bleeding bellyful of furniture! Check these funny experiments out to understand what I mean!