Umanzuki is a three-piece act based in Florence whose new release is a 30 minute-long track recorded in an improv session. It's always courageous to conceive a work of this duration in times where people is used to hear music as beats and pieces, mostly when the reference framework is not the trend of the moment but a form now firmly dated. The most obvious reference which comes in mind hearing this release is kosmische music but it's a starting point rather than an exercise of nostalgia.
The track start quietly as a dialogue between an atmospheric synth and the sparse notes of a bass. His development could be described as the juxtaposition of the sustained notes of the synth and the percussive notes of a bass, or could also be a percussion, which also has the function to expose a sort of meditative loop which varies. So when the synth comes in the foreground, as the percussive element slows down, this release starts to evolve in a sort of drone release without the trivial sustain of a couple of tones but instead it develops a sort of melody at slow speed which sometimes stop to let the listener aware to the return of the percussive element and the insertion of a soundscape. The return of the synth marks the final part of the track based upon the complexity of the underlying beat which closes this release as an heartbeat.
As could be superficially simply decoded as derivative from well known form of kosmische music, it reveals instead some references from ambient language and rock which are merged into the result instead of being a trivial juxtaposition. With his long running time, it's not a release for everyone but could be a nice one for committed listener. Almost recommended.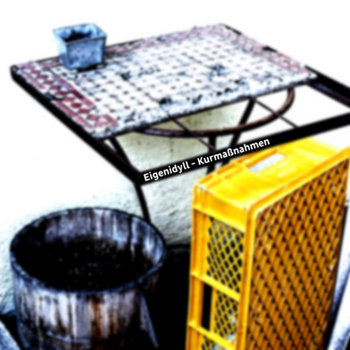 Artist:
Eigenidyll
Title:
Kurmaßnahmen
Format:
CD
Label:
attenuation circuit
(@)
Rated:
Eigenidyll is the project by Tobias Schmitt and Sascha Stadlmeier using guitar as sound source. As the guitar is heavily processed, it's not a virtuoso duo but the result is something closer to EAI as it try to let the guitar escape the cliché of rock to create an aural landscape where the listener has to find some sounds instead of having all notes fight to impose themselves.
The track start quietly as an interplay between a sort of drone and some sparse guitar notes, then it starts to evolve into a dialogue between notes and noises upon a silence which let emerge every nuance of sound. This part is the central part of this release and result in a meditative framework owing sometimes to some reductionism an, sometimes to certain form of noise. The introduction of bass, played by Stadlmeier, is the start of the final part of this release which ends with a sort of guitar strumming, heavily processed, sounding almost as a percussion as his metallic formant is exalted and it's ended by the sound of the bass.
It's not a ground breaking release as it rework an already codified language but it tries to escape the obvious trap of it i.e., boredom. For all fans of EAI it's something truly enjoyable and for the other could be an exercise for listening.
Artist:
Moving Units
(@)
Title:
Damage With Care
Format:
CD
Label:
Metropolis Records
(@)
Rated:
One of the funniest item coming out from the recent baking in the oven of Metropolis Records is the new album by Los Angeles-based former trio Moving Units, which seems to have come through the dispute occurred in late 2012 related to the fact that their singer and guitarist Blake Miller performed some solo shows by using the name of the band without the approval of other members by the simplest way possible: he left the band, but this output seems to be coming from a sort of temporary armistice! Licensed by Mark Blumenthal's label Kitty Play, "Damage With Care" is nothing revolutionary from the stylistic viewpoint, but it's nice the way he overlaps and interlaces funky-disco rhythmical patterns, guitar riffs and that "glamouresque" lewdness evoked by slapped bass together with a nonchalant attitude. I wouldn't label disco-punk, as lyrics don't really sound belonging to a rebel yell, as the way by which Blake inject a certain irreverence looks like pink spots on a leopard-skin upholstery than a spit on a radiant marble floor of a luxury hotel, so that I would rather say it's close to a rejuvenating declension of electronic rock, but it doesn't mean it's so close to banality. The best moments are maybe the ones when the band coast along some surf sonorities such as it happens on "Teacher " or "Wishful Thinking" (really cheeky and somehow baffling the repetition of "I wanna be alone inside" in a disco-tinged song as well as the strange mutation of Miller's voice, which sounds like Miki Berenyi of Lovelife-era Lush) and the ones where frenzy guitar riffs seem to reprise the brightest moments of dark and synth-pop ("American Infantile" - including a sample of Duran Duran's "Girls on Film"? -, "I Don't Mind", "Fragile Magic"). I would introduce this record as a possible musical translation of the chemical process to turn excess fat and cellulite into soap.
image not
available
anymore
Artist:
Giovanni Lami
(@)
Title:
Bias
Format:
CD
Label:
consumer waste
(@)
Rated:
Bias is something that could be called as "documentary release" as, instead of being a traditionally composed music, it's a sonic document of a physical artifact. The basic material of this release are tapes buried to alter their chemical composition so, in a certain perspective, were ruined or degraded. When the role of the tape is the recording a sonic source that has to be faithfully reproduced, how has to sound if tape is the source in itself? GIovanni Lami answers this question using tape players as projectors without a visible film.
The original recording of "KRR5" could be a gentle soundscape but it now a representation of bits of music buried upon hisses and noises and a vague background noise. "BHHH" became a deconstructed piece of music, "INZZ" a dark interlude based on a drone able to let the noises act the sudden noise of an horror film which alarm the listener. "PPK1" is a piece based on a sort of foreground noise above which there's the phantom of the recording. "PPK4" starts with a quiet background noise and ends with an high pitch noise. "PPK2" sounds almost as an avant dark ambient track as it's the clearer recording of this release. "LRR3" closes this release with a dialectic between quieter moments and noisier ones where the degradation of the tape is more evident.
An evidently courageous release where there's the search of a personal sound dealing with the concept of legacy and degradation as an inevitable aspect of time, and life. The audible result of this process questions how a culture based on progress could deal with his past and shows the paradox that the medium with the higher fidelity is perfect to reproduce noise as it was music. An excellent release and a work of art.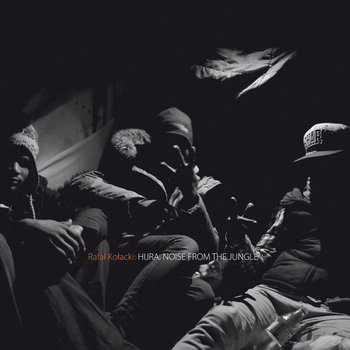 Artist:
Rafał Kołacki
(@)
Title:
Hijra. Noise from the Jungle
Format:
CD
Label:
Zoharum
(@)
Distributor:
Alchembria
Rated:
This release is based upon recording of music events and everyday life made in a temporary refugee camp called The Jungle in Calais, France. This field recordings document the result of the interactions of various nations in a relatively small area. Apart for the political relevance of a work around a theme, immigration, so present in public debate, is shows how music is present in everyday life; while music is almost a background in modern times, traditionally it was a part of specific moments of human interaction e.g., religious rites, and this recordings shows how this element remains present in african based ethnic groups.
But the sense of this release is not on the role of music but, as the liner notes printed on the cd clearly states, it's on the role of the document as a political act. As the refugees closed in the jungle, and called inhabitants by the author, are not citizen but are in a sort of limbo without a precise role, these recordings show them in a first place as humans and this is a political statement in a period when they are seen are a political problem. So, the role of the field recording is to capture the sound of their life without the indulgence of the sad representation of the trapped refugee but, in some recordings, as people which could even celebrate the fact that they are alive.
As the inner cover shows a plate where three hands are taking their food depicting how they can share the few they have, the recordings show how "they lost their homes and families but still retain what is the most precious: human dignity" as the author writes. Talking about music on this release would mean miss the point of this release: documents show what thought cannot. A remarkable release.