Artist:
Fret
Title:
Over Depth
Format:
12" vinyl + Download
Label:
Karlrecords
Mick Harris has a glittering CV (Napalm Death, Scorn, Painkiller) but this is his first full-length outing under new guise Fret. It's a collection of ten mostly five-minute-long percussively hammering instrumental pieces of complex and broken Aphex Twin-ish thumping beats, dark rolling bass tones, sinister atmospheres and crunchy electronic glitches with the emphasis firmly on the lower end of the sonic register.

There's very little progression within each track, and often very little to distinguish between many of the tracks, which all follow the same angry, attitude-laden format. Tracks like "Stuck In The Track At Salford Priors" are notable for a strangely ethnic sounding and ghostly soundscape that can just about be made out between the beats. The scratchy metallic string noises in "Lifford Res" are particularly tension-inducing, in a grating sort of way. With its more expansive sense of space, in relative terms closing track "No Rain" is milder, but that's a little like saying that being slapped in the face is milder than being punched in the stomach.

It's very polished and rich, for sure, with a variety of details that you only appreciate in a headphone listen. If you're looking for an hour-long wash of neighbour-waking low-end breakbeat with a dark techno aesthetic to make yourself forget something, this is probably the wall of sound you're looking for. But it does lack the variety or the distinctive elements that would make you really prize it as an album.
Sounding very much like a Philip Glass composition you haven't heard yet, Angèle David-Guillou's "En Mouvement" is a piece of modern classical with a traditional sound and a complex interplay of arpeggios and musical moiré patterns that's hypnotic and beautiful, albeit in quite a conventional way. Mirroring and counterpoint between piano, strings and woodwind are the dominant order of the day, with long sustained melodic top parts rolling over repetitive note runs which build with a confident steadiness. Choral notes (Angèle cleverly multitracked I think) are added from "Desert Stilts" onwards.

After a strong and fairly symphonic opening trilogy of pieces, central section "Exocet" and "That's How The Light Gets In" through to "Iznik Flowers" have a slightly more sparse, lyrical, ballad-like tone. "Pas De Loup" has a slightly more sinister air of French melancholy that borders on spurned romance, before we conclude with "Too Much Violence" which throws romance out of the window of something more bleak, with the album's only real sense of discord appearing briefly halfway through prior to a somewhat downbeat end.

If you'd played this to me blind and said "this is the new Philip Glass work", I'd have thought "well he's stuck well inside his comfort zone there", that's how strong the comparison is, and it's certainly a compliment. My only criticism would be that at 42 minutes long, it's too short.
Ziúr is described as coming "out of the fringes of Berlin club music", but this succinct debut full-length album goes towards the very edges of dance music and sometimes beyond. This is intelligent home-listening material, atmospheric and detailed.

After the beatless intro overture of "Human Life Is Not A Commodity" which hints at a more ambient and experimental album than the one you get, it's the title track that sets out the album's true stall. Complex rapidfire beats drop in and out sharply underneath glitchy unnatural electronic soundscapes, all of which hinges together thanks to steady and self-assured basslines. "Soaked" pits an oddly childish synth melody against attitude-laden kick drum programming.

Aïsha Devi's vocal contributions on "Body Of Light" are autotuned and pitch-shifted rather unsympathetically in a manner that borders on the chipmunk sound, which feels like a missed opportunity. Zhala's jazz-tinged vocal on "Laughing And Crying Are The Same Things" are slightly more respected, but there's still a sonic disconnection between the vocal and the rest of the track, as though a found acapella has been pasted into a track it doesn't really belong to.

Besides the couple of vocal tracks, we mostly here explore the world of retriggering glitchy drum patterns with the stuttering "Cipher", the short-lived timestretch exercises of "Moonlight" and "Arise", and the much darker-edged clap-sample-loop jittering "Rituals Of Passage" which sounds like a post-dubstep horror movie soundtrack on speed.

"Drawn", later in the album, is one of the more successful blends of slow melodies and basslines with excited drums. The marginally more conventionally structured "Don't Buy It" is a filmic hard EDM that feels like it ought to be soundtracking some insane fistfight between robots, similarly final track "Fractals" has teeny guitar snippets although this time with a more tongue-in-cheek touch.

The real strength of this 41-minute album is in the low ends. The melodic work may feel a bit loose and first-take-y but it's in the bass and drum programming that it really shines. With a press release that talks about yin and yang, harshness and softness, here's an album which is better at being harsh than it is at being soft.
Artist:
VV.AA.
(@)
Title:
The Owls Are Not What They Seem: David Lynch Tribute Remixes
Format:
CD + Download
Label:
Zhelezobeton
(@)
Rated:
You might recall Zhelezobeton's 'Now It's Dark' the David Lynch Tribute album by 11 Russian ambient/industrial/electronic artists last year. 'The Owls Are Not What They Seem' is a remix of that album, and it's a double album, so maybe Zhelezobeton figured that would make it twice as good. Participants here include: Arcuation, Regular, Uhushuhu, Notum, Wunderblock, Neznamo, Sal Solaris, Mortart, Bionoid, Light Collapse,
Reutoff, Mira Drevo, Riddika, Svetlo111, Alex Schultz, Lokodepo, Majdanek Waltz, Relic Radiation, Zima23, Lunar Abyss, Kshatriy, and Anthesteria, featuring Peter Theremin, on what else but a theremin! Well, he is the great-grandson of Lev Sergeyevich Termen (aka Léon Theremin) so that obviously makes sense. The latter contributes two new tracks - "Green Is Its Color" and "Silencio" in addition to the 23 remixes for a whopping total of 25 tracks. If the first David Lynch tribute album explored the darkest, most sinister side of Lynch's oeuvre, then this one is even farther afield. I don't see it as much of a Lynch tribute as a remix album, and well, those that have followed my
reviews know how I feel about remixes in general. But that sort of applies more to dark dancefloor goth-industrial than it does to this kind of stuff. If you start with abstraction, exponential abstraction isn't going to make much of a difference. Hence, you won't find me saying for example that Arcuation absolutely massacred Skripp's
"Lynch Law," or the Relic Radiation Remix of Wunderblock's "U-Turn to Lost Highway" is a sublime take on the original. (None of that is true by the way.) In fact, I'm not going back and listening to any of those tracks on 'Now It's Dark' to compare because it's too much work and likely won't sound much like the original, so what difference would it really make?

Overall, 'The Owls Are Not What They Seem' seems to have more rhythm to it than 'Now It's Dark' incorporating a more techno-industrial atmosphere where the first one was predominantly dark/ambient/industrial ambient. That's not to say those aspects have been replaced; they've just been remixed with some rhythm in many cases. Some (purists)
who really liked 'Now It's Dark' are likely to be turned off by this, but there may be plenty of others who are really going to enjoy it. I'm kind of on the fence about it as some tracks really work well in remix mode while others others... not so much. Say for example, Alex Schultz's remix of Relic Radiation's "Arrakis Cinnamon" turns it into a hypnotic techno-tribal dark space ambient delight. The very next track that follows, Lokodepo's remix of Povarovo's "Prelost" is just a techno headache screamin' for some heavy-duty pain relievers to me. As with any compilation, and especially one this large, there are tracks you're going to really like, and ones that will leave you cold, even for Lynch fans. One thing though that I think of as a missed opportunity was for one of these remixers to try a quasi-Angelo Badalamenti take on at least one of these tracks. Badalamenti's noir jazz and somber orchestral work was a vital component of the vast majority of Lynch's filmography. Maybe it's out of their comfort zone, but I don't think it would have been unappreciated here. Be that as it may, Lynch fans are still going to eat this up as they do with nearly everything with his name attached to it.
The first one sold out, and this one, limited to 300 copies, likely will too. For the latecomers there's always the digital album, but you won't get the cool owl-oriented artwork by Barrett Biggers.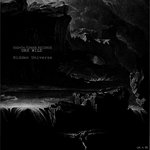 Artist:
Urs Wild
(@)
Title:
Hidden Universe
Format:
Download Only (MP3 + Lossless)
Label:
Eighth Tower Records
(@)
Rated:
While most of the first releases of this label were compilation, Hidden Universe is the first release by Eighth Tower Records entirely dedicated on a single artist. The music from this musician is a variation of Dark Ambient with a clever use of noise and not centered on a drone, which is the glue of the layers instead of being the main element of the track, but on the elements on top of it with the result of a more varied sound framework.
The first track of this release, "Sea of Unnatural Presence", seems to set the framework of this release with his complex sound spectrum where layers of voices, noises and synths creates something as noisy as evocative, but the other tracks are based on a more minimal sound environment. "Signals" is instead characterized by a minimal sound framework based on a drone in the background and a looping synth line. "Ritualized" is a variation of the previous track using filtered voices instead of synth and reveals the great attention for sound construction. "Mardröm" use the spatialization of sound to obtain the impression of being immersed in the universe imagined by the author. While "Hidden Matter" is rather meditative, "Construction of the limitless" is noisy and "Portal" is minimalistic in his almost realistic depiction. With "Machine without mechanisms" there's a return the complex construction of the first track as noises, drones and even a bell tick create a sonic assault to the listener which is partially continued by "Hidden Energy" but with greater attention to the development of an evocative atmosphere. "Horizon of tranquility" closes this release with a quiet and minimal sound palette but with some evocative samples.
This a really good release with the only cons of being perhaps too long as his central part is based on a minimal framework in a contrast with the initial and final part of great complexity and sonic brilliance. Fans of experimental music will have their cup of tea.