Artist:
Sweeney
(@)
Title:
Human, Insignificant
Format:
CD + Download
Label:
Sound In Silence Records
(@)
Rated:
Australian artist Jason Sweeney has been composing and recording music for about 20 years under project names such as Panoptique Electrical, Other People's Children, and Simpatico, as well as numerous other projects with friends. 'Human, Insignificant is a collection of 8 brief (26 minutes total) pieces for voice, instruments(s) and sounds in an introspective, fragile and delicate manner. Minimal - absolutely. Emotionally challenging - assuredly. Definitely something you have to be in the mood for though. On my first run-thru of the album I really didn't care for this at all. This was more me than Sweeney though; I just wasn't prepared for something so dispiriting and personal. The mood is maudlin and melancholy, not something you'd want to hear on a cheery summer day. So I came back to this on an overcast afternoon with a slight chill in the air, and now it fits perfectly. Stylistically 'Human, Insignificant' has a good deal in common with the more introspective works of Scott Walker, Tim Buckley and the Harris/Bates 'Murder Ballads' collaboration. Sweeney's tenuous vocals are complimented by minimal piano, and cello feedback/noises in some places courtesy of Zoe Barry and Jed Palmer. Song-wise the compositions are fairly far left of center bearing no resemblance to anything akin to 'pop'. This is an album for reflection and wallowing, in a mood bereft of joy, mirth or positivity. Sometimes we just need this kind of thing. Limited in the physical edition to 200 handmade numbered copies.

Artist:
Wil Bolton
Title:
Surface Reflections
Format:
CD + Download
Label:
Sound In Silence Records
(@)
Rated:
London, UK based artist Wil Bolton is another sonic producer who's been around for a good long time (more than 15 years) making music of one stripe or another (predominantly ambient though), either by himself (also under the name CHEjU) or with groups such as Ashlar, Le Moors, Orphic Signals, Anzio Green, The Ashes of Piemonte, The Angling Loser, and others. He has also worked on installation projects with video artists, choreographers and dancers. Of course I never heard of him before, which isn't unusual; I chalk it up to not getting out much, and not actively searching out new music. Anyway, what we have here on 'Surface Reflections' is 5 ambient pieces clocking in at about 43 minutes. It's a blend of synth electronics, loops, guitars and field recordings (mostly from Hong Kong) mastered by George Mastrokostas (aka Absent Without Leave). The overall effect is nice, sort of Boards of Canada-ish, but I found the guitar to be rather distracting in places. It sort of sounded like aimless fingerpicking, overlaying the ambience. I found it difficult to get past that. Where it was more sparse and oblique it tended to work better blending in. In a certain sense the compositions on 'Surface Reflections' seem more active ambient than passive, possibly owing to the motion of the field recordings (birds, people, street sounds) and the changing tonalities of the instrumentation. The form is fairly consistent throughout, so I have to say there's not much to differentiate one piece from another, although certain subtleties indicate they're not all the same. I'm not familiar enough with Wil's other work to draw any comparisons, but if your taste leans toward minimal ambient, you might enjoy this. The physical edition is limited to 200 handmade numbered copies.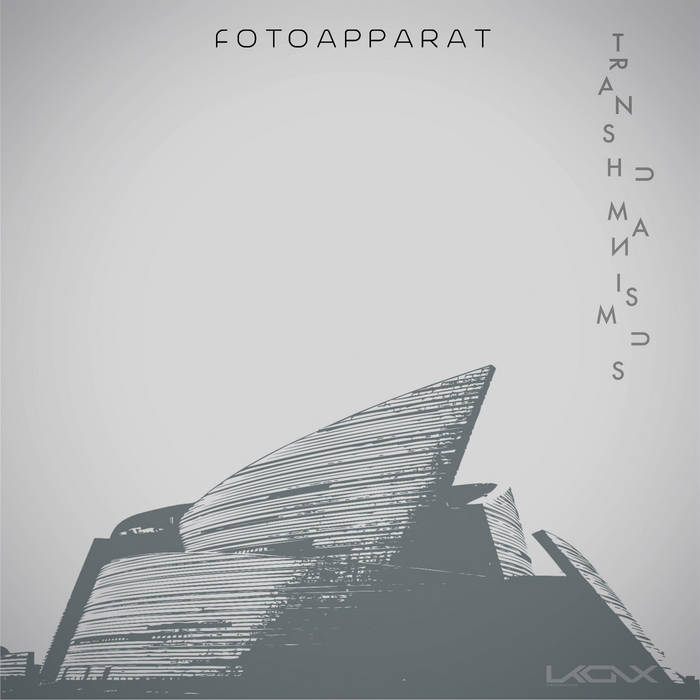 Artist:
Fotoapparat
Title:
Transhumanismus EP
Format:
Download Only (MP3 + Lossless)
Label:
Ukonx Recordings
Rated:
Formed few years ago into an unknown place in Europe (from some photos posted I think he/she is coming from Berlin), Fotoapparat, after releasing two EPs for the Mexican label Dostonos Records ("Fundamentale Wechselwirkung" and "Doppelmord"), just released a new EP titled "Transhumanismus" for the Fremch label Ukonx Recordings. It's available as digital download on the label's bandcamp page and on streaming on the usual platforms. "Transhumanismus" contains six tracks that put Fotoapparat into the focus of the Dopplereffekt lovers thanks to the cold atmospheres and rich robotic sound palette. The EP has a strong concept. The first three tracks explore our relation with machines. Humanity in its limitless ambition ultimately pushes its researches further and further, until it reaches a turning point: the end of its supremacy. The last three tracks takes inspiration from cinema, literature, science, mythology and philosophy, just to rise a question: what if artificial intelligence emancipates itself and become as powerful as a god ? Can we expect a machine to show compassion and mercy? ...and, would they punish us for our destructive behavior by recreating our consciousnesses into a personal artificial hell? Musically, Fotoapparat succeeded into creating a tense atmosphere with a deep cinematic attitude, which coupled with the robotic rhythms create really good tracks. You have cool tracks, a theme which somehow involve all of us, so you can't ignore this release! Check it in full on the Ukonx's Bandcamp page.
Artist: Microtub
Title: Chronic Shift
Format: 12" vinyl + Download
Label: Bohemian Drips / Ace Tunes

Believably "the world's first and only" microtonal tuba trio Microtub offer up two interpretations of a scenario where the tubas performed long melodic drone notes inside the unique acoustic space of a large water tower. This is supplemented by analogue synths offering up humming waves and resonant chime sounds that generally parallel and compliment the tuba noise.

It's second piece "System Reboot" that is the more purist representation of this- an absolutely luxuriant drone piece, relatively untouched by post-production, in a warm resonant environment that sounds wonderful in stereo and presumably even more incredible in a 3D audio version. Initially fused into a single layer, the sounds gradually peel out, unfold and overlap in varying combinations so that the whole work shifts imperceptibly slowly and elegantly, with a rewarding sense of calm.

First piece "Chronic Shift" is more deconstructed, if you like, taking sonic material with the same timbre but cutting it up and looping and rearranging it to post-produce new melodies. The rough-hewn cuts, complete with clicks and glitches, are so frequent and artefact-laden that they start to dominate the sound underneath. It's an approach handled boldly and with purpose, and largely it works, especially thanks to the gradual introduction of more sedate structures as it progresses, giving the piece a sense of direction.

Ultimately I'd rather listen to the unadulterated (or less adulterated) second track, but it's a beautiful combination of instrumentation and environment that really sparkles. Absolutely lush.
Artist:
The Strange Walls
Title:
Thirteen Dollar Cabs
Format:
Download Only (MP3 + Lossless)
Label:
Silber Media
After the success of their Droneuary project, in which they released a new drone recording from a different artist every day in a project that was intended to run for January and ended up running into March, Silber Media have followed up the daily release idea with an "August Fields" series, releasing a field recording from a different artist throughout August- and potentially beyond, by the look of it.

As I need to put an artist and title into this site in order to review, I've chosen one at random, but frankly it's worth highlighting and praising the whole series, which has thrown up some fascinating ideas so far. Also, all the releases are name-your-price on Bandcamp, so there really is no reason not to check out the entire series!

Many of the tracks are short. Some, like Shane De Leon & Jon Lodge's "Saw Chain", are very literal- unique sound effects or environments in a raw and abrupt form, that sound like the oddest items you might found in an old sound effects library. Offerings like Bryce Eiman's "Calendar", Azalia Snail's "Bernal Chimes" or Philip Polk Palmer's "Cricket Choir" offer up darker twists on some familiar environmental scenes.

Others, like "Thirteen Dollar Cabs" by The Strange Walls or Yellow6's "Birds Sea Underground Car Park", are more abstract, throwing together and juxtaposing contrasting sounds to tell open-ended wordless stories that vary from the terrifying to the amusing. Harsher and more heavily reconstructed examples include "violence and domesticity (for Abbas Akhavan)" by Determinist?, giving something for the lovers of darker noise. Premature Burial's "Fire In The Sky" takes a fireworks night recording and cuts it up into a found sound drumkit and forms proto-techno rhythms with it, making it something of an odd one shot in a series that's mostly rhythmless.

Most items are around the five minute mark, but there are longer pieces as well, many of them documents of everyday life. Subspace Annex's "Officespace" forces you to pay attention to the everyday office noises your brain was cancelling out, adding delays and reverb to throw them into relief, while CNSNNT's "Commute" is an 80-minute multilayered hum of muffled motorway noise, and similarly "I Perso La Corva" from The Grishnobler brings distant sounds of modern life and travel into the peripherary of a sandpapery soundscape. REMST8's "Thunderstorm" and Electric Bird Noise's "doohrobhgien eht dnuora klaw a" do exactly what it says on the tin, albeit backwards in the latter case.

Some of the pieces have brief explanations on their release pages, citing the sources, and some don't require any explanation- but some, like The New Schwansteins "Fatal Eggs", are decidedly mysterious. I haven't got a clue what's going on there, at all.

A fascinating series, at a name-your-price level, that's very worthy of attention for any lovers of found sound or experiments with ambience both light and dark.