Artist:
Analogue-X
(@)
Title:
Imaginary
Format:
CD + Download
Label:
Echozone
(@)
Rated:
It seems like only yesterday (figuratively speaking) that I was reviewing German-Hungarian electropop band Analogue-X's 'Course of Life' album, and here they are already with a new one- 'Imaginary'. In terms of quality, there's nothing imaginary about 'Imaginary'; the band has significantly upped its game since its last outing. Not that 'Course of Life' was a bad album; it was really pretty good, but 'Imaginary' fulfills the promise of what this band is really capable of. Opening with the fantastical yet semi-low-key "Imaginary World," Analogue-X doesn't show all of its cards in the opening hand. It's a good song with a good hook, good beat and worthy synthtronics but there's an ace up the sleeve, and it's revealed in the killer "Angel of Light" which follows. It's almost as good as Camouflage's "The Great Commandment" (the best song that band ever did) and really kicks ass with its 4-onthe-floor beat and uber-memorable synth hook. Rene Mussbach is a good, but not great vocalist, but here he plays to his strength, which is drawing the listener in and putting an emotional spin on his lyrics rather than powering through them. ALexis Voice's synths work hand-in-glove to support the vocals rather than just show his technical prowess as was often the case on 'Course of Life'. I also noticed that Clarke Gahan is gone, which might have been for the best, if the quality of tracks on 'Imaginary' is any indication. The three tracks that follow are somewhat upbeat and certainly hook-laden, until we get to the romantic ballad, "Facade". It's rare that I hear a synthpop ballad that tears me up on a first listen, but this one did. Susie NLG's subtle backing vocals add a certain depth and sweetness that's a real asset to the performance. The song has a powerful hook too. The band picks up the pace again with "Call Your Name," and something tells me these guys are destined break the "regional" barrier with this album as they raise the bar with great melodic songwriting. It's about this point (8th track) on most albums where the quality tends to flag a bit and the songs coast. There's a modicum of that in "Time of Darkness" but not a big dip. "In My Memory" kicks it back into high gear with catchy synth riffs and a powerful left hook vocal. "Stage of Life" is one of those medium-tempo change-of-pace tracks that may take time to grow on you, and the same could be said for "Dark Moment". "Second Chance" capitalizes on Rene's vocal strengths, albeit with a good beat and synth execution. I expected a little more from final track, "My Guardian Angel" but it turned out not to be the clincher I was hoping for, just a nice melodic ending. Overall though, 'Imaginary' has so much meat on the bone one can't complain of leaving the table hungry. Hungry for more maybe, and we'll see what Analogue-X comes up with in the future, after their fame catches up with their talent.

Newly-formed four-piece Dark Star Safari (comprised of individually well-established artists Samuel Rohrer, Jan Bang, Erik Honoré and Eivind Aarset) didn't initially set out to write songs. Their initial direction was sparse instrumental improvisation around their relatively conventional musical set-up of guitar, synth, bass, drums and discreet live electronics. During the process, Bang felt the urge to sing vocals over some of the pieces, a move which the rest of the group took up and ran with, almost retrospectively grafting song lyrics onto their moody downtempo improvised post-rock.

Unfortunately, for my personal tastes, the addition of vocals comes across as a bad move. There's nothing inherently wrong with the sparse, melancholic, low-effort, intimate-sounding vocals that come across as either a more gravelly Anthony And The Johnsons or a less cigarette-wretched Rob Dougan- but sadly there's nothing much to inspire here vocally either. It's all too languid and one-note. There are highlight moments- "Resilient Star" is one of the better ones, and the lighter mood of "Mordechai" is slightly David Sylvian-ish.

It's a shame because some interesting improvised dark post-rock ends up taking a distinct back seat to these vocals. Some dark and sinister atmospherics end up getting sidelined and treated like wallpaper. The sheer sparseness of "Thoughts And Prayers" is captivating around the words, whilst "Child Of Folly" is reminiscent of some of the finest tracks from Resonance Association, who remain masters in this field to my ears. The warmer loops of final track "Fault Line" are also nicely detailed.

The vocals will appeal to some, I'm sure, but for me they're an obstacle to enjoyment. Any chance of an instrumental version?...
Italian Von Tesla takes the sonic palette of synth sounds more commonly found in more mainstream electronica and techno, and, by more conventionally musical methods and also via custom software development, breaks them down and disassembles them into structures that go beyond glitchy electronica and into more experimental and even randomised territory. However instead of the aggressive, gritty, "smash the system" attitude that this is sometimes handled with, this is a much much gentler affair- almost passive in its steady, undramatic layout.

Among the more accessible tracks are "Everything" (sorry, "E v e r y t h i n g"), an endearing bit of awkward-beat glitch that twists and warps in a generally cheery manner which is about as unchallenging as glitch gets. Similarly "Out Of The Surface" uses the familiar device of super-soft melodic chords contrasting with fairly frenetic high-pitched clicks and bleeps for a result which ought not to be mellow, but somehow is. "Lighted Room", by contrast, is darker and sparser and could readily soundtrack the sinister alien landscape part of a game. Grumbling eighteen-minute piece "Echoes Of The End" is the most industrial-sounding moment here, a semi-robotic affair of arpeggiating proto-acid loops, while the slightly more stuttering approach of "Feedforward" is also interesting.

There are tracks which use their duration to draw you in- the thirteen minute "E-e" is a loose assembly of seemingly random and sparse synth melody notes that initially seems gently broken but which, by the end, has begun to feel like a new definition of normal. Something about the washy atmospherics of "Infinity Reveal" and the brooding final track "In The Red" feel like a throwback a couple of decades to earlier days of electronic ambient- the former containing one noise in particular that triggers a Future Sound Of London comparison I just can't shake.

It's a release that perhaps could have been gently curated down into a single-CD format; the average track length is nine and a half minutes and that could certainly be accused of self-indulgence or an unwillingness to edit. Brevity issues aside though, it's a strong and accomplished bit of devolutionary electronica that explores the wiring under the board and comes up with something listenable and distinct.
Artist: Junkie Flamingos
Title: Lemegeton Party
Format: 12" vinyl + Download
Label: The Helen Scarsdale Agency

This is a debut release from the deceptively light-heartedly named Junkie Flamingos, but the three component members (Luca Sigurtà, Alice Kundalini, and Daniele Delogu) have an established pedigree that's quite diverse, spanning electronica, death industrial, and folk music, among other things. The result of mixing together these diverse experiences gives us a five track, 35-minute work of "industrial-ambient" that is, in itself, not all that diverse.

Predominantly this is dark-and-low electronica, with a gritty ambient tone. In tracks like "Geotia", long hollow sci-fi atmospheres pervade like a fog, through which cuts slow, distant-sounding light industrial percussive patterns. Kundalini's breathy spoken-word vocals are a slow and languid poetry that sits atop, mostly receiving the deference afforded to lead vocals but sometimes melting more quietly into the surrounding sonic environment.

"The Shape Of Man" is worth singling out as both the most successful track and an exemplifier of this hybrid sound that melds the sonic qualities of experimental ambient with slow pulses and vocal repetitions that emerge from the extreme edges of what could be called song-writing.

I'll be honest, something about this release failed to connect with me after several listens, but it's hard to put a finger on why. The moderately dense atmospherics and intimate lyricism will mesmerise some listeners, I'm sure, but somehow it felt me feeling detached and cold, and the odd robot-vocoding and click rhythm of "The Language Of Slaves" just feels like a bit of a mis-fire. You can't win them all.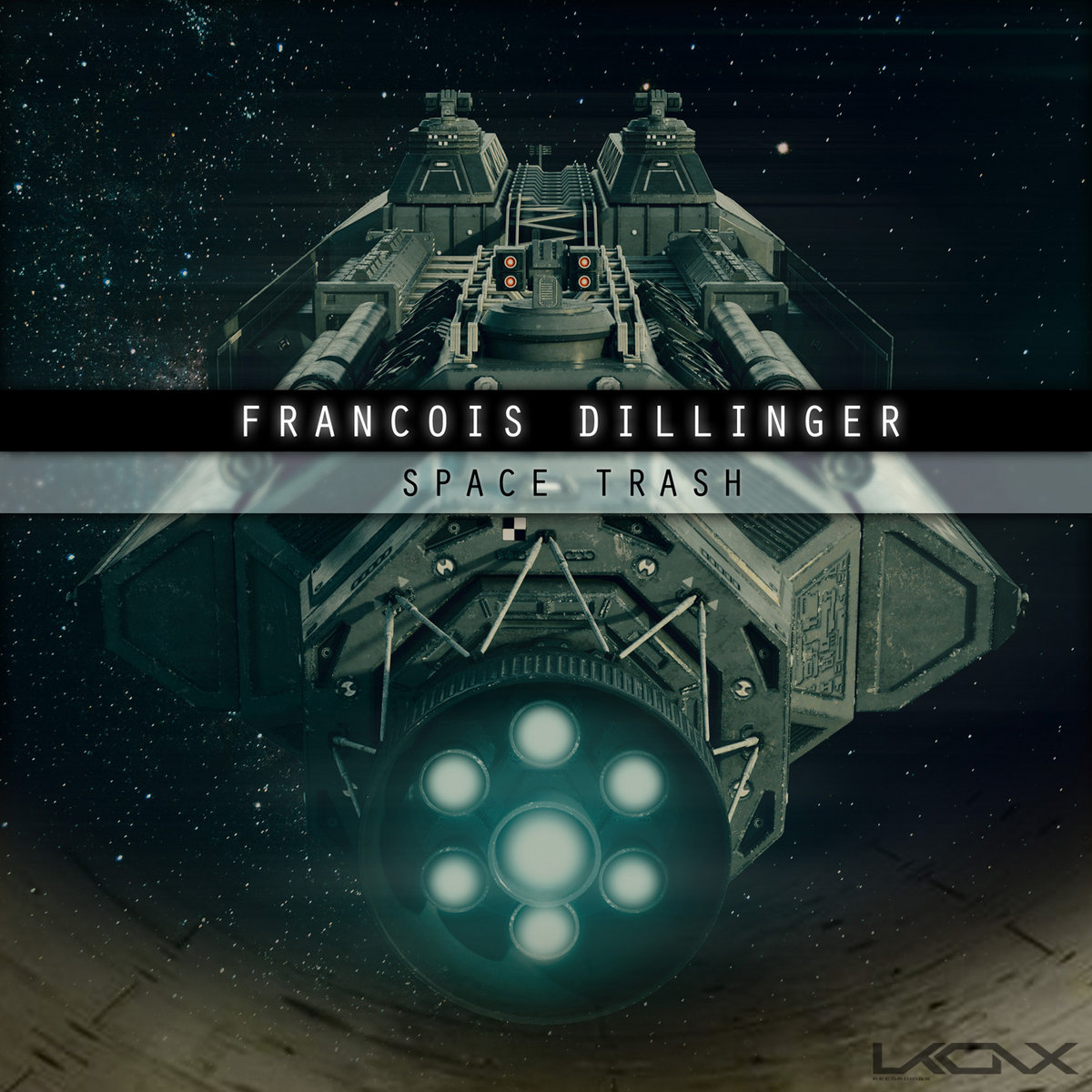 Artist:
Francois Dillinger
Title:
Space Trash EP
Format:
Download Only (MP3 + Lossless)
Label:
Ukonx Recordings
Rated:
Coming from Detroit, Francois Dillinger a.k.a. Ben Worden, is releasing on Ukonx Recordings his new EP titled "Space Trash". From his past as a dj, Ben learned how to make people move and how to mix different genres. For his new EP, he did the same by mixing industrial, techno and electro influences. The four mid tempo tracks "Space Trash", "Morose Code", "Cosmic Swamp" and "Sleepers" sound dark and minimal thanks to a mix of long spacey pads, many rhythmic sounds and balanced melodic patterns (the winner on this field is the closing "Sleepless").
As for many releases of the genre, the main element is the rhythm. Ben knows it very well and decided to use different kind of sources for that: treated sounds, distorted ones and classic electro drum sounds are forming a well-organized web of sounds that hypnotize the listener. Francois Dillinger will have different releases out in 2019 on labels like Natural Sciences, Dionysian Mysteries, Talahachi and more. He's preparing also an album and a new live set. Check the release here: https://ukonx.bandcamp.com/album/space-trash-ep