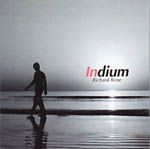 Without knowing founder of Aikido Morihei Ueshiba (1883-1969) described American composer Richard Bone's new album when explaining which the eight forces that sustain creation are: movement and stillness, solidification and fluidity, extension and contraction, unification and division. Translating those eight forces in sounds seems to be exactly Bone's mastery because you can feel those strengths. You can hear the absolutely still tranquillity move around you in a warping fashion, you can feel the fluid sounds solidify at times and then flow away with the same grace they were flowing in, you can sense the way the visions drawn by these aural sonics extend beyond imagination designing new landscapes that your mind has not yet conceived and then contract inside to change the surrounding environment, you can allow your mind and your soul to unify while dividing what is around you from what is inside you while listening to this. "Indium" (a soft, malleable, ductile, lustrous and silver-white metallic element that remains liquid over a wide range of temperatures) is the right title for such achievement and the beautiful artwork in helps conveying the message. If you are in search of your intimate universal balance and you want to deepen your research with some first-class organic ambience, "Indium" should be the next CD you accompany your voyage of exploration with. Beauty is mystified, stillness is actualized, quietness is spread and ethereal softness is solidified. Never boring (even without beats), quite simply excellent and utterly astonishing.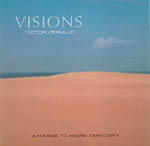 Beautiful photography that brings together the hot sand and the cold snow in the same way that Victor Cerullo's "Visions" bring together Italy and Russia along with their long-lasting musical traditions. "Visions" is a homage to film director Andrei Tarkovsky that presents an eclectic artist and his un-tiresome explorations in the hemispheres of field recordings, ambient experimentation and classical interceptions. Nine compositions and three long mostly synth-based "Timelapse" suites of majestic proportions that tie a bundle of sporadic choirs, analog floors, orchestral arrangements, cosmic sonorities with the same rope that pulls back all of the above when it comes down to portraying the perfect balance of nature with fluid samples of water, birds and the like. The coherent recurring synth sound helps you find the way to your own interpretation of Tarkovsky while Cerullo performs his oniric pieces of calm and personal psychedelia.
Old school ambient electro... .. a mix of Autechre atmospheres, Gary Numan circa "Berserker", a bit of Headscan, and Download's "Effector". Old school synthlines merge over top of minimally placed and constrained beats, with those charming analog synthlines. Sounds at times like the perfect IDM, at others great videogame music for something like Megaman 2 or Guardian Legend. The CD has no particular strong points as this is another one of those CD's where the flow is in song to song, though I do happen to love "Like Machines". Great for those who love an old school, analog feel to their electro, and it's hypnotizing qualities. Rating: 9. Also recommended are the above mentioned bands and CD's, as well as Lassigue Bendthaus.
image not
available
anymore
Yo yo motherfuckers, whassup!!! Suzuki Kid's latest "AC/DC" CD on Total Zero blasts Dive-like distorted power-electronics/industrial beatz, sometimes even approaching drum'n'bass territories in a way that Aphex Twin would, but inserts an interesting new urban element to characterize the sound. Gangsta-electronics? Urban-industrial? Power-beatz? Whatever you wanna call it... It's basic rhythmical material with not much of a melody or of sounds to be found. You'll hear samples from movies (Putney Swope, Urban Menace) and lyrics by Rage Against the Machine singer Zack De La Rocha, Judas Priest singer Rob Halford and Sade, plus other layers of noises, distorted signals, mixed voices and disturbing stuff like that... All tracks are included twice, the second time around just the beatz so that you can come up with your own rhymes, in full street style! If we got your interest check out their re-released back-catalogue on mp3.com or on the label's website.
Very simple and to the point, and I have known it for years: Strapping Young Lad is that perfect combo of both hardcore, aggressive Emperor-style metal and industrial, all with a man with enough rage to stop the wars in the Middle East dead in their tracks. And this CD does not disappoint, this has enough rage to rival even the mighty Hocico, and enough metal stylings to please even the most diehard metalhead and rivetheads. All I have to say on this one is simply: If you want pop, tame or mellow, stay away from these guys, this is extreme to the fucking core! Rating: 10. Aggro fans rally around one and all, and behold the power of unbridled rage! Also recommended are any SYL cd's as well as Sielwolf. Enjoy!PS,also look for my interview with Devin at the Chicago show!