Artist:
Anders Vestergaard & Finn Loxbo
Title:
Saint Erme
Format:
CD + Download
Label:
Gikt Records
After collaborating as a duo for a few years with larger arsenals of instruments, guitarist Finn Loxbo and drummer Anders Vestergaard have stripped their approach back to a much simpler arrangement- an acoustic guitar, two drums, an analogue feedback system and a sine wave generator. "Saint Erme" is a single 46-minute piece, premiered in October 2017, with its second-ever performance at the Stockholm Jazz Festival, telling you roughly where this sits.

The press release says Vestergaard & Loxbo "have mainly worked with improvised music", but it's ambiguous as to whether this has an improvisational element. Certainly it feels improvised- centred as it does around short impulsive bursts, single unexpected drum hits, long silences followed by a handful of acoustic guitar notes, it has that consciously arhythmic, anti-call-and-response tone to it. Tiny melodic motifs repeat and then dissipate in ways where it's hard to spot the underlying motivation. Leaving the longest silences before the hardest drum hits feels like contrarianism at times.

The drums and the guitar are dominant throughout, with the feedback and sine wave generator providing some additional texturing at very subtle levels- often so high-pitched and so faint that they become almost tinnitus-like, fading into nothing if you're listening in a non-silent environment. Towards the end of the work, a long bass sine wave note arrives in force- a crescendo of sorts, a speaker-showcasing hum of marvellous purity and a real neighbour-shaker.

It's experimental and improvised (I think) jazz at some of its most stripped back and minimal, this is a release that draws you in and which is certainly appreciable- but if seeking fresh musical turf or a 'wow' factor, then you may want to look elsewhere.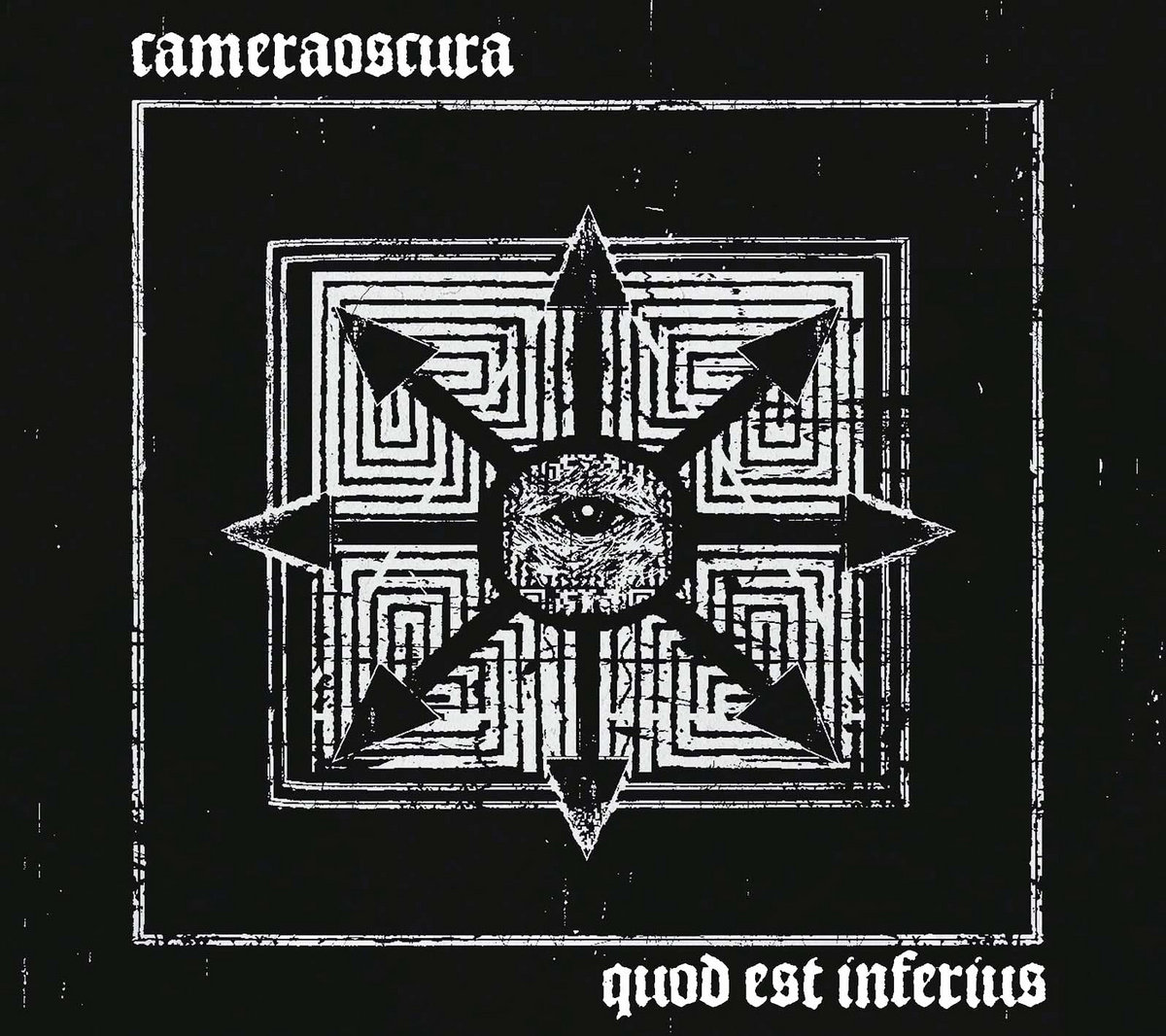 "Quod Est Inferius", or "what is most in depth": a kaleidoscope of minimal obscurity by Marco Valenti(owner of Toten Schwan Records) and Eugenio Mazza (Pavor Nocturnus, Sognomeccanico), who for this occasion united their minds under the name of "cameroscura".
Seven performances that represent a real alchemical process, through a continuous pulsation of liquid and evanescent sounds, which slowly pour into the depths of the listener.
The basis on which the compositions of the two artists rest is rooted in the darkest and most obscure environment, well represented by the first two tracks ATANOR and ADMIXIO, capable of creeping threateningly into the psyche to release their poisons in just over ten minutes.
The atmosphere begins to undergo the first changes starting from the piano that opens V.I.T.R.I.O.L., followed by the first industrial pulsations of the disc, which mark a martial and inexorable gait.
The ambient opening of INERITUS then betrays on the final, the love that Marco and Eugenio have for electro, creating the most "danceable" song in the album.
The greatest ability of cameraoscura is to create songs with different facets, but that know how to balance ambient minimalism (SOLVE) and industrial-noise explosions (ATTERA) with mastery.
The heart of the entire album then finds its most exciting beat in ULTIMA NECAT, which closes the album in the most raw and intimate manner, bringing the listener back towards the end of the transmutation path represented by the previous tracks.
"Quod est inferius" distorts reality and disorientates those who listen to it, making any cataloging unnecessary, but leaving only to its own perceptions the task of interpreting the album, which is configured more than ever as a sensory rather than a strictly musical work, capable of to bring the listener out from this world for half an hour to catapult him directly into the meanders of a timeless hell in the middle of the unknown.
A black and nihilistic sound manifesto, full of a last drop of human hope.
ANN in this instance is an acronym alias, that has been used for almost a decade as the nom de plume of an undisclosed number of anonymous musical experimenters (possibly just one), any number or none of whom may or may not actually be called Ann.

For this release, ANN offer up seven tracks, each one named after a colour, and each with a diverse and distinctive musical make-up. The prominent style, for the purposes of pigeonholing, is dark synthetic atmospherics- long rumbles, echoes and hollow soundscaping with a tendency towards bleakness. It's offered up in fairly pure fashion on opener "Crimson" and in a scratchier and slightly more sci-fi way on "Grey".

However it's also a cousin of minimal techno, with gentle and slightly oblique rhythm patterns underpinning tracks like "Ocre" ('ochre'?), which relies on the tried and tested technique of pulling a fairly fast and complex rhythm pattern against arhythmic atmospheric noises. Final track "Yellow" takes a similar approach, melding deep lung-like rumbles with seemingly random high-pitched beeps and squeaks. "Purple Hue" is also techno, on a technicality, but with a more laid-back and contrary mood infused into it.

Personally I found "Orange" a bit of a highlight, as it takes its techno and electronica elements and points them in a slightly more playful and retro direction, resulting in something that sounds faintly Radiophonic Workshop-ish. However there's something just a touch nondescript in some of the sounds and moods here, with tracks like "Vermilion" arguably a little wishy-washy and lacking any kind of distinct selling point, so don't hunt this out if looking to be challenged or illuminated.

I'm British (for better or worse) and probably the most difficult thing about reviewing this release is remembering to type "Colors" instead of "Colours" in the title. Everything else about it is very easy and enjoyable. Dark yet leisurely deep electronica.
Artist:
Sontag Shogun
Title:
It Billows Up
Format:
12" vinyl + CD
Label:
Youngbloods
3-piece Sontag Shogun's 3rd album is an attempt, over 3 days, to record in a studio a representation of what the band's live performances are like. Physically it's a 3-format package- a 12" (1+2=3) LP, a CD, and unusually, a zine that features poetry and artwork. For review purposes I can only comment on the MP3's, and in doing so, I've already reached my quota for the number 3.

Musically it's a combination of Ian Temple's piano work, Jesse Perlsten contributing vocals and found sounds, and Jeremy Young working with tapes, oscillators, and kitchen utensils. The result is a smorgasbord approach to downtempo atmospheric musical modernity, with the relatively traditional approach piano to piano playing and the plaintive and non-lingual vocal 'ahhhh' sounds offering up a familiar and comforting organic core, that's heavily decorated with environmental noises and sympathetic and synthetic pads and warm drones.

"Song No. 5" is an reasonably strong exemplifier, giving you a fair idea of the overall sound, a slightly M83-ish wash of cinematic mood music that borders on the anaemic- and "Aveyron" is so gentle and unchallenging that it could be regarded as bland.

However in other parts a more diverse approach to the sonic sources gives more interesting flavours. The hard-to-pin-down ethnic singing at the end of the title track, that blends into recordings of a bombastic but far-away American polemicising in "Kienast Dans Un Parc", is an example of this working well. "Clstrs" is an intriguing three-and-a-half minute collage of human conversations, distant folk music, radio snippets and sound effects that hints at a very different and more esoteric approach to sound collage, but which ultimately is only an interlude between the more traditional and melodic pieces.

Final track "Cages" is notable for an upbeat ending. After five minutes of gentle piano-driven melodic peacefulness, a slightly folky drum rhythm suddenly arrives. "Aveyron" pulls the same trick, but with less of a jolt, but the approach on "Cages" ends things with a more positive vibe that contrasts, perhaps a little oddly, with the forty minutes of tired but optimistic melancholy that preceded it.

It's mellow and accessible chill-out music that will be liked most by tired indie and rock fans, but which more established listeners to experimental and drone works will still find appreciable details in.
Artist:
Thomas William Hill
Title:
Grains Of Space
Format:
12" vinyl + CD
Label:
Village Green Recordings
UK-based multi-instrumentalist Thomas William Hill's second album on Village Green Recordings began its life as a series of improvised minimal loops made with just a viola da gamba and a loop pedal. However the urge to 'join the dots', as Hill puts it, and compose into the space between the existing notes, turned this project into something much more ambitious and epic, in which Hill layers up a selection of his own diverse instrumentation (Tibetan singing bowls, African kalimbas, metal tongue drums as beyond), as well as introducing other musicians that add elements such as violin, trumpet, double bass and harp into the mix on certain tracks. The result is a fully fledged symphonic affair with a distinctly classical sound, often extremely traditional-sounding, but with the original electronic looping and repetition underpinning proceedings in a subtle yet complex way.

There's a consistency to it which makes it feel like one single 46-minute work, potentially mislabellable as a soundtrack album, so selecting highlights seems arbitrary. However notable parts include the understated and emotive "Furnace", with its simple but powerful piano backbone, the oddly danceable "Refract", and the lyrical positivity that infuses "Tongue" that pulls up its slightly sorrowful-sounding string arrangements. The steady everyday pace of "Willow" feels like a musical portrait of modern routine, evoking thoughts of daily commuting and yearning for holidays.

The building tension inherent in "Flock" certainly has a 'prelude to final battle' feel to it, while final piece "Whorl" starts out with an extremely Glass-like pattern of string arpeggios that gradually flows into more open melodic waters, implying a musical freedom which is briefly threatened by glitchy noise atmospheres.

It's an extremely impressive output, and a strong indicator of classical music's healthy ability to retain its form but adapt to the pulses and processes of modern life. It's beautiful work.