Artist:
Benjamin Finger / James Plotkin / Mia Zabelka
Title:
Pleasure-Voltage
Format:
12" vinyl + Download
Label:
Karlrecords
Driven by Oslo-based Benjamin Finger, this is a new outing for a trilogy of performers with a strong pedigree in dark ambient and electronic soundscaping. Across two twenty-minute pieces, it's brimming with ideas, as different environmental layering and structures work their way into audibility and then drift away to be replaced by other sections and ideas that feel like they don't so much evolve as just flow sequentially.

At times this is exceptionally abstract stuff, long drones and atmospheres washing free across the sonic plain, but at other points it veers slightly closer to a coherent sonic structure, particularly when the icy piano or noisy guitar elements involve themselves in a more traditional fashion. The distant rock beat and more overt electric guitar 17 minutes into "Hostile Structures" may prove problematic for soundscaping purists, wandering quite close to M83 territory.

Rich and familiar soundscaping with a shade of emo, it's an immersive and high-quality release for sure, but across forty minutes it somehow fails to grab me or convince me that it's got a unique selling point.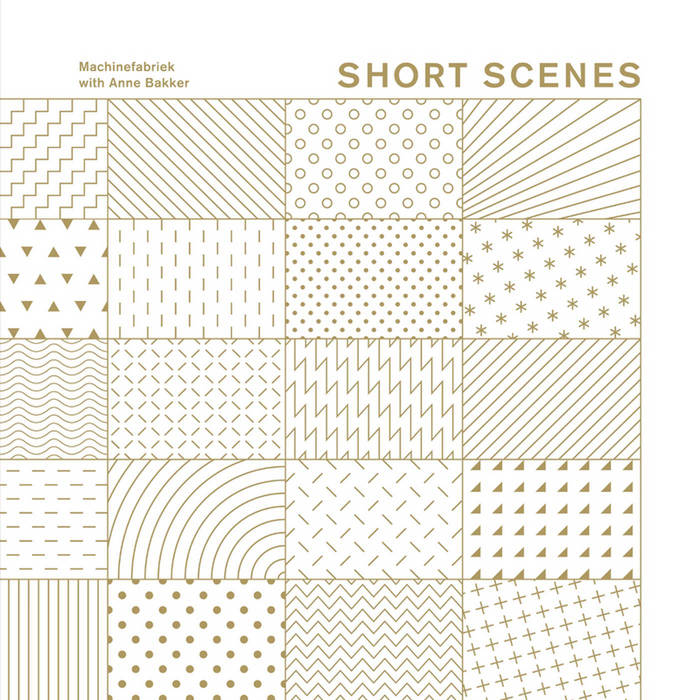 Artist:
Machinefabriek with Anne Bakker
(@)
Title:
Short Scenes
Format:
CD
Label:
Zoharum
(@)
Distributor:
Alchembria
Rated:
While being rather prolific, the average quality of Machinefabriek's is quite high and so it balances the recognizable sound palette of most of his releases with excursion in other territories as this one. This release is based around the reconstruction by Machinefabriek of the musical phrases played by Anne Bakker on violin and viola; reasonably the original music was tonal and almost classical in nature. While this collaboration started for a soundtrack, Rutger Zuydervelt recorded a series of improvisations and then he reworked them to obtain a more concise form.
The twenty scenes which compose this release are very short, usually under two minutes, and the main concern of Rutger Zuydervelt is the arranging of the lines in the aural field and the underlining of the long notes seldom used as a background for the phrases. There's also in many scenes an impressive use of silence to prepare the rise of the notes and something similar to the crackle of the vinyl to give an evidence to the listener that this is recorded music. As the scenes goes by there's a sense of a journey because, with every scene, there's a slight modification in the obviously rather monochromatic sound palette oscillation between drone based moments and more melodic ones.
This is a release that will perhaps be better received by fans of modern classical compared to other classes of listeners, and they will be exposed by far more subtler sounds masked by a rather familiar melodic framework. It's worth a listen.
Artist:
Switchblade Kid
Title:
Skaro 1963
Format:
Download Only (MP3 + Lossless)
Label:
Silber Records
Throughout January, Silber Records are doing "Droneuary"- putting out a new drone work from a different artist every day, all of them available on Bandcamp with a "name your price" setting- for the sake of good experimental music, here's hoping that enough people don't just type '0' all the time. Some of the drones are only five minute atmospheres, while others are whole extended soundscapes spanning over twenty minutes, or in the case of the Grand Kali Ma offering, almost 47 minutes of deep rumbling sinisterness. It's a series certainly worth checking out.

I've singled out "Skaro 1963" mainly because of the title- I'm a semi-closeted Whovian. Eschewing the famous 'Dalek ship' radiophonic workshop atmosphere, instead Switchblade Kid offers up a dark sci-fi texture with metallic undertones, the constant whirrs of distant grinding alien machinery reverberating into abstraction. It's mentally transformative and rewarding to listen to.

Other highlights so far from Droneuary, which we're still only halfway through, include the wailing relentless alarm call of Subscape Annex's "Shimmer", and the more overtly prog rock guitar noodling of Electric Bird Noise's "Noitatidem". Ocean In A Bottle's "Dawn Chorus" is notably different, building from a long period of layered genuine birdsong into much warmer chords.

Silber say that they've got so many submissions lined up for the series that it might well run into February. Here's hoping that they get more and have to start thinking of puns on the word 'March'.
Artist: Angelo Bello
Title: GENDYN Suite
Format: CD + Download
Label: Elli Records

This suite, deriving its name from GENerative DYNamics, is a short EP of entirely computer-generated sonics with quite an analogue feel, offering up high pitched squeaky sine waves, crisp and abruptly-edged noise patterns and sci-fi bleeps and bloops in a way that might, if you hadn't read up about the concept behind it, seem to be totally random. It's a busy collection, often with multiple elements crashing into each other, and it's not without its ebb and flow, but the overall effect is a harsh and appropriately short-lived aural assault, like a deep facial scrub but for your ears.

The most successful piece is certainly "Ricercar", which expands in a presumably deliberate manner from low electronic rumbles out into a more sinister-sounding cacophony that's strangely both relaxing and tensing in equal measure depending on which angle you hit it at, before the lower notes depart and leave us in a more fragile, bubbly, electronic-underwater environment to close.

Blurring the lines between music composition and computer programming and electrical engineering, it's a curious and somehow quite old-school work, but if you like your electronics sounding genuinely experimental, raw and avant garde, this is an 18 minutes you'll appreciate.
Artist:
Sascha Funke & Niklas Wandt
Title:
Wismut
Format:
12" vinyl + Download
Label:
Multi Culti
A collaboration openly contrived by A&R rather than pitched as a musical love story, this collaboration between techno stalwart Sascha Funke and multi-percussionist Niklas Wandt is the confident sound of two professionals who can roll out laidback, jazzy and slick mid-tempo house work with their eyes closed. The result is a four-track EP of long steady grooves, measured progressions and all the right bits in all the right places. Organic percussion sounds meet light techno kicks and claps while some sometimes bizarre-sounding melodic elements wander quite freely over the top.

The opening couple of tracks feature spoken-word German vocals which, more by association than design, evoke thoughts of 80's experimental and industrial, and very predictably Kraftwerk of course, particularly with the lo-fi stylophone-esque melody of "Die Sage" and the rhythm pattern which opens up "Lobotomie", before "Umarmung Aus Holz" seems to put more emphasis on the modern production touches instead, with its wandering and pitch-shifting ghostly pads. "Fur Die Paar Heller" is the highlight for me, the longest track that draws out a pattern of gradually increasing urgency that's beautifully well handled, and which adds slightly more sci-fi synth noises into the mix, before a nicely odd and very assured near-silent breakdown.

A very steady EP built from regular perspiration rather than inspiration, it's certainly a product of quality, excellent music to walk to.