Artist:
Carl Stone
Title:
Electronic Music From The Eighties And Nineties
Format:
2 x 12" vinyl
Label:
Unseen Worlds
A triple-LP collection of Stone's "Electronic Music from the Seventies" has here been followed up by a equally imaginatively-titled sequel, but it seems there was less to work with this time as it spans two decades but only stretches to two pieces of vinyl.

After the relatively familiar-sounding slow and mesmeric soft chords, vocal ahhhs and faintly ambient-lounge-jazz of the only '90s piece "Banteay Sray" (1993), it's the 1980's works that are the more interesting.

The slightly more plinky-plonk keyboard structures of "Sonali" which has a decidedly early-80's-Tangerine-Dream flavour to it, but which grows its own distinctive character by a very nicely handled processed and looped vocal chant and a fairly unique progression into more chaotic juxtaposed melodic patterns. Things take a particularly appealing twist and turn towards the end of this track when glitched operatic samples arrive and gradually dominate the finale. For a piece composed in 1988, this glitchy approach to gating and sampling was massively ahead of its time.

1983's "Woo Lee Oak" takes the long sustained sound of panpipes- which at the time hadn't yet become the New Age cliché they were to become- and draws them out with suspense-laden string tones into a building melée of overlapping complex harmony.

Previously unreleased 1984 track "Mae Yao" is also eye-opening, using similar cut-up and micro-sampling techniques (that 15 years later BT would claim to invent and call granular synthesis), opening with a deeply raw and sparse cacophony of sound ordering before returning, fairly abruptly, in the second half to longer more drawn-out atmospheres and synthetic melodic pad layering where the sampling becomes a decoration rather than the core.

I have to confess to being unaware of Carl Stone's work prior to this promo, but what's on display here is a real eye-opener- long experimental electronic pieces which, while still clearly capable of being placed in the timeline of 70's and 80's experimental music history, also sounds fantastically ahead of its time. I must check out more Stone works, not solely for any pretentious reason of cultural importance but because, as well as being very surprising, they're also a very pleasant listening experience.
Artist:
Norman Westberg
Title:
After Vacation
Format:
LP
Label:
Room40
With "After Vacation", Swans guitarest Westberg has consciously moved away from performance-sourced composition and pieces with single-take improvised cores, stepping instead towards more overtly planned and mapped non-linear assemblies of sound.

However the sonic ingredients are still broadly the same- long and warm sustained effect-washed drones, plaintive guitar notes with super-long reverb meld together into a womb-like ambient that's mostly soporific, but with the occasional hint of disquiet and dischord squeezing through on tracks like "Sliding Sledding". The title track ends up the odd-one-out with its decidedly more conventional guitar solo work that serves as an unexpectedly busy wrap-up.

Though Westberg describes the six tracks as "stand-alone stories, rather than my usual style of bouncing conversation", nevertheless there's a consistency throughout that in the case of this particular collection works as a strength. You'd be hard pushed to identify softly pulsing longest track "Levitation" in a crowd, and at times this form of guitar-sourced ambient does feel a little bit 'done', but if you're after something relaxing, textured and from one of the extreme edges of guitar music, this is certainly worth a late-night listen.
Artist:
Kajsa Lindgren
Title:
Womb
Format:
12" vinyl + Download
Label:
Hyperdelia
It's obvious to hear why the name "Womb" seemed appropriate for this 7-track collection of pressured gloopy atmospheres of deep thrums and heartbeat-like pulses, but there's more to it than that, as a procession of other elements arrive in various combinations to decorate the warm internalised drone base.

Some are intriguing- for example the electronic glitches and noise sparkles on tracks like opener "Cocoon" that give proceedings a slightly more alien flavour, while the slowly rising and falling vocal-like melodic wind noises and faintly whalesong-like calls on "The Garden" meld together into something more complex that plays well against vinyl-like crackle sounds.

Others feel a little more obvious and 'done'. The distant unintelligible speech on "The Inanimate World" and the overt heartbeat sounds of "All The Other Children" feel quite conventional as elements of an almost theatrical sonic impression of existence in the womb, and by the time we get to birdsong on "Far (To Reach Me)" and what I think is the sound of a crackling wood fire in "The Forest" it does feel like we're running through a list of stalwart ambient sounds. The Terence McKenna-esque rambling spoken-word element in final track "The Inanimate World" will be particularly divisive- personally I found it too prescriptive and consequently unwelcome.

It's a rich and quite uniform bit of ambient work, certainly mellowing and sonically oppressive yet in a way that's somehow quite comforting, but it perhaps needed to show a greater breadth and diversity and steer away from some of ambient's more well-established clichés if it were really going to stand out.
Artist:
New Tendencies
Title:
L5
Format:
Tape
Label:
Forking Paths Records
Named after a fictional orbital position from a William Gibson novel, "L5" is a strictly sci-fi electronica collection of bleeps, drones, digital sound effects, percussive glitches and atmospheres that sound like imagined internal workings of a variety of futuristic spaceships- some of them elegant, some a little more dystopian.

"Practice", for example, has a sort of sci-fi-post-steampunk harshness to it, and "Point" has hints of an AI piloting system having a mental breakdown, while the pulsing of "Ultralight" and the confident melodic arpeggios of final track "Stop" are much leisurely and confidence-inducing.

Sometimes sitting on the border between glitchy electronica and sound design, there are occasional moments where it will inch forward into the old-fashioned concept of steady rhythm patterns, in pieces like vaguely proto-techno "Barycenter"- but other sections, like the slightly screechy "Wise", steer well clear of such structures in favour of something purely environmental.

It's a quirky and quite single-minded album, but its weirdness is enjoyable and if you're looking for something just a touch wallpapery on the surface but with textures that reward more intense listening, this is certainly notable.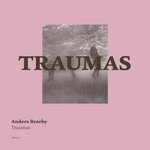 Artist:
Anders Brørby
(@)
Title:
Traumas
Format:
CD
Label:
Forwind Press
(@)
Rated:
According to the liner notes, this release aims to explore feelings of 'fear, isolation and trauma' and it's by an artist, Anders Brørby, not overtly known even he has a considerable discography. The premises of this release are rendered with a relatively canonical ambient form, sometimes blended with some noise or house influence which results in a pseudo-personal form which gives a convincing sense of easy listening to the whole.
"Hatred to all Living Things" opens this release with an atmospheric track based around a drone which is underlined by inserts of acoustic and electric guitar and samples with the result of a sort of crescendo ending in the final voice speaking about consolation. "Body Love" is instead a catchy track based on a dancey beat and dreaming synth. "In My Dreams My Teeth Fell Out" is a short and static, but noisy, interlude to "Various Positions, According to the Gospel" an eventful track based on rhythmic cages for samples and synth. "Trauma" is almost a proper IDM track based on a clear melody and complex beats. "Cruel Morning Orgasm" is an ambient track based on droning crescendo ending in a quiet noise. "Depression Puzzle" oscillates between quiet moments and noisy ones in a climate of suspension. "Describing Beauty" is a rarified and ephemeral track based on a delicate drone. "I Won't Be around When You Really Need Me" is a short track in two parts: the first one is a form of static crescendo where a drone is juxtaposed to an accelerating beat while the second one is a static soundscape ending with radio noises. "Dogma" is an almost new age quiet track which ends this release.
This is a multifaceted release clearly written without abstruse experimentation so, even if someone could have a form of déjà-vu during hearing, it's an enjoyable release for a reasonably wide audience. It's really worth a listen.