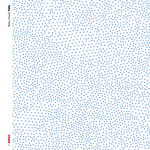 Artist:
TETSU INOUE
Title:
Yolo
Format:
CD
Label:
DIN
Rated:
With over 40 (!) albums under his belt, Inoue surely doesn't need much introduction. "Yolo" features ten tracks of warm electronica combining Eno-style ambient and the more humane form of glitch and digital processing, not that far from what artists like Fennesz or Taylor Deupree have explored in the last few years. Samples and melodic patterns (possibly generated by a guitar or a piano) are carefully combined in watercoloured, slightly melancholic pieces. The minimal cover suggests heavy snowfalls, and listening to "Yolo" in a chilly winter afternoon is like watching the outside world from a bubble where nothing can get to hurt you. Though not really the kind of music I normally crave for, "Yolo" was definitely a welcome moment of rest.
image not
available
anymore
Artist:
./morFrom/.
Title:
Here & There
Format:
CD
Label:
121234
Rated:
./morFrom/. are a duo formed by Swiss musician Julien Baillod (guitar, electronics, laptop) and his Dutch colleague Jeroen Visser (harmonium, binaural recordings, electronics, laptop), who met while playing in Neuchatel's Ensemble Rayé. As you can guess by reading the instruments used, "Here & There" is a cross dialogue between improvised acoustic/electronic music and concrete recordings. Recorded in two days in an Amsterdam studio, the sessions have not been overdubbed, which is always a bit risky for this kind of experiments - and "Here & There" actually suffers from some stale or unbalanced passage here and there. Most of the performance, however, is luckily successful, making for a fascinating flow of everyday sounds and oblique playing. "Oh No - This Is the Dream" is the shortest and more standard-sounding (so to speak...) track, with guitar and harmonium merging with recordings of a cock and passing cars; not that far from Tape or F. S. Blumm. The rest of the cd is more uneven and mysteryous, and could well appeal to fans of the Metamkine catalogue.
image not
available
anymore
Artist:
ROBIN FOX & CLAYTON THOMAS
Title:
Substation
Format:
CD
Label:
Room 40
Rated:
Coming in a deluxe matte cardboard sleeve with black on black artwork, "Substation" features Australian musicians Clayton Thomas, at double bass and objects, and Robin Fox, at live MAX/MSP processing, so you can guess what to expect: free-form improvisation filtered and re-structured via digital means, which is becoming a common approach to improvised music (as for double bass, think of Italy's Domenico Sciajno). "Substation" is a particularly successful work due to the care for variation and detail in every piece: "Shuffle", for example, is based on the accumulation of bowed chords loops, with a swarm-like effect, while a cascade of microscopic fragments makes "Dust on the Diodes" a particularly dizzying listen. Less surprising, but equally pleasant to the ear, are the high-end drone of "Bird Song" and the more subdued "Between Downpours", with a quieter but not less intense dialogue between the instruments.
image not
available
anymore
Artist:
Stendeck
(@)
Title:
Can You Hear My Call?
Format:
CD
Label:
Geska records
(@)
Rated:
Swiss Alessandro Zampieri's one-man project Stendeck (whose name is inspired by the last morse code sent by the Stardust plane before it crashed in '47) debuted with "A Crash Into Another World" in 2002 and after doing some sound designing for a short-film called "The Birdge" (directed by Gaston Dupuy), he's back with "Can You Hear My Call?", an album that is allegedly about falling in love and about the "celebration of death who is still breathing life", whatever that means... Interestingly enough, his music does sound very cinematic and perfect for soundtracks: I guess it is true that a man is the sum of all his experiences... This full length album is completely instrumental and taps into multiple areas of the electronic genre, mostly drawing from the school of ambient and dark-ambient made with lo-fi beats, layers of pads, loops a canadian-inspired minimalistic attitude. Sliding back and forth from electronica and ambient into power electronics and rhtyhm noise, Stendeck packs in over a full hour of music for the enjoyment for those who are in search of very atmospheric and yet spiced up music who can make them dream, wake them up and then take them away all over again...

Artist:
FRANCISCO LÓPEZ/SCOTT ARFORD
Title:
Solid State Flesh/Solid State Sex
Format:
2 x CD (double CD)
Label:
Low Impedance Recordings
Rated:
Low Impedance Recordings is a Greek label which has previously been focusing on IDM and rhythmic electronica, but is now expanding to more experimental territories. A great release to start with is this double disc by well-known Spanish composer Francisco López and US soundmaker Scott Arford, with a few releases on Ground Fault (as Radiosonde), Auscultare and a very recent one on Antifrost. Unlike other double split works by López's (the ones with Duncan and Behrens, for example), this is not a collaborative one, but the two cds, though quite different, match very well. "Solid State Flesh" is a massive 73-minute track where López covers all the nuances of his more abstract droning works, from hissing billows of sonic mass to barely audible debris. The strength of the composition, besides the sheer beauty of its various passages, lies in the sense of continuous flow that López masters so well - building a world of its own out of the audio matter he manipulates. Arford's disc is probably not as enthralling, but is an excellent radio waves-based work which could be easily associated to the research of John Duncan or Joe Colley - noisy and gritty, physical and abstract at the same time. Tracks range from subdued ambiences ("Strange attractor") to roaring outbursts of frequiencies ("Dirty power", "Aluminium airway"), but the urgency and the sense of menace are constant throughout. A very relevant and powerful release for both artists.