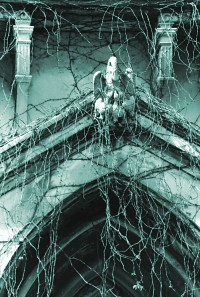 Artist:
ataraxia
Title:
Arcana Eco
Format:
CD
Label:
Ark
(@)
Distributor:
masterpiece
Rated:
Ark Records is an Italian music label that has produced Argine.Now Ark Records has produced Arcana Eco of the Italian neoclassical masters Ataraxia. Ataraxia is a neo-classical group with a number of releases under their belt and Arcana Eco is a book+cd that describe the complete discography of ATARAXIA with black & white and color photographs that include live shots of the band in concert, photographs of the band members posing in natural settings, and several images of band members dressed in medieval.The CD is packaged in a DVD pack, and the book and the CD are packaged together in a slipcase. BOOK : 164 pages,six chapters developping through Livio Bedeschi's photos, Ferruccio Filippi's reflections and Francesca Nicoli's writings; an exhaustive interview; a full discography and the 'Arcana Eco' Cd lyrics.CD : 7 exclusive tracks recorded and mixed between April and July 2004 (total length35 mn), four of them are new, the other three are older songs revisited with a todaysensibility.Cobalt(exclusive new song)Astimelusa(new key-chimes version)Mirsilo(exclusive new song)Fire in the Wood(exclusive new song)Nossa Senhora dos Anjos(new studio version)De Pourpre et d'Argent('A baroque divertissement' version)The Island of Docteur Moreau(exclusive new song)Arcana Eco is a an impressive job and an excellent guide to the vast offerings of Ataraxia .
image not
available
anymore
Artist:
JODA CLÉMENT
Title:
Movement + Rest
Format:
CD
Label:
Alluvial
Rated:
Joda Clément is a very young Canadian musician, here debuting on an important label like Alluvial. "Movement + Rest" is an apt title for these six tracks of droning ambient, played with a series of instruments ranging from synthesizers to harmonium, from laptop to firebells, plus several field recordings taken in Canada, Mexico and France. Clément blurs all his sound sources in apparently static, yet layered and detailed soundscapes, with a style reminding of Monos, Alio Die, Mirror or Paul Bradley. While there are no let downs, not all tracks are memorable either; I personally find "The Ballad of Sleep", for example, a bit too standard sounding. Fully successful pieces like "Sacré-Coeur" or "Song of Threes", however, make this a very promising debut nonetheless.
image not
available
anymore
Artist:
WERCHOWSKA/PONTEVIA/BOUBAKER
Title:
Glotosifres
Format:
CD
Label:
Creative Sources
Rated:
"Glotosifres" is a quite short cd (three tracks, 28 minutes), and also one of the very few, in the Creative Sources catalogue, which could be still defined "free jazz" without much forcing. Nush Werchowska (piano), Mathias Pontevia (drums) and Heddy Boubaker (alto sax), here offering two live performances recorded in July and December 2004, are evidently a close and well assorted trio. Listen to the restrained storm of "Bribes", for example, with a climax of bowed piano chords, hysteric sax and menacing percussions, or to the suspension and dilatation of "Spires". Particularly appreciable is the mastering work, by Boubaker himself, which underlines Pontevia's inventive drumming.
image not
available
anymore
Artist:
Snog
Title:
Real Estate Man Plus
Format:
CD
Label:
Hymen Records
(@)
Rated:
This new Snog CD on the German Hymen Records label features ten different versions of the same song, "Real Estate Man Plus", originally available on the "Third Mall from the Sun" album. If you are afraid that ten versions of one song might sound boring or excessive, rest assured that David Thrussell's infinite creativity's got you covered: altough overall you'll recognize many similarities between the different versions, you'll get electronica, rave sounds, short-spaced rhythmical edits of voice and vocal bits, an ebm version and even a folk version of it with a trashy vocal and an acoustic guitar. The CD also features a ROM track with the 2002 "Ubin mix" version (the opening track of this CD) video clip of the song, which brings us the political side of Snog that we are well accustomed to.
image not
available
anymore
Artist:
YANNIS KYRIAKIDES
Title:
The Buffer Zone
Format:
CD
Label:
UnSounds
Rated:
Some time ago I saw an intense live set of Kyriakides at electronics and Andy Moor (of The Ex/Dog Faced Hermans fame) at guitar, which accompanied the release of their duo cd on UnSounds. This work, however, is another pair of shoes, being the audio sum of an opera/installation dealing with the United Nations Buffer Zone in Cyprus, dividing the Greek community from the Turkish one. Kyriakides, who was born on the island in 1969, just before the outbreak of the conflict between the two nations, has chosen as the main character/voice of his opera "a UN soldier (singer/actor) who guards the buffer zone and freely crosses from side to side. The central image of the work is of the inner psychological state of the UN soldier and how that is projected into the divided space". Rather than focusing on the war itself, the composer portrays the drama of boredom and alienation of an "outsider", lost in the absurd dimension of a no man's land. Judging from Akis Kyriakides' ghastly photographs of the buffer zone enclosed in the lavish informative booklet, it's easy to grasp that this is largely non-fiction, and indeed Kyriakides used interviews with UN soldiers as a starting point. As for the audio content, "The Buffer Zone" is performed by Tido Visser (baritone voice), Marc Reichow (piano), Nikos Veliotis (cello, known for his several solo recordings and collaborations, among them a very recent one with David Grubbs), Seamus Cater, Mara Tomanek, Mark Morse and Ayelet Harpaz at additional reciting voice, while Kyriakides adds discreet electronics and field recordings from the Zone itself. The score is based on the broken dialogues between scattered sentences, mournful singing and a kind of uneasy contemporary chamber music, not far from Cold Blue artists. Though the complexity and emotional impact of the original opera is obviously not fully represented in this audio document, "The Buffer Zone" remains a challenging and thoughtful reflection on the disasters of war.