image not
available
anymore
Artist:
THIS EMPTY FLOW
(@)
Title:
The Album
Format:
2 x CD (double CD)
Label:
Eibon Records
(@)
Distributor:
Audioglobe
Rated:
This Empty Flow were a band coming from Finland and they lasted only two years. Formed in 1994 by Jori Sjöroos (voice, guitar, programming) and Niko Sirkiä (keyboards, lyrics) in Turku, Finland, they already played in the funeral-doom metal band Thergothon. Later in the same year, Aku-Tuomas Mattila (bass) joined the duo (he was the leader of a local goth-electro band called Sad Parade). During 1995 the band recorded few tracks for a demo and sent it to Avantgarde Music. The Italian label decided to sign a contract with them, so the trio recorded in about two weeks their first and only album "Magenta skycode". The eight tracks of the album were for sure influenced by Cure of tracks like "Just like heaven" or "A picture of you" but the trio went even further expanding the concept of dark track by creating long melancholic tracks. Check the nine minutes long tracks "Useless" and "Towards distant" where the band sound seems to turn into a breath while the time goes by. The crawling structure sometimes recall the atmospheres of Cure's "Faith" but without forgetting their doom past, because if you check the opening "Nowafter" sometimes the sounds blast off with an explosion of guitars. This double re-edition titled THE ALBUM, gathers along with "Magenta skycode" a second CD "Magenta lost". This one contains eleven songs coming from 4 tracks Fostex recordings. The quality of the demos is quite acceptable and along with demo versions of "(but I am) still" and "Distress" you can check new songs like "Serpents", "Highest of the angels" (oh my, this one seems a "Wish" outtake!), "Nevermore", "The 14th" and others. I know that I named the Cure too many times and now you'll think about This Empty Flow as clones but believe me if I say that this is not the case.

Artist:
KONAU
Title:
Speech from the Shadows
Format:
CD
Label:
Eibon Records
Rated:
Konau is the joint project of two of the most remarkable Italian newcomers in the dark ambient field, namely Andrea Freschi (Subinterior, and member of Canaan and Weltschmerz as well) and Stielh (New Risen Throne), both of them with several remarkable cdr releases on their curricula (search the review archive). What else to expect from their collaboration than brooding, siderally obscure soundscapes? The musical aspect is kept to a minimum (just a suicidal melody in "Contemplation"), and the two choose to work on manipulated field recordings and expanded drones, with a few vocal samples adding an extra dose of despair here and there. I think the final result is a perfect balance of Subinterior's ghastly "concrete" compositions and New Risen Throne's solemn pitch-black ambient (for those who are familiar with his releases, the God Is Myth cdr is a good companion to this). The nice photographic layout dwells on religious imagery, but you can hardly find any earthly or otherwordly light here. Fans of projects like Svartsinn, Caul, Nordvargr or Megaptera will probably dive into this black hole with the utmost pleasure.
image not
available
anymore
Artist:
KNIFELADDER
Title:
The Spectacle
Format:
CD
Label:
Cryonica Music
Distributor:
Audioglobe
Rated:
While starting from largely hystoricized genres like industrial and post-punk, Knifeladder are probably one of the most peculiar acts around nowadays, and this might have penalized them a bit in terms of visibility, since it's not that easy to pigeonhole them in one of the trends of today. Their second full-length (after the brilliant "Organic Traces", which I reviewed back then, plus a debut split with Shining Vril and one with Naevus) features, as always, the line-up of Hunter Barr (bass, synths, effects and production), John Murphy (drums and assorted percussion, theramin, voice) and Andrew Trail (zurna, synths, voice), with the appearance of Lloyd James (Naevus) at backing vocals in one track. Their post-punk/wave matrix is much more evident now than in "Organic Traces", thanks to a songwriting which is more based on bass lines, synths and vocal melodies than before (listen to "Just Deserts", "Head of the Serpent" and "The World Tears Its Heart Out"); but on the other hand, don't expect any gaudy new wave revival, but rather a heavy, experimental take on the best features that '80's dark music had to offer. Sometimes it's like listening to a cross between Killing Joke, Swans, 23 Skidoo, Coil ("Scatology"/"Horse Rotorvator"-era) and God's bulldozer orchestra. So now Knifeladder are a bit more approachable, but they haven't renounced to their muscular power: the delirium of wind instruments and percussion of "Suffer In Silence" immediately reminds of the fiercest moments of their previous works. The surprise effect is obviously a bit gone by now, but "The Spectacle" is a much recommendable album to those cruising for dark and physical music.
image not
available
anymore
Artist:
KOJI ASANO
(@)
Title:
violin and viola suites No.1-No.7
Format:
CD
Label:
Asano production
(@)
Rated:
At last reading Asano's biography it reports about his studies and therefore his belonging to the category of "learned" musicians and even if it wasn't that evident in his previous works it emerges in this new "violin and viola suites". Forget the electronic productions of this japanese 'cause the title is not a joke: this cd features seven brand new suites composed by Asano and performed Kumi Nakajima and by Masashi Sasaki (the principal violist of the Sendai Philharmonic Orchestra). Modern Chamber music? Classical music? Sure to an untrained hear (like mine) it may sound somehow really classical (and I'm talking about genres and not about the compositional side of this music). It somehow reminded of some music written by Terry Riley for the mighty Kronos quartet and if you've heard that you know this old "freak head" writes in a really different way if compared to his solo work with Scodanibbio or to his minimalist masterworks, I'm speaking about opus like "Requiem for Adam" and "Salome". Some passages, for what I know, also reminded me of Vivaldi and I'd say it's more than a sensation but I must say I'm forced to doubt being so ignorant for what concerns chamber music. Fast passages and solar music that would fit really well in a old italian Villa. I think this is a good record and the overabundance of conditional terms is due to my poor knowledge of this kind of music, shame on me.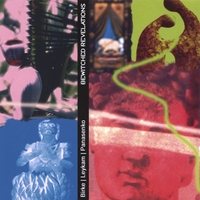 Artist:
BIRKE | LEYKAM | PANASENKO
Title:
Bewitched Revelations
Format:
CD
Label:
Frank mark arts
(@)
Rated:
With these post scornesque/godfleshesque, psychedelic, intimist layouts you never know what to expect... sure, in the most of the case it's an experimental trip but what more?!. This trio's journey is a multiple one, both for the fact they play many instruments and for the simple reason they take different directions while assembling the tracks, beside that the most of it is the result of "free improvisations acted on impulse". On the whole the dye is quite dark but in a psychedelic way, therefore don't think of any contemporary heavy weight, the most of the songs in some way marry stoned electronics a la Mick Harris with a kraut salsa and a freak taste for impros. Even if everybody plays everything, in the most of the episodes Birke's main occupation is playing synthesizers and programming drums (he does it in a really "neat" way), Leykam is the "string man" and Panasenko is the freaky-string man-polistrumentist. In addition to it all they've guest intrusion of Mark (radio, noises, midi trumpet, etc..) but more than that never forget everything is filtered and twisted to the bone. This' could be the best possible soundtrack for your burning joints and like a good work based on improvisation it has more ups ("fog patches" for example) than downs, it pays tribute to Fripp, Eno and Laswell intuitions on the creative use of the studio.