image not
available
anymore
Artist:
CODEC & FLEXOR
Title:
Killer Machine
Format:
CD
Label:
Kitty Yo
(@)
Distributor:
Wide
Rated:
BUY from
Already been in a band together (was 1992 and they were into Atomic Comic), Codec & Flexor decided to collaborate again on year 2001 and the year after they released their first album "Tubed" for Christian Mongerstern's Forte Records. Due to the club success of the song "Time has changed" they had a deal for the license of the album in the USA through Emperor Norton Records. Now the time has come for a new album and Kitty Yo proudly presents KILLER MACHINE. The twelve tracks of the new album show some slight changes from the previous one because KILLER MACHINE sounds more melodic and it has more new wave influences. If you listen to the first two songs "Do what you want" and "Nothing to hide" you'd ask yourself if this is the new Heaven 17 album because the electro wave of the duo has a certain funk flavor. The following "Step by step" steer the wheel toward a dance electro wave while "Welcome" seems coming from the latest Tiga release. The album, in this way, is capable of catch the electro fans, the new wave orphans and the dance floor fanatics and this is damn good!
Artist:
UR (@)
Title:
Baptism & Birthday
Format:
CD
Label:
self-released
Rated:
Ur are an Italian trio (at least in this release, since they are now collaborating with a saxophonist too) coming from a hardcore-punk background, but playing gloomy industrial noise. This DIY two-track cdr is probably their first semi-official release, while a new one on Andrea Marutti's AFE Records should be out later this year; and I do hope more will follow, as they surely deserve more exposure. What's quite peculiar of this project is that most of their recordings come from live performances, not from studio recordings - this gives a sense of flow and development that a more rigid composition would not allow. The first track actually suffers a bit from this characteristic, since there are some "hollow" and repetitive moments in its mix of metallic bashing, samples and pedal feedback, but the second one is definitely great: the vocal loops are especially well arranged, turning into an obsessive insect-like drone. At their best, Ur could sound like a cross between NON's vocal-based compositions (circa "God & Beast") and IRM's visionary approach to power electronics. While they're essentially interested in performing live, I hope they try to crop and mix the best parts of their recordings into definite pieces, as that would surely lead to great results.
Artist:
PUSSYFINGER
Title:
Chew and Swallow
Format:
CD
Label:
Dielectric Records
Rated:
A joint effort between Drew Webster (Die Elektrischen, and Dielectric Records' very soul) and Carson Day (who has a few rhythmic electronica releases under his belt), Pussyfinger debuts with an 11-track cd recorded live last December, complete with a gorgeous splatter layout. The press sheet mentions Folkstorm, Venetian Snares and Autechre as possible comparisons, which could or could not give you a clue of what this sounds like. Pussyfinger surely have a penchant for hard beats, as in the obtuse pounding of "Kurenai" (complete with gamelan-like percussion) and "Drunk and Disorderly", or in the energetic crescendo of "Pussyfinger"; but they also add heavy doses of distorted noise throughout, as in "Skull Crucible" or the fragment "!@#?!". My favourite tracks, however, are the droning interlude of "Trane" and, on the other side of the spectrum, the meanest ones, like "Leviathalidomide" and "Black Chorale", with their exhilarating mix of noise bursts, sampledelia and inhuman black metal vocals. As a whole, the album is still a bit discontinuous, and not always balanced in its different elements. I find the rhythmic part a bit monotonous as well (though "Pussyfinger" is a well constructed track), and I wish they had pushed more on the noise/vocals pedal, as it's where they get better results - but "Chew and Swallow" is a refreshing and interesting work nonetheless, which I'd recommend first and foremost to those into labels like Ad Noiseam, Rephlex or Ant Zen.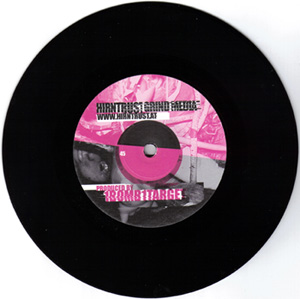 Artist:
1BOMB1TARGET/HARD-OFF
Title:
split
Format:
7"
Label:
Hirntrust Grind Media
Rated:
A new split vinyl single from Austrian label Hirntrust Grind Media, featuring their in-house project 1Bomb1Target and on the flipside the Australian-gone-Japanese Hard-Off (also known as M-PI, with a few releases on V/VM test records, Adverse Chamber, etc.). The former allegedly de-mixes "Come to Daddy", but you could hardly recognize the original in that crunching mess - loud and mean harsh noise, so good while it lasts. Hard-Off, on the contrary, opts for a spastic mix of techno beats and samples without much edge. Not my thing for sure, but at least it doesn't last for long. The single is limited to 290 copies.
Artist:
AALFANG MIT PFERDEKOPF
Title:
Genmaicha: At The Opal Seashore
Format:
CD
Label:
Mystery Sea
Rated:
You never really know what to expect from Mirko Uhlig's mutating project, judging from the handful of releases I've listened to. The previous ones featured a fascinating - if occasionally unbalanced - mix of drones, psychedelia, concrete recordings and acoustic folk, while the two 20-minute parts of "Genmaicha..." decidedly opt for a more depurated form of ambient music: vast spiralling drones with a warm feel to them, reminding of (largely) guitar-based projects and artists like Troum, Mirror, Moljebka Pvlse or Andrew Chalk. This might well be Uhilg's most mature and successful release to date, and perfectly fits the Mystery Sea tradition of oceanic soundscapes, though I feel that, given his talent, he still has to find the ideal balance between minimalist drones and more adventurous and surrealistic collages.