image not
available
anymore
Artist:
MASSA ┌LTIMA (@)
Title:
The Void Reflex
Format:
CD
Label:
Self-released
Rated:
Reviewing music on a regular (ahem! Not that regular lately) basis is great because you basically get to hear many records you would never cross with otherwise. Sometimes they're crap, sometimes they're pleasant surprises. Massa Última (aka Portuguese Rui Almeida)'s self-released cdr surely belongs to the latter category. Almeida, joined by Luís Couto on the title track, uses a lot of field recordings, mostly taken in Ireland and the Aran Islands, along with instrumental sources like guitars, keyboards, mbira, drum loops etc. For a debut, his style is already remarkable, though a little rough at times, or just a bit dispersive. But there are little gems like the droning title track (with bowed strings which could definitely appeal to those into guitar-based ambiences, à la Aidan Baker) or the equally captivating "Change Resistance" (a composition for radio waves, massage chair, broken drumpad and keyboard), which are very convincing in their fresh, handicraft approach. At times the used of looped concrete sources, as in the opening "Quiet Stratagem", reminded me of Murmer, though on the whole Massa Última relies more on electronics and instruments - "Opposite Reverse", for instance, is structured on a backward melody, though I must say this is the track I liked the least, as I found it a bit predictable. But as I wrote above, this is definitely a promising and at times original debut - let's see how Almeida evolves.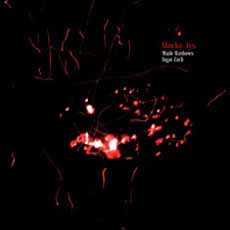 Artist:
WADE MATTHEWS/INGAR ZACH
Title:
M°rke-lis
Format:
CD
Label:
Creative Sources
Rated:
With six tracks titled by the dichotomy between light and darkness in six different languages, "Mørke-lis" is indeed an album of contrasts and unexpected superimpositions. I can only guess at how it was recorded, since Matthews is listed as "electronic synthesis" and Zach at "percussion": maybe the former filtered the latter via max/msp or something similar, as the music comes out sharp and scabrous, with an almost mineral quality. Whichever tecnique they may have used, this is a strong duo performance of algid electronic fibres shattered by frantic gestures, reaching their chaotic peak in the sixth and last track "Ténèbres Lumière"; and Zach's splendid photographs are the perfect visuals for such a volcanic performance.
image not
available
anymore
Artist:
ANDREW LILES
Title:
In MyFather's House are Many Mansions
Format:
CD
Label:
Fourth Dimension
Rated:
Anyone into drones should be familiar with Liles' increasingly recognized production by now, as both his solo works and the collaborations with the likes of Tony Wakeford (Sol Invictus), Nurse With Wound, Darren Tate, The Hafler Trio, Wander, etc. are remarkable. While rightly issued under his own name (also given the coherence of the whole set), this cd features "Andrew Liles as played by" an all star cast, probably gathering the best of the current drone/ambient circuit: Paul Bradley, Colin Potter, Aaron Moore (of VolcanoThe Bear), Jonathan Coleclough, Ruse, Band of Pain, Bass Communion, Aranos, Darren Tate, Irr. App. (Ext.), The Hafler Trio, Unsong, vidna Obmana, Nurse With Wound and Freiband. Given the quality of the starting material, and the visionaries and loonies involved, how could this disappoint? As expected, no track is less than well done, and everyone can easily pick his favourites (mine were Bradley, Bass Communion, Irr. App. (Ext.) and Nurse With Wound). Most of all, it's a collection which faithfully portrays Liles' sound art, both in its expanded drones and in its surrealistic collages. And by the way, the inner layout, with everything from Willy Wonka to S/M drawings passing through AC/DC, surely speaks more than a hundred reviews.
image not
available
anymore
Artist:
BRET CHRISTOPHER
Title:
Division: Blossom
Format:
CD
Label:
MoSo
Rated:
My fist exposure to this US artist I knew nothing about, and it's surely a pleasant one. As the geometric layout clearly suggests, Christopher works in the glitch-microsounds field, by organizing with laboratory-like precision a series of algid, impalpable elements such as pin-like beats, chilly drones and slowly moving frequencies. While mostly opting for a subdued and restrained style, he also knows how to add some punch, with the liofilized rhythms of the third track or the skilfull crescendo of slow pulses, electric cracklings and colliding frequencies in the following one, my favourite in the whole lot. People into labels like 12k or L-ne are heartily invited to check this out.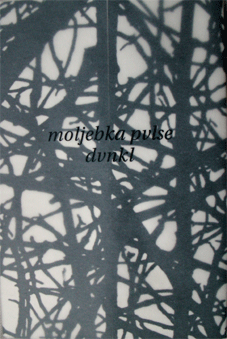 Artist:
MOLJEBKA PVLSE
Title:
Dvnkl
Format:
CD
Label:
Fifth Week
Rated:
The new full-length album by Swedish project Moljebka Pvlse is released by a relatively young label, Fifth Week, with a lavish A5 silk-screened jacket, and features, besides MP's mastermind Mathias Josefson, the contribution of Karin Jacobson, singer and drummer for the band Les Issambres (on Fifth Week too). Be it the expanded line up or Josefson's creativity (indeed, every MP release has always been quite different from the other), "Dvnkl" is a complex and engaging work. Let's start from the only weak point I have found in it, if any: there are three tracks clocking in at 72 minutes, and I think that the mammoth 54-minute title track would have worked best alone, also because it's surely the strongest and most peculiar one, while the other two, "Ruin" and "Sprl", are good but not groundbreaking. "Dvnkl", instead, could well be Josefson's most evolved and daring composition to date: it basically takes most elements of MP's style (the expanded guitar-generated drones, a bit of industrial heaviness, etc.), but adding a tapestry of other sounds (mainly field recordings, but also Jacobson's voice, and possibly various filtered instruments - I think I spotted a glockenspiel as well) which makes it a much denser composition. The drone element is there, but while many MP releases opted for an ethereal, abstract sound, this one is more physical, even dazing. Its very density reminded me of the works by phonography-based artists like mnortham or Seth Nehil, or the austere power of certain records by Jonathan Coleclough. Josefson has surely managed to increase the complexity of his compositions without renouncing to their evocative and emotional power. One of the best dronemakers around, far beyond the limited "dark ambient" tag.